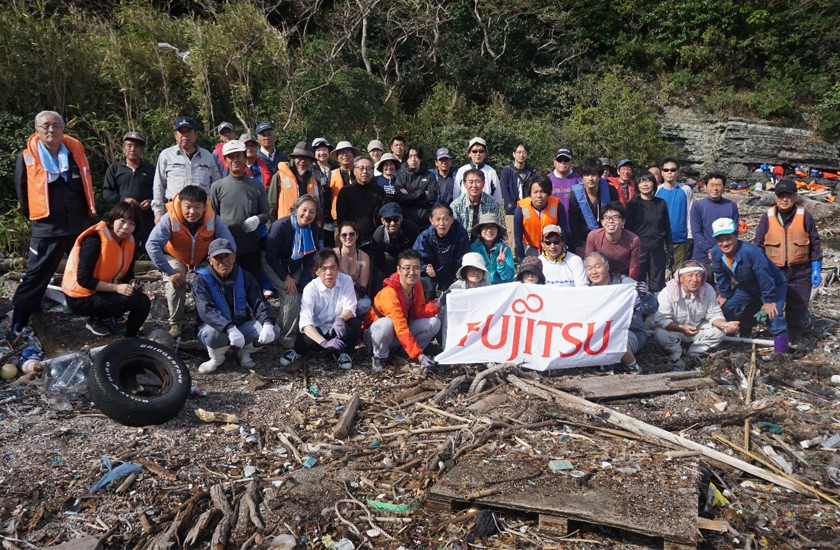 Each year, thousands of tonnes of plastic finds its way into the world's waterways and oceans. The marine plastic waste problem has become a global issue. Fujitsu recognises marine waste as one of the important global environmental impacts effecting climate change and promotes initiatives for reducing plastic pollution globally.
As a part of these initiatives, late last year, Fujitsu hosted the 2019 Eco Tour which took place in Tsushima, Japan. The tour aimed at reducing marine plastic pollution in one of the biggest marine plastic hot spots in the world.
Participants were able to take part in a beach clean at Tsushima, experience the surrounding options by sea kayak, and then join the Ideathon (brainstorming session) with local citizens.
During these activities, employees are were able to cooperate and share wisdom with the aim of reducing marine plastic waste.
Jhanna Boutsyk, Co-Creation Analyst, from Fujitsu Oceania, joined her Global colleagues on this Eco Tour in Japan. Read on as she shares her experience!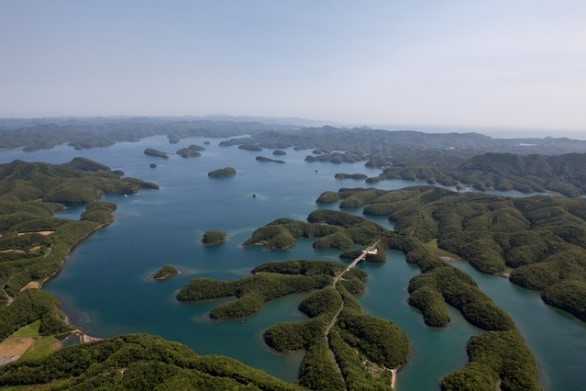 I didn't know what to expect when I made the impulse decision to sign up to Fujitsu's Eco Tour in Japan. As someone with a love for the outdoors, who spends as much time as possible camping or rock-climbing, the plastic pollution problem is one close to my heart.
I work in the Co-Creation Team at Fujitsu and I love any opportunity for a good workshop – not to mention it seemed like great opportunity to tick the country off my bucket list!
With only a week between application and lift off, I didn't have long to prepare, but thankfully, my global colleague and Director of Interregional Engagement (Global CSR and Sustainable Development), reached out to me before I left and later greeted me with a lovely smile and open conversation.
When I first landed in Fukuoka I was interviewed by, as I later found out, a famous comedy TV show who asked me "Why did I come to Japan?" I tried to explain to the city slickers that I was travelling to Tsushima for 3 days to clean the ocean and learn how I can help in other ways. Unsurprisingly, they gave me some strange looks and had plenty more questions to ask about my motives. However, without question I hurried on to the meeting place the next day and before I knew it we were on a 3 hour ferry to Tsushima.
Day 1: As my English speaking colleagues and I quickly discovered,language was going to be a little bit of a barrier. Fortunately, we had become kind friends with our Japanese colleagues who always offered to translate whatever they could, which certainly helped us dearly. We went on a hike to the Kiyomizuyama Castle (Izuhara) which was an absolutely incredible site. I instantly felt like we weren't just going on any old tour - there was no one else to be seen, and the panorama was incredible.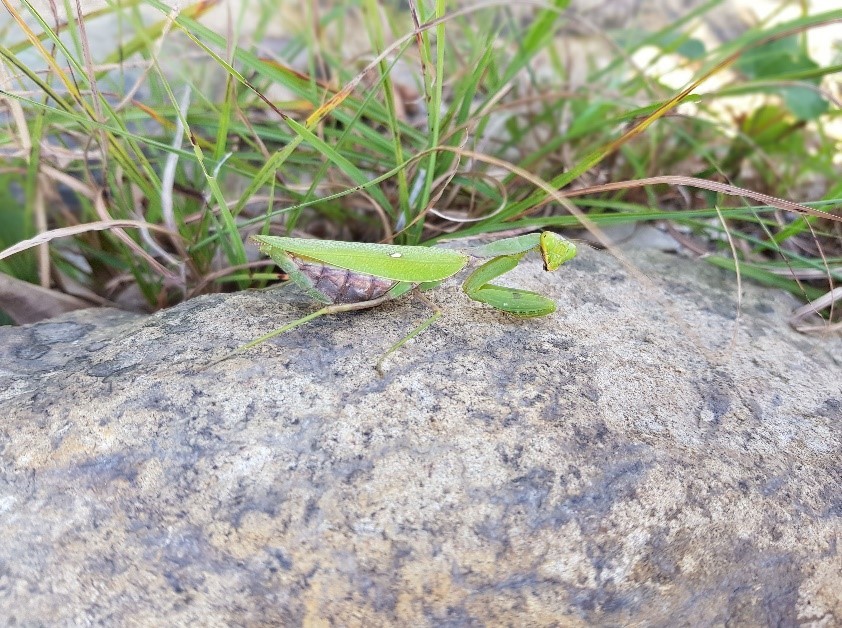 When we returned from our hike, we had some lectures on the ocean plastic waste problem, exploring what micro plastics are, how they have damaged the eco-system and how they end up in waterways. We were introduced to CAPPA the "Coast and Ausquatic Preservation Program Asssociation", the charity that was going to take us out the next day.
In the evening, we had an incredible dinner where we introduced ourselves, and (with a little help from our kind translators) learned about the various reasons that people from across the business had chosen to come to the tour.
Day 2: In the morning, we took a bus to the pier in the morning and met the local fishermen who has offered to take us around the islands, put our life-jackets on, and were off to Kuroshima Island. We were lucky enough to be taken around quite a few of the hundreds of Islands before we made our way ashore. The intensity of the problem hit pretty instantly when we realised what we thought was sand was actually largely polystyrene balls and other microplastics and the trees were filled with plastic bags. We had a huge crew of support to assist as well as transport us and the garbage including local community, government members, fisherman from nearby and media.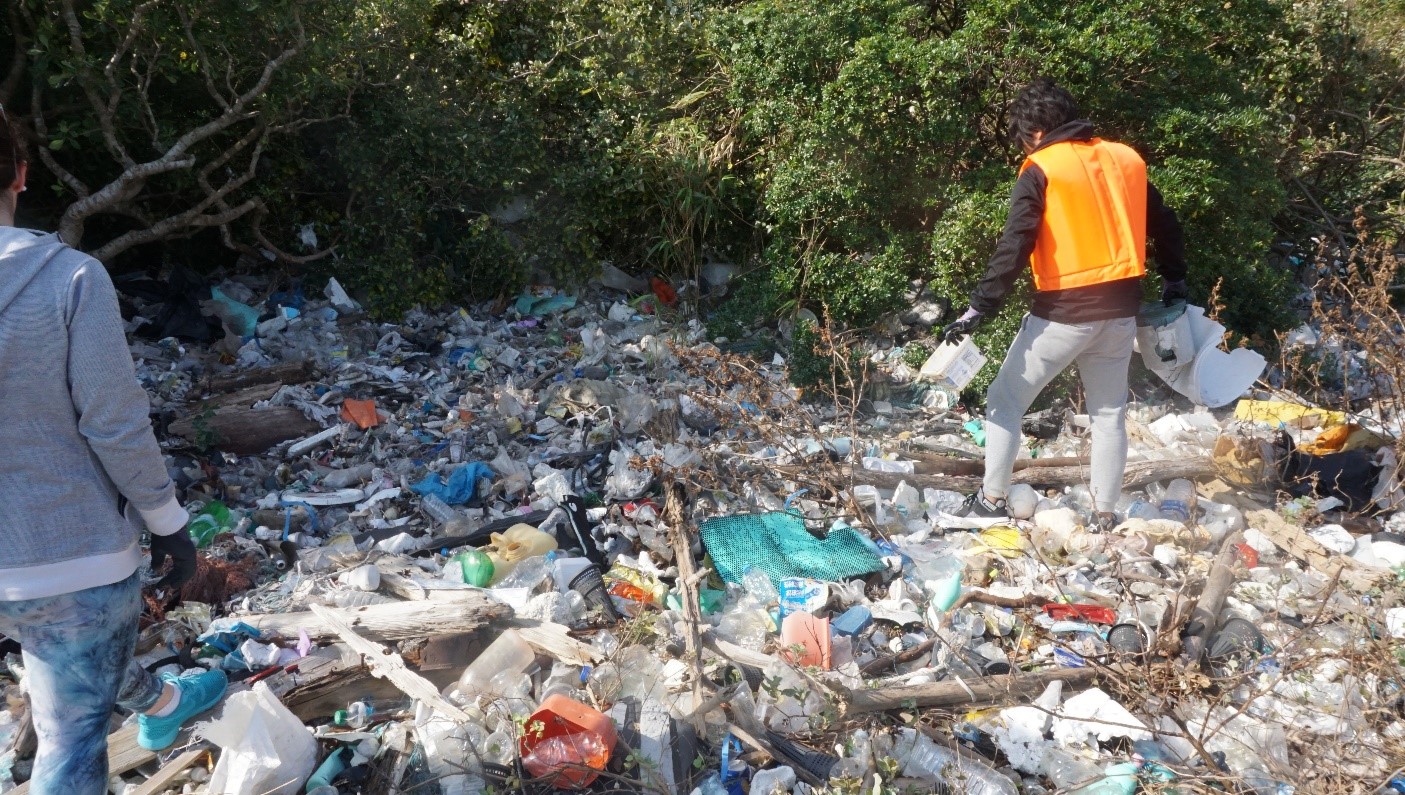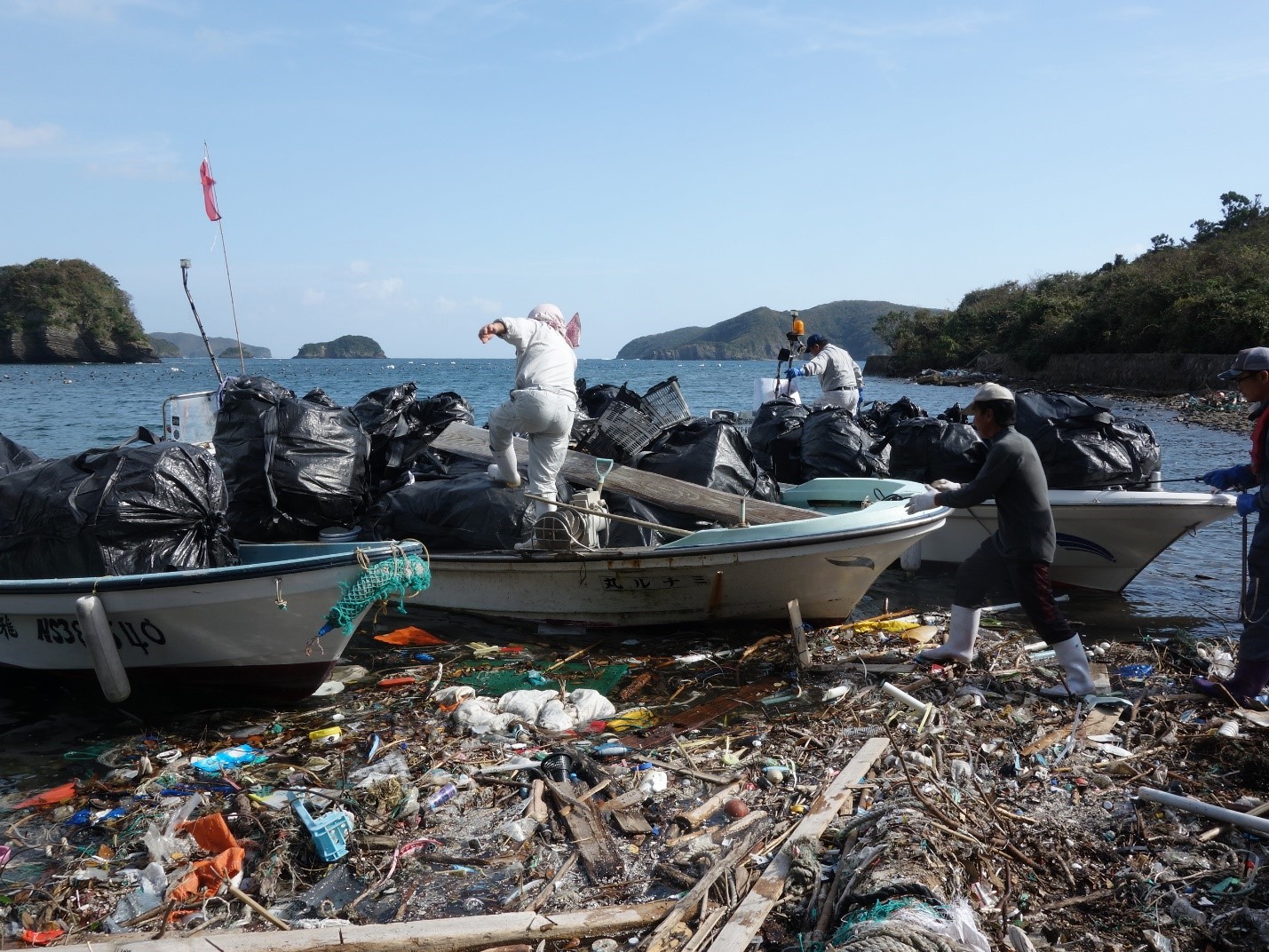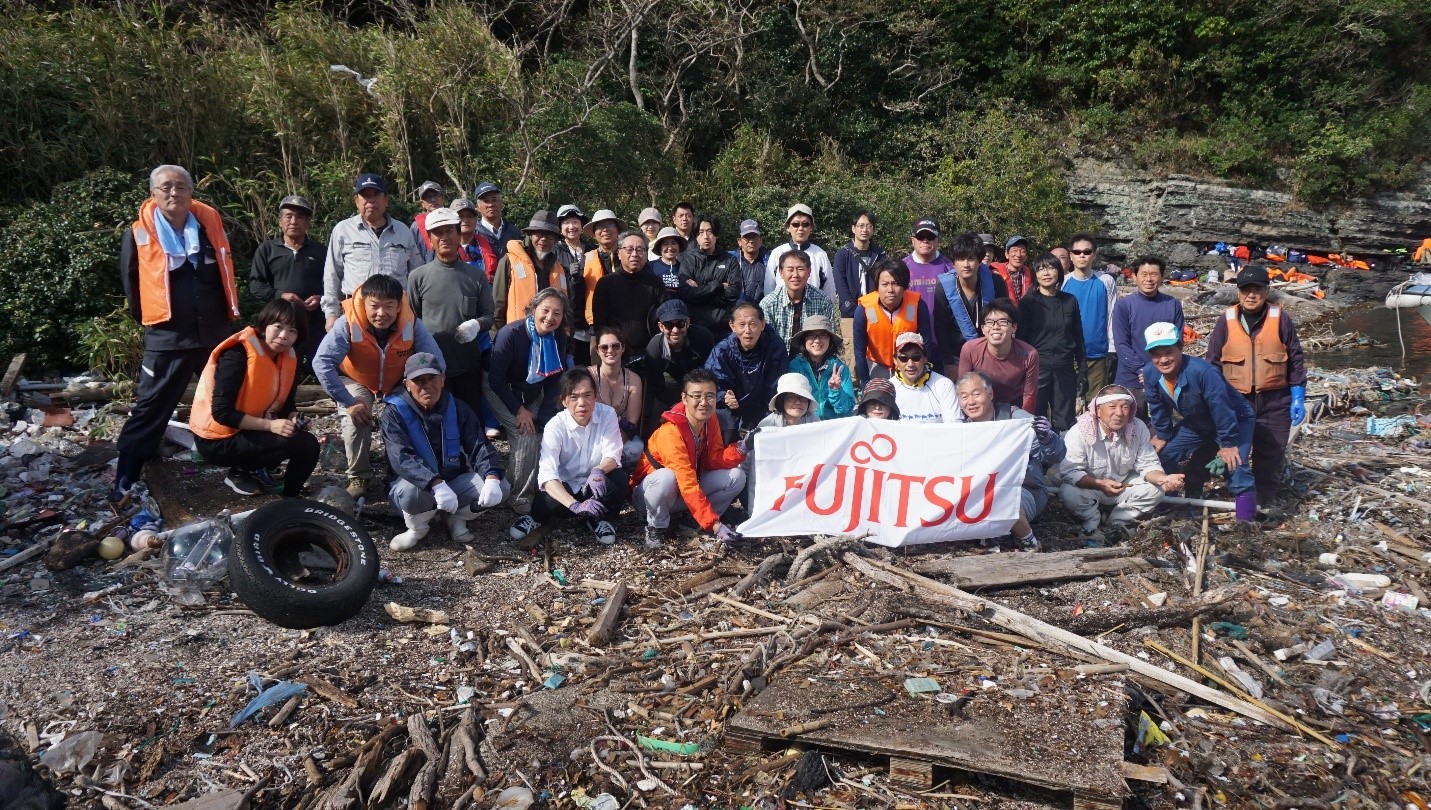 Over lunch we learned about other ways that the community are trying to make a difference, such as a restaurant that had dedicated itself to serving a certain kind of fish that had moved north due to the heating ocean which was causing the ocean's "seaweed bed" to disappear.
The clean was quite confronting, we spent a few hours picking up everything we saw and separating it in to different bags according the type of garbage it was. There was a point where we recognised how large the task was at hand but the sea kayaking in Asou Bay later reminded us of the natural beauty that surrounds us and that it is certainly not too late to make a difference.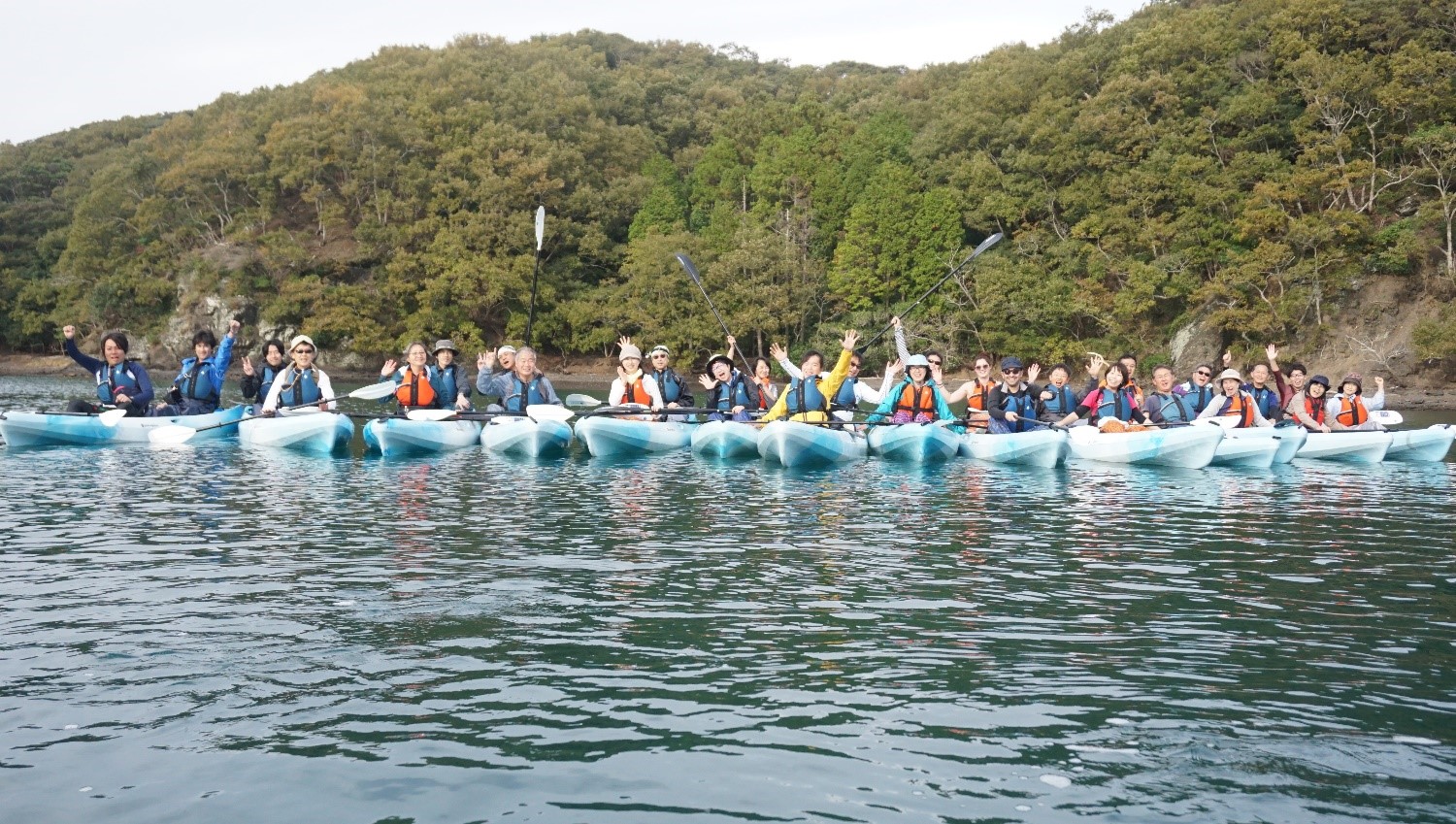 Finally, on the last day, we had an ideathon, where local citizens and Fujitsu came together to talk about the unique facets of Tsushima and used Fujitsu tools to inspire ideas, such as our ideation cards which were developed for our Global Co-creation Centres. It was an incredible way to reflect on the last 2 days, and learn about what everyone else took from the experience.
In three days, I learned so much about Fujitsu, Japan, and the plastic problem, I made some great new friends, and all whilst thinking up some great ideas to solve a global problem!
Three points I have taken home with me:
Always be kind & put your hand up to help. It will ALWAYS be worthwhile.
Seize every opportunity that comes your way. An opportunity to learn is an opportunity to grow.
Helping doesn't always mean getting on your hands and knees and separating the garbage; help is also supporting those who need it, spreading information & making an effort being aware and not to be part of the problem.
Fujitsu AUS
January 17, 2020