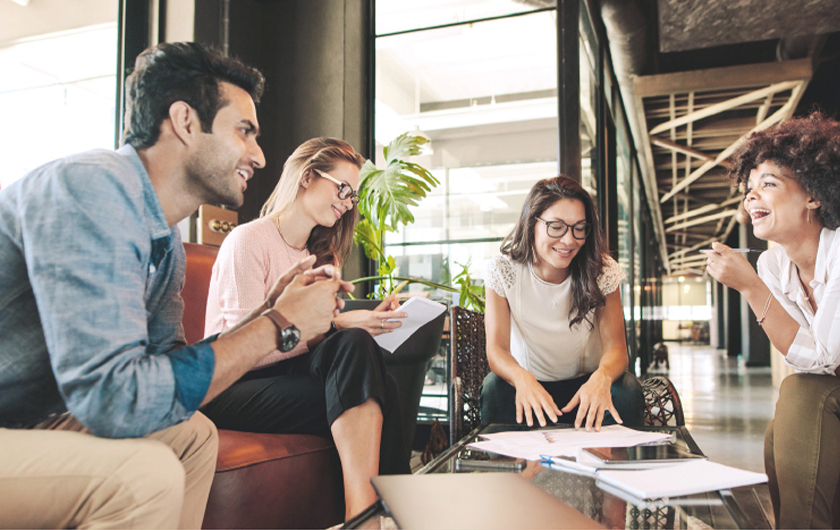 Lucy Cobb, head of digital workplace services, Fujitsu Oceania
It's been 20 years since the Blackberry hit the streets and let knowledge workers access their email on the go. Since then, mobile devices have become more sophisticated, sleeker, and more powerful. Today, workers can be just as productive from their smartphone as they can be sitting at a desk. Consequently, your colleagues and employees probably don't think of work as a destination any longer but, rather, as an activity that can be done anywhere.
Along with increased mobile functionality comes increased expectations from workers who don't just want to be able to seamlessly access systems and information from anywhere, but who also want to have a more automated and intuitive work experience in the office.
While flexibility is important to many workers, there is also a backlash of sorts to the idea of solitary working. Shared workspaces are increasingly being used by workers in the gig economy, and those employed by companies are eager to spend at least a few days a week in the office.
If your business hasn't started investigating and adopting emerging technologies to build the workplace of the future, you could be left behind in the race for talent. The first step is to become familiar with the trends that are likely to shape workplaces over the next five years and beyond.
Four key changes are affecting workplaces, driving improvements that are dramatically changing the workplace landscape:
Social change.
Technological change.
Business and industry change.
Demographic change.
Social change
Social change is seeing stability replaced by flexibility. Workers will look for opportunities in workplaces that value health and wellness, and the employee experience will become the benchmark of a successful workplace. This includes everything that impacts an employee's working life, from onboarding and training to career advancement and offboarding.
Technological change
Technology, from wearables that help monitor health and productivity to automation that relieves workers of manual, burdensome tasks and frees them up to contribute in more meaningful ways, will characterise the workplace of the future. A more intelligent workplace must also be secure; it's likely that advancements in artificial intelligence (AI) and biometric technology will combine to improve cybersecurity while making it non-intrusive.
The workplace of the future will also be more considerate of the environment. This means businesses will use technology to replace carbon-intensive activities such as travel. Instead, virtual workspaces will make it easier for people to work together without having to travel to a physical office.
Business and industry change
Collaboration will also be essential and brands will look beyond their own organisations to partner strategically with others to co-create and innovate. The talent pool will become global as location ceases to matter for most roles, which means competition for the best talent will continue to be fierce but accessing the skills companies need will be easier.
Demographic change
Finally, as we approach the next decade, the demographic makeup of the workforce will be the most diverse it's ever been. Corporate culture will continue to transform around various needs and working styles, from people continuing to work later in life to Gen Z entering the workshop as digital natives, so businesses need to meet the needs of a diverse group of employees. Technology like augmented reality (AR) will help experienced employees collaborate and transfer knowledge without needing to be in the same place.
To take advantage of these trends and prepare for the future of work, your organisation should embrace five key concepts:
1. Freedom:
Blurring or removing the line between the employee and the consumer will improve the employee experience, leading to stronger performance in the market.
2. Compliance:
Giving employees the freedom to use technologies and platforms they prefer will help boost productivity but it's important not to risk security and compliance.
3. Intelligence:
There's more data available than ever; you need to harness it and extract insights from it to drive better decision-making and operational performance.
4. Wearables:
Wearable devices are already mainstream with smartwatches and fitness trackers becoming commonplace. Your organisation can leverage this technology to benefit both the employee and the business, including caring for the health and wellbeing of people.
5. Knowledge:
Sharing skills and knowledge more broadly around the organisation through easy-to-use collaboration and communication platforms is critical to driving creativity and innovation, allowing you to deliver value to your customers.
If your businesses begins to explore these concepts now and prepare for evolution, you will be better-placed to thrive in a transformed environment.
To find out more about how Fujitsu can help you build the workplace of the future, contact us today.