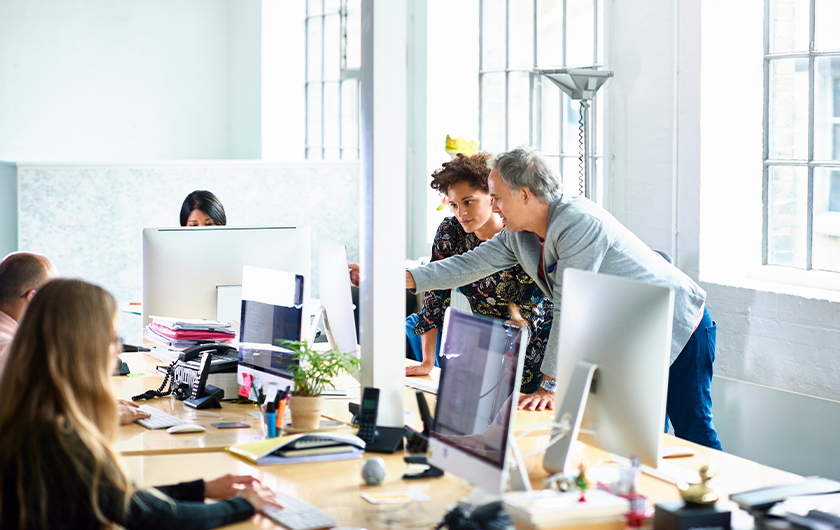 Compared to the last decade of workplace changes, the next decade is likely to make work almost unrecognisable with emerging technology and changing priorities converging to create a perfect storm of innovation.
These changes will be nothing short of revolutionary. While technology will automate mundane tasks and create a contextual computing environment that delivers every comfort, the biggest changes could be in how organisations and workers think about careers, training, and recruitment.
With skills shortages already an issue in many industries, the competition for the best talent will only become fiercer as time goes by. Organisations looking to attract and retain that talent will need to offer next-generation workplaces just to get into the conversation with candidates.
As the workforce skews towards millennials and younger workers for whom this technology is natural, we need to make sure that those who weren't born with a digital device in their hand become equally engaged. Constant connectivity, contextual computing, and artificial intelligence (AI) will all be a natural way of life for tomorrow's workers.
The focus for workplace strategies is widening from focus on individual user productivity, as it was in the last decade, to facilitating collaboration and co-creation. Workers will be considered in light of their role in a broader ecosystem of skills and talents. In return, companies will focus on health and wellness, both physical and mental.
There are five main areas that will reshape the future of work. If your organisation isn't already considering these, it's time to move now. There are practical steps you can take to put your business at the forefront of future work.
1. The Lifestyle Workplace
Workers already consider themselves in light of the skills they offer as opposed to being an employee for life of one company. The working week will therefore become more fluid as employees find better ways to balance the skills they can offer with the lifestyle they want to support. Flexible working will become the norm, including freelancing, working remotely, and working non-standard hours.
Meanwhile, for those employees who do go into an office, the space will become vastly different with a clear focus on enhancing wellness and health. For example, air conditioning, lighting, and even the colour of the walls will change dynamically to offer optimum conditions depending on the work being done.
Importantly, the employee experience will become a key measure of success for businesses. This will require new tools to measure workplace satisfaction and offer engagement initiatives.
Here's what you can do right now:
Revisit HR structures and career maps to create more flexibility in roles and working conditions.
Rethink workplace technology planning to accommodate and support the 'new' workforce.
Monitor the employee experience and investigate new tools for measuring it.
Test the potential impact of new working practices to understand what's right for your organisation.
2. The Intelligent Workplace
Automation via AI and virtual assistants will remove the drudgery of administrative work as well as streamline tasks as varied as setting up meetings and finding the best parking space. This will become more sophisticated and pervasive, so organisations will need to educate key members of the workforce to cope with these changes.
Here's what you can do right now:
Develop a vision of which roles could benefit from involvement with AI.
Understand the value of data and set up a structured approach to data gathering and analysis.
Investigate privacy concerns associated with higher levels of connectivity and set a strategy to manage this.
3. The Low-Impact Workplace
As public awareness of environmental and social issues increases, the need for organisations to adopt responsible business practices is gaining more attention and focus at all levels. Key stakeholders won't hesitate to take their business elsewhere if your organisation doesn't measure in terms of corporate social responsibility and environmental impact. This includes hitting targets like emissions reductions and recycling.
Here's what you can do right now:
Consider collaboration and communication platforms to enable your staff to work wherever they need, to reduce travel and overall environmental impact.
Review your environmental impact and understand how the individual worker can contribute.
Leverage the Internet of Things (IoT) to help gather data so that you can make more informed decisions.
Ensure you can measure your impact on the environment, and demonstrate how you contribute to a better planet.
4. The Boundaryless Workplace
Agility is crucial to adapt to constantly changing economic, competitive, and customer landscapes. Organisational structures will become more fluid and traditional industry models will be broken down, driving new models of collaboration. Many companies will cease to exist in their current form. Rigid hierarchies will collapse and be replaced by collaborative networks and digital ecosystems. Talent pools will become global rather than local.
Here's what you can do right now:
Focus research and development efforts on how to provide a workspace that drives collaboration and communication, regardless of location or hierarchy.
Make all technology decisions with the long-term strategic approach in mind.
Create new contractual models that can underpin more flexible ways of working.
Look to vendors to provide advice and ongoing support instead of transactional relationships.
5. The Cross-Generational Workplace
Demographic shifts mean the workplace will see people in various age groups working together. This will need to be supported with flexible working practices and personalised experiences. It's likely the influx of younger workers will redefine corporate culture, embracing change and building flexibility in everywhere. Work/life balance is key and workers will expect to have similar experiences using work technology as they do with their own consumer tech.
Older workers will likely continue to participate in the workforce as retirement ages continue to rise around the world. This creates an even greater requirement for flexibility and continuous training and support.
Here's what you can do right now:
Re-engineer career paths to get younger workers excited about longevity at a company. Leverage the wisdom, experience, and knowledge of older workers through more effective knowledge sharing platforms.
Create cross-generational teams to drive collaboration.
Create continuous training and learning programs for everyone in the organisation that suits a range of learning styles.
At Fujitsu we have developed a considerable amount of expertise in helping organisations to prepare for the workplace of the future. This includes helping to prepare for the adoption of technology, as well as addressing the environmental and security aspects of major change initiatives. We also help to identify where new technologies such as AI and IoT can make an impact, and can assist with the scoping and data gathering required to help organisations to make more informed business decisions about technology. To find out how Fujitsu can help your organisation prepare for the workforce of the future, contact us today.