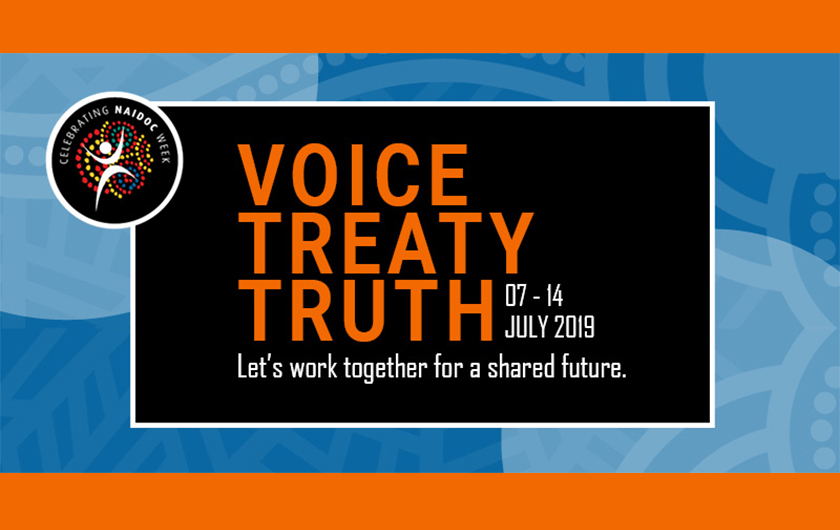 This week, Fujitsu is celebrating and recognising NAIDOC Week across Australia. NAIDOC (National Aboriginal and Islander Day Observance Committee) Week provides a platform to promote awareness, recognition and an understanding of the history and culture of Aboriginal and Torres Strait Islander peoples. Its origins can be traced to the emergence of Aboriginal groups in the 1920′s which sought to increase awareness in the wider community of the status and treatment of Indigenous Australians.
NAIDOC Week celebrations are held around the country each July to celebrate the history, culture and achievements of Aboriginal and Torres Strait Islander peoples. The week is celebrated not just in our Indigenous communities but also in an increasing number of government agencies, community organisations, local councils, workplaces, schools and sporting groups.
The 2019 theme – 'Voice, Treaty, Truth – Let's work together for a shared future' – acknowledges that Aboriginal and Torres Strait Islander peoples have always wanted an enhanced role in decision-making in Australia's democracy.
Fujitsu is committed to incorporating strategies, including delivering on our RAP (Reconciliation Action Plan) that address fairness, justice and equality. We are proudly launching our second 'Innovate' RAP later this year. It is our aim that the perspectives and needs of Aboriginal and Torres Strait Islander peoples and businesses will become an integral part of everyday business of our organisation. In bringing this vision to life we are joining the growing number of Australian businesses who seek to bring lasting positive change and equity to Indigenous Australians.
The Indigenous voice of our country is over 65,000 years old. They are the first words spoken on this continent and are precious to our nation. It's that Indigenous voice connects us as Australians and gives us an understanding of country and of people who are the oldest continuing culture on the planet. Voice. Treaty. Truth. were three key elements to the reforms set out in the Uluru Statement from the Heart. Aboriginal and Torres Strait Islander people want their voice to be heard.
This NAIDOC Week, I encourage you to think about all we can do to 'own' our history. This is not just the history of our Indigenous people – it is our history.
Let's work together for a shared future…
Resources:
Fujitsu's Responsible Business Report
Fujitsu's RAP