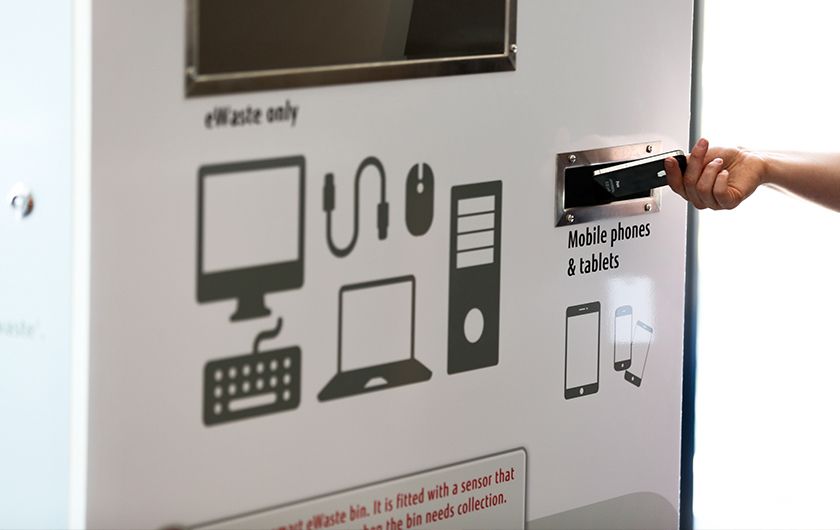 As part of our worldwide commitment to sustainability, Fujitsu takes a proactive approach to the collection and recycling of eWaste in our operations and community, and that's a key priority for us. Our customers trust us to handle their eWaste and conduct thorough due diligence on their behalf. The correct handling of eWaste is important for many reasons:
Conserve natural resources and recover material for reuse. Around 95% of eWaste (by volume) can be recycled and reused.
Secure data destruction
Prevent environmental damage by ensuring potentially toxic materials are safely handled
Avoid eWaste ending up at an illegal eWaste dump – causing damage to human health & the environment, as well as brand damage if asset tagged or branded equipment is detected
Save money on the costs of operating, storing and disposing of end-of-life equipment
Compliance with legal and environmental obligations. eWaste is banned from landfill in SA and a similar ban will be introduced in Victoria from 1 July 2019.
The UN Sustainable Development Goals (SDGs), otherwise known as the Global Goals, are a universal call to action to end poverty, protect the planet and ensure that all people enjoy peace and prosperity. At Fujitsu, our vision is to use technology and innovation to create a "human centric intelligent society", aligned with the efforts of the international community toward achieving the SDGs. Sustainable Development Goal 12: Responsible Consumption & Production calls on everyone to take actions to promote a circular economy, educating and assisting our value chain to minimise waste.
Our eWaste Policy
Since 2009, Fujitsu Oceania has had a zero eWaste to landfill policy. 'eWaste' means anything with a plug or battery, including peripherals. eWaste is hazardous in landfill, and can result in toxins entering soil and groundwater.
In FY17, we processed more than 380,000kg of eWaste from our own, and our customers', business operations. We have permanent collection points for eWaste and batteries at our warehouse, data centres and larger offices.
The eWaste processing providers Fujitsu uses are subject to an inspection and audit process including an onsite audit every year, including their downstream providers, before they can be engaged. This protects data security as well as human health and the environment, and helps to prevent the illegal export of eWaste to the developing world.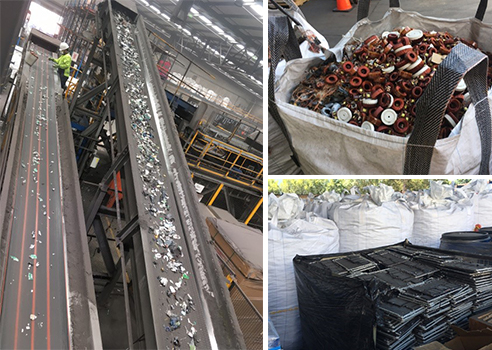 Photo: Pictures of eWaste being disassembled and shredded at processing centre
Working with Customers
We have handled eWaste from customer operations for many years, whether it be end-of-life laptops or cables being removed from a data centre. Working with our eWaste processing provider, we can offer a range of services to suit customer needs including secure destruction, serial number capture and device remarketing (wiping and refurbishment for the second hand market or charitable donations). Our work is endorsed by customers including in this case study from Qantas where Fujitsu helped them divert more than 120,000 devices from landfill.
Through our ICT Sustainability benchmark, we have also helped raise customer maturity in dealing with eWaste, sharing our experience to help customers set and implement eWaste recycling policies.
Innovative Approaches in eWaste Management
Our Smart Bin solution uses IoT and process automation technology to simplify the issue of eWaste collection and disposal. The smart in is equipped with an IoT sensor that monitors fill levels, and when the bin is full, it engages a fully automated process (via Fujitsu's Run My Process automation engine) that retrieves a job number from our eWaste processing partner and books its own collection job with a courier. It's a completely self-managing solution that makes disposal of eWaste simple and convenient – and in the last 12 months we used them to divert more than 3 tonnes of eWaste from landfill from customer and Fujitsu sites.
The Smart Bin was a finalist at the 2018 Australian IoT Awards and has been featured as a case study showing the achievement of the Sustainable Development Goals on the Australian SDG website as well as the Global eSustainability Initiative (GeSI) website.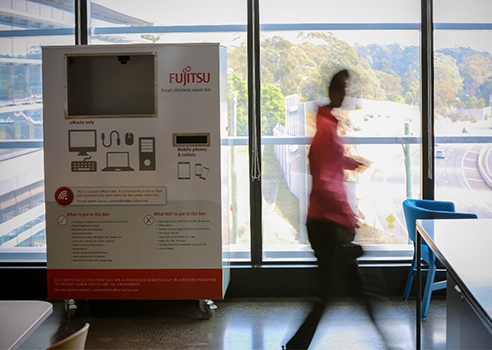 Product Takeback
Fujitsu provides complimentary recycling of Fujitsu branded hardware when it has reached the end of its useful life. Our eWaste recycling partner is located onshore in Australia and New Zealand, so customers can be sure any devices are processed in a facility that protects human health and the environment, where over 95% of the product by weight is recycled. All Fujitsu branded products, including accessories, are accepted for free recycling. This offer also extends to our enterprise customers purchasing Fujitsu product to replace old ICT equipment, even if they are not Fujitsu branded products. The full T&Cs of this offer are available on our website.
For consumer purchases, customers can access free recycling through our co-regulatory scheme, Electronic Product Stewardship Australasia (EPSA). More information for consumers including drop off points is available at the EPSA website at http://epsaewaste.com.au/
Designing for End of Life
Fujitsu product is designed to be easily disassembled and the components recovered for re-use. We avoid using glues and adhesives and fused parts that prohibit repairs and complicate disassembly for recycling. Beginning in 2010, Fujitsu Group product designers have conducted regular study tours at product recycling centers, so designers gain feedback from staff in charge of recycling. More than 90 improvements to our products have been made as a result of these exchanges.
If you would like to find out more about our eWaste processing approach, please reach out to ewaste@au.fujitsu.com.
Fujitsu Oceania
August 3, 2018