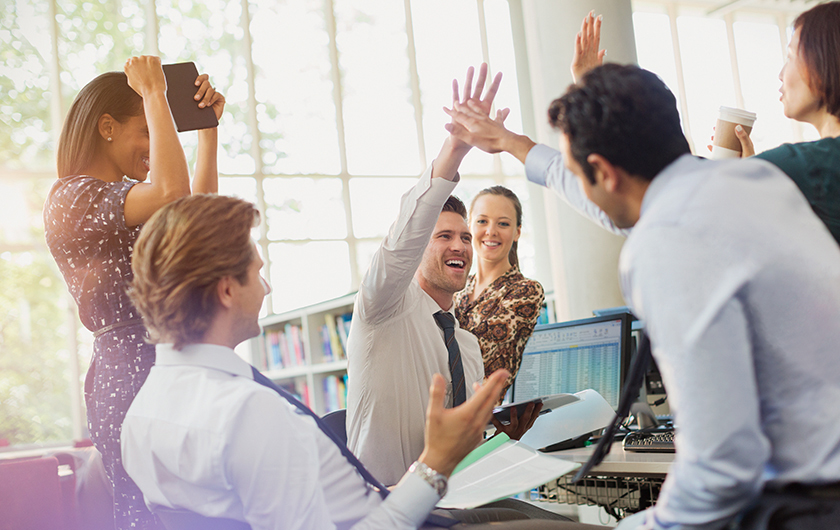 Design Thinking is way of developing solutions to unique problems. It takes a step back from technology and helps people to come up with unique ideas and solutions that can help to deliver transformational outcomes.
The Fujitsu Digital Co-creation team recently facilitated a Design Thinking Workshop with Vopak Australia, subsidiary of Royal Vopak – a world leading Tank Storage company that operates a global network of terminals located at strategic locations across major trade routes.
The session hosted at Vopak's Port Botany offices by Fujitsu's Digital Co-creation Team enabled the Vopak team to brainstorm ideas for digital change and ultimately 'Co-create' – blending expertise and technology to create new value together. The team were challenged to think creatively, outside the square and really put themselves in the shoes of the customer to realise the changes that were needed.
"Working with Fujitsu allowed Vopak to identify new innovation opportunities by using a well-structured methodology, placing our customer's needs at the core of the decision making process", said Adonis Malas, Vopak Australia's Automation & IT System Manager.
So what exactly is Design Thinking and how does it enable a 'co-creation journey'?
The rapid advancement of technology introduces a new set of complex and challenging issues.
A Design Thinking Workshop is split into several exercises to gain a deep understanding of the challenges we're facing.
Breaking down complex problems into solvable chunks
Identifying who our customers are, and their needs
Using this data to develop Proof of Concepts
Building Personas…
It's easier to develop a solution when you know who you're developing the solution for.
Starting with an exercise called 'Personas', the team had to identify issues with current business processes and brainstorm a list of personas – or stakeholders – and how they were affected and their current motivations. Using celebrities and the power of creativity to imagine the effects on stakeholders. The aim of the exercise was to think of as many challenges as possible, and then identify as many possible solutions. Together the teams came up with two main challenges/questions:
How can we make our data more visible to our customers?
How might we eliminate non-value add time on our induction process?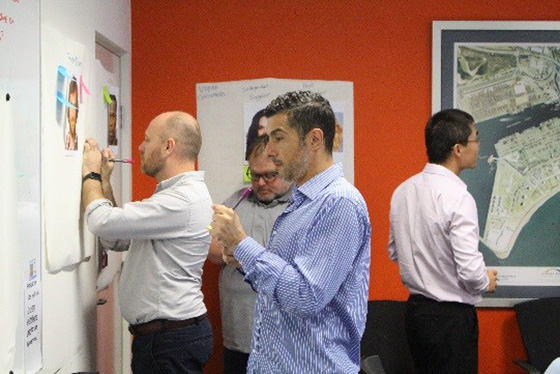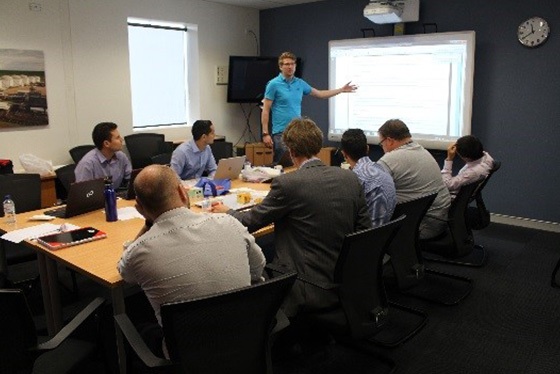 The teams then categorized how these challenges would be addressed in terms of approach, cost and timelines (as reflected by the sticky notes) with all suggestions having their own merit and no idea being discounted. The team considered ideas such as giving complete access to work IT systems, removing the use of spreadsheets, better integration of office data, and better use of existing Vopak systems. For induction changes, the teams considered creating an integrated sign-on security system, having the ability to complete the induction on a mobile device or through a self-serve kiosk.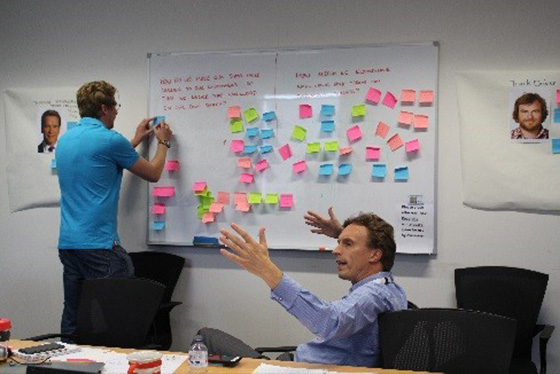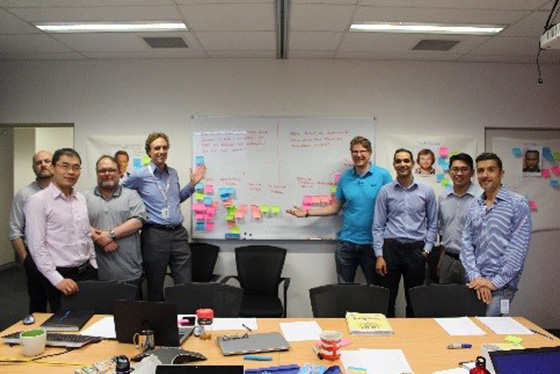 The large volume of ideas let to a combination of possible solutions that the Fujitsu Co-creation team will bring to life through feasible proof of concepts to co-experiment on. Vopak's Managing Director Fulco Van Geuns, found the workshop very successful and was impressed by the volume of ideas that were generated as a result.
Watch the video below to hear insight from Fulco on how the day ran:
Vopak was introduced to Fujitsu through a referral from another logistics organisation.
"It was refreshing to see value come to life from the workshop in a relatively short time. Our Co-creation team is looking forward to taking this partnership forward to address Vopak's main challenges, which we identified throughout the workshop", said Ramy Ibrahim, Fujitsu's Digital Co-creation & Innovation Leader.
For more information about Fujitsu's Co-creation and Innovation capabilities, or to find out how you and your organisation can get involved, visit out microsite here or reach out to us via Digital.Cocreation@au.Fujitsu.com.