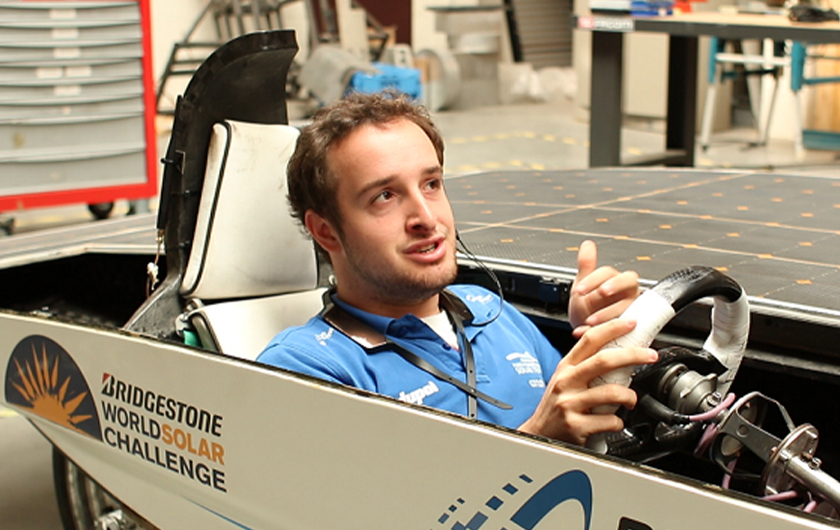 A team of Belgian University students will be looking to make history in the Bridgestone World Solar Challenge as they compete with 41 teams from around the world on an epic race across Australia. Fujitsu wearable technology will be used to monitor real-time vital signs and optimal balance of performance and well-being for the team.
The challenge began in Darwin on Sunday 8th October, on a 3000-kilometre transcontinental journey to Adelaide. Starting at Darwin's Hidden Valley Racetrack, the course is associated with V8 supercars rather than clean, solar-powered vehicles, however the Belgian team 'Punch Powertrain' had pole position in a time of 2:03.8 with an average speed of 83.4km/hr.
Winning pole position provides benefits to the team including not having to use stored energy to accelerate to overtake slower competitors. Whilst Punch Powertrain have never won the World Solar Challenge, it appears the team stand a good chance this year after their strong start.
The Fujitsu UBIQUITOUSWARE wearable solutions will measure driver well-being, including temperature, providing live telemetry to support crew. The solution will help the Belgian team to optimize cockpit cooling and ensure driver health during the race. As competitors cross the Australian outback where temperatures can hit up to 38 degrees Celsius, drivers must strike the right balance between using energy for air conditioning to cool the cockpit, or to power the vehicle.
The Punch Powertrain team comprising of 21 students from the University of Leuven in Belgium have been testing the Fujitsu wearables in the weeks leading up to the race to monitor driver heart rates, drowsiness levels, temperature and level of heat stress while they are on the move.
According to Jasper Schrijvers, a Punch Powertrain driver, "Driver fitness plays a crucial role in the World Solar Challenge, as it's important that the driver doesn't overheat at the wheel. We are planning to achieve speeds of up to 90km/h with the same amount of power that you use for a hairdryer. The use of any cooling will only slow us down and could mean the difference between winning and losing."
James Maynard, Offering Management Director, IoT & Innovation, Innovative IoT Business Unit at Fujitsu says, "Fujitsu's wearable solutions have enabled the Belgian team to provide previously unavailable insights into driver well-being, to see more, act faster and predict instead of react. The team used data collected during their preparation to advise their drivers on the optimum balance between performance and safety during the race."
The event will reveal futuristic-looking solar powered cars, showcasing design that could one day lead to solar-powered cars for consumers that can carry passengers. We look forward to seeing the end result as the drivers finish the race 3000km's later on October 15th in Adelaide!
Fujitsu Oceania
October 9, 2017