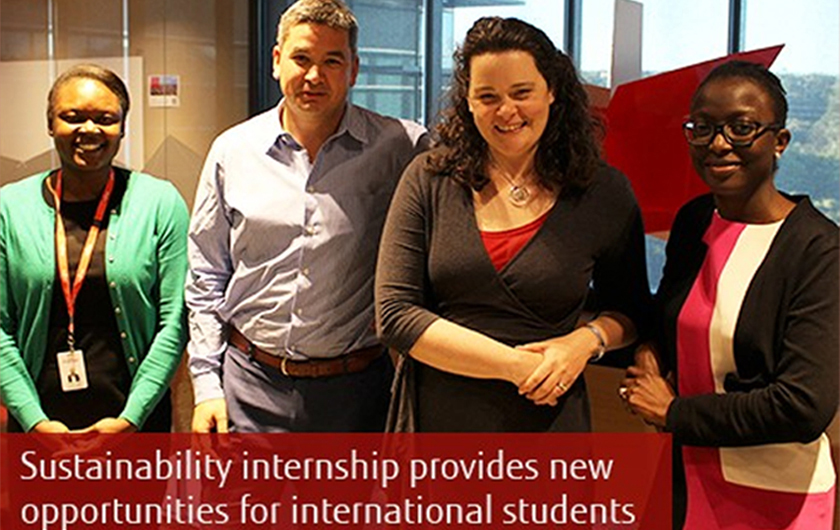 The Fujitsu Australia & New Zealand Sustainability team is currently hosting two postgraduate interns from the Macquarie Graduate School of Management (MGSM).
Tuta Wamanga and Tinu Oshun recently joined Fujitsu on an intensive work placement as part of their Master of Business Administration course requirements. They are completing six months on exchange at Macquarie University before they'll return to the University of Edinburgh in the UK to finish their MBA.
Over the last few years, previous MBA students from MGSM have worked across multiple sustainability projects; including examining the enabling factors for ICT Sustainability (which had input into Fujitsu Oceania's sustainability benchmark model), feasibility of eWaste product takeback and brainstorming ideas to achieve our renewable energy target.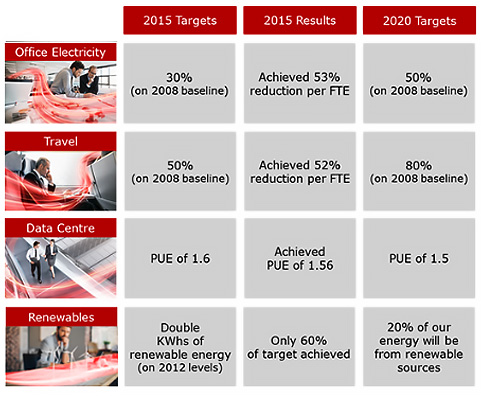 Pictured above: The chart above reveals how Fujitsu Australia and New Zealand is tracking against targets, activities undertaken to reduce our footprint and what is still on the agenda.
"We always enjoy hosting the MGSM interns and get some business value from their time with us" said Lee Stewart, Head of Sustainability for Fujitsu Australia & New Zealand. "They bring a great blend of business experience and theoretical understanding, which they apply to create something of value to Fujitsu. As a small team, having interns provides sustainability with not only assistance with some of our projects but also fresh perspectives and insights".
At the 2017 Fujitsu World Tour we recently launched our Smart eWaste bin which uses IoT technology to assist customers to take the hassle out of ewaste. For her project, Tinu will be working on a pricing model for our customers, enabling them to predict the costs of having a smart eWaste bin on their premises whilst still providing flexibility for Fujitsu. Drawing on more than a dozen years experience in the retail banking sector, Tinu will examine different approaches such as cost and value sharing, cost ceiling guarantees and provide a business case for adoption, as well as looking at external grants or funding rebates that customers could apply.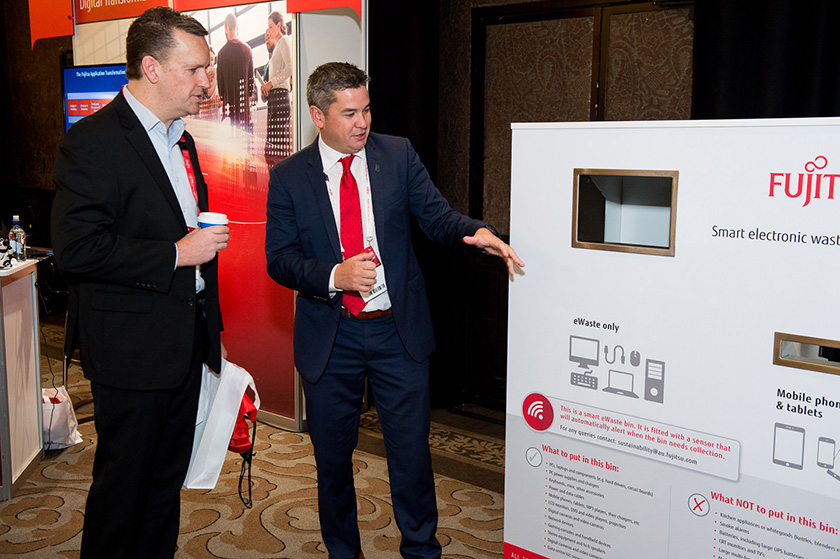 Pictured above: Lee Stewart, Head of Sustainability for Fujitsu Australia and New Zealand explaining the benefits of the Smart eWaste bin at Fujitsu World Tour 2017.
"Working with Fujitsu has further enriched my MBA experience. I have been able to apply my financial background and quantitative methods of research gained in the course of my MBA to make meaningful contributions in developing a pricing model for the smart eWaste Bin. This project has in turn helped me identify sustainable business opportunities in the electronic waste industry," says Tinu.
Tuta's project will see the creation of an Indigenous Procurement Strategy for Fujitsu. As part of our commitment to Diversity & Inclusion the sustainability team is keen to explore how Fujitsu can provide Indigenous Australians with more opportunities to participate in the economy. Tuta has more than a decade's experience in supply chain management in her home country of Kenya, including managing supply forecasting, procurement and management for an $80M business unit for Unilever East Africa. Included in Tuta's project will be a survey of the competitive landscape for indigenous procurement and the specific opportunities to include indigenous suppliers in Fujitsu's supply chain. This important project will create value for Fujitsu and the community while also helping Fujitsu to meet customer expectations, particularly in the Federal Government space.
"I feel privileged to be given a chance to work in a completely different industry and environment with the Fujitsu Sustainability team. This gives me the opportunity to not only contribute to a key component of the business by coming up with the indigenous procurement strategy, but also to gain key insights in the role business plays in creating a positive impact to society," says Tuta.
Both Tuta and Tinu will be presenting the findings from their respective projects to key Fujitsu stakeholders before the end of their placement in August, after which they will return to Edinburgh to complete their MBA program. We wish them the best of luck as they continue their Fujitsu placement and their studies!
Fujitsu Oceania
August 10, 2017