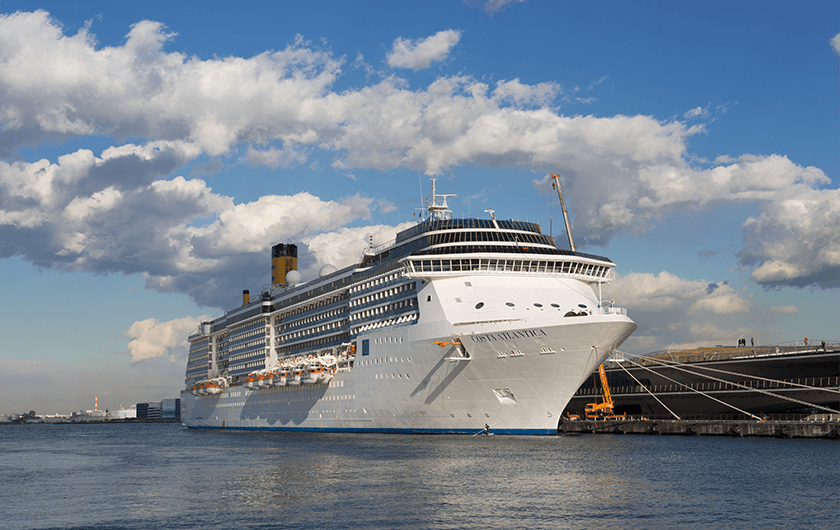 In late April 2020, a cluster of Covid-19 cases occurred on one of the large Costa Cruise ships anchored in Nagasaki. This was an emergency. The virus had infected 149 out of the 623 crew members (as of May 10, 2020). There were more than 30 nationalities on the ship which threatened to cause a language barrier when providing information.
In this blog I'll discuss how Fujitsu's Special Task Force Team helped prevent the further spread of Covid-19 by using a chatbot, as well as monitoring the crew's health.
Contents
---
Dr. Sando at Nagasaki University Calls for a Response to an International Emergency
On April 22 at 10am, Dr. Eiichiro Sando from the Institute of Tropical Medicine at Nagasaki University urgently contacted the Fujitsu Special Task Force Team in an urgent tone. Dr. Sando is an infection control specialist and a member of the Cluster Response Team at the Headquarters for Novel Coronavirus Disease Control, the Ministry of Health, Labor and Welfare. And currently he's spearheading infection control in Nagasaki.
"There's a cluster on a cruise ship anchored in Nagasaki," Dr. Sando said nervously. "There are three ships anchored in the harbor with a total of nearly 2,000 people aboard. On one of the ships, 20 out of 623 people are already infected. If there are infected patients on the other two ships as well, there's a risk that infection may spread."
The infected ship was under renovation and there were no passengers on board but there were crew, speaking a variety of languages between them. "There's only one doctor aboard and the crew's health is unknown," Dr. Sando explained. "We need a health monitoring chat system that supports foreign languages. When can you deliver such a system?" he asked.
Costa Atlantica, the large Italian cruise ship where the cluster occurred
A matter of urgency
After being contacted by Dr. Sando, the Fujitsu Special Task Force Team determined specifications based on fragmentary information because time was limited. Following this they started development.
The system is based on the Health Monitoring Chat service already deployed in 90 local Japanese governments and health centers. This system is built on CHORDSHIP, a cloud-based service platform.
As the crew includes many nationalities, the system was localized from Japanese to English. Generic system IDs were also replaced with crew member IDs and ship cabin numbers.
On April 22 at 7:00 pm, approximately nine hours after receiving the phone call from Dr. Sando, Fujitsu delivered the English version of the Health Monitoring Chatbot tailored to the cruise ship in Nagasaki.
Dr. Sando then began working to have relevant personnel analyze the infection situation by using the system, which meant they could implement measures to prevent Covid-19 from spreading.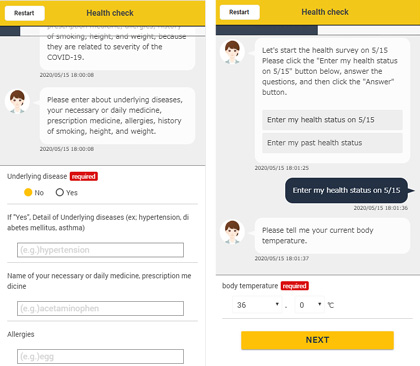 Input screens of the English version of Health Monitoring Chat. People who've come into contact with the virus report their health through their smartphones every day and the doctor manages the information in a list format. This method reduces effort required by doctors and infected crew members.
The infection zones was not under administrative jurisdiction, but on a privately-owned foreign ship. This meant there was nowhere to take care of the crew, and even if they were to disembark it wouldn't be easy to transport them from the red infected zone. Under such constraints, the Health Monitoring Chat and ongoing support was the best option.
The health of all 623 crew members were monitored onboard by the ship's one doctor and nursing team, which put them under substantial strain. There was also a risk that if the doctor became infected, there would be no other doctors available on board.
On April 23, the infection rate onboard the ship increased to 48 people diagnosed as infected, with one person rushed to hospital. It sent shock waves throughout Nagasaki.
On April 24, another 43 people were confirmed to be infected, making a total of 91 infections.
On April 27 and 28, three people were raced to hospital and the tense situation continued.
Adapting to needs
After delivering the system, Fujitsu made daily enhancements to system functions in line with the ship's situation and the control measures in place. Fujitsu also added a system that enabled the crew members to input their health statuses and body temperatures on their smartphones, which helped the lone doctor onboard to ascertain the health of the 623 people more efficiently.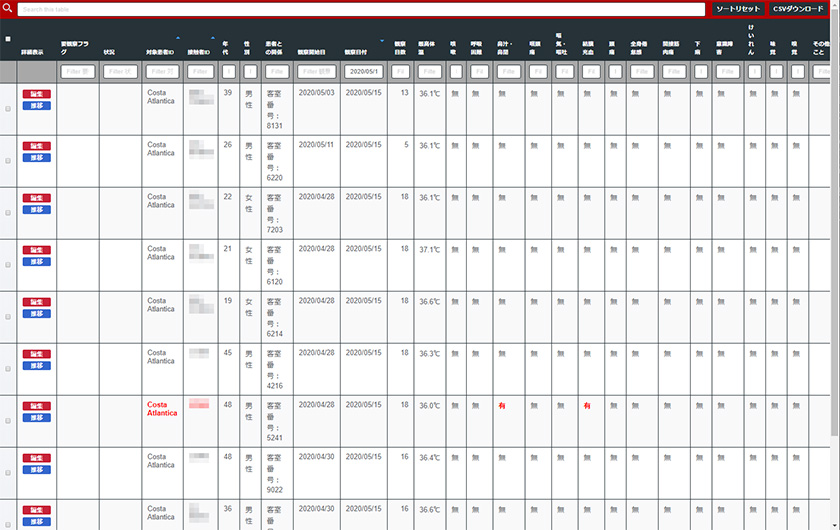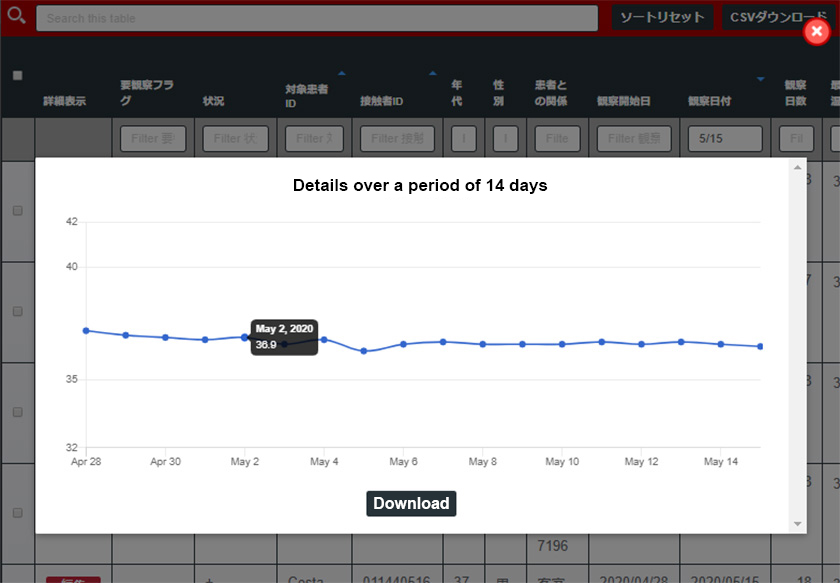 Administration screens of Health Monitoring Chat. Information the crew members input on their smartphones is collected on a real-time basis and used for cluster control.
Risk Factors for updated
On a closed ship, it's important to work on both prevention and response. We learned that Covid-19 becomes more severe when the patient has an underlying disease, a history of smoking, or certain characteristics. These vulnerabilities were added to the system to help detect risk factors early. To avoid respondents giving up and exiting if there are too many complicated options to choose from, Fujitsu reviewed input logs and made modifications.
Data screening regularly
Entered information is checked daily by Dr. Sando. It is processed twice-a-day to inform screenings, and then provided to the ship. Data can be extracted and presented to flag changes in body temperature or symptoms. In addition, Fujitsu modified the functions on the administration screens to ensure Dr. Sando could extract data faster.
Varying smartphone models and time zones
The crew's smartphone models were unknown, so Fujitsu provided enabled operations to work through browsers.
However, the time zones of the crew members' smartphones still posed an issue. They were still set to their local time zones, which varied between 30 countries. This caused data to be collected on different dates at different times despite all entering information at 9:00 a.m. JST. To address the issue, we added a function to convert time to JST in order which ensured information was collected at set times.
In total Fujitsu made 20 minor functional changes in a week, in direct response to needs that arose during the system's usage.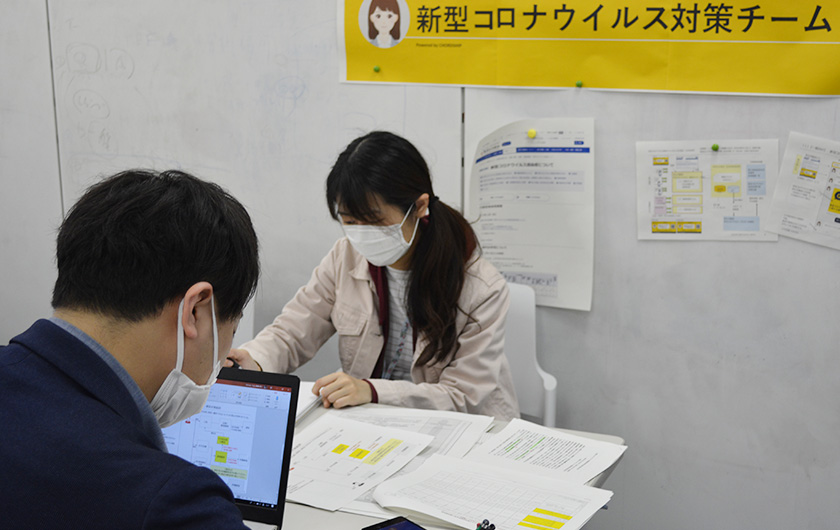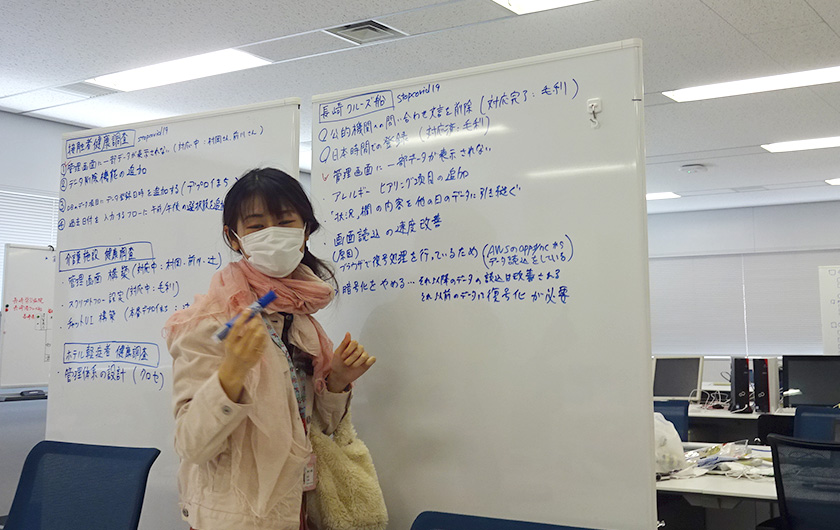 Each issue the ship's doctor and nursing staff had was reported during online meetings with Dr. Sando and the system was modified accordingly. Twenty functional enhancements were applied.
Easing the crew's anxiety
The long stay aboard the ship caused some crew members to fall mentally and/or physically ill. Since an increase in sick people would make the doctor busier, efforts were taken to lower illness levels. This included extracting the crew's needs from comments submitted to the Health Monitoring Chat and delivering these insights to the cruise line so they could also provide support.
The smartphone-based chat system was an effective instrument to listen to the crew's thoughts and opinions. For instance, a Romanian crew member used the system to say: "The catered meals consist solely of Asian food. Since I am Romanian, I'd like to eat European dishes."
Monitoring the future
On April 25, 148 out of the 623 people were confirmed to be infected. However, since Japan and Fujitsu started to provide full-fledged support, the number of newly infected patients only increased by one. Seven patients with severe infections were sent to a hospital in Nagasaki after close coordination was established with the hospital, on the basis of information collected with Health Monitoring Chat.
A detailed understanding of the crew's health made it possible to permit crew members who tested negative to return home at the start of May. As of May 10, there were approximately 400 remaining crew members.
This infection control project was successfully completed by aligning the entire ship with the support provided by the special Japanese team consisting of the Nagasaki Prefectural Government, the Cluster Response Team at the Ministry of Health, Labor and Welfare, the National Institute of Infectious Diseases, DMAT, the Japan Self-Defense Forces and other organizations.
The Fujitsu Special Task Force were able to listen to each issue aboard the ship at online meetings with Dr. Sando. Although we couldn't meet the crew directly, we were able to connect with them and the staff at the Response Headquarters of the Nagasaki Prefectural Government through data. The Nagasaki cruise ship is still being monitored and we sincerely hope the crew can return home healthy as soon as possible.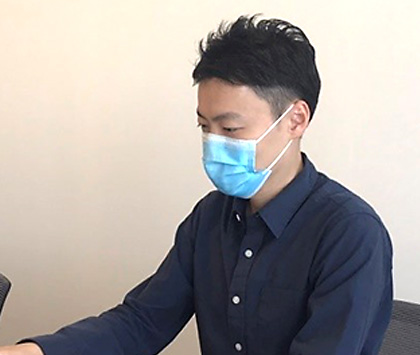 "I'm exchanging information with the Fujitsu Special Task Force Team every day. From this they come up with ideas for improvements that are required at the scene.
"Even though I don't meet them directly, I feel we're in close coordination, as if we were working together in the same place. I really appreciate their selfless, quick responses as well as the modifications that reflect feedback from the ship's doctor and nursing staff. I thank the team very much." – Dr Eiichiro Sando, Infection Control Specialist at Institute of Tropical, Nagasaki University
Fujitsu
September 23, 2020