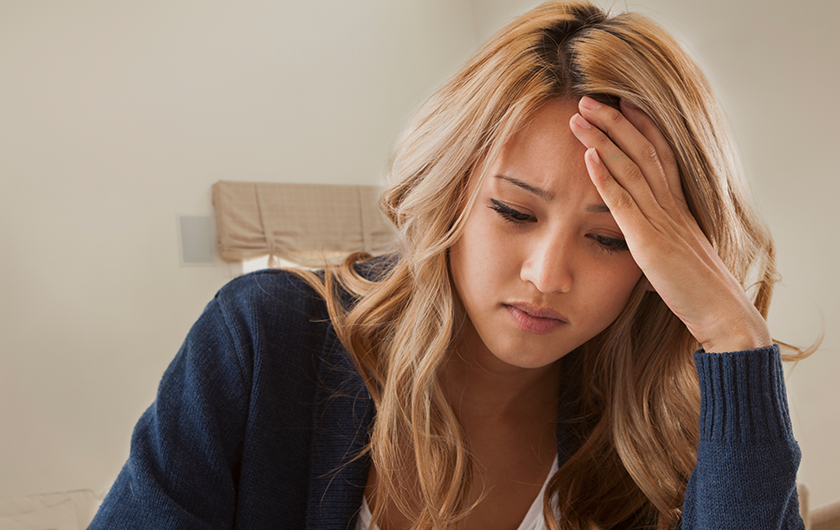 Many people are experiencing chronic anxiety and confusion because they can't see what the future holds due to Covid-19. This has caused the number of pandemic inquiries received by local governments, public health centers, and medical institutions to surge.
Some local governments have implemented measures to ease residents' anxiety as much as possible by providing consultation services. However, phone lines are often busy and local government employees are facing increased workloads to handle inquiries.
In this article I'll discuss an initiative taking place in Minato, Tokyo. It aims to overcome the challenges of rising Covid-19 inquiries in local governments by using a chatbot to deliver relevant information to residents.
Contents
---
Rising concerns and increasing workloads
Minato established call centers for those returning to Japan or who have potentially come into contact with Covid-19. The centers offer a consultation service as part of its aim to keep residents informed.
The city has received more than 100 inquiries per day since mid-February and consultations have seen an exponential increase since late March. This corresponds with a surge in the number of infected patients.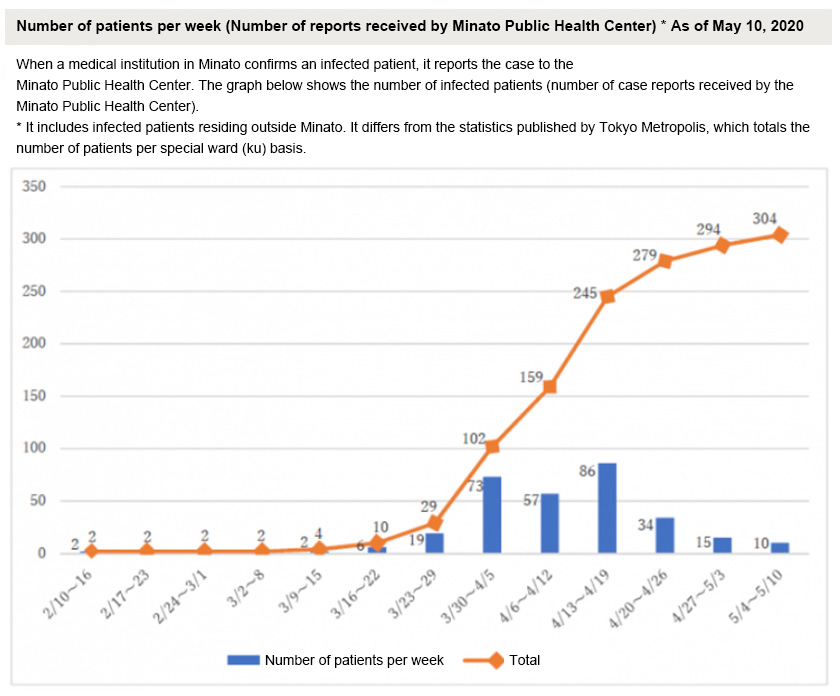 The number of infected patients in Minato show a sharp increase since late March (from the website of Minato, Tokyo).
Inquiries aren't limited to health concerns which means consultants need to respond individually to the unique needs of each inquirer. Since the outbreak of Covid-19, they've needed more time to handle inquiries than before.
Inquiries vary from:
What is Covid-19?
What is the criteria for determining whether to see a doctor?
What activities can be done during quarantine?
When will facilities resume?
What information is there in regard to elementary, junior high, senior high and special schools?
What information is there concerning remote work and staggered commutes?
Is there leave support for guardians in case nursery schools are temporarily closed?
Each city department is trying to provide quick responses to these questions. However, there was a daily increase in the number of inquiries regarding Covid-19 control measures as well as routine duties. More people began to visit the city office to seek advice, as well as use the phone lines, which added to staff workloads. And limited resources meant the situation continued to be difficult.
A solution in 10 days
On March 17, 2020, Fujitsu received a request from the Minato Mayor's Office to quickly automate its Covid-19 consultation service. We decided to deploy a chatbot based on CHORDSHIP, a cloud-based service platform to deliver automated responses 24/7. The aim was to improve city services and reduce staff workloads.
Fujitsu has previously deployed this technology to automatically respond to resident inquiries on administrative measures during the 2018 Japan floods that occurred in western Japan, as well as the 2018 Hokkaido Eastern Iburi earthquake. Its success here provided evidence that the chatbot could also be effective for Covid-19 inquiries.
In late February a Fujitsu Special Task Force Team specializing in Covid-19 were created. They had the know-how to identify what emergency actions should be implemented and what local government staff should prepare for disaster relief work. The team designed and built a systemenvironment for the chatbot in Minato in 10 days. On March 26 2020, the chatbot was successfully made available on the top page of Minato's website.
The Minato Mayor's Office matched the team's agility. At that time, every section in Public Health and Welfare Support Department was handling inquiries, and infection control was changing very rapidly. This was causing time lags in sharing updates and Frequently Asked Questions (FAQs). To resolve this problem, the Mayor's Office took the initiative to collect FAQs from each response section and started to coordinate updates. By preparing and categorizing the FAQs, users could easily find the answers they needed.
For this reason, Tetsuya Sato, a PR representative at the Mayor's Office, refocused on user experience to re-categorize FAQs logically. "I committed to delivering accurate and appropriate information to residents quickly," says Tetsuya.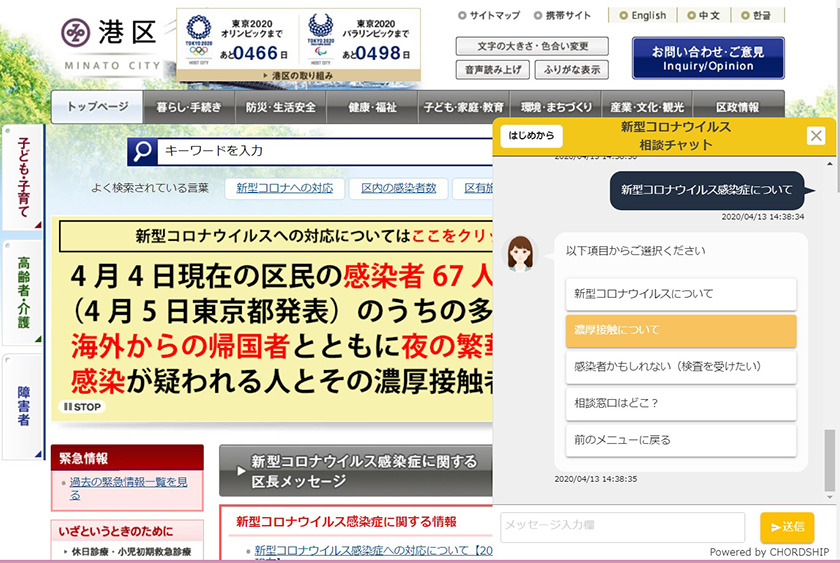 Minato Covid-19 Consultation Chat System provided by Minato (From Minato's website)
Inquiry categories appear when the user clicks on the chatbot which appears at the top of the website. Residents can find the answers they need by selecting one of the topics provided or by entering questions freely.
Higher resolution rates and decreased workloads
After the chatbot launched, approximately 80% of inquiries were answered automatically. This significantly reduced the pressure on staff workloads and an improvement in city services can be confirmed.
The system also revealed that some 40% of inquiries were made outside business hours; people wanted to ask questions on their smartphones on weekends and evenings. The chatbot enabled this, and also made residents feel more comfortable about asking difficult questions. This increased insight allowed the mayor's office to decipher what's really troubling them at that moment.
Going forward with continuous updates
The pandemic changes every day. Control policies and measures are added and reviewed urgently, based on proposals from the experts. This means even when FAQs are prepared, they need to be continuously adjusted to the changing situation.
In Minato, the Mayor's Office analyzes logs of inquiries received from residents and corresponding answers in order to consider possible additions to the FAQ section.
"Analyzing these logs of inquiries makes it possible to understand users' needs accurately," explains Tetsuya Sato. "To respond to needs quickly and appropriately, we update the chatbot with the latest information every day. Although updating the chatbot requires work, the gratitude from users is encouraging. I'll continue to proactively deliver the latest useful information to residents and users."
Kazuya Okamoto, Subsection Chief at the Mayor's Office praised the chatbot's 24/7 availability and instant responses. "I feel this service is highly satisfactory as users can obtain the answers that they want. The next challenge is updating FAQs as Covid-19 continues," he says. "The other day, I visited Minato Public Health Center a with Fujitsu and received support to create FAQs about Covid-19 symptoms. I'd like to express my appreciation to Fujitsu. Staying ever-mindful of the role that I have to play in the state of this emergency as a civil servant, I want to continue delivering information."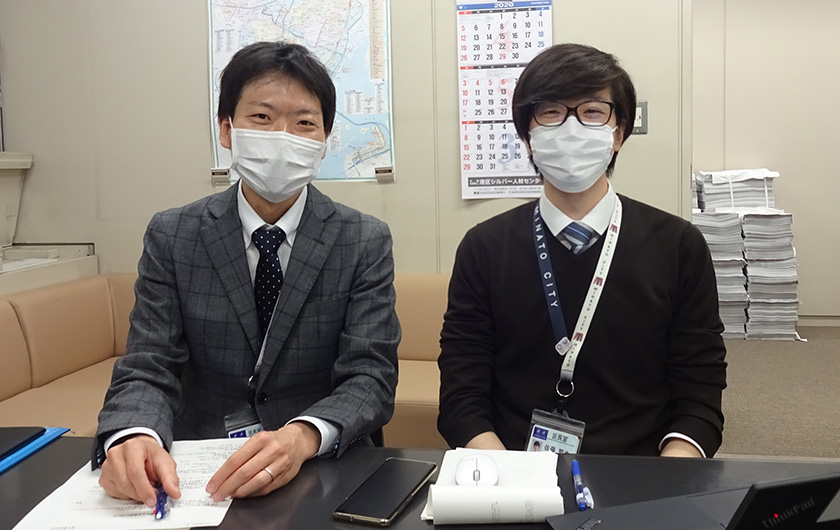 Kazuya Okamoto, Subsection Chief in charge of PR strategy, and Tetsuya Sato, PR representative, at Minato Mayor's Office
Fujitsu
September 23, 2020