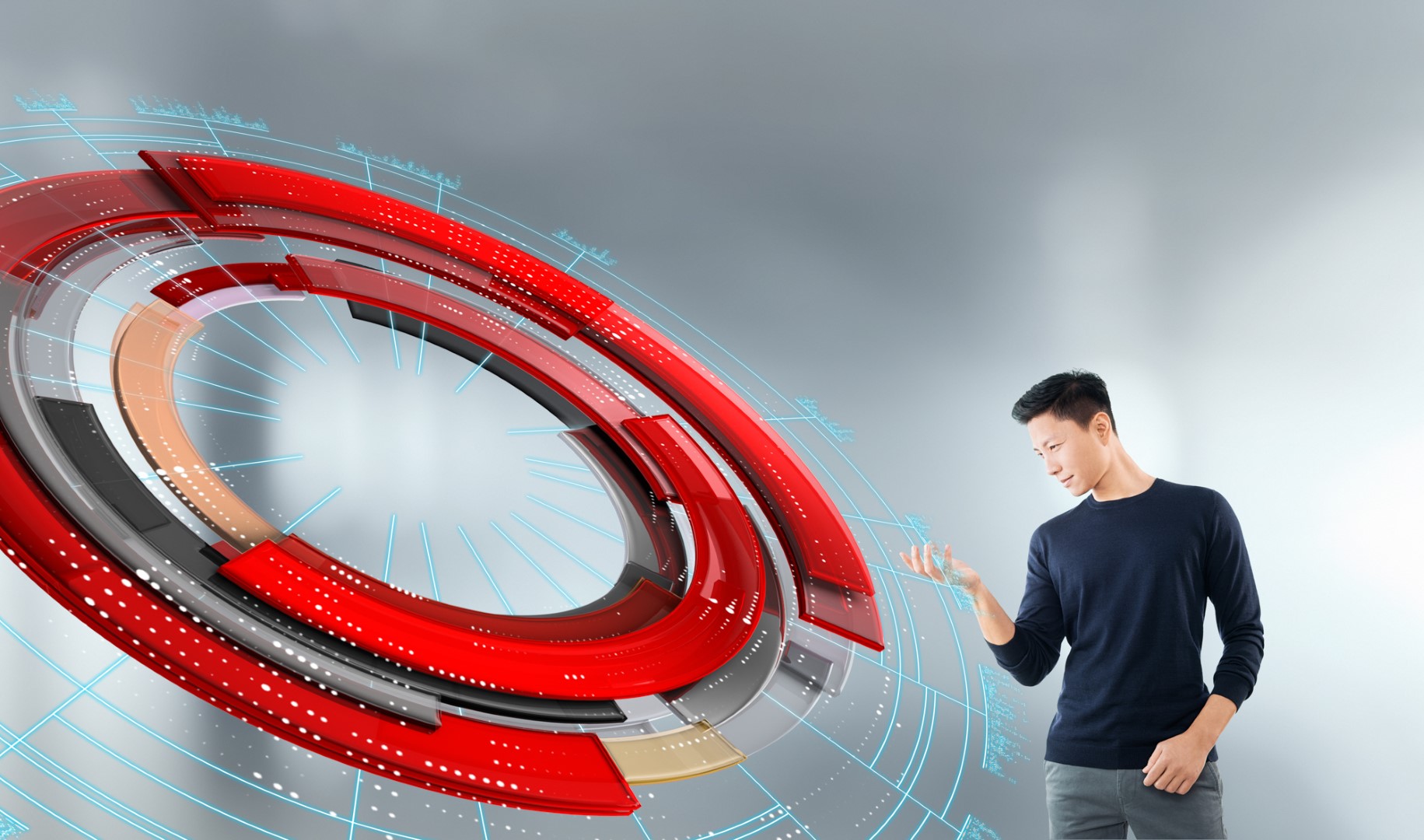 Businesses globally have never faced more challenging times. Customers are more demanding, competition is more intense, and established industries are being disrupted to their core by innovative new entrants to the market. This has led to an increasing need to access our global, hyper-connected world to keep businesses running and resilient.
To leverage the  hyper-connected world's capabilities, the core foundation of the company should be set right first. A company's ERP (Enterprise Resource Planning) application is a crucial part of this.
Core business operations are reliant on an effective ERP system, and should be able to access an accurate real time picture of its resources, analyze data and plan effectively to optimize performance. And the latest SAP ERP solutions, SAP S/4HANA, provide unparalleled capability to embrace the new normal.
Here at Fujitsu, we support many customers who are using the leading SAP ERP solutions. Over the past few years, we've identified multiple challenges these customers are facing that hold them back from delivering digital transformation.
We've identified infrastructure performance as a key success factor for SAP ERP success – , taking the plunge with a migration to an integrated solution pays dividends.
Today, some of the most-common challenges faced by customers running SAP systems are heterogeneous systems that are unable to talk to each other, as well as the wide scope of SAP S/4HANA migration, and the complexity of multiple SAP S/4HANA deployment options. These factors all require an ability to deliver sustained performance while also reducing costs.
Fujitsu recently conducted a Total Economic Impact (TEI) study with well-known analyst firm Forrester to investigate the return on investment gained from migrating to SAP S/4HANA with Fujitsu PRIMEFLEX Solutions.
Forrester developed its TEI framework to gauge the tangible benefits, costs, flexibility and risks associated with IT investments, and to undertake methodical and independent RoI analysis even for complex projects.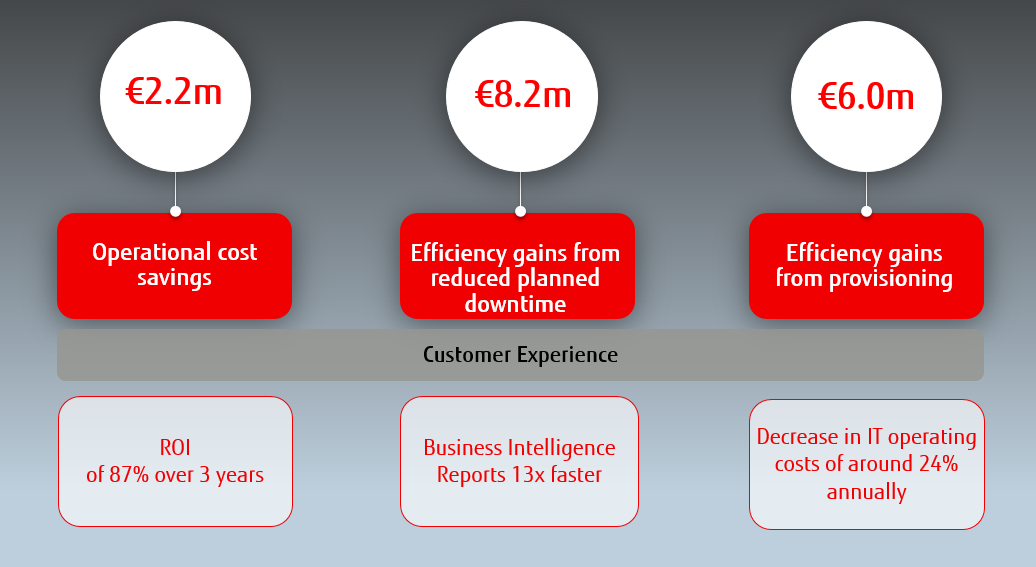 The Total Economic Impact™ Of Fujitsu PRIMEFLEX Solutions for SAP S/4HANA, a commissioned study conducted by Forrester Consulting, February 2020
Some of the key findings from this study
One organization interviewed by Forrester is a global financial services company. The study confirmed that as a result of the migration, the firm experienced the following benefits:
An annual decrease in IT operating costs of around 24%
50% efficiency gains through reduced planned downtime
The ability to run Business Intelligence (BI) reports approximately 13x faster
These gains translated into an ROI of 87% over three years.
In many conversations I have held with customers and partners about the SAP S/4HANA migration opportunity, I often hear about the dichotomy they face. On the one hand, their desire to modernize and enhance agility, and on the other a certain reluctance to change legacy systems. Striking the balance between these opposing desires is far from easy.
Let's take a deeper dive into the details of the case study to explore how the organization was able to design a smart path towards SAP S/4HANA. Headquartered in Europe, this multi-national company provides financial services including worldwide insurance and asset management, serving more than 100 million business and individual customers.
Given that SAP S/4HANA not only helps consolidate SAP landscapes, but also enhances any end-user experience interfaces, the approach based on SAP S/4HANA was all-encompassing: For the project to be successful, the organization's digital core has to be technologically solid to satisfy IT requirements.
At the same time, it needs to make sense to the people who rely on it. That's why the seamless integration of SAP solutions needs to be designed from the outset to create a digital-focused organization.
As described in our case study, the project leader's clear goal was to migrate over 32,000 users in more than 60 countries to SAP S/4HANA by 2025. How can this be achieved while saving costs and avoiding any business disruption?
The existing environment consisted of multiple platforms and hardware/software stacks, different operating systems and multiple data centers. In addition, support for SAP HANA was limited due to the diverse infrastructure and legacy SAP applications. The organization consequently wanted to move all its operating platforms to SAP S/4HANA running on a single hardware and software stack, and to consolidate all SAP operations from its different data centers into a single private cloud for SAP in one central data center.
What role does PRIMEFLEX for SAP solutions play?
Fujitsu Integrated System PRIMEFLEX for SAP Environments consist of PRIMEFLEX for SAP HANA for transactional and analytical operations, and PRIMEFLEX for SAP Landscapes powered by FlexFrame Orchestrator Management software that makes it possible to manage the entire SAP landscape using a single shared operating system.
PRIMEFLEX for SAP Landscapes powered by FlexFrame Orchestrator Management Software allows entire SAP landscapes to be managed centrally. This ensures consistency and a high degree of transparency and automation for daily business processes.
FlexFrame Orchestrator Management Software is an open management platform that enables the central management of SAP ERP environments and SAP HANA infrastructures including SAP S/4HANA. All installed and configured resources are controlled from a central instance, the FlexFrame Control Center.
Typical SAP environments consist of a mixture of virtual and physical servers. The consistent management of all resources – virtual or physical – is therefore an important requirement for the IT infrastructure to deliver flexibility and scalability for future business growth.
To establish a single new operating system, the IT project team defined four steps:
Design and build a single platform architecture
Implement the architecture by migrating the first countries onto the new platform
Migrate all remaining countries
Move the entire business to SAP S/4HANA.
This approach underscores the fact that SAP S/4HANA is far more than just an update: It can act as a catalyst to simplify processes, drive efficiency and unlock TCO savings. This is clearly illustrated in the successful project I have shared with you.
Undertakings like this require striking a delicate balance between delivering business value to the organization and introducing state of the art technology to the datacenter. The PRIMEFLEX for SAP portfolio helps accelerate the SAP transformation process by enhancing internal resources and delivering a robust, agile infrastructure that supports business growth and innovation.
Download the full study here (registration required)
For more information on PRIMEFLEX for SAP Environments, visit: www.fujitsu.com/primeflex/sap