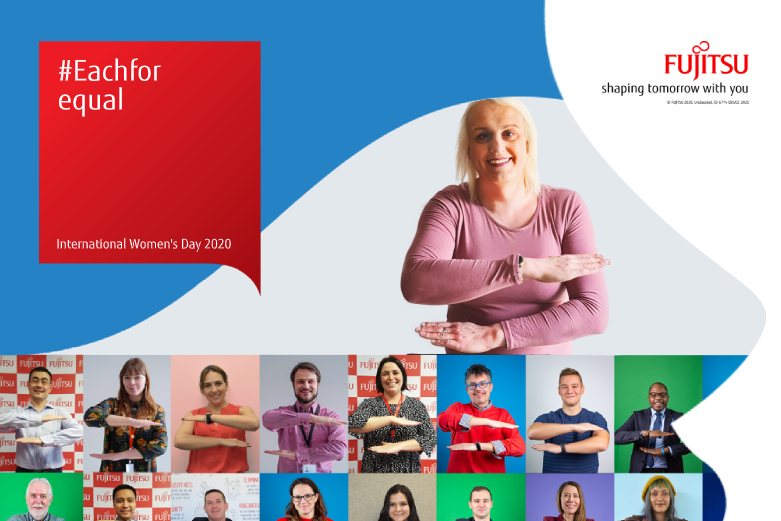 Like many women, my path to a career in technology was definitely not direct.
I wasn't encouraged as a child. My parents assumed I would go out and get a job, not go to university – and much less embark upon a career in IT.
When I joined the industry women in technology, and even women in business, weren't visible. To be fair, there weren't that many of us to be seen, especially in technical roles.
Now, thankfully, things are changing. I've seen it first-hand at Fujitsu, where we have an incredible stream of young talent and graduates entering the industry.
I can even see it outside of business too: the gaming world that was once primarily "lads-only" now has a strong female contingent.
But I think it's critical that all kinds of women are visible. Like many people in Fujitsu's LGBT+ network, PRIDE, I bring a whole host of identities to work, including my gender, sexuality, and faith – as, in fact, everyone does.
Everyone's experiences are different. But I'm passionate about making sure that there's a level playing field and visible role models to ensure everyone feels that STEAM (Science, Technology, Engineering, Arts and Mathematics) is the right place for them.
Importantly, there are steps we can all take to make that happen.
Everyone's experiences are different
International Women's Day falls just after LGBT History Month – and in both areas, we've made massive in-roads over past decades.
But it's important to acknowledge the challenges that people can face and just how much their experiences can vary.
For example, lesbian women are often less visible than gay men. Meanwhile, trans people can feel much too visible, especially if they're going through their transition.
On top of that, sexuality and gender are just one facet of our identities. Everyone's circumstances are different, whether you're a parent, partner, carer, person of faith, or anything else. No two people are the same.
But everyone should have the right to bring their full professional selves to work – and be accepted as both individual and normal.
Listening to each other
Through my involvement in the PRIDE network, I've seen just how much difference simply listening to each other's experiences can make.
We operate diverse mentoring across our networks and the business' senior leadership team. People in the highest positions get to see what life is like through the lens of someone who might be female, LGBT+, religious, BAME or have a visible or invisible disability – or any combination of those identities.
Likewise, we have an incredibly strong network of allies, who learn more about our experiences in the workplace and any specific challenges that might come up.
The results of these programs are often incremental. People might come to understand the right language to use in conversation or the appropriate way to speak about someone non-binary, for example.
Or they might take small actions, like asking each person around a table for their thoughts at the end of a meeting, to ensure everyone has the chance to be heard.
But our programs also inspire concrete actions, like our male allies committing to boycott all-male panel discussions.
All of these differences can add up to a much more inclusive – and considerate – environment for everyone.
You can only be what you can see
Role models are also hugely important, for everyone. I think it's absolutely the case that you can only be what you can see.
But if you're female or LGBT+, there are usually fewer role models to look to – especially in senior roles.
The traditional pressure on women to take on the role of parent or carer means there has been a shortage of female senior leaders in business, while men have had greater freedom to progress.
Equally, LGBT+ people might hide aspects of their identity because they're afraid they might be judged or disadvantaged at work. I've often heard about LGBT+ people who have come out at university and then gone back "into the closet" on joining the world of business.
We need the right systems in place to ensure that everyone is supported in their career progression.
For example, Fujitsu offers very flexible working hours and remote working, which can help women to continue with their careers and progress to more senior roles.
Equally, we interrogate the organisation's processes to ensure they're equal for everyone, such as ensuring people in same-sex couples have the same pension and parental leave rights.
By putting everyone on an even footing, we'll see an even more diverse group of people progressing through the business. That way, everyone – no matter their gender or orientation – will have role models to look up to.
Thriving in STEAM
Being able to bring your full self to work – and being empowered to progress in the organisation – makes a huge difference to your experiences at work.
In my 14 years at Fujitsu, I've seen that this is something at the center of the business' ethos and of course in return, the company gets happier, more productive workers who will stay for longer.
Working in STEAM is a fantastic career – so now, I'd like to finish on a practical note, with advice for anyone who aspires to work in the sector.
Maintaining focus is key. I advise the people I mentor to have a visual prompt on their desktop or mobile device, reminding them of what they want to achieve.
Create an image with four segments, incorporating: What you want to achieve, your goals to get there, a person that motivates you, and something that inspires you to better yourself.
Dream big, aim high and you can do anything you want to. Always remember that – whoever you are – you ARE enough.