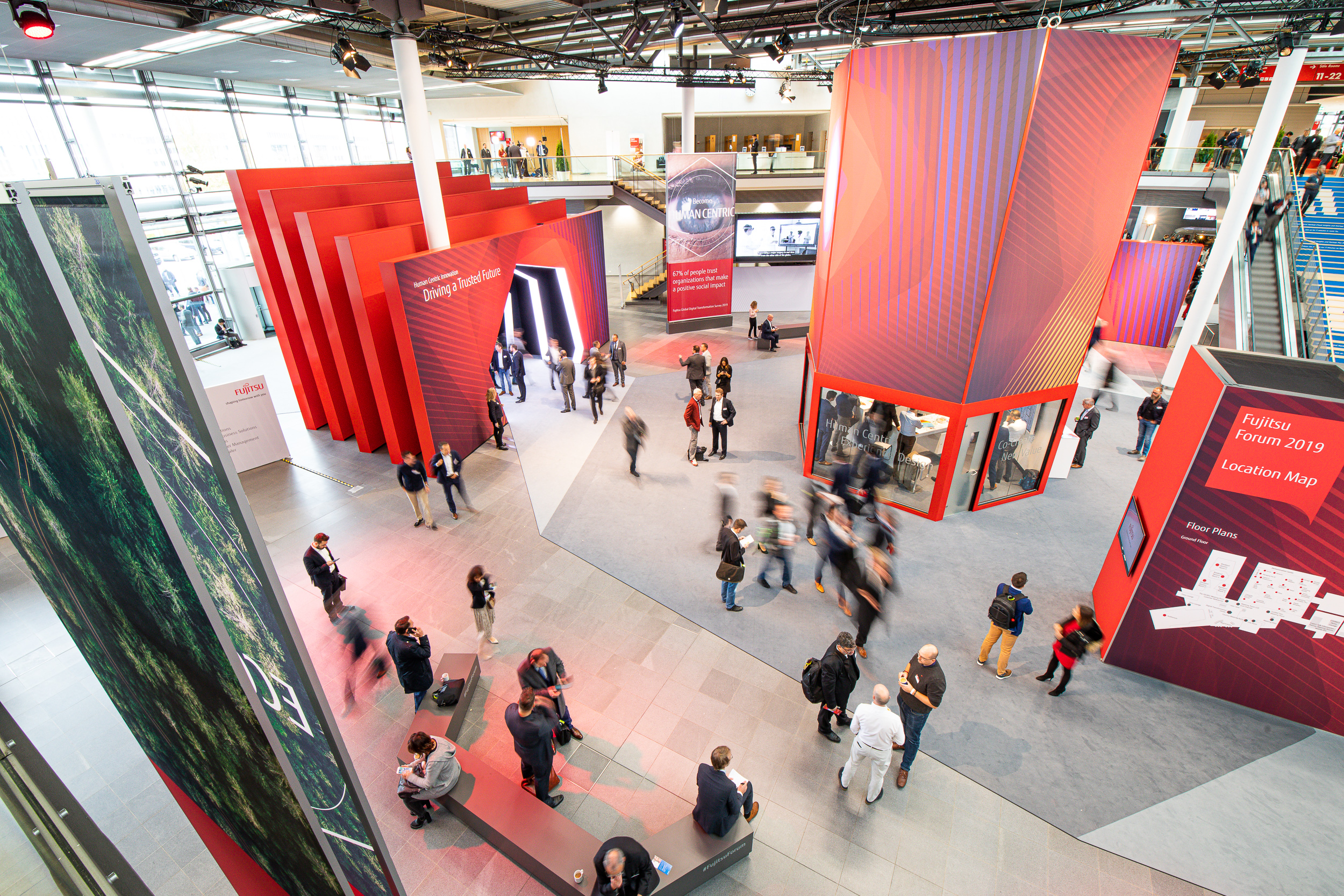 After two information-packed days in crisp but sunny Munich, with the last coffee served from the Oracle CaaS (Coffee as a Service) stand, so concludes another excellent Fujitsu Forum.
Throughout this year's event, the importance of trust, co-creation and a human-centric approach to accelerating digital transformation shone through.
Topics spanned the gamut – from how quantum-inspired technology is speeding up BMW's assembly line, to developments in bee-saving advanced analytics.
So, whether you had a chance to join us in Munich or you've been following us on #FujitsuForum and #FujitsuForumTV, here are some of my reflections following another inspiring Fujitsu Forum.
Trust – the backbone of every partnership
We live in difficult times when it comes to trust – confidence in institutions and governments has eroded significantly over the last few years. It's a fascinating time in society and it's why we made the theme of "trust" omnipresent throughout the show.
In a refreshing keynote, experts from Microsoft, Intel, NetApp and Nutanix came together with Fujitsu's own Fleur Copping to explore the steps needed for "Building a trusted ecosystem". (Watch on #FujitsuForumTV)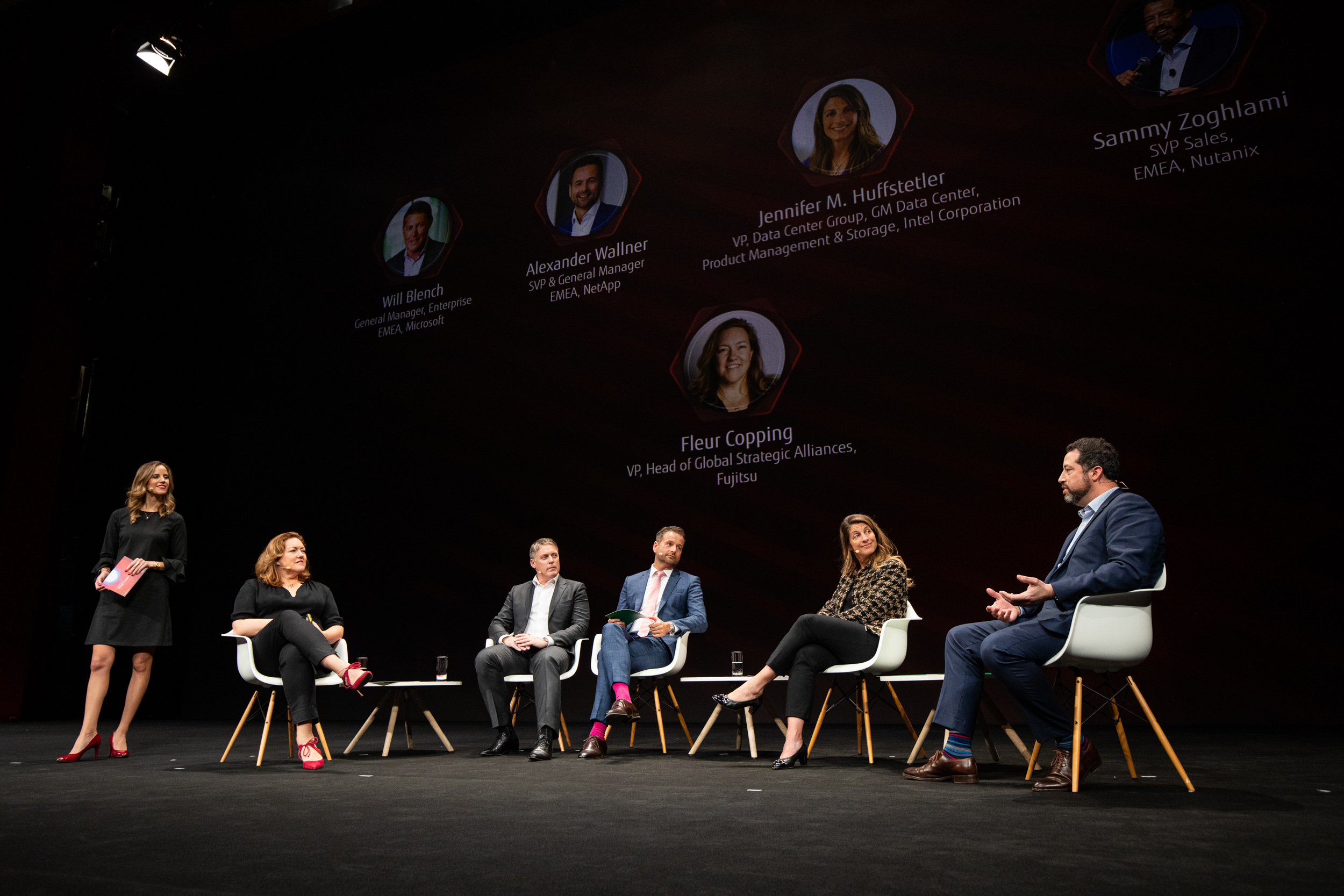 Fleur shared the story of how an ecosystem found a solution to simplify the incredibly complex $450bn rice trading marketplace.
With numerous suppliers and traders operating in a largely paper-based marketplace, it took trust and a multitude of different perspectives to create Rice Exchange, a new company that aims to transform the rice trade through blockchain solutions.
And while it solved a very old problem, it shows how technology organizations are becoming increasingly influential, because their decisions now impact every aspect of our lives.
"Technology simply needs to grow up", explained Will Blench from Microsoft. And to do this, ecosystems need to ensure their mission and business models are aligned so they can foster empathetic cultures to grow trust in parallel to functional digital agendas.
He ended by saying they also need a shared emphasis on creating responsible, ethical products. And that last point is only carrying greater importance, as AI becomes more integral to the functioning of our world.
So, it was reassuring that the breakout session on AI and ethics was one of the most attended talks I witnessed. Enterprises are realizing that this priority will only grow with time.
And with younger generations more aware than ever, it's in every business' interests to ensure they're creating AI that's accountable and transparent, with ethics baked in.
Or as Christoph Lütge from TUM Institute for Ethics in Artificial intelligence regularly says:
AI will not fly without ethics.
Our breakout session participants were kind enough to join us on #FujitsuForumTV to give us the highlights – watch below:
Collaborating humans are the heart of great innovation
One ever-present message was the idea that the human experience must be central to all technological innovations.
The digital transformation center, for instance, was a perfect display of cutting-edge innovations – from next-generation cooling pools to deep learning systems built to overcome AI training challenges.
However, each was propositioned as a way to empower the 'internal customer' – focusing on employees and their work life.
That's because you, the worker, are the most important asset your business has. And the smartest organizations now know only an engaged workforce will be their ticket to the other side of the 4th industrial revolution, so it's critical to give them the tools they need.
But on the other side of this philosophy is the idea that we need to better enable humans to collaborate if we want to solve our biggest problems.
That's why, in the heart of the venue, sat a mini version of our Digital Transformation Center (DTC), where delegates were taken through our Human Centric Design (HDX) approach.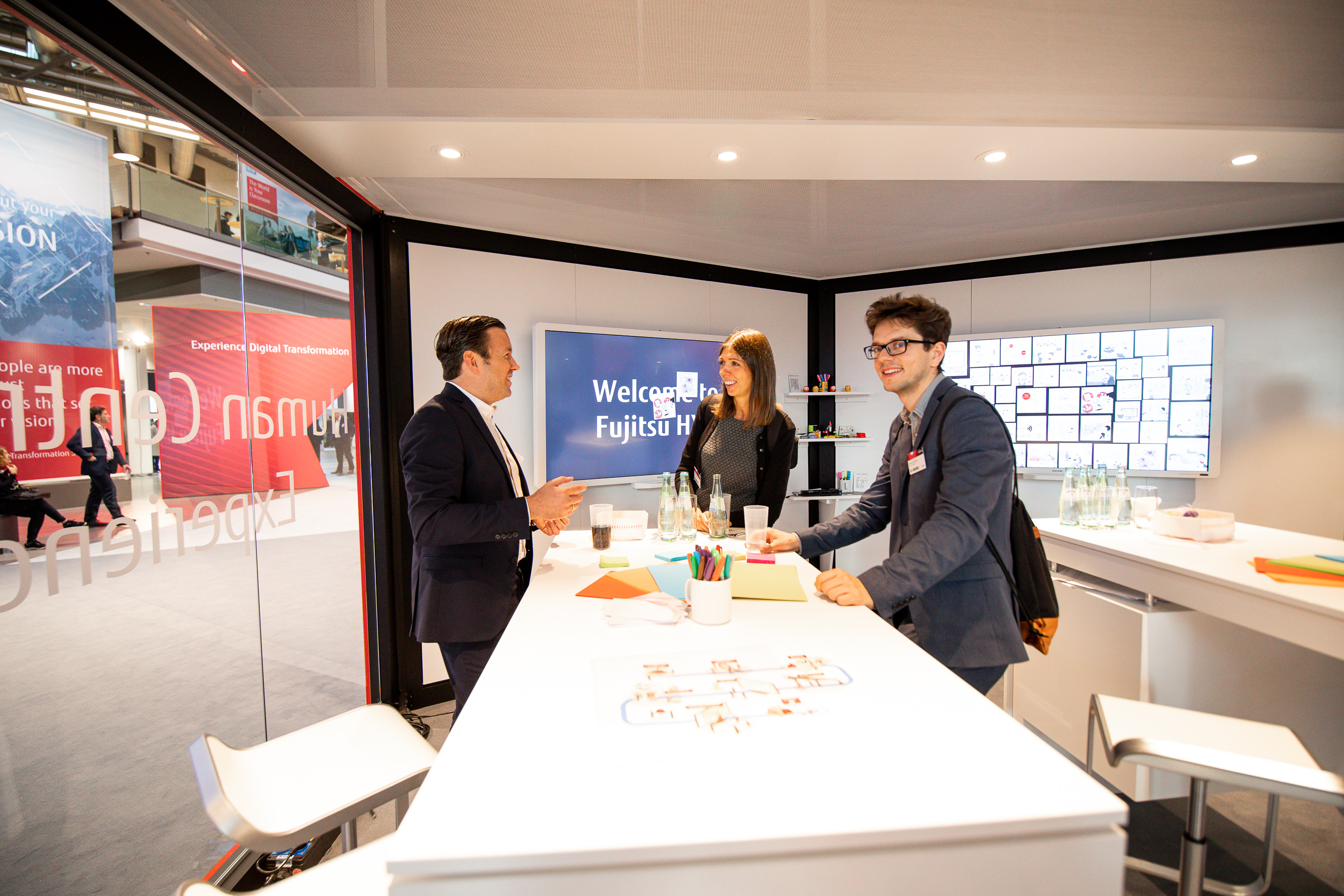 This involves leveraging a variety of tools, both technological and analog, to help our customers address the highly specific challenges they're facing.
And when I say specific, I mean it. When I spoke to our Design Lead, Martin Russel, he recalled the time a popular British coffee company approached them for help with their milk wastage problem.
By gathering a variety of stakeholders – baristas, store-managers, even milk providers – in the DTC for an afternoon, they reached a solution good enough to roll out in a matter of months.
And there's no cap to the problems this approach can solve. In another breakout session, our Fujitsu Distinguished Engineers (FDE) shared how they used HDX to address the UN Sustainable Development Goal 11 – to build more sustainable future cities.
An international group of stakeholders was given seven hours, an information kit and the chance to work with people they never usually would. Their goal was to create a solution for one of three archetype cities – Tokyo, Berlin, and Bangalore.
By the end of the session, 27 different concepts had been created, with a winning concept that Fujitsu is already validating to put into practice.
It shows the limitless potential a well-harnessed group of diverse minds can have to very literally change the world.
If you want to learn more about HXD, check out #FujitsuForumTV and follow us on #FujitsuForum for more information.
All in the quest of digital transformation
In the very first keynote of Forum, Fujitsu President Takahito Tokita reaffirmed Fujitsu's position as a digital transformation company.
All of these efforts, from encouraging trust within ecosystems to constantly proposing human-centric solutions, are to further accelerate healthy digital transformation for our customers.
When the Hamburg Port Authority partnered with us, the head of traffic management, Hermann D. Grünfeld, admitted he honestly didn't believe we could find a way to optimize a system so complex –12,000 trucks daily with just 35 traffic lights to keep it all moving.
However, despite it being an incredibly unique situation, the actual problem was a combinatorial one, something our quantum-inspired technology is particularly adept at solving. So, our partnership unleashed a disruptive performance boost for the port very quickly.
The road through the 4th industrial revolution will be marred by intense disruption, and it's a journey no one organization can hope to brave alone.
It's our mission to ensure all our customers are as prepared as possible for this future and at this year's Forum, we made sure we communicated that importance to all our delegates.
So, thank you to everyone who attended this year's Forum in Munich – we hope to see you all again at future Fujitsu events!
And if you couldn't make it or just want to keep up with all we do, follow #FujitsuForum on Twitter and Facebook, watch our interview program on #FujitsuForumTV and look out for more stories from Forum coming soon right here on our blog.