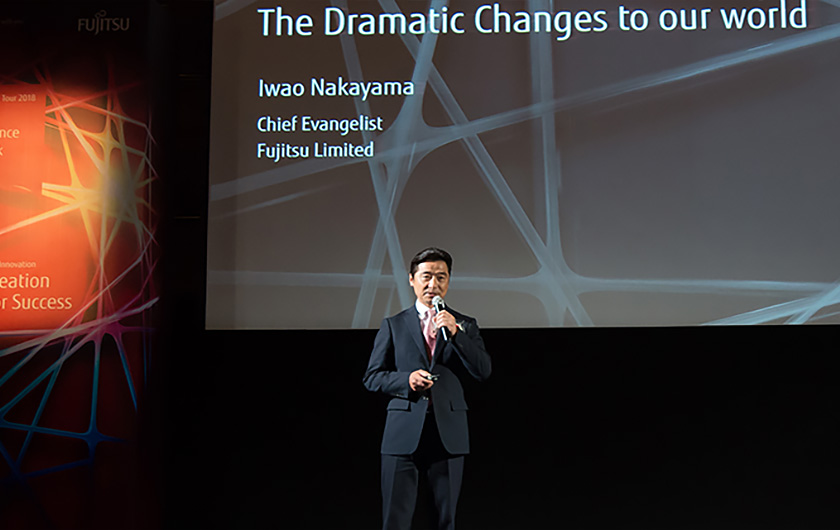 Collaboration between government, industry and academia is gaining momentum as steps are taken to create the so-called Society 5.0, a society in which advanced technologies are leveraged to good effect. Based on results from the Global Digital Transformation Survey 2018, the number of companies embracing digital transformation (DX) for the purpose of management innovation is also on the increase.
During the Fujitsu Forum 2019 event in May a panel discussion was held titled 'Towards AI-driven Management Innovation ~ Next-generation management styles and what we can learn from case study successes and failures'. The session examined the traits shared by companies successfully engaging in DX.
Learning from a failed DX project
Industry expert Atsushi Mitsui, COO and Board Member of AI solutions provider Sigfoss Corporation, was one of the panellists. He described a failed project that he was involved with in the past.
The project used HR data to develop a system for identifying employees who were likely to resign. The system had a successful prediction rate of 99.8%. However, the issue was that the system was unable to predict resignations until they were imminent. This meant that the staff would resign anyway, shortly after the system predicted their likely resignations.
A far better outcome would have been for the system's objective to be clarified as 'preventing talent from leaving the company'. Unfortunately, during the development process this overarching aim was not highlighted, leading to the project's failure.
Barriers to successful DX
Lack of real world data
Unreasonable expectations of digital tools
Lack of a clear goal
On one hand, you have universities that lack real world data and are therefore unable to research the practical uses of AI. While on the other, you have business communities laboring under the mistaken impression that using AI technologies will produce instant results. A new alliance between industry and academia seems necessary to facilitate solutions to these problems.
Professor Kunio Matsui from the Kanazawa Institute of Technology, and another panellist, suggests that, "A good approach might be for industry to use universities as a test bed, providing them with real-world data to analyze." He also believes that, "There are a lot of people in industry who entertain fanciful ideas about AI's ability to produce highly precise decisions. They therefore expect far too much, without even investigating the scope of effective applications."
Atsushi Mitsui explains that to achieve success, "You need to first clearly define your objectives; you need to know what it is that you are aiming to solve." In other words, you need a clear reason for deploying AI and other digital tools.
The traits shared by successful companies
While many companies are pressing forward with DX, others are further advanced and already achieving results. These companies have something in common. Rather than entertaining unreasonable expectations of AI and other digital tools, their senior managers have a clear understanding of why they are using DX to tackle specific problems. The key is for senior management to undergo a 'mindset change' if their company is to succeed on its DX journey.
Strategies for achieving mindset change
1. Dead money
Atsushi Mitsui explains, "If you're targeting transformation, you need to be fully prepared for the fact that money you spend on DX may be dead money. If you don't provide opportunities for the real study of projects such as AI, you'll never know what can be achieved. If you expect big results straight away and set the bar too high, you might well miss out on a significant outcome that wasn't visible before." Some people tend to think that AI and other sophisticated tools should bear fruit immediately, but it is necessary to take a reasonably long-term view or we'll never reach our true goals.
2. Doing the exact opposite
Professor Kunio Matsui boldly declares, "When you start a new business in a company, you generally encounter opposition from the Board. And that's only to be expected because the majority of directors are people who made their mark based on the old way of doing business. So, in that case, why not create a rule that says you have to do the exact opposite and give priority to implementing new businesses that the Board opposes?"
3. Finding passionate people
Professor Kunio Matsui adds, "With new business, management tends to want to assign talented professionals with a track record to be responsible. But you should really give priority to assembling a team of people with a passion for whatever the new business happens to be. This is because regardless of how tough things get, they'll see it through."
The general conclusion, first and foremost, was that it is crucial to define the goals of any initiative. Secondly, it is important that senior managers change their mindsets rather than remaining slaves to conventional wisdom. These points were highlighted by all the panellists throughout the program and were clearly regarded as the common denominators of a successful DX practice.
The FUJITSU Digital Transformation Center is a co-creation workshop space that empowers you to think about the future and to develop plans for digital transformation. Click here to find out more.
Watch our Digital Transformation Center video and discover how participating in a Fujitsu digital transformation workshop can get your business on the right road to digitalization.
Fujitsu
September 12, 2019