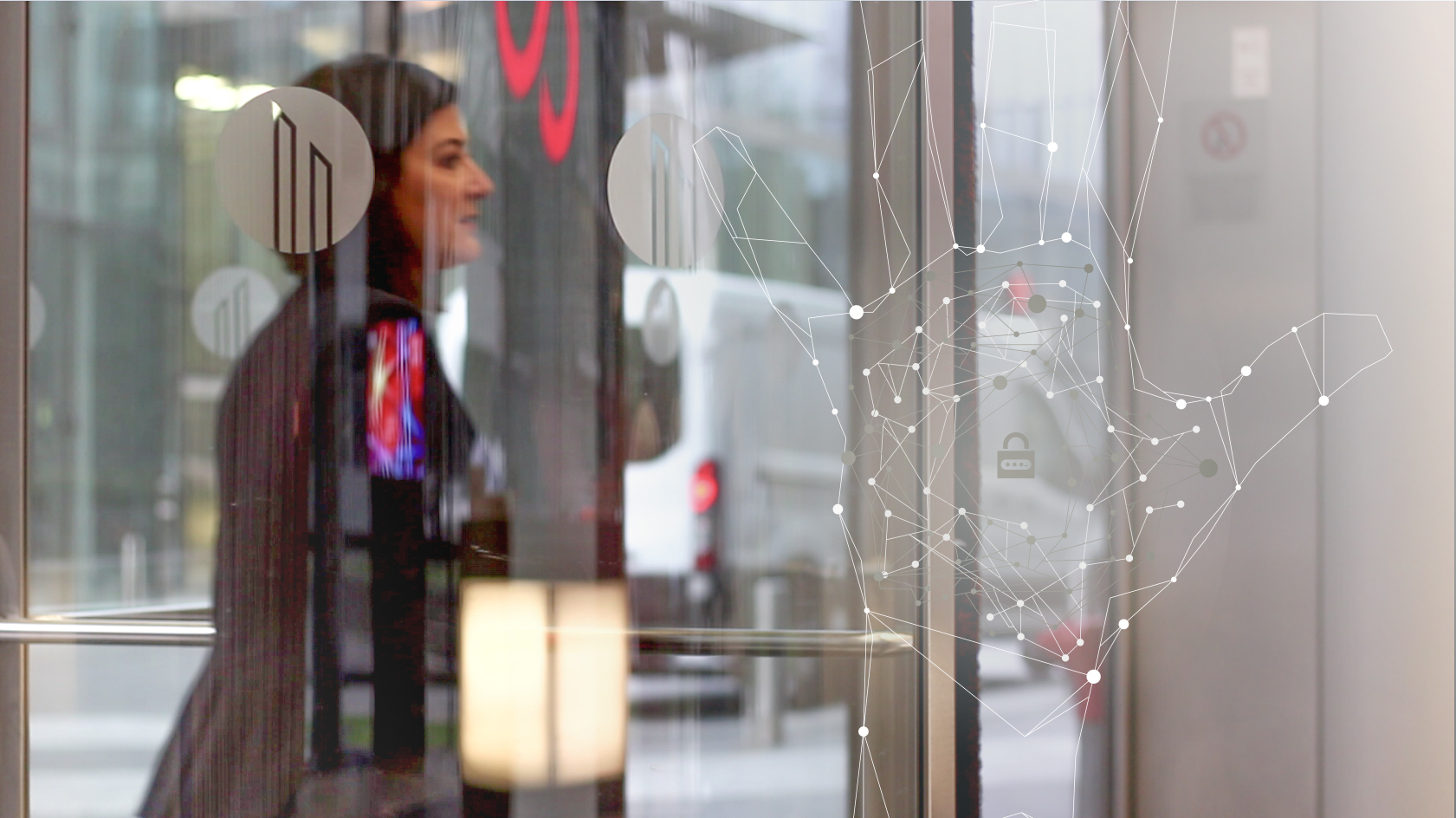 This is Darina. Her heart privately beats for her son and husband, but she also loves taking pictures of her home, flowers and interior design. You would call her an influencer in social media. That is her passion.
In her professional life, Darina works in an IT company. A typical day usually starts with searching for her access cards and remembering dozens of PINs when she gets into the office. Something Darina does not appreciate too much.
Imagine, just as Darina, you are planning a business trip to an event organized by your company.
To do so, in most cases you will very likely take a plane, train, bus or other public transport services to get to your destination.
Once you've arrived at the venue, you have to authenticate yourself to gain access to the convention center or to the various sessions offered. So that you don't have to carry your luggage around with you all day long, you hand over your suitcase and jacket at the coat check.
Finally, after the event, you have to check in to your hotel to freshen up for the evening event. For all these activities throughout your day, you need different tickets, reservations, ID cards, passwords, PIN codes or keys – to name but a few.
Security – an increasingly important issue
Unfortunately, it is not only very cumbersome to carry all the documents you need and to have passwords to hand, but there are also plenty of security issues. Whilst organizational awareness of cyber security is on the rise, one thing is clear – those behind breaches and hacks are always finding new and creative ways to bring organizations to their knees.
This is further driven by the rise of the Cloud and the Internet of Things (IoT), as well as the fact that the amount of data stored and analyzed continues to explode, forcing organizations to focus more on safeguarding their business, employees, and customers.
As an enterprise organization, you still need to carefully consider your particular information security needs and protect them from unauthorized parties.
Comfortable authentication concept for access to buildings, IT systems and much more
The good news is that there is an innovative way to perform various access control systems, identifications, and authentication mechanisms without having to carry many required documents or passwords.
This effectively minimizes the risk of stolen, lost or shared identifiers and unauthorized access. On the lookout for smart authentication methods, more and more organizations are turning to biometrics to protect data and physical access.
Our market-proven biometric authentication technology based on recognizing the palm vein pattern has been shown to be one of the most accurate biometric authentication solutions currently available. Palm vein is an internal biometric, therefore difficult to defeat compared to external biometrics such as fingerprint, face, and iris.
Users can register in advance, e.g. at registration devices installed at airports, linking their palm vein pattern with their personal information.
After this one-time registration – the enrolment in the system, the individual biometric dataset can be used across national borders and various legal entities, so that it is possible for Darina to get access to the event venue, or to check in to her hotel just by placing her hand over a sensor.
The magic behind biometrics is that any user always carries it with him or herself. Hence people do not have to remember complicated passwords or search for keys and access cards all the time.
It's in your hands!
Palm vein technology shares many of the characteristics of fingerprint scanning. It's intuitive and accurate. But it goes even further.
It has exceptionally low rejection or false acceptance rates. And it is contactless, which makes it more hygienic and more comfortable to use.
You can use it in a wide range of scenarios and in nearly any place where secure identification and authentication is required – including banking, transportation, manufacturing or healthcare. And, even better, it comes embedded in a number of our devices.
The security of the future is in our hands, or more precisely, in our veins, as our vein pattern is an absolutely unique physical characteristic, which provides a perfect "material" for secure authentication.
Once registered, Darina's journey starts without having to search for her documents. At a coat check, your ticket is never lost. Physical access to an event or venues or virtual access, e.g. to an IT system, is easily granted.
Even a hotel check-in doesn't require your credit card, ID or reservation, and the bill is conveniently sent to the e-mail address stored in the system. And at after-hours events, you no longer have to worry about losing keys, ID or credit cards.
What a wonderful world this would be. Actually – what a wonderful world this already is!
How does that sound to you? More interesting details and information about the FUJITSU Seamless Identity™ Platform can be found in this video: