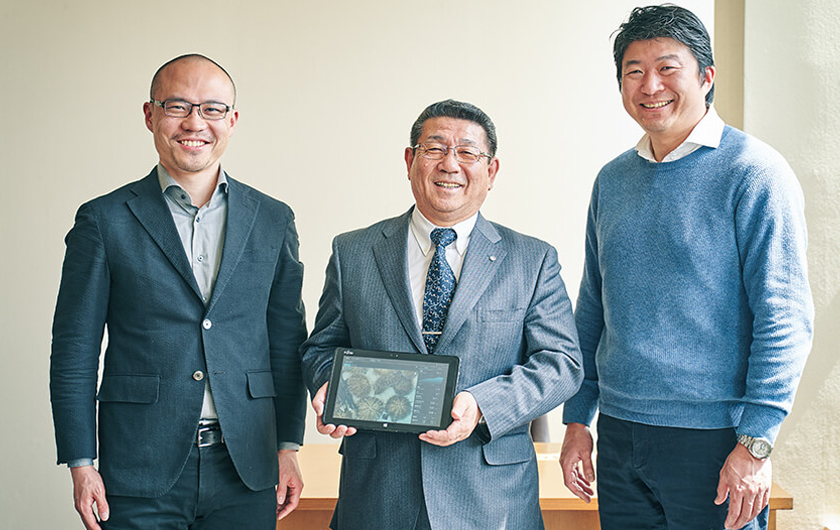 Photo, from the left:
Hiroki Kunimura, Fujitsu Fishtech Development Leader and Designer
Masayuki Takahashi, Mayor of Kamoenai-mura Village
Eiji Otsuka, President of Coast Research Engineering Co., Ltd.
(Continued from Part 1.)
In 2018, the first operational demonstration of Fishtech® Aquaculture Management began in Hokkaido's Kamoenai-mura Village. With this ICT-based initiative to support land-based aquaculture of sea urchins and sea cucumbers, which are local specialties, what kind of future will be created through a tie-up between the local government, a local company, and Fujitsu? What are the expectations and missions of ICT for the future of Kamoenai-mura Village and Japan's fishing industry? We interviewed three key persons, Masayuki Takahashi (Mayor of Kamoenai-mura Village), Eiji Otsuka (President of Coast Research Engineering Co., Ltd.), and Hiroki Kunimura (Fujitsu) about their thoughts.
Sharing a Sense of Crisis with Fishers Led to a Change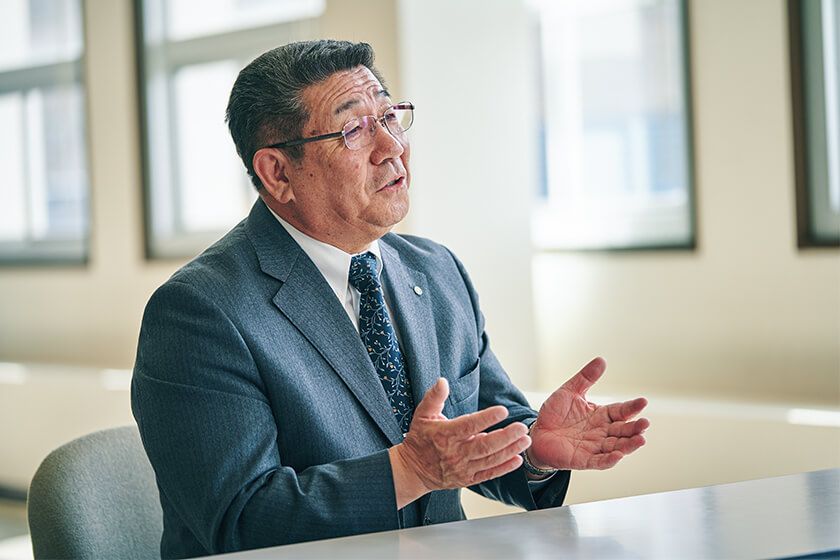 Village Mayor Takahashi spent more than half his life of public service as a village office staff member working with industry, where he built many connections with fishers.
Takahashi: Historically, the people of Hokkaido have made their living through the blessings of nature, so there has been a persistent idea that aquaculture is unnecessary, which has made people reluctant to seriously work on aquaculture until now. While working with industry as a village office staff member, I always thought that it was important to seek out new ways of doing things. As I mentioned earlier (Part 1), a fisher-led, sea-based aquaculture experiment on sea urchins started in 2016. Then, land-based aquaculture of sea urchins and sea cucumbers by Fishtech® Aquaculture Management began in 2018. This system enables us to share a sense of crisis with Kamoenai's fishers, which I feel has changed their awareness.
I want to do everything possible to increase fishers' incomes. The first target is a 10% increase. We now face a labor shortage and lack of successors in the fishery sector. Meanwhile, there are people who want to continue to work in fishery beyond age 90. I want to create a workplace for such people and make the village a place where everyone can share the joy of working. For example, fishers can continue fishing and production in the sea as long as they are able, but when they cannot, they can engage in aquaculture on shore.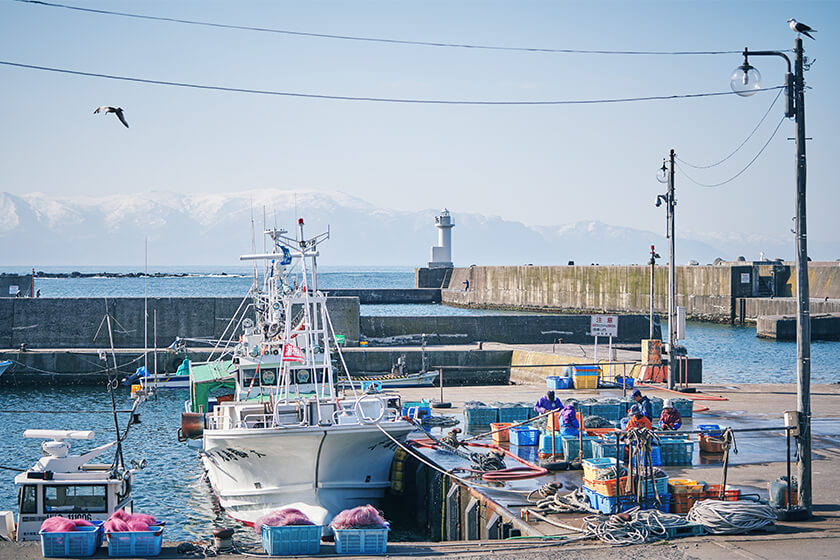 "My greatest pride is the people of Kamoenai-mura Village. They are a warm-hearted people who have the spirit of helping each other." (Village Mayor Takahashi)
Hearing Voices from Around the World: "Kamoenai's Sea Urchins Are Delicious!"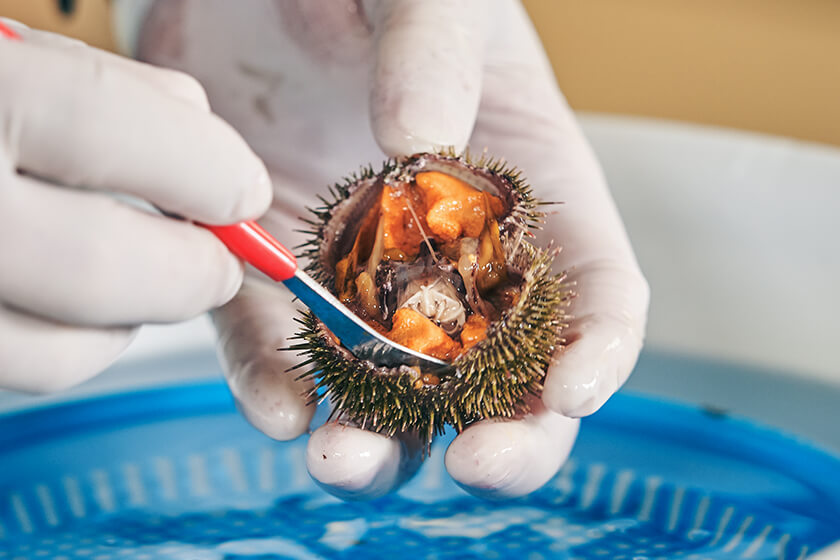 Fresh sea urchins taste sweet. Village Mayor Takahashi likes to eat them raw, in soup, or roasted in foil.
Takahashi: At the aquaculture site, both the on-site workers and I feel that Fishtech® Aquaculture Management makes it very easy to control the tank water quality. The touch panel and remote control are also very easy to operate. I expect this will make it possible to operate the aquaculture facility without much manpower. In the future, we also want to propose improvement ideas obtained through actual aquaculture operations from our side in order to increase the sophistication of the system to realize a better living environment for the sea urchins and sea cucumbers.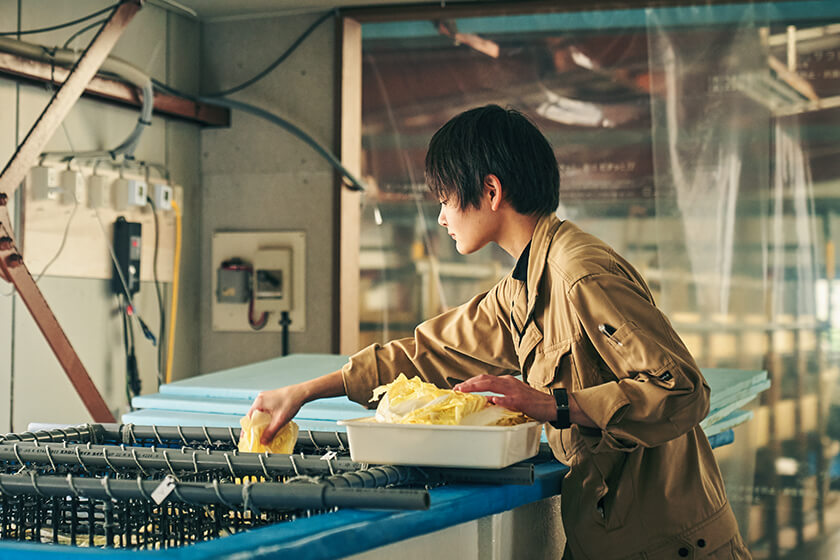 Ms. Tsukamoto feeding Chinese cabbage (or, on some days, regular cabbage) to sea urchins. As an aquaculture technology expert, she was welcomed as a Kamoenai-mura Village office staff member.
Since this is such a small village, the number of staff members is limited, and I do not think that all required capabilities are readily available. We have gotten to where we are today through the advice and support of a variety of people, including experts and people from the public and private sectors. In the future, too, I want to create a more sophisticated aquaculture business environment by collaborating with various people, and going forward, I want to deliver pioneering solutions and technologies as well as successful case studies from this small Kamoenai-mura Village.
Challenges for a Village without Telecommunications Infrastructure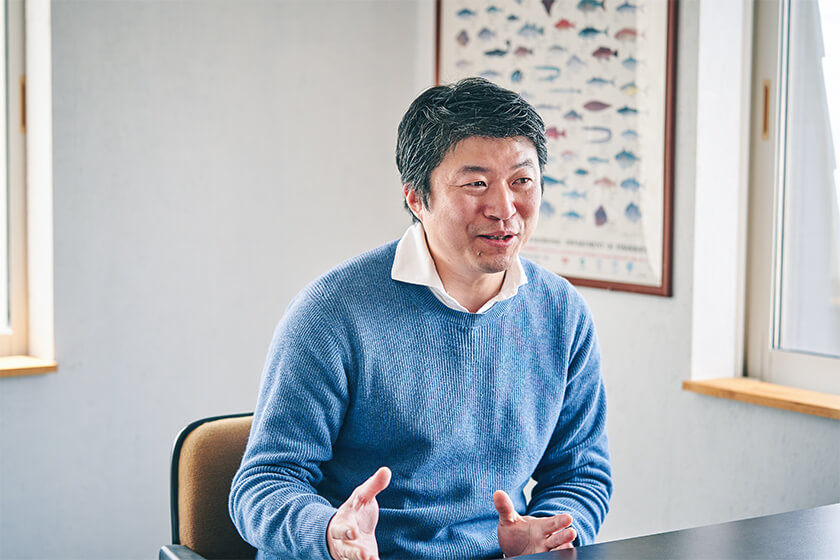 Fish art objects from various countries are placed in the office, which faces the bay (the poster on the wall is from Thailand).
Otsuka: This is the first system that requires data from seawater tanks containing sea urchins and sea cucumbers. Therefore, we must use sensors with mechanisms different from those used in agriculture and onshore freshwater aquaculture that Fujitsu has worked on previously. The first challenge was to procure such sensors, which were not readily available. The next challenge was the poor telecommunications environment in underpopulated Kamoenai-mura Village. Optical communications can be used in a small, limited area of the village. The first thing we had to consider at the fishing port was how to address the telecommunications environment. In locations with no telecommunications infrastructure, it is somewhat difficult to upload data to the cloud.
This is my first time to do business like this with Fujitsu. I feel that the scales of contracts and other things differ from Coast Research Engineering Co., Ltd., a small company in Hokkaido's Kamoenai-mura Village with a population of slightly more than 800. It is unusual for such a small company to do business with a big company; however, our goal is the same and I believe we have formed a good team for this project.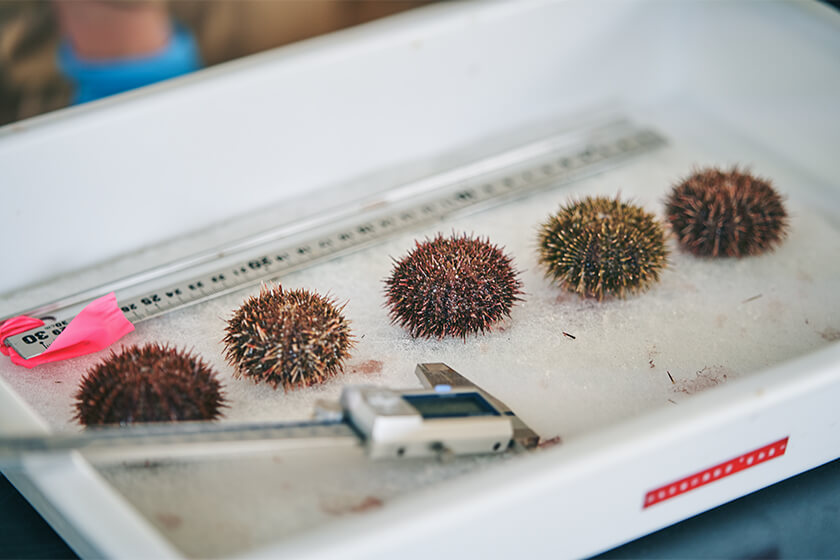 Sea urchins grow steadily with Fishtech® Aquaculture Management. Their weights and sizes are measured regularly.
Improving Traceability by Digitizing Aquaculture Data
Otsuka: I think that visualizing and sharing data is one of the greatest sources of value offered by Fishtech. Aquaculture farm workers do a variety of jobs under a lot of pressure to keep creatures alive; this is definitely stressful. Securing human resources for such work will become very difficult in the near future, given the current situation in which the number of personnel who support local industries is falling short. A one-stop data sharing platform is very important to avoid putting too much pressure on specific people.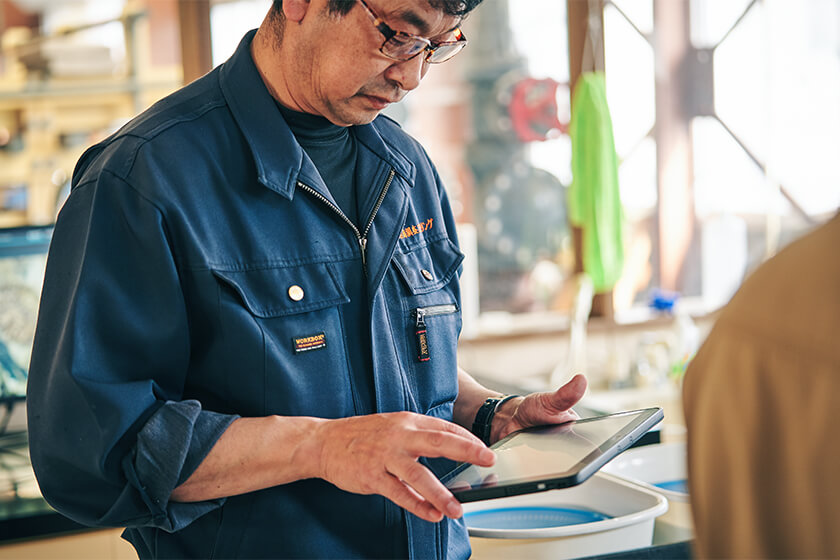 "There are no holidays when raising living creatures. Fishtech will demonstrate its power even more when land-based aquaculture is conducted at full scale in the future." (Administrator Abe)
Fishtech for land-based aquaculture is still in the experimental stage. Many tasks remain, such as implementing traceability from shipment to delivery to customers, and I think we can further improve and develop the system. It is a different world from catching natural sea urchins and sea cucumbers; therefore, it is difficult to have people understand merely by explaining it. However, once the system has been implemented by actually putting a tank in place, they can see it and understand what it is about, grasping its appeal. We are receiving an increasing number of requests for observation from Hokkaido as well as other places in Japan and overseas. The other day, staff members of a country's consulate general visited our facility.
Technologies Necessary to Respond to Changing Fishery Practices
Otsuka: In conventional fishing, fishers go to the best fishing grounds as early as possible to catch and sell as much as they can. Naturally, they do not want to share good information with others, and they may not want to share information. However, if fish catches fall below a certain threshold due to a decreasing number of fishers, the market will become unable to function. I think we must immediately devise a way for fishers who operate in limited regional sea areas to earn stable income, and for that, technology is necessary.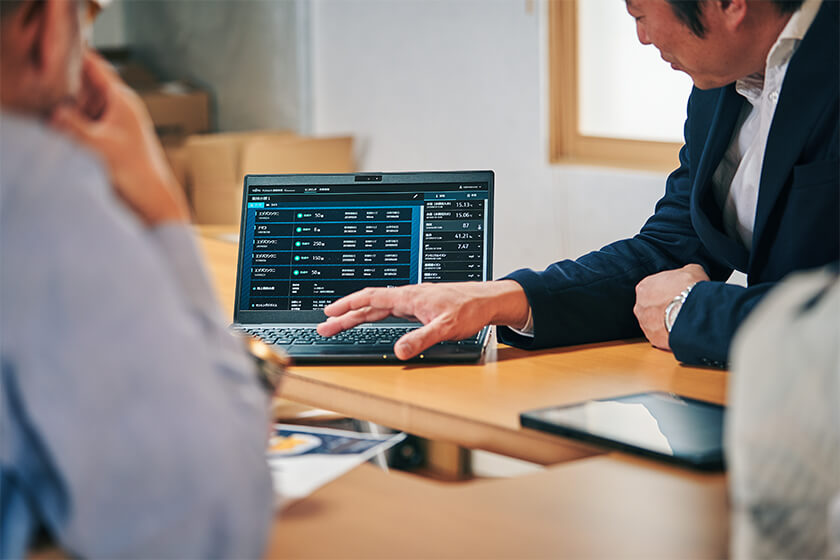 "The spread of smartphones has enabled fishers to access various kinds of data."
In another part of Hokkaido, the introduction of tablets made possible sea cucumber resource management by fishers. In their spare time on fishing boats, fishers can input data and obtain various information from the tablets. I think it is important to identify which kinds of tools are available in what environments. Fishtech can provide such services, and when it goes a step further to include traceability, it offers a very exciting, necessary function for fishers to connect to the world while at sea.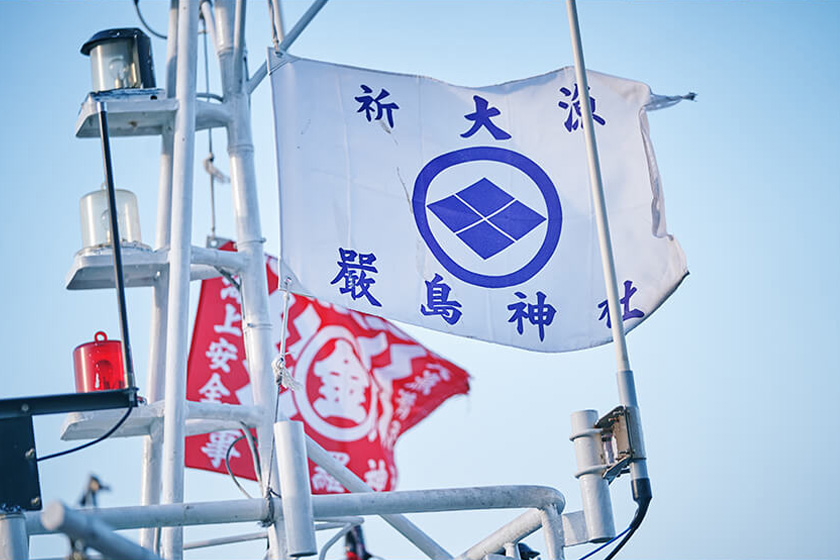 Itsukushima Shrine, a shrine for praying for safe sailing that was established in 1603. Coast Research Engineering's company crest uses the family crest of the Matsumae Clan. The annual Reitaisai festival in July includes spectacular rituals, such as a crossing of boats carrying portable shrines on board.
If information on Kamoenai-mura Village's advanced business using Fishtech spreads globally, it is worth more than just money. In fact, if people become interested in our business, our sea urchins and sea cucumbers will be sold at higher prices, which will generate flows of both people and money into the area. Then, we can consider how to reinvest the money in the village. Being connected to the world makes us "cool" and improves our small village's image. I want to do something to support such activities.
To Support Regional Revitalization, Not Merely Pursuing Efficiency and Technical Advancement
Kunimura: The project's first goal is to achieve successful aquaculture management for Kamoenai sea urchins and sea cucumbers, to lead the business to success, and to use the money earned from the business to ensure the prosperity of Kamoenai-mura Village and its neighboring areas. We will steadily pursue this goal in collaboration with the people of Kamoenai-mura Village.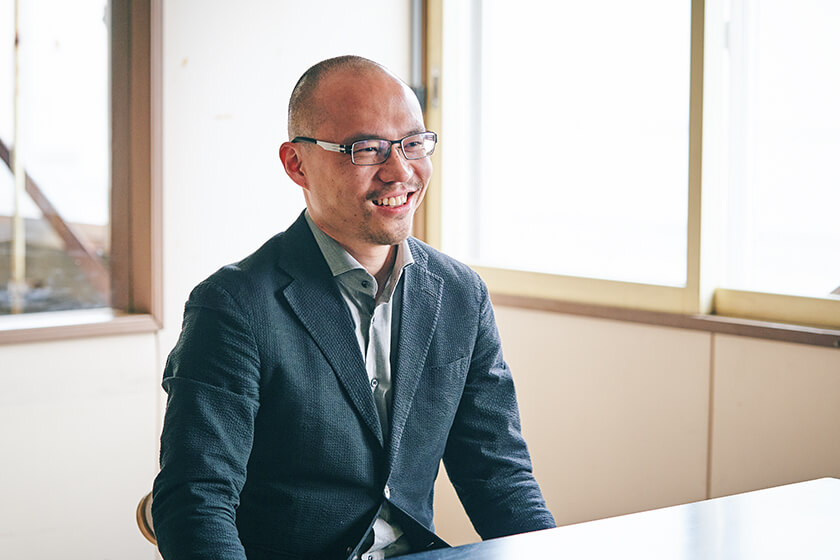 This project makes the most of Kunimura's abundant experience.
As Fujitsu has a track record of utilizing advanced technologies, such as AI and the IoT, I believe we can develop a more efficient, advanced aquaculture management system the likes of which has never been seen before. At the same time, I want this aquaculture management system to be used as an initiator of regional development, which I call "digital content for regional revitalization." I think Fishtech® Aquaculture Management will promote interactions and exchanges among locals through, for example, presentations made using tablets given by people engaged in aquaculture to demonstrate this system's benefits. In particular, for fishers in Kamoenai-mura Village, this land-based aquaculture system will create new employment opportunities even during the rough-sea season.
Grateful for Meeting the People of Kamoenai-mura Village
Kunimura: First, I would like to express my gratitude to Kamoenai-mura Village for entrusting us with this project, seeing the dream and potential in our Fishtech even before it had taken form. For us, it was like a divine encounter. It is very rare to have an opportunity in which we can fulfill our wish to contribute to society while utilizing our capabilities, but this project enables us to create a system that can make all of Kamoenai's people happy by leveraging our long-cultivated technologies and experience. I believe this system will help and support making various dreams come true, so as the project leader I feel pride and responsibility.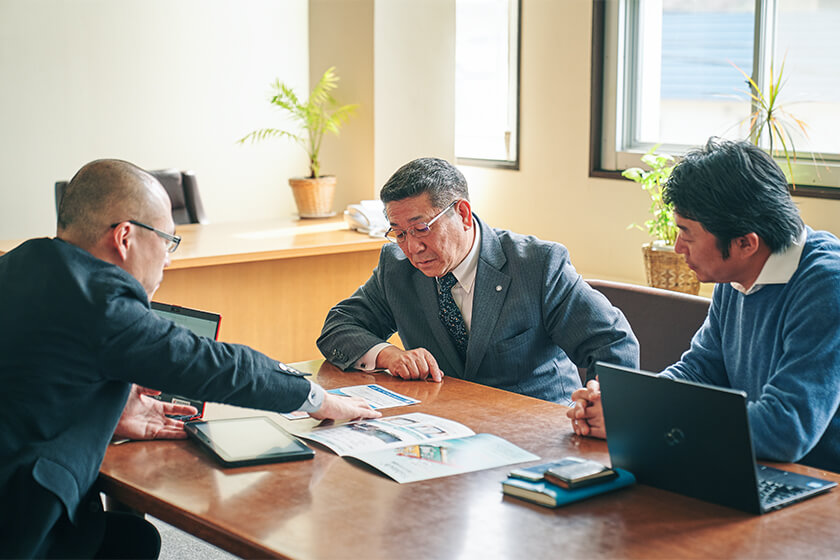 Preserving Fishery Resources for Future Generations with the Power of ICT and Design
Kunimura: Japan is a maritime nation surrounded by the sea; however, fishery resource management, including the response to overfishing, has not yet been adequately addressed, and Japan's aquaculture is still in the developmental stage. We want to create an aquaculture management system from wide-ranging perspectives by optimizing various aspects of aquaculture sites one by one. We will do so using the power of ICT and design to distribute local specialties produced in each region worldwide and to help local communities distribute their new culture and attractions. To realize our ideal of the fishery industry, we are committed to preserving Japan's and the world's fishery resources for future generations.
Profile
Masayuki Takahashi
Mayor of Kamoenai-mura Village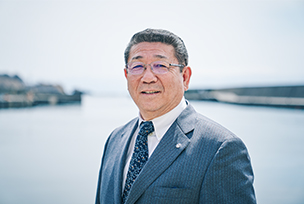 Born in Kamoenai-mura Village, Hokkaido in 1950. After serving in the Kamoenai-mura Village Office in 1970, he was appointed Manager of the Industry Section and Manager of the Resident Section. In February 2005, he was elected Mayor of Kamoenai-mura Village, and he is currently serving his fifth term.
While holding the positions of Chairman of the Hokkaido Association of Fisheries Infrastructure, Vice Chairman of the National Association of Fisheries Infrastructure, Vice Chairman of the National Association of Fishing Port and Coast Disaster Prevention, and Executive Director of the National Municipal Fishery Industry Promotion Council, he strives to revitalize and develop the fishing industry.
Eiji Otsuka
President, Coast Research Engineering Co., Ltd.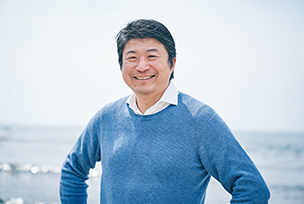 Born in Otaru, Hokkaido in 1969. Otsuka graduated from the School of Marine Science and Technology, Faculty of Engineering, Tokai University. He then joined Coast Research Engineering Co., Ltd., where he was involved in revitalizing fishing villages as a marine research technician and diving instructor. He has served as President since August 2014. As a part-time lecturer at Tokai University and director of the Otaru Tourism Association, he is also working on education and tourism for sea-area revitalization.
Hiroki Kunimura
Fujitsu Design Limited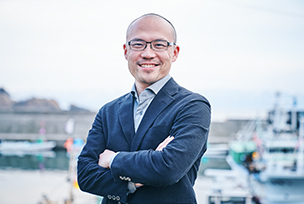 Born in Kyoto in 1985. After graduating from the Undergraduate School of Engineering Science, Faculty of Engineering, Kyoto University, Kunimura majored in product design at the University of Tsukuba Graduate School. Thereafter, he pursued a career as a UI designer at Fujitsu Design Limited. In 2018, he was transferred to the Fujitsu Limited sales team, where he dedicated himself to the launch of the Fishtech business. He is a fisherman and incomparable fish lover.