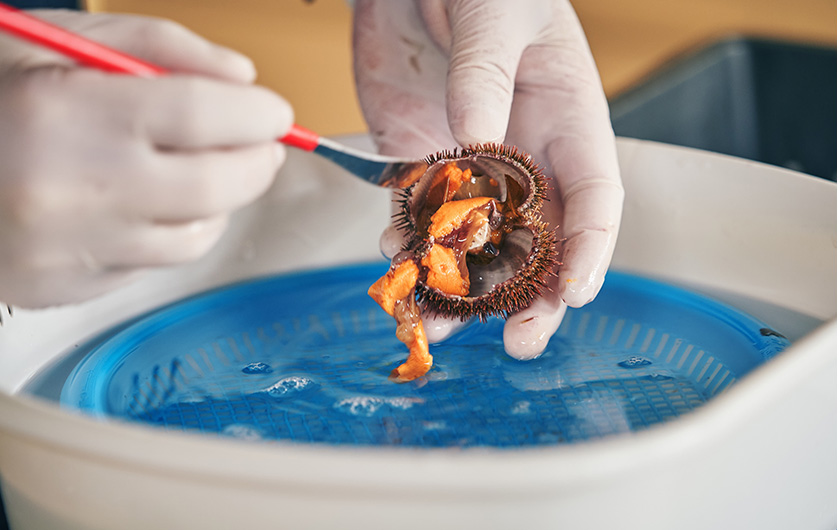 Kamoenai-mura is a fishing village facing the Japan Sea on the west side of Hokkaido's Shakotan peninsula. In this small village with a population of less than 900, an operational demonstration of Fishtech® Aquaculture Management began in 2018. Fishtech® Aquaculture Management is an ICT-based system that supports land-based aquaculture of sea urchins and sea cucumbers, which are local specialties.
An advanced project that aims to revitalize Japan's fishing industry with new ideas and technology was launched in Kamoenai-mura Village. We interviewed three key persons, Hiroki Kunimura (system design team leader from Fujitsu), Masayuki Takahashi (Mayor of Kamoenai-mura Village, who has brought together and presented the village's vision), and Eiji Otsuka (President of Coast Research Engineering Co., Ltd. who first focused on the concept of Fishtech) in order to ask about the background to the birth of this collaborative project among the local government, a local company, and Fujitsu.
Developing "Fishtech" Catered to Japan's Fishing Industry
Kunimura: It is said that approximately half of global fishery resources have been lost during the past 40 years due to overfishing and environmental destruction. To tackle the challenge of sustainability, ICT must also play a role in the fishing industry. Since 2018, Fujitsu has been promoting an initiative under the concept of "Fishtech."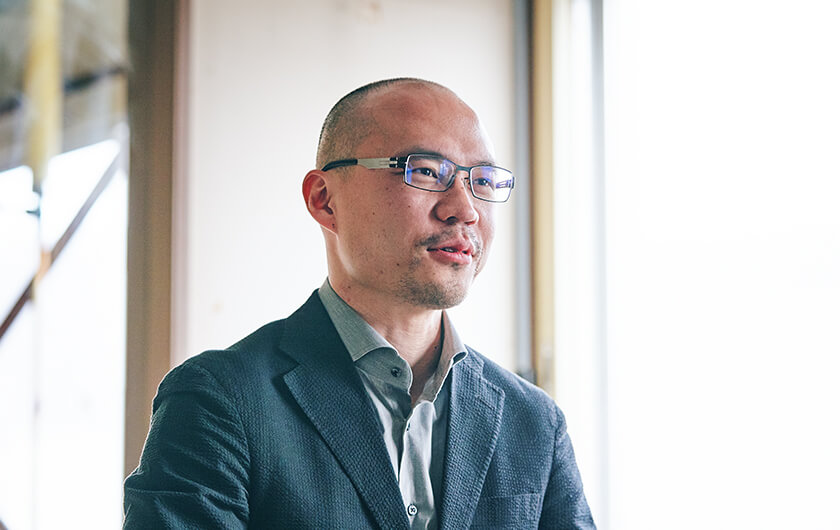 Hiroki Kunimura
Fujitsu Design Limited
We first visited northern European countries that are advanced in fishery, particularly aquaculture, such as Norway and Denmark. These countries have national aquaculture systems that were developed by collaboration among the public and private sectors in the deep fjords; these systems specialize in a limited range of species, such as salmon and trout. Meanwhile, Japan has more varied fish species, and its aquaculture industry is farming a wide variety of species using advanced technologies in various locations. I returned to Japan with a strong sense that Japan must develop an ICT solution catered to Japan's fisheries.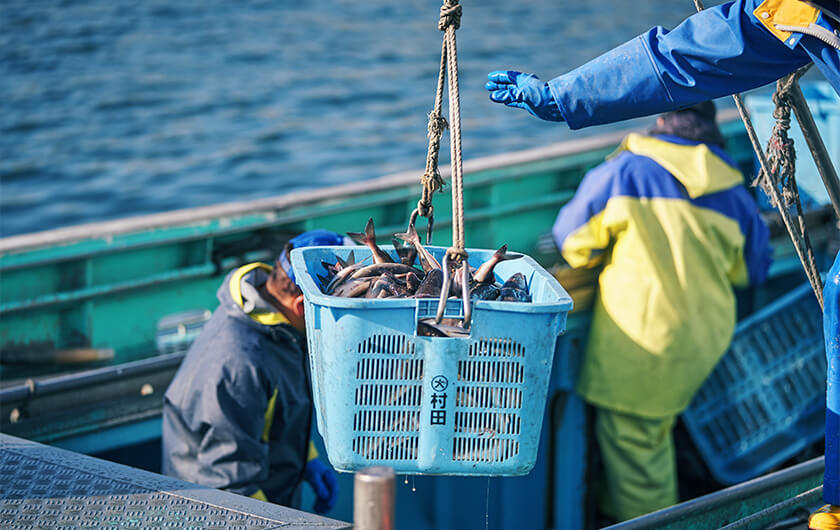 An April morning in Kamoenai Fishing Port. A variety of species, such as squid, trout, atka mackerel, and flounder are being unloaded.
Designing the Ideal Fishery with ICT Support
Kunimura: Japan's fishing industry faces a variety of challenges. Japan's aquaculture industry has relied on fishermen's years of experience and intuition. Faced with their aging, a lack of successors, and deteriorating marine environments, it has become difficult to continue the business in the traditional ways. Although there are various individual aquaculture management systems, no system to organically combine them has yet been envisioned. To address this situation, Fujitsu's Fishtech® Aquaculture Management has been designed to achieve the ideal system by combining individual technologies with support from an ICT system.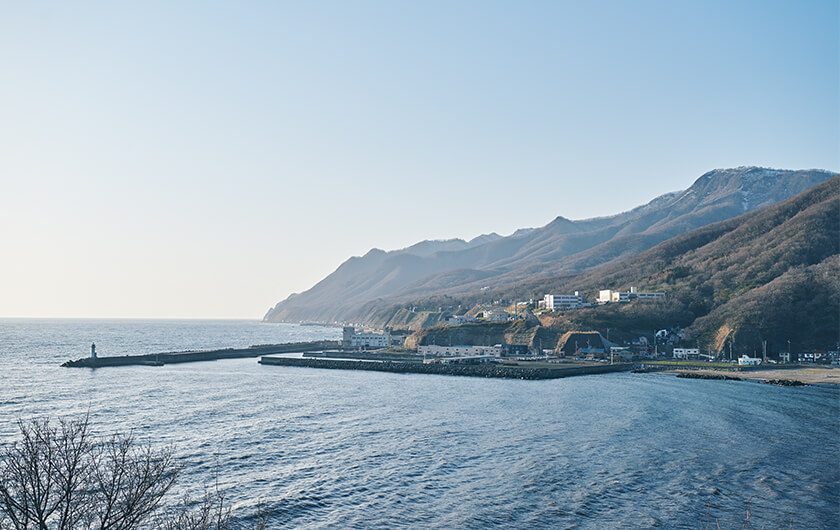 A beautiful bay in Kamoenai-mura. The village's name comes from the Ainu word "kamuinai," meaning a beautiful valley of gods.
Revitalizing Kamoenai's Fishery, Which Once Prospered with Herring
Takahashi: Kamoenai-mura is a village that developed early in Hokkaido around the era of the Matsumae clan's rule during the Edo period. At that time, the village prospered and profited thanks to the flourishing herring fishery. However, as herring fishing declined, fish catches have decreased year after year, and the village is currently facing a very severe situation. From 1945 to 1974, 19- and 39-ton type fishing boats were the mainstream. However, today not even a single such boat remains; only small fishery boats are operating now. This is a very disappointing situation for the village, where daily living has historically revolved around the fishery, so we are working to implement measures with a desperate desire to revitalize the fishery.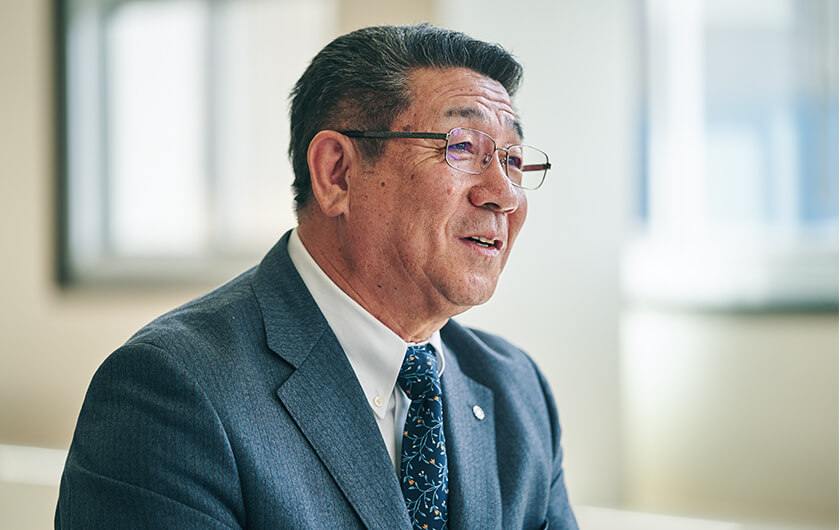 Masayuki Takahashi
Mayor of Kamoenai-mura Village
The Launch of Sea Urchin Aquaculture for Revival—Transforming the Fishery from "Waiting" to "Producing"
Takahashi: Wait-for-the-fish style fisheries will become quite difficult in the future. The Sea of Japan is originally a low-nutrient region. Moreover, in recent years, productivity has fallen due to various adverse conditions, such as the rise in seawater temperature. The Japanese government has started to consider the use of aquaculture as a measure to revitalize Japan's fisheries in order to build a stable production system, and aquaculture development measures have also begun to be implemented in Hokkaido. Kamoenai has worked on aquaculture of sea urchins, sea cucumbers, abalones, salmon, trout, scallops, flounder, and so forth, but so far no explosive success has been achieved.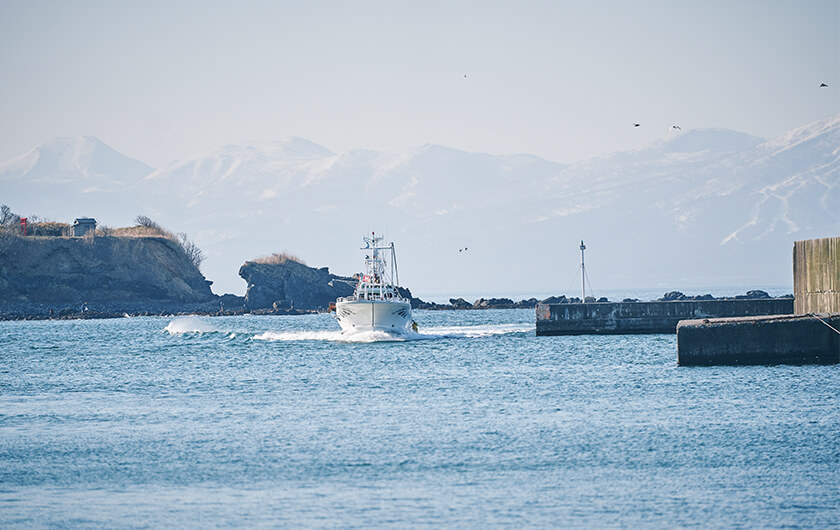 Kamoenai commands a view of cobalt blue sea. The village previously flourished with herring fishery, boasting of Hokkaido's top catch in 1912.
I would like to attempt aquaculture of sea urchins and sea cucumbers to revive the village's fishery. In particular, I want to establish a system that enables us to stably provide sea urchins year-round. Kamoenai sea urchins are very delicious, but the fishing period is short, beginning in mid-June and lasting through August. Since demand is high, we launched an aquaculture system for sea urchins at sea in collaboration with Iwanai Town in 2016, aiming to harvest in winter. While exploring the proper management method to establish a better production system, Fujitsu introduced us to Fishtech. After listening to the opinions of our employees and private companies involved in the fishery industry, we decided to try it out.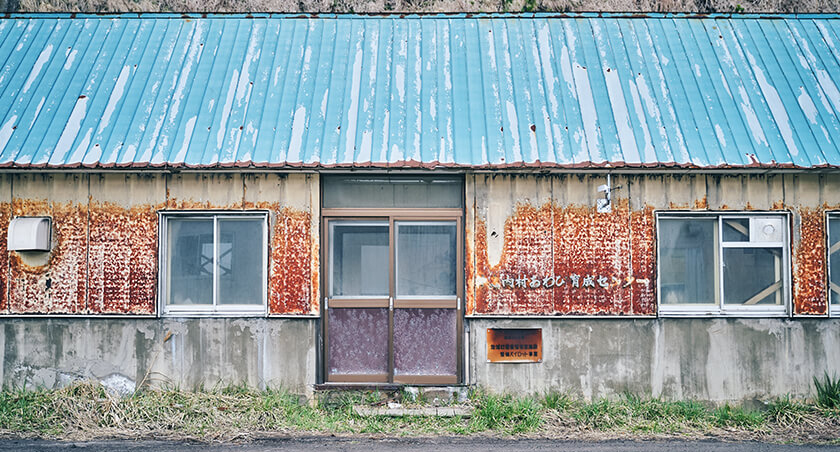 The empirical test site for Fishtech® Aquaculture Management in Kamoenai-mura Village. The gap between the latest ICT technology and the old building (a former abalone seeds-and-saplings production facility) gives a neo-futuristic impression.
Software Connecting Kamoenai-mura Village to the Outside World
Otsuka: Many conventional Japanese fishery and marine-related systems cover only a narrow region, so I was always thinking that it would be nice if there was software that could connect the small fishing village of Kamoenai to the outside world. I shared my thoughts with Mr. Kunimura because my encounter with the scalable Fishtech software was a revelation.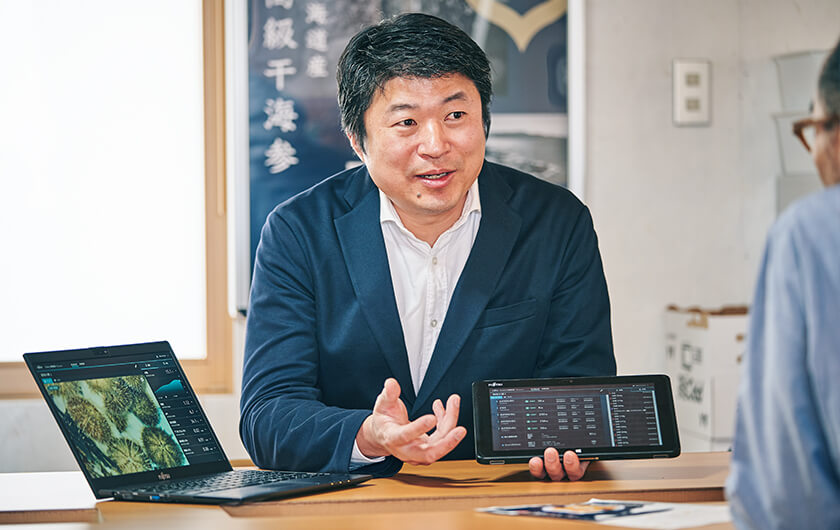 Eiji Otsuka
President of Coast Research Engineering Co., Ltd.
Coast Research Engineering Co., Ltd. was originally an old diving company in Hokkaido, and it has engaged in the fields of research, construction, and education as well as operating a diving shop. The company currently supports the distribution of sea cucumbers and sea urchins as well as renovates old-fashioned houses into cafes in order to revitalize the village. We aim to serve as a fishing village supporter.
The Latest Situation for Sea Cucumbers & Sea Urchins—To Bring an Economic Flow into the Village
Otsuka: Approximately 10 years ago, the price of Kamoenai's sea cucumbers (fresh from the sea) was about 500 to 600 yen per kilogram. However, with China's economic growth over the past several years, they are now traded at prices as high as about 7,000 yen/kilogram. The higher the prices, the more they are fished, so naturally the resources become scarcer. A mechanism to stop this decline in resources as well as to stably supply fishery products is needed.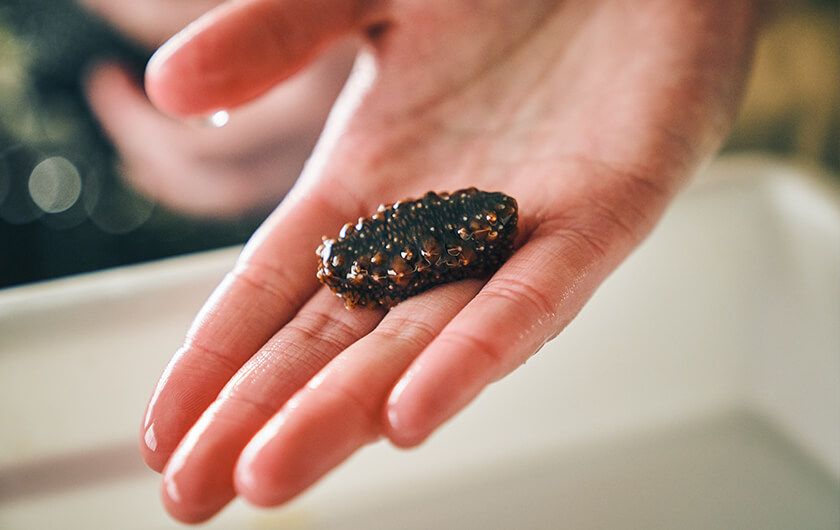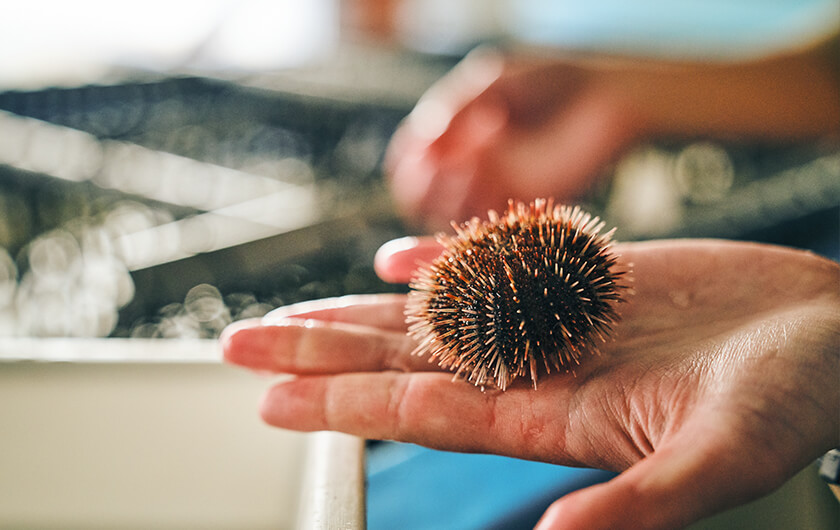 A rare attempt to grow baby sea cucumbers hatched from eggs. The local sea urchins (Ezo Bafun) are said to have the richest taste in Hokkaido.
We receive many requests from tourists such as "I want to come to Kamoenai to eat a sea urchin rice bowl" and orders like "We want to use local sea urchins in nearby Niseko as well," but Kamoenai's fishing season lasts just slightly less than three months, and capture fisheries supply decreases even more when the sea is rough. When there are large community festivals or events, all fishing activities are paused (this is called "Okidome"). If such circumstances continue, sea urchins cannot be shipped even if there are customers, and the loss of opportunities causes great economic damage without being noticed. If the capability to ensure a stable supply system is secured, the amount of money flowing into the local economy should increase. I hope the use of Fishtech creates such an environment.
Tackling the Project by Building a Dream Team of Skilled Members
Kunimura: When I first visited Kamoenai-mura Village, the structure of the sea urchin/sea cucumber aquaculture management project had already been half decided. However, President Otsuka explained to the villagers about the advantages and potential that would result from adding Fishtech® Aquaculture Management and myself to the project, and the villagers accepted.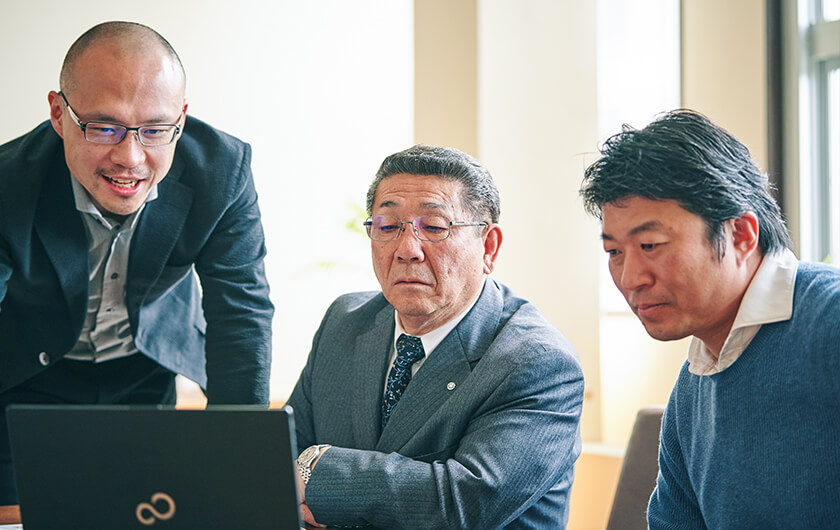 Based on his experience, Kunimura thought: "Count on me to create a new business system!"
Soon, we started agile development by defining requirement specifications through interviews with on-site fishery workers regarding the necessary elements for aquaculture of sea urchins and sea cucumbers in Kamoenai-mura Village. I also built a 'dream team' from among the various past team members by gathering particularly skilled Fujitsu members who could design complex applications.
Exploring to Develop an Aquaculture System That Has Not Been Done Before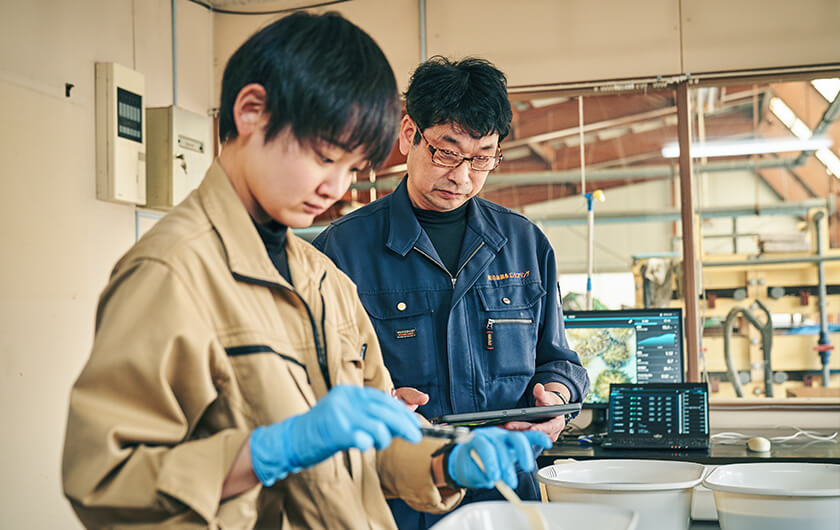 Mr. Yoshihiro Abe, aquaculture administrator of Coast Research Engineering (right), and Ms. Haruka Tsukamoto, a Kamoenai-mura Village office employee (left). Feedback from the field is essential for system development.
Kunimura: President Otsuka served as a contact between Kamoenai-mura Village and us (Fujitsu members), and we worked together with local workers to establish a system. As a designer and development leader, I presented an image of the system that we sought to create. As we proceeded with the project, our communication gradually improved, and we created the system by incorporating everyone's opinions while bringing together everyone's feelings about the direction to take at each step.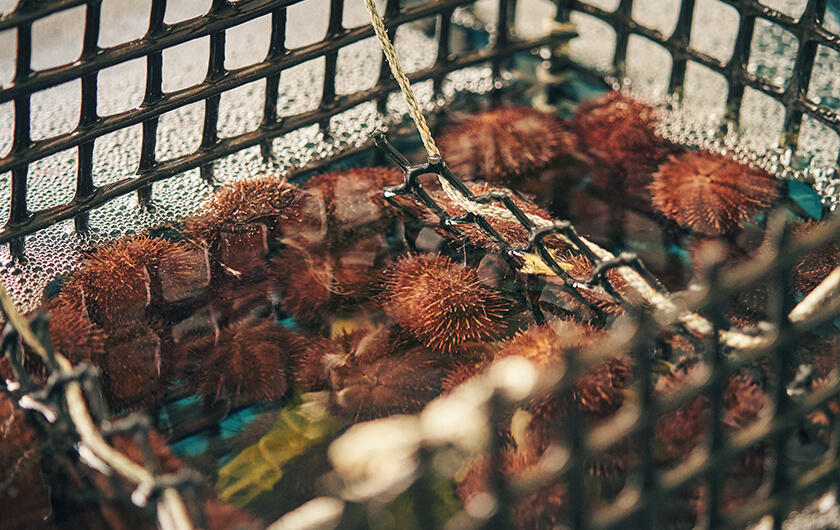 Sea urchins grown in land-based aquaculture tanks. Sea urchin aquaculture has only a few precedents even in the sea. Kamoenai-mura Village has engaged in sea aquaculture with neighboring Iwanai Town since 2016, which has led to a virtuous circle of "Fishtech" and the village's revitalization.
There is no established aquaculture technology for sea urchins and sea cucumbers anywhere on earth yet, so both Kamoenai-mura Village and the Fujitsu team are standing at the forefront of development. The people of Kamoenai-mura Village want to make high quality products by improving their aquaculture technology, while the Fujitsu team wants to create an application that is easier to use with more sophisticated analytical capabilities suited to its purpose. We listen to customers' problems and challenges, explore how we can resolve them, and develop solutions. As system professionals, it is a great pleasure for us to hear customers say, "This is what I wanted."
---
Fishtech® Aquaculture Management: Kamoenai-mura Village Version
Kunimura: This cloud service was developed by Fujitsu for empirical testing of Kamoenai-mura Village's land-based aquaculture system for sea urchins and sea cucumbers. The system is used to manage various types of creatures in the same water area. A patent is pending. With IoT-connected cameras and sensors, it enables lifecycle management of sea urchins and sea cucumbers in aquaculture tanks. Users can monitor in real time the water tanks and indoor facility environments using their smartphones, tablets, PCs, or other devices. The system can also serve as a journal by inputting and accumulating the work records required for management operations, such as feeding and cleaning. Furthermore, the system's scalable architecture enables users to incorporate AI and other features. It is designed to serve as digital content for regional development as well as a communication tool for food safety assurance and public relations activities.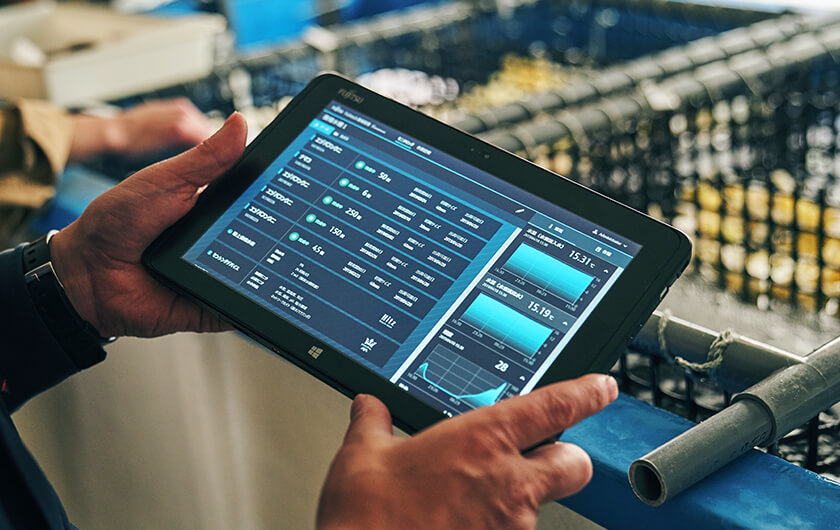 Fishtech® Aquaculture Management
As a designer, Kunimura has worked on various software user interface (UI) and user experience (UX) designs, such as those for electronic medical records, social infrastructure systems, and cloud services. His experience and technologies obtained by developing easy-to-use applications for everyone, including the elderly and color deficient, were utilized in the development of this system.
In the development process for Fishtech® Aquaculture Management, designers and engineers gathered from different organizations* with the same inspiration and quickly achieved system startup.
*: Fujitsu, Fujitsu Design, Fujitsu Kyushu Network Technologies, Fujitsu Social Science Laboratory, and Iwatsu System & Software
---
Part 2 features interviews with the three key persons regarding the future of Kamoenai-mura Village and Japan's fishing industry as can be seen through Fishtech® Aquaculture Management.
Profile
Masayuki Takahashi
Mayor of Kamoenai-mura Village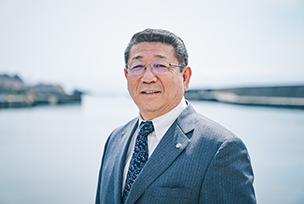 Born in Kamoenai-mura Village, Hokkaido in 1950. After serving in the Kamoenai-mura Village Office in 1970, he was appointed Manager of the Industry Section and Manager of the Resident Section. In February 2005, he was elected Mayor of Kamoenai-mura Village, and he is currently serving his fifth term.
While holding the positions of Chairman of the Hokkaido Association of Fisheries Infrastructure, Vice Chairman of the National Association of Fisheries Infrastructure, Vice Chairman of the National Association of Fishing Port and Coast Disaster Prevention, and Executive Director of the National Municipal Fishery Industry Promotion Council, he strives to revitalize and develop the fishing industry.
Eiji Otsuka
President, Coast Research Engineering Co., Ltd.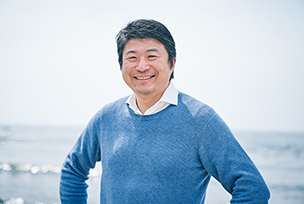 Born in Otaru, Hokkaido in 1969. Otsuka graduated from the School of Marine Science and Technology, Faculty of Engineering, Tokai University. He then joined Coast Research Engineering Co., Ltd., where he was involved in revitalizing fishing villages as a marine research technician and diving instructor. He has served as President since August 2014. As a part-time lecturer at Tokai University and director of the Otaru Tourism Association, he is also working on education and tourism for sea-area revitalization.
Hiroki Kunimura
Fujitsu Design Limited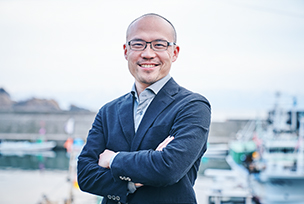 Born in Kyoto in 1985. After graduating from the Undergraduate School of Engineering Science, Faculty of Engineering, Kyoto University, Kunimura majored in product design at the University of Tsukuba Graduate School. Thereafter, he pursued a career as a UI designer at Fujitsu Design Limited. In 2018, he was transferred to the Fujitsu Limited sales team, where he dedicated himself to the launch of the Fishtech business. He is a fisherman and incomparable fish lover.