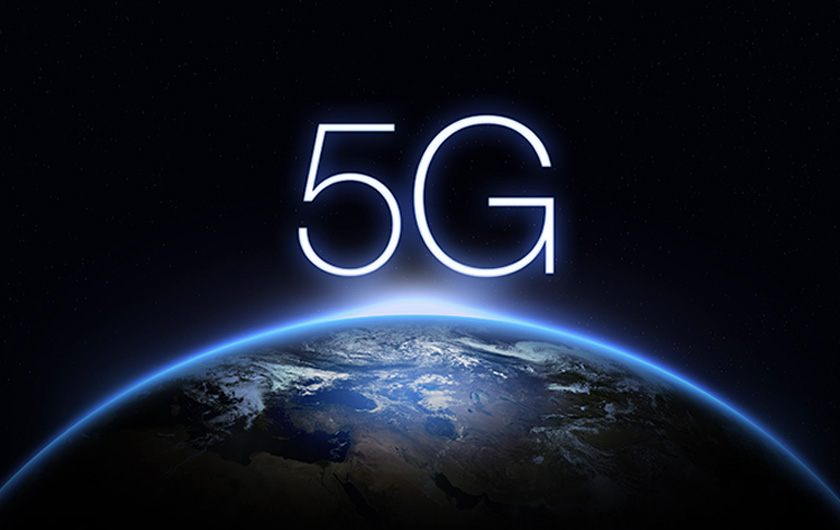 Commercial 5G services are starting to be launched around the world. 5G is expected to create a new market that will exceed a trillion dollars annually. What kind of digital transformation will 5G, a technology that enables real-time, speedy exchange of large volumes of data, bring about in industry? This article outlines the prospects along with actual use cases.
[Fujitsu Forum 2019 Conference Report]
The conference began with Dr. Fujioka, CTO of Ericsson Japan, delivering a presentation entitled "Global 5G Trends and Industrial Application Initiatives." Afterwards, he and Fujitsu's Mizuno discussed how 5G would transform existing industries.
5G Finally Rolling Out, Setting Off Waves Worldwide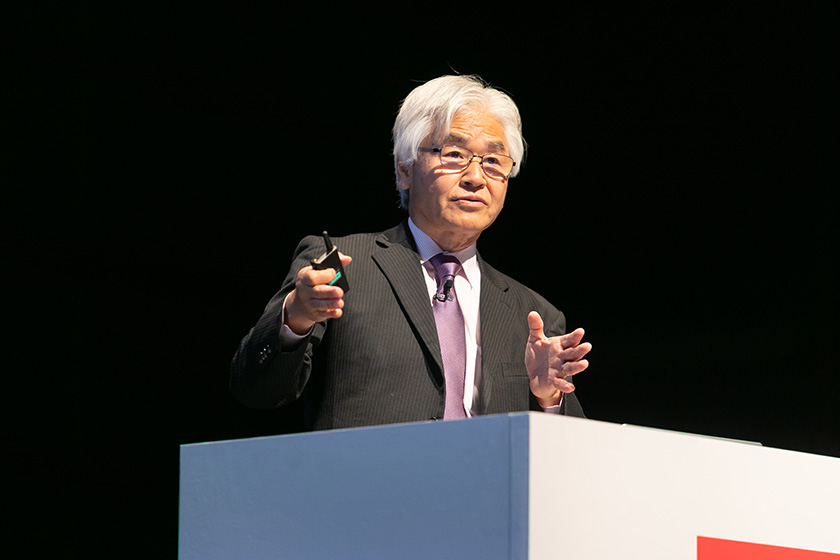 Masanobu Fujioka
Chief Technology Officer (CTO)
Ericsson Japan
Full-fledged deployment of 5G network is underway. On October 1, 2018, Verizon, a leading communications service provider in the US, began offering 5G-based fixed wireless access. Fixed wireless access equipment have been installed onto utility poles in populated areas and transmit radio waves for Internet access that are received by home routers. On April 3, 2019, the company also launched 5G service for smartphones. Also in the US, AT&T began to offer 5G mobile routers for enterprises. The US has thus taken the lead in commercializing 5G communications services.
Service for smartphones, the highlight of early 5G deployment, had a full-scale launch in South Korea as well on April 3. Since this service was announced two hours before that of Verizon, it is regarded to be the world's first 5G service for smartphones. The scale is substantially large, covering six major cities and 85 smaller ones.
There are also noteworthy trends in China. As China will celebrate the 70th anniversary since its modern foundation in October 2019, the three major communications service providers - China Mobile, China Telecom, and China Unicom - are taking a central role in building large-scale 5G networks.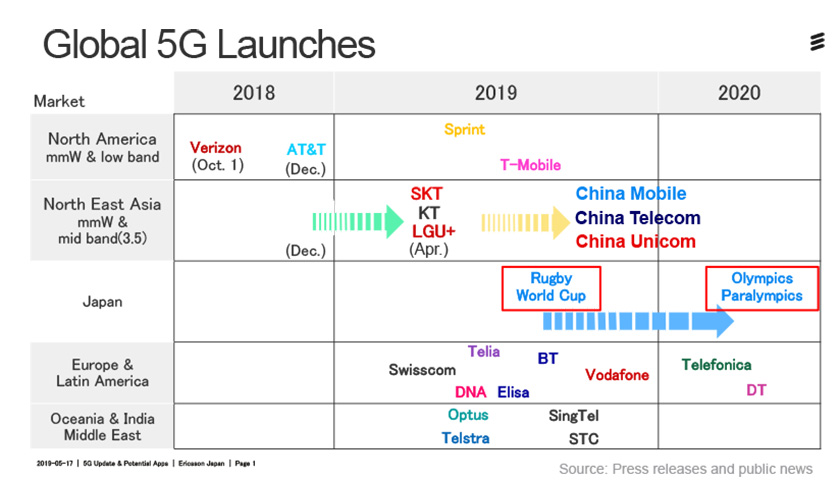 5G communications will serve three major areas. First is to increase the sophistication of mobile broadband. 5G enables high-speed communication that reaches a speed on the level of Gbps, far surpassing that of LTE. In addition to Internet access for smartphones, 5G applications are expected to include videos such as VR, AR, 4K, and 8K whose uses will also spread.
Second is the Massive IoT. For now, 5G can support the Massive IoT, a technology to connect a huge number of devices such as meters and sensors, by using existing LTE-based systems intended for the IoT.
Third is the Mission-Critical IoT. This refers to IoT applications that require real-time, highly reliable communications; it will likely be applied to automated driving etc.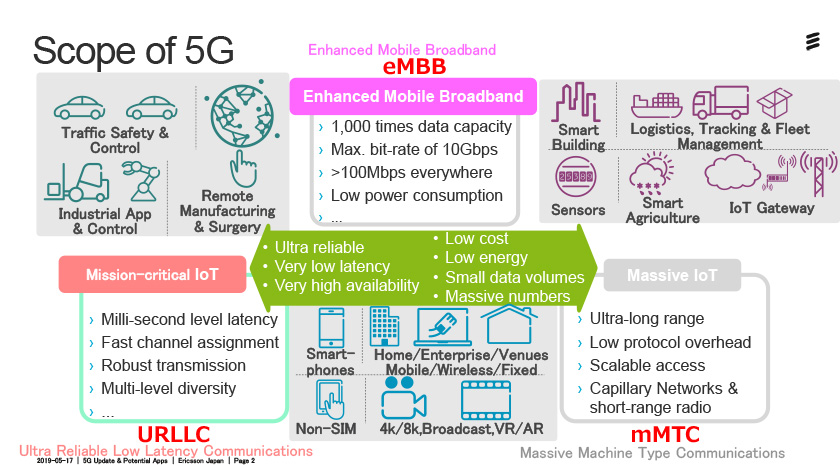 Industries where use of 5G is predicted to spread
Beamforming Technique: Key to 5G's Prevalence
Due to the enormous costs, it is unrealistic to migrate to 5G by building a communication network that uses new 5G wireless technology with seamless coverage and adopting a "Stand-alone" architecture that is operated independently from the start. Instead, 5G will gradually prevail by complementing the already widespread LTE network. In other words, 5G communications will initially spread with the "Non-standalone" architecture as the mainstream.
In 5G communications, very high frequency bands are to be used. In the past, such high frequency bands were thought to be difficult to use in practice because the radio signals weaken rapidly with distance and do not reach far. To compensate for these shortcomings, beamforming, which is a technique to direct beamformed signals at communications devices from an array of antennas, was developed. This enables stable, efficient communications.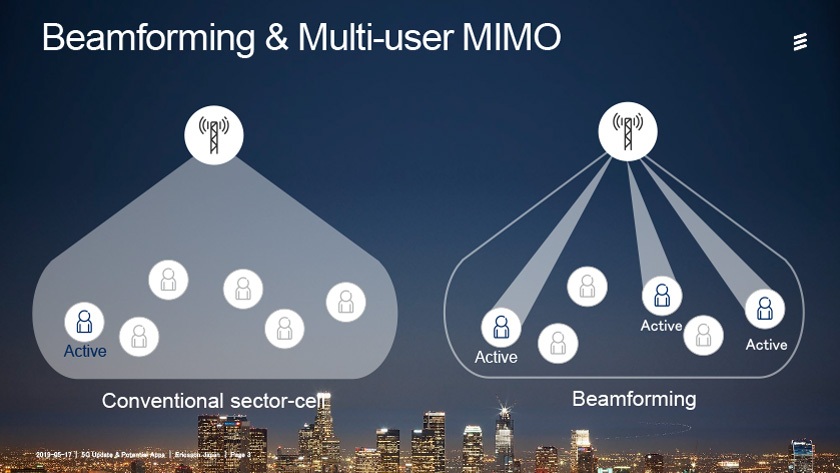 Stable, efficient communications using an array of antennas
Edge Servers to Solve Gaming and Video Traffic Issues
In the coming years, 5G is expected to create new markets. 5G will become an indispensable technology especially in the mobile broadband area as telecommunications infrastructure for sustaining exponential increases in data traffic. The market size of mobile broadband is projected to reach 900 billion dollars in 2026.5G will also create new markets in industries, thus driving digital transformation. Market sizes of industry use cases, though they may vary greatly, are estimated to reach 200-600 billion dollars.
Videos are likely to account for a major portion of mobile broadband traffic. In fact, they currently account for approximately 60% of all traffic, and that will rise to approximately 74% in 2024. Regarding 5G applications, there are greater expectations placed on video-related areas, including point-of-view sports videos, VR images, and 3D holograms.
In the video-centered 5G environment, edge servers play an important role. Since smartphones and other mobile devices have limited computational capacity, image processing and other complex computations may be offloaded to edge servers. In such a case, only screen images are transferred to and displayed on smartphones and other devices, which occurs instantaneously over a 5G network.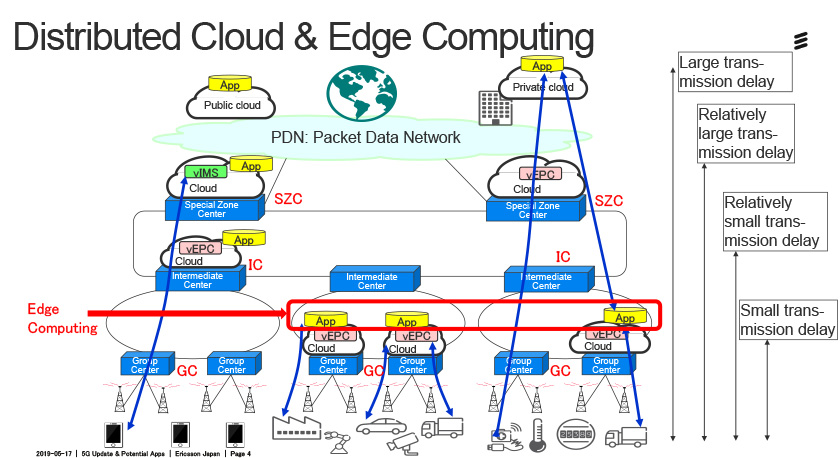 Edge computing, a core technology to exchange and process huge amounts of data without latency
Many applications that use edge servers are already in practical use. Video games are a prime example. Going forward, full use of fast 5G networks will enable edge servers and smartphones to communicate with each other with almost no latency. This will make possible real-time match-type games that involve more complex movements. Trials using head-mounted displays and tablet devices connected with edge servers over 5G networks for urban city planning using VR and AR, thereby assisting in designing buildings, are also going on.
Thus, widespread use of 5G networks is predicted to increase the importance of edge servers in complementing the processing capabilities of smartphones, smartglasses, and head-mounted displays. Ericsson offers solutions that support the 5G businesses with a focus on edge servers.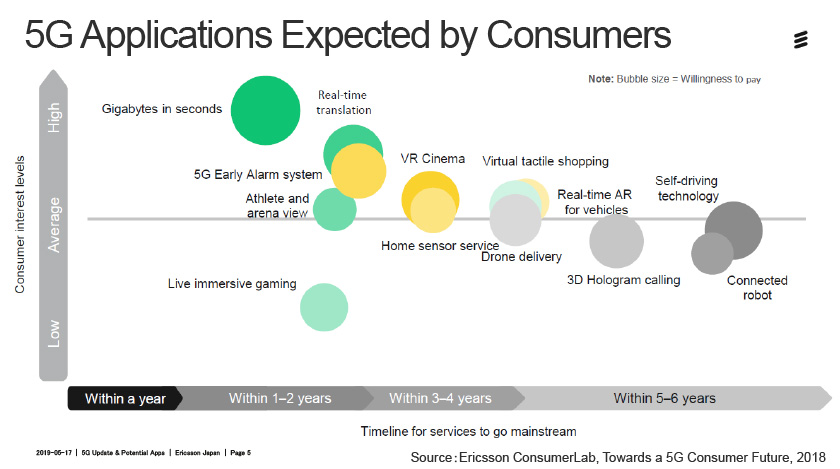 Wide range of expected 5G applications
Accelerating 5G Verification Experiments in Industry, Including Self-Driving, VR, and Remote Control
The current consumer-centric telecommunications market limits revenue increases of service providers to as little as approximately 1.5% annually. However, it is expected that widespread use of 5G communications in industry including manufacturing will increase their revenue by as much as 36% in 2026, forming a new 619-billion-dollar market. In fact, the manufacturing and automotive industries have established industry groups to devise and standardize new 5G-based system specifications and regulations.
Against this backdrop, industrial sectors are promoting various trials that involve 5G networks. Ericsson and Verizon have conducted demonstration experiments on using 5G to drive cars. All car windows were covered with blackout wraps and the driver wore VR glasses. It was verified that transferring images from on-board cameras to the VR glasses worn by the driver via edge servers can assist in driving a car without any problems. This experiment demonstrated how well 5G networks enable real-time high-speed transmission with very small latency.
As other examples, NTT DOCOMO and Komatsu are working to make it possible to operate a bulldozer remotely through on-board cameras. There was also an effort to use the 5G network to transmit live footage of the PyeongChang Olympic Winter Games from on-site cameras to the TV studio for broadcasting. In this way, industrial sectors have steadily been promoting R&D projects to put 5G into practical use.
In particular, there have been significant developments in self-driving trials. In Sweden, demonstration experiments for driving a truck remotely through on-board cameras alone in the event of trouble in self-driving have been conducted in order to commercialize unmanned self-driving EV trucks. Verification of remote operation of large heavy machines in underground gold mines has also been conducted. At a Chinese port, an experiment to operate a large-container crane remotely using more than 30 cameras has been carried out.
The manufacturing industry has also been accelerating efforts to raise productivity using 5G. A subsidiary of Italy-based Fiat has achieved smooth coordination among robots by aggregating manufacturing devices' control on edge computers and centralizing programs of inter-robot control logics. In a joint test with Fraunhofer, a Germany-based research institution, an attempt is underway to use motion sensors to detect abnormal vibrations in air compressor disks for jet engines during the production process for better yields.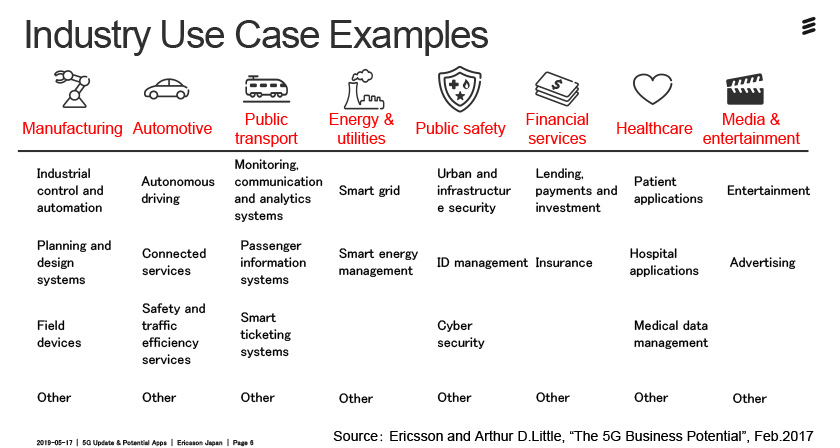 5G use cases in various sectors and industries
How Will 5G Transform Industry?
In the latter half of the conference, Fujitsu's Mizuno joined Dr. Fujioka, CTO of Ericsson Japan, on stage to discuss 5G's potential to transform existing services and businesses with a focus on "globalism," "networks," and "industrial structures."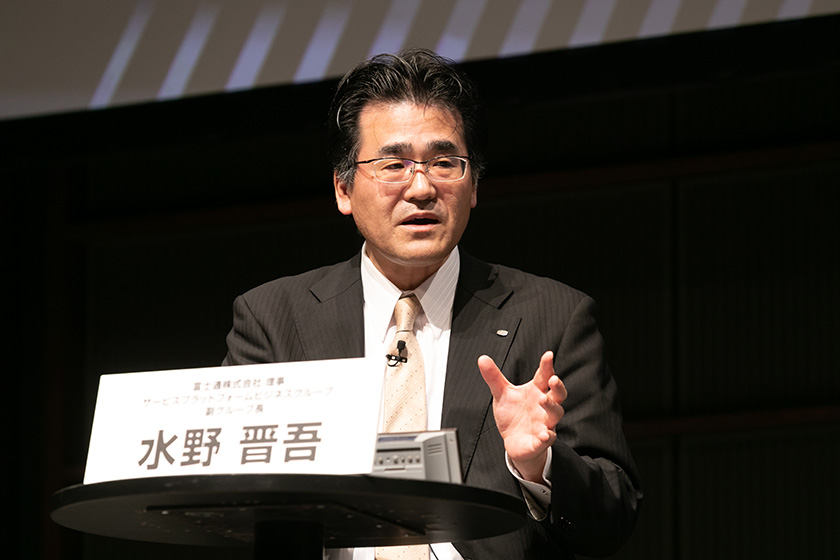 Shingo Mizuno
Corporate Executive Officer
SVP, Vice Head of Service Platform Business Group,
Technology Solutions Business
Fujitsu Limited
Mizuno: In the global market, 5G services for smartphones are already available in the US and South Korea. However, some say that the transmission speed is not much different from that of LTE. What is your opinion of the situation?
Fujioka: At the moment, 5G is implemented in a way that offloads traffic from LTE, which is a commonplace technology, rather than in a way that enables the new applications that 5G can offer. This is why there is no difference in actual transmission speeds compared to LTE. As AR, VR, 4K, and 8K come into wider use, the high data transfer rate, which is one characteristic of 5G, will have more considerable effects. But, it will be some time before this happens.
Mizuno: When 4G was launched, the iPhone, which was a new interface, became available. What changes will the advent of 5G introduce to interfaces?
Fujioka: 5G is expected to drastically improve data transfer speeds and complement mobile devices' low computing power as a result of the spread of edge computing. Thus, head-mounted displays and VR glasses may come into wider use. Large-screen foldable smartphones, such as the one to be commercialized by Samsung, will also attract attention.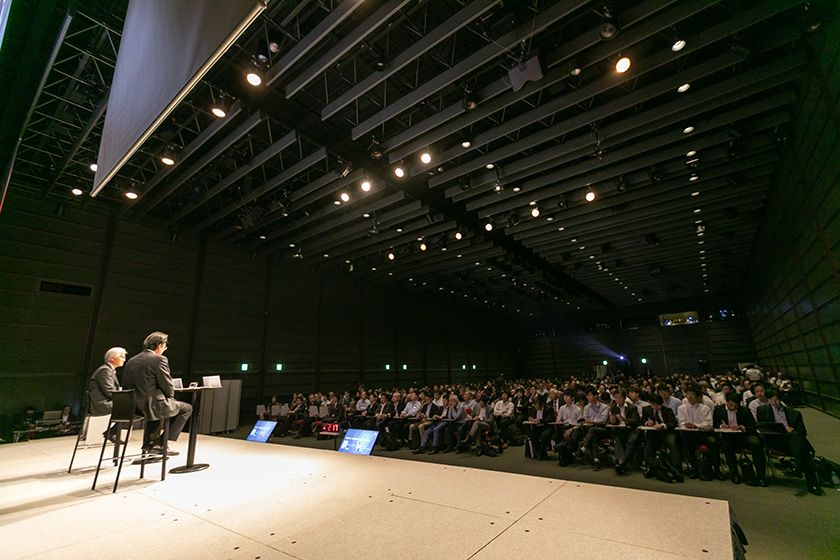 Mizuno: Please allow me to ask about changes in network architecture. One topic concerns integration of fixed and mobile networks. Is it safe to say that mobile networks will replace all other types of networks, regardless of telecommunications means such as Wi-Fi, 4G, 5G, and fixed gateways?
Fujioka: Yes. Higher bit-rate 5G communications will remove the boundary between fixed and mobile communications. Mobile networking is evolving rapidly, and many new technologies will be incorporated in rapid succession. Thus, it is very likely that mobile networks will replace and consolidate fixed networks.
Mizuno: As networking evolves, standardization is also required. What issues need to be solved to achieve standardization?
Fujioka: Discussion of standardization is already underway. One issue is how to unify multiple telecommunications means, including 3G, 4G, and non-standalone systems, with fixed systems. In addition, it is also necessary to discuss how to maintain user convenience.
Mizuno: Now, let's focus on industrial structure. In industry, many people are uncertain of what changes 5G will bring about exactly. Merely aggregating large volumes of data does not require 5G technology. What do you think about the changes that 5G is achieving as various trials are being carried out?
Fujioka: 5G provides an environment in which large volumes of data can be sent without delay. Currently, mobile devices in factory networks and other closed networks must rely on a technology that is limited to unlicensed radio bands such as Wi-Fi. However, Wi-Fi tends to be unstable because of interference. 5G, which provides an environment for stably transmitting enormous volume of information on mobile devices in real-time, offers huge possibilities to industry.
Mizuno concluded the conference with these words: "The 5G network, which provides stable, real-time transmission and reception of large volumes of data, will assist various industries in creating new services and business opportunities."
Presenters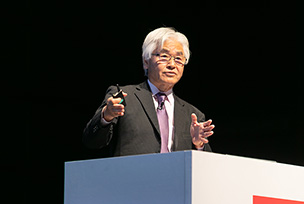 Masanobu Fujioka
Chief Technology Officer (CTO)
Ericsson Japan
Shingo Mizuno
Corporate Executive Officer
SVP, Vice Head of Service Platform Business Group,
Technology Solutions Business
Fujitsu Limited