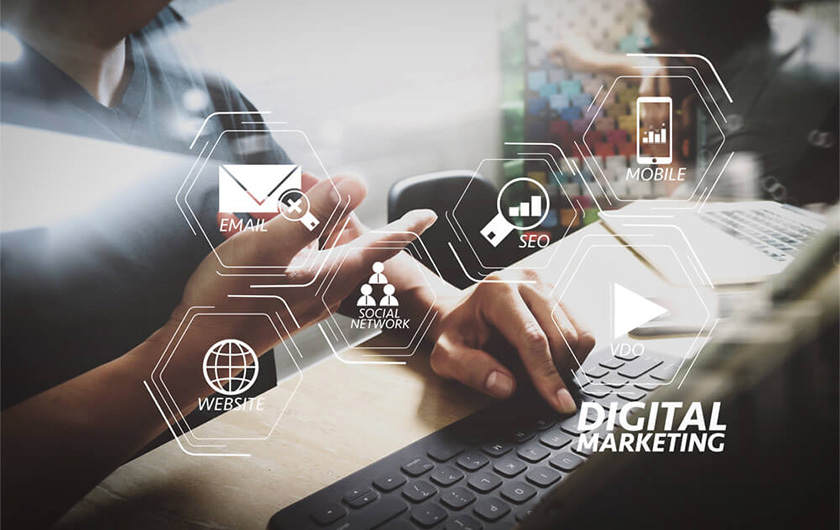 Digital marketing is coming into full-fledged use alongside the popularization of smart devices and social media. "Customer-centric" approaches, which seek to understand individual customers' thoughts and behaviors to provide the products and services that customers want, are now attracting attention. At Fujitsu Insight 2018, the key points for leading customers' digital marketing to success were discussed in three sessions, namely "True Digital Marketing that Extends to Business-Process Innovation," "Reframing Marketing with CX-First," and "The Front Lines of Fujitsu's B2B Digital Marketing Initiatives."
[Fujitsu Insight 2018 "Digital Marketing" Special Presentation Report]
The Key to Speedy Promotion of Corporate Transformation with Digital Marketing
In the first session, "True Digital Marketing that Extends to Business-Process Innovation," business consultant Mr. Masanori Kanda took the podium.
Sluggish Digital Transformation in Japan
Many Japanese companies now face the major challenge of determining how to promote digital transformation effectively and efficiently. Why do Japanese companies sluggishly promote digital transformation even though tools and solutions for understanding customers are arriving one after another?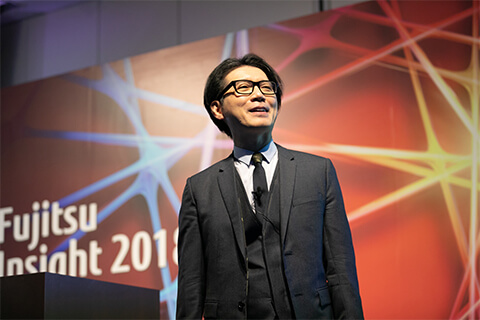 Masanori Kanda
Business Consultant and Writer
CEO of ALMACREATION
Representative Director
of Read for Action
There is a large perception gap between solution sellers and purchasers, who each have problems selling or purchasing solutions. Sellers, who are also in the position of assisting customer companies with digital transformation, do not feel that they are profiting sufficiently despite providing excellent solutions. On the other hand, purchasers, who are in the position of implementing digital transformation, do not feel that they are getting the most out of the costly solutions that they have deployed. Unless both of these problems are solved, corporate digital transformation will not progress.
Four Severe Dysfunctional Sales Strategies in B2B Purchasing
I supervised the translation of a book entitled The Challenger Customer: Selling to the Hidden Influencer Who Can Multiply Your Results. This book surveyed more than 3,000 people engaged in B2B purchasing and points out that many companies have sales strategies that are severely dysfunctional. Those dysfunctions are causing problems for both sellers and purchasers.
Conventional thinking maintains that several tried and true tactics are required in business to win good contracts that generate appropriate profits. Examples include convincing top executives, communicating to customers that your products and services are the most widely used in the industry and have the finest quality, convincing all stakeholders with authority, delivering an appropriate message to each stakeholder, and providing customers with excellent expertise.
However, this survey confirmed that all of this is "wrong." These sales tactics, which were once considered effective, in fact have the following four dysfunctions.
First, making proposals to top executives leads nowhere; convincing top executives is no longer considered to be effective. In addition, a survey conducted in the US revealed that the average number of people behind purchasing decisions is 5.4. To sell products or services, all of these people must be persuaded. The involvement of a greater number of people results in more careful decision-making and a consequent plunge in the contract success rate. This phenomenon is called the "solution graveyard."
Second, dominating the market is insufficient to successfully close deals. Communicating to customers that your products and services are the most widely used in the industry and have the finest quality is also meaningless. Despite acknowledging your products and services, in most cases they will conclude that they should adopt similar but cheaper solutions.
Third, there is a limit to the "tracking and convincing everyone" approach. In the past, tracking and convincing every person involved in purchasing was important. However, one survey revealed that this approach accounts for only 4% of the contract's success.
What is interesting about the results of this survey is that delivering different messages to stakeholders to respect their values based on Account-Based Marketing (ABM) negatively affects the outcome. Any conclusion that satisfies everyone tends to result in a boring solution. This will never drive transformation. If you work to provide a solution that supports digital transformation and try to convince everyone, you will end up with a contradictory situation in which you propose a solution that is far removed from digital transformation.
Fourth, experts' perspectives hardly affect customers' decision-making. This means that easy-to-understand explanations, easy-to-find information, and interesting facts and episodes have almost nothing to do with purchasing decision-making. Your competitors also publish information from experts on their blogs, which results in the circulation of a lot of content that all looks similar to customers; this spikes the difficulty of differentiating yourself from your competitors.
What is important here is that when customers encounter unexpected information that provides business-related insights, they reset their purchasing criteria that were about to be determined. In other words, any content that does not provide insight only promotes commoditization, no matter how superb the proposed solution.
Therefore, mass-creation of content is thought to have negative effects. In fact, a survey revealed that 30% of customers reacted negatively to undesired contact from sellers, such as "we stopped purchasing from that company" or "we stopped meeting with that supplier's sales representative."
As you can see, sales tactics that were once considered to be effective in fact no longer generate any benefits and may even create disadvantages. Even so, many Japanese companies have yet to take fundamental measures.
Mobilizers that Influence Organizations and Purchase Decision-Making: Go-Getters, Skeptics, and Teachers
The clue to resolving these issues is the 5.4 hidden influencers engaged in promoting organizational activities and purchase decision-making. What kinds of organizations have them, and what kinds of people are they? In fact, it is impossible to answer these questions because there is a wide range of people and departments that embody these 5.4 people. Depending on the company, they will belong to different departments; they cannot be categorized based on their positions, jobs, or fields of work.
The Challenger Customer groups customers into seven types: go-getters, skeptics, friends, teachers, guides, climbers, and blockers. Of these, the three types that are most influential to organizations are go-getters (those who drive organizations), skeptics, and teachers. They are collectively referred to as mobilizers (those who mobilize organizations in agreement with a proposal).
The key point is whether you can provide these mobilizers with insights that change their perceptions, or unconventional knowledge that directly leads to a deal. If you can propose insights for these three types of people in different positions instead of convincing them individually and have them work together as one, the organization will move. Doing so helps them deploy an unconventional solution aimed at fundamental transformation. This also helps suppliers win excellent deals.
Case Study: Xerox US's Insightful Message that Colors Improve Students' Concentration
Please allow me to introduce a case study on how US-based Xerox proposed insights to mobilizers, which led to a successful business contract. The company was attempting to propose color printers to educational institutions. Their sales representatives explained their product's superiority from various aspects but they failed. To avoid repeating the same mistake, they decided to closely observe the customers to identify their problems and strong interests. These observations revealed that the people concerned were worried that students had poor performance and comprehension as well as trouble focusing on learning.
In cooperation with universities and research institutions, the company looked into studies on improving children's concentration and obtained evidence that using colors improves concentration by 77%. They then used this information to emphasize that Xerox is working to improve children's concentration.
Mobilizers at educational institutions promptly reacted to this message and obtained the insight, thinking, "Children in the classroom exhibit poor concentration. We were unsure about how to educate them, but we now know that one cause is a lack of color." As a result, educational institutions selected the supplier in an unprecedented paradigm.
In Japan, CHUO GREEN DEVELOPMENT Co., Ltd, an affiliate of the POLUS GROUP, a housing developer and dealer, also successfully provided insight. Housing dealers tend to create general messages with a focus on unit prices, convenience, cost effectiveness, functionality, and scarcity.
However, the company focused not only on houses but also on the lifestyles of people living in the houses, and it designed a completely different community built through cooperation by local businesses and universities. This is based on the following concepts: permanence, degree of happiness, and the value of the community as well as the resulting property values and "having their own town." This served as a new message, or insight, for people who were considering buying houses.
The Key to Corporate Digital Transformation
The key to digital transformation lies in promoting a shift in corporate culture and introducing digital tools while helping the go-getters, skeptics, and teachers of customer companies reach agreement.
That said, it is not easy to discover insights and propose them to customer companies. Generally speaking, Japan's corporate cultures are particularly steadfast. As such, many companies dislike new tools and corporate reform. However, failing to initiate digital transformation now will affect business sustainability. Corporate culture and technological progress must be advanced in close relation.
Providing Opportunities for Collective Learning from a Customer-Centric Perspective
Rapid transformation can cause unsolvable problems. To prevent these, opportunities for collective learning must be provided, including for customers. If you are a marketer or sales representative, please go to customer companies and provide them with opportunities for collective learning. The objective is to obtain a perspective on customers.
To understand customers' true needs based on knowledge of customers, it is important to provide opportunities for them to review their situations, or to share in collective learning. Even heated arguments with customers are sometimes necessary to discover true insights and achieve breakthroughs.
External Facilitators that Assist Customer Companies with Digital Transformation
Unlike many foreign companies with strong leadership, Japanese companies have difficulty undertaking these initiatives on their own. Here, external facilitators must be utilized. The key to digital transformation lies in discovering the facilitators that coordinate departments across the company and that understand customers thoroughly. I think that outside helpers who thoroughly understand customer companies are needed so that the mobilizers in the three different positions can reach agreement and make progress toward a major transformation. I am convinced that this is the key point that leads to corporate digital transformation.
The second part of this report covers the importance of restructuring marketing centered around CX (customer experience) and Fujitsu's latest in-house efforts in digital marketing.
Presenter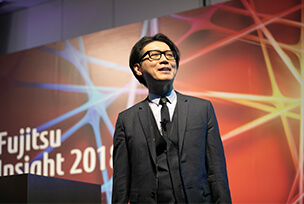 Masanori Kanda
Business Consultant and Writer
CEO of ALMACREATION
Representative Director
of Read for Action
(The presenter's department and position are as of the December 2018 lecture.)