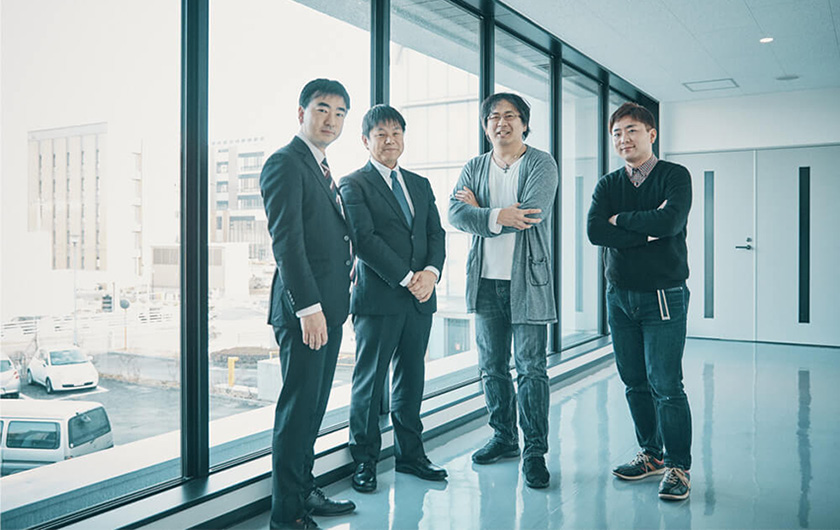 At Tohoku University's Graduate School of Information Sciences. From the left: Kazuya Takemoto, Keizo Azuma, Masayuki Ohzeki, and Masamichi Miyama (titles omitted)
Speakers
Masayuki Ohzeki, Associate Professor, Tohoku University
Masamichi Miyama, Special Assistant Professor, Tohoku University
Keizo Azuma, VP of Platform Services, Fujitsu Intelligence Technology Limited
Kazuya Takemoto, Director, Technology Development Project, Digital Annealer Unit, Fujitsu Laboratories Ltd.
Facilitator: Kentaro Fuji, Head of Strategy Planning Division, Global Marketing Unit, Fujitsu Limited
As digital computers continue to evolve and the limits of Moore's Law have become visible on the horizon, researchers worldwide are exploring new concepts to develop computers. In this area, the industry leader is Digital Annealer, a computing technology designed to solve combinatorial optimization problems that require massive calculations. Digital Annealer's approach applies quantum computing technology by means of digital circuits.
In this discussion, Keizo Azuma, the business promotion lead of Fujitsu's Digital Annealer business, and Kazuya Takemoto, a researcher, sat down with Masayuki Ohzeki, a leading figure in quantum computing research, and Masamichi Miyama, a professor, in their research lab. The speakers discussed the challenges that can be solved by using cutting-edge technologies, sharing their thoughts and future outlooks on research from varying perspectives.
Fuji: "Professor Ohzeki and Professor Miyama, you are both involved in very advanced research on quantum computing, including quantum annealing. What are the motivations and dreams behind your daily research efforts?"
We Pursue the Intersection of Basic Scientific Research and Industry Applications
Ohzeki: "We carry out studies and base our research on two pillars: statistical mathematics and quantum mechanics. We feel that the "toy model," a concept rooted in basic science that exhibits the magnetic principle and is otherwise known as the Ising model, is especially interesting in that it can be used as a tool for providing the latest solutions to today's challenges, such as combinatorial optimization problems and machine learning. As basic science researchers, our dream is to pursue the intersection of science and other areas, namely industry and business. Also, I felt a little antsy to get out and do something." (Laughs.)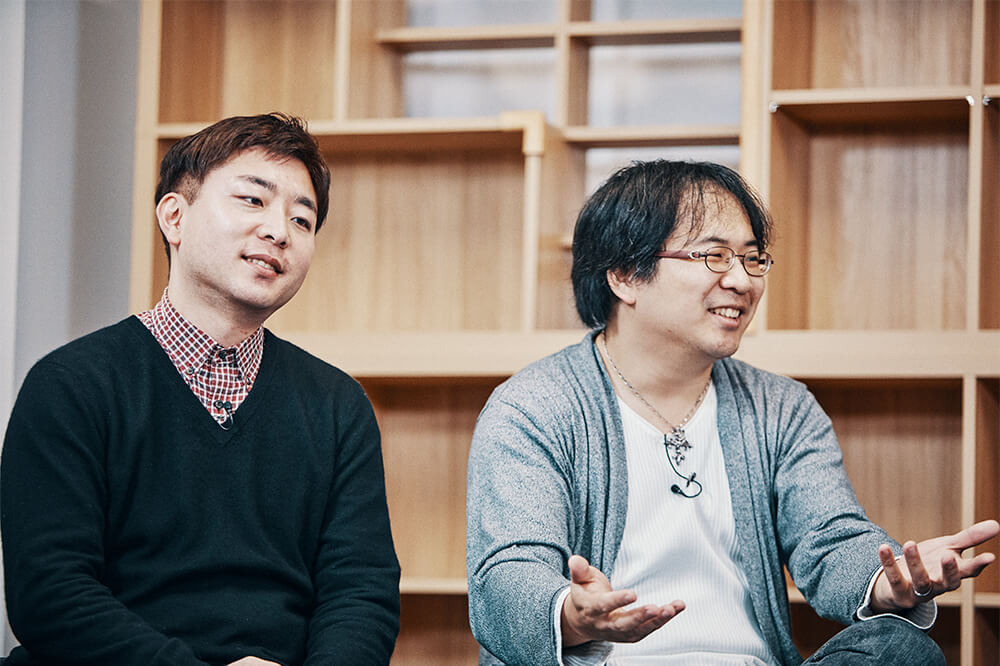 Miyama: "The Ising model is something we were always deeply familiar with theoretically, but my view of it changed when I realized that it can be used to solve social problems. Until that moment, I focused on research in whatever field piqued my interest, but then I began to feel that I wanted to become more involved in research that will help people around the world. The term 'quantum annealing' takes its name from the optimal solution search algorithm. What I find interesting about it is how you can take a phenomenon and calculate it just as it is, which means that you can approach research from both fundamental and practical angles."
Quantum computers make use of the various quantum behaviors found in the natural world to perform calculations. In 2017, Tohoku University collaborated with D-Wave Systems, which developed the world's first commercial quantum computer, to launch research and development efforts that utilize quantum computing technology. This is the first such effort by Japanese national universities and research institutions.
Quantum Annealing Uses Natural Phenomena to Solve Problems in Society
Fuji: "What kind of efforts do you engage in at your laboratory?"
Ohzeki: "When researching quantum annealing, if you implement algorithms based on quantum annealing in hardware, astonishingly dynamic solutions that originate in nature can be applied in society. This prompted us to ask, what if we harnessed the power of nature— or used simulations that emulate nature— to develop solutions? Though there are various problems, since we have this amazing tool, we want all kinds of people to be able to use it and understand its potential. With this goal in mind, we offer consultations to private companies in various industries and collaborate with them. In the university, we have undergraduate and graduate students use this technology, and we encourage them to propose their own ideas on how to use it. We also visit nearby high schools to demonstrate how the calculations work."
It's Fascinating to See How New Ideas Take Shape
Fuji: "High school students are especially impressive."
Ohzeki: "The technical terms and mathematical formulas are difficult, but everyone gets excited about it. The Ising model is a quadratic equation, so after teaching them the basics of how the formula is constructed, we ask them if they want to try to solve social problems they are familiar with, and they report that that's exactly what they already did. We were surprised to see that they were doing more amazing things than we were! (Laughs.) It makes us very happy to see them inspired to come up with new ideas."
Quantum Annealing: Predicted by a Japanese Researcher, Realized by D-Wave
Fuji: "Quantum annealing was discovered by Canada's D-Wave Systems, and it is now becoming more and more actively used in the industry as a whole. Having actually used the D-Wave machine, what is your assessment of it, and what are your expectations?"
Ohzeki: "Actually, the first people to propose the idea behind the quantum annealing method were Professor Hidetoshi Nishimori of the Tokyo Institute of Technology and Tadashi Kadowaki, a student who was then enrolled in the doctoral course. They predicted quantum movements simply by following the rules of quantum mechanics. This was thought to be the stuff of the distant future, but by the late 1990s, D-Wave Systems emerged, and by the early 2000s, sophisticated superconductivity quantum bit technology had been developed. After that, practical applications of the technology started to be pursued. For us, this is a stage in which theories of physics can have a direct impact. For the first time in human history, a mysterious space is being created in which 0's and 1's overlap based on the large-scale quantum mechanics called quantum bits.
When Doing Something Unprecedented, Failure Is an Important Experience
When trusting the theory and trying to use the D-Wave machine, some parts do not go well, and unexpected failures occur. Failures are generally undesirable, but to have the opportunity to experiment with something no one has ever attempted before is a valuable experience. At our university, we tell students to just go ahead and try it. Nearly every day, undergraduate and graduate students perform jobs and come back with all kinds of failed results. (Laughs.) But, the fact that we have established an environment where people can take this kind of proactive approach demonstrates that we have reached an extremely significant moment in human history."
Digital Annealer Can Handle Even Large-Scale Problems
Fuji: "Fujitsu is taking a unique approach in using Digital Annealer to solve the same social and business problems. Since you have used it, can you give us your honest impressions?"
Ohzeki: "With the technology we have today, there are limits on the size of problems that quantum mechanics can handle. Digital Annealer can handle large variables as well, so it is capable of handling very detailed numerical values. It has an enormous maximum capacity to take those values in total combination, which I find very exciting. We can take problems that we have converted into formulas and feed them into the machine to some extent stress-free, and it solves them just like that. This allows us to iterate by trial and error, whereby we can review the returned results and partially modify the parameters. Since it is digital, we can fail repeatedly, which helps us learn. This is one strength of Digital Annealer."
The Difference Between Digital and Quantum Mechanics Inspires Scientists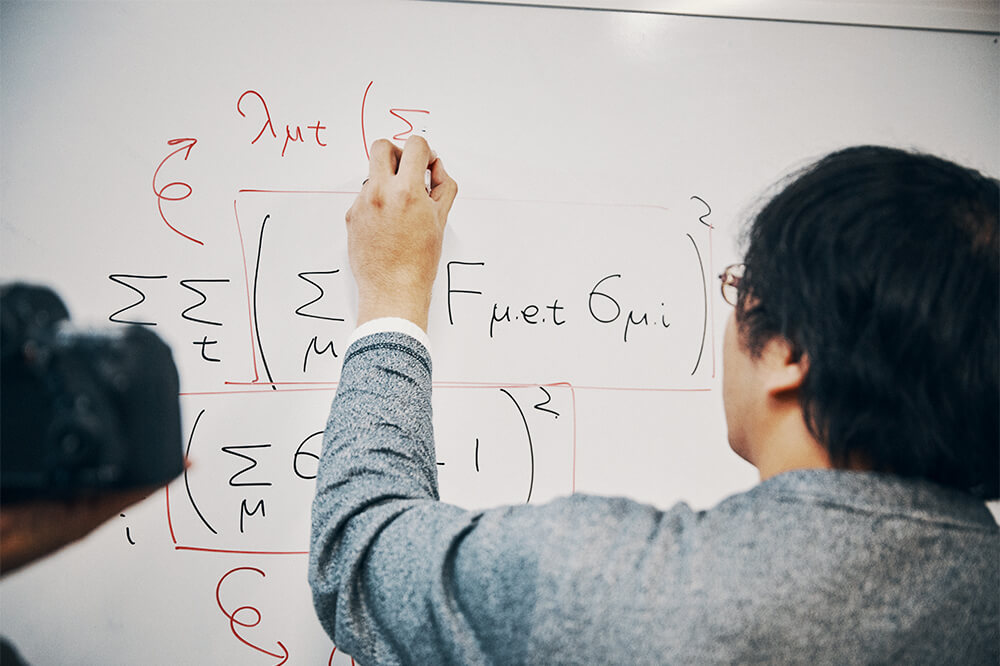 Takemoto: "Do you think that Digital Annealer and the D-Wave quantum computer will progress in the same way, or will quantum technology and digital technology each improve upon their respective benefits, leading to the emergence of new value through proper combinations of the two?"
Ohzeki: "I believe that digital technology will be stronger in terms of precision. Quantum mechanics utilizes the fullness and speed of natural dynamics, which means the output results differ from those achieved by using digital computers. This difference is very inspiring for scientists' curious hearts. We want to know why we get different results, and these differences can help us to understand quantum mechanics for the first time."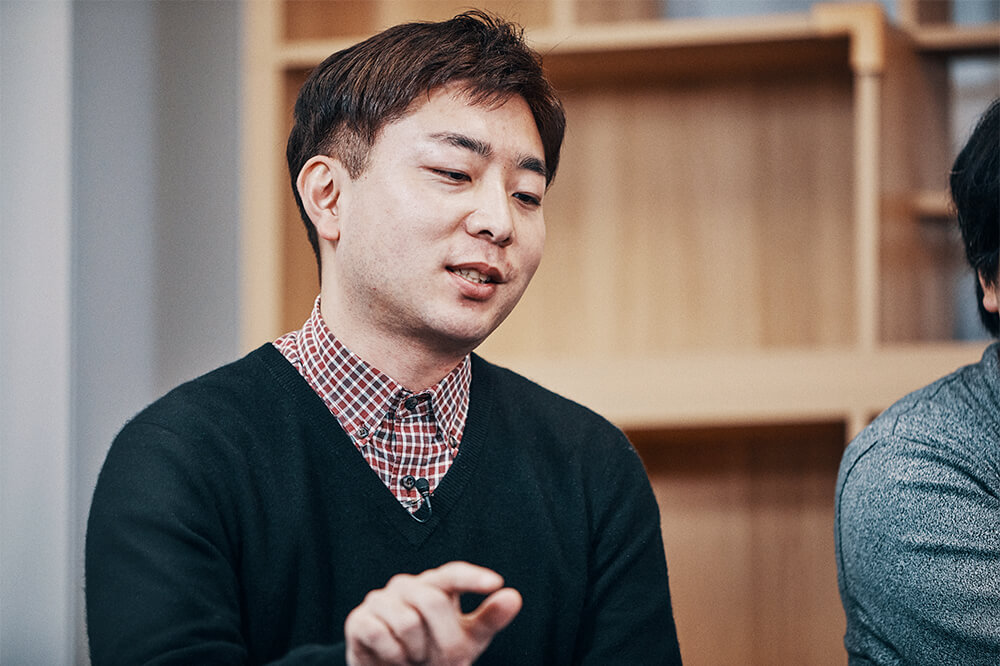 Miyama: "Going deeper into what these differences are, when throwing around complicated combinatorial optimization problems that exist in the real world, many candidates of approximate solutions emerge from time to time. The way that they emerge differs between digital and quantum computing. My impression after using these machines is that the D-Wave machine tends to produce more in terms of variety, while Digital Annealer produces more precise results."
Ohzeki: "I believe that the breadth of variety is one fascinating aspect of quantum mechanics, which captures natural phenomena. This is just how variegated nature is. We see Digital Annealer as something that was inspired by the diversity of natural phenomena, and then perfected to handle optimization solutions as algorithms. Whether Digital Annealer is quantum or digital depends on how you use it. It depends on whether you want results that are variegated, or whether you want an efficient way to produce a good solution."
Areas Where Digital Annealer Can Contribute to Solving Problems
Fuji: "All researchers from Tohoku University, Fujitsu, and D-Wave want to help find solutions for social and business challenges, but when you actually set out to do so, what you look for differs depending on the use case. As examples of cases in which Digital Annealer is actually used for certain tasks, some advancements are being made in the financial sector and the chemical industry. What other industries do you think can potentially use this technology?"
Ohzeki: "The biggest potential is in logistics. They must be able to efficiently find cheap gasoline. In actual interviews, there are many people with well-established expertise, so they are not very receptive when we go in and tell them what the optimal solution is. It is better to present several variables, out of which a convincing solution may emerge. I think it is very interesting to be able to compare solutions."
Azuma: "At Fujitsu, we receive many inquiries from companies in various industries, but the most common type of problem is the vehicle routing problem (VRP). This is the area that we see the most value in addressing. The second most common are job-shop and scheduling problems*. We also receive many inquiries regarding machines and resources as well as various problems in unique areas."
*: The task of determining machine operation schedules to efficiently minimize the overall time it takes when processing order relationships or multiple jobs using multiple computers.
New Possibilities Emerge by Pursuing Optimization
Takemoto: "The difficult part is that when we go speak to customers and ask them about the issues that they face, they usually do not know exactly what needs to be solved.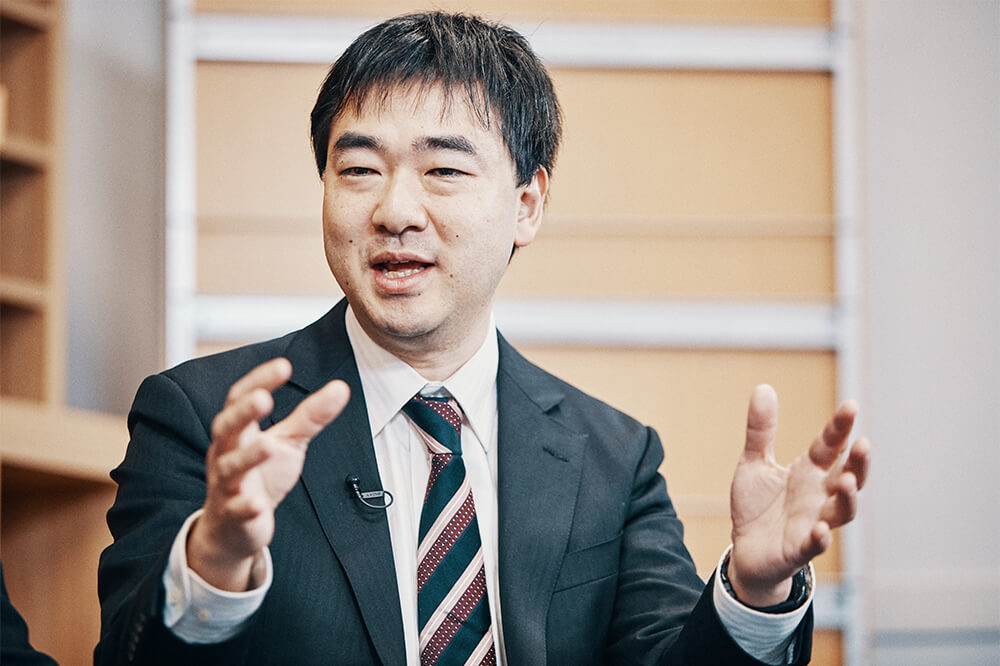 I believe one benefit of Digital Annealer and D-Wave is that they function as a sort of communication tool. When there are new kinds of solutions and methods, we can present them to customers, who will start to see what points of compromise they have been making, and how small tweaks to conditions can lead to better solutions. Even if many formulaic solutions already exist, they do not form the complete picture. By utilizing Digital Annealer and D-Wave, the diversity of potential solutions expands, which I think is very significant."
Ohzeki: "Use of this new technology provides an opportunity to look anew at what it is exactly that you want to do. I believe that opportunities such as this are directly tied to industrial revitalization."
In Part 2, the discussion heats up and covers opportunities in the field of quantum computing in Japan as well as the future development of Digital Annealer.
Presenters
Masayuki Ohzeki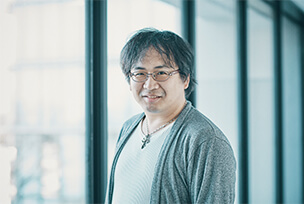 Masayuki Ohzeki was born in 1982 in Tokyo. He completed his doctoral course in condensed matter physics at the Department of Physics, Tokyo Institute of Technology in 2008. He assumed his current post in October 2016 after working as an industry-academic-government collaboration researcher at the Tokyo Institute of Technology, a physics researcher at the Sapienza University of Rome, and an assistant professor at the Department of Systems Science, Graduate School of Informatics, Kyoto University. His notable works include "Ryoshi Computer ga Jinko Chino wo Kasoku suru" (Quantum Computing Accelerates AI), co-authored with Hidetoshi Nishimori (Nikkei Business Publications).
Keizo Azuma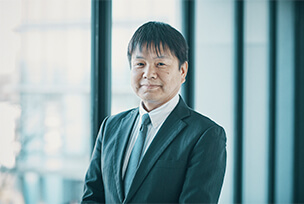 Keizo Azuma was born in Osaka in 1963. He joined Fujitsu after graduating from the Faculty of Engineering, Kyoto University. After engaging in server OS R&D, he became Head of AI Services Business Unit, where he supervised Fujitsu's Zinrai, Digital Annealer, and robot-related businesses. In April 2019, he became VP of Fujitsu Intelligence Technology Limited, which was newly established in Vancouver, Canada; in this role, he promotes the planning and development of AI platforms and services.
Masamichi Miyama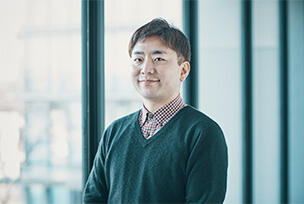 Masamichi Miyama was born in Hyogo Prefecture in 1981. He completed his doctoral course at the Graduate School of Arts and Sciences, the University of Tokyo in 2011. He assumed his current post in November 2017 after having worked as a special researcher at the Faculty of Engineering, the University of Tokyo, a special researcher at Tohoku University AIMR, and a special researcher at the Graduate School of Arts and Sciences, the University of Tokyo.
Kazuya Takemoto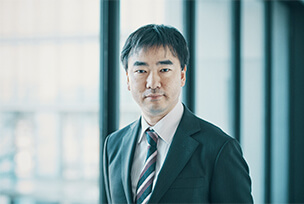 Kazuya Takemoto was born in Paris, France in 1973. He joined Fujitsu Laboratories in 2002 after completing his doctoral course at Institute of Physics, University of Tsukuba. After engaging in the development of a long-distance quantum cryptography system using semiconductor quantum dots, he joined the Digital Annealer development team in 2016. He is currently leading R&D as director of the Technology Development Project of Digital Annealer Unit.
Kentaro Fuji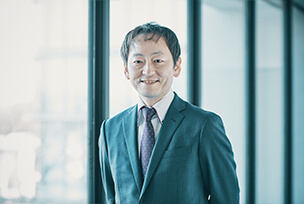 Kentaro Fuji was born in Tokyo in 1974. He joined Fujitsu after graduating from the Faculty of Economics, Tohoku University. After engaging in Fujitsu's cloud computing business, he is now in charge of business promotion for Digital Annealer and blockchain as the Head of the Strategy Planning Division in the Global Marketing Unit.