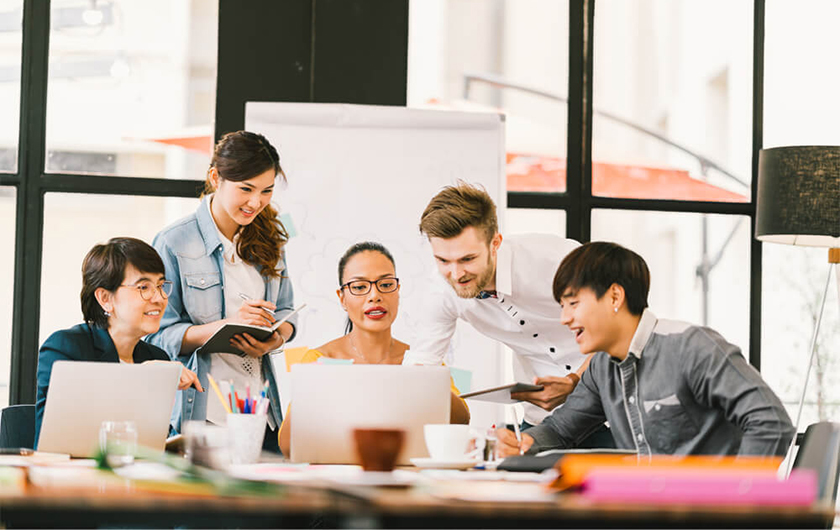 Many companies are implementing work style reform. Since 2010, Fujitsu has also been internally implementing a wide variety of strategies to change its work style. This includes telework and tools for boosting work efficiency. Zinrai Document Translation, a translation service using artificial intelligence (AI) in collaboration with Mirai Translate, Inc. is another example.
While business is increasingly globalized, the language barrier in communication with overseas business bases is a factor that impedes work efficiency improvement.
Tatsuya Tanaka, President and Representative Director of Fujitsu Limited, recommends the use of Zinrai Document Translation stating that, "Starting with all 35,000 employees in Japan at the end of May, the company will provide Zinrai Document Translation to 140,000 employees worldwide by the end of this fiscal year. By removing the language barrier, Fujitsu will help employees improve productivity and display their skills."
As described above, shortening the time required for language translation is expected to boost productivity, stimulate communication and produce other positive outcomes.
Tatsuya Tanaka
President and Representative Director
Fujitsu Limited
* The position is from the time this article was published.
AI Analyzes the Context to Improve Translation Accuracy
Zinrai Document Translation is a system that provides accurate translation quickly through AI-driven neural machine translation. Translating sentences using the neural network while referring to a huge volume of bilingual corpuses, one of the system features is the ability to produce translated sentences that sound more natural than those created through traditional rule-based translation or statistical machine translation.
In rule-based translation, words are translated one by one and then rearranged following grammar. Neural machine translation on the other hand focuses on sentences. It translates while analyzing how a word relates to the ones before and after. For example, the English word "attack" in general is translated to mean "hurt or damage something or someone with physical violence." As a technical term, however, in the medical field for example, it is translated to mean "a fit of sickness." In neural machine translation, the context is analyzed, the most appropriate words are chosen, and the entire sentence is translated.
Another feature of the system is that it can translate not only text documents but also Microsoft PowerPoint and PDF documents. It will improve efficiency of exchanging information materials with overseas offices or customers since it can translate documents while keeping original formats and layouts.
Zinrai Document Translation is a cloud-based service. It is a highly secure service managed by Fujitsu's ISO 27001-compliant data center. Source documents are automatically deleted from the server the moment translation is completed. The risks of secondary use or disclosure of information are therefore reduced, and users can use the system without security concerns.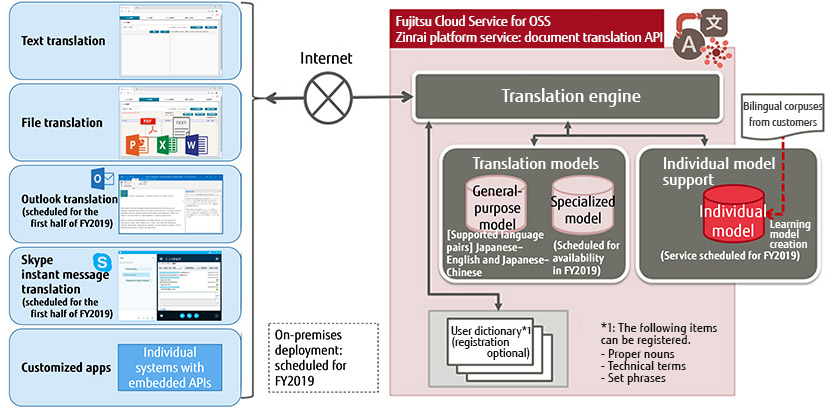 Figure 1 Zinrai Document Translation functional overview
This is How it Works! Experience a Seamless Translation Process
Operating the standard system user interface (UI) is quite simple. First, select a language pair (Japanese-English or Japanese-Chinese). Second, copy and paste the source document in the left field. Finally, press the Translate button. The translation appears in the right field.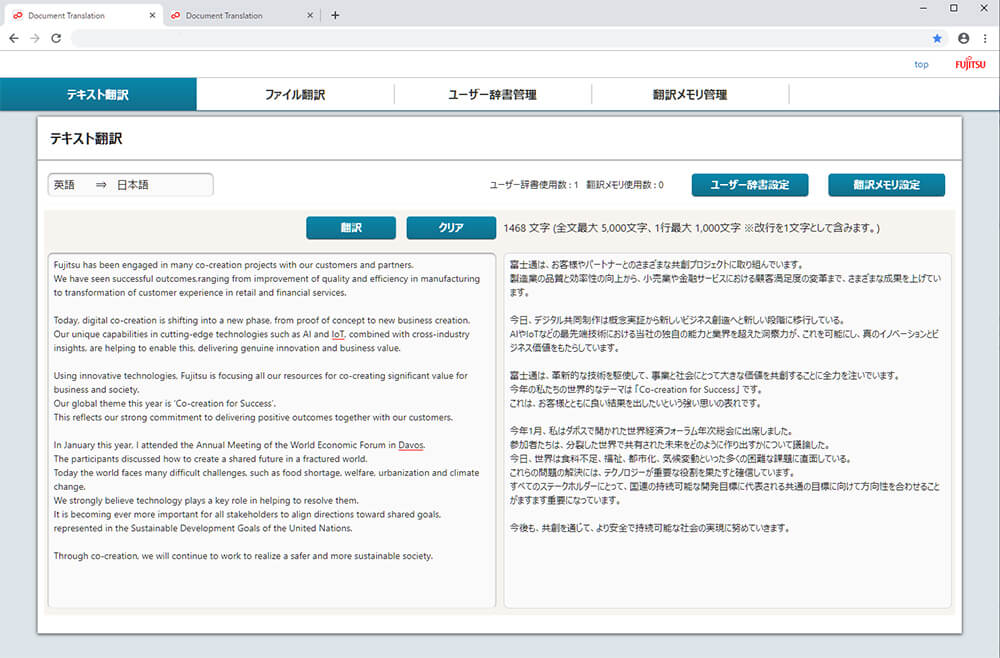 Figure 2 Actual screen for translation
The basic operation is the same for translating files. Select a language pair, and drag and drop the source file. A 20-page (or so) PowerPoint presentation file can be translated in only a few minutes. The system also keeps the original layout by, for example, automatically adjusting font sizes.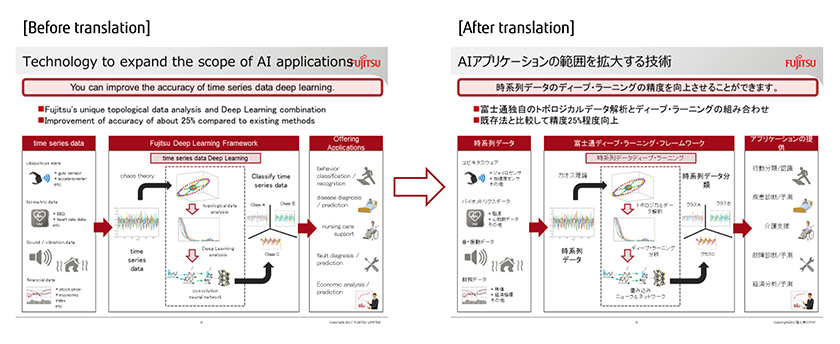 Figure 3 Microsoft PowerPoint files can be translated without compromising the layout
As described above, characteristics of Zinrai Document Translation include fast and effortless text and file translation and accurate outputs owing to neural machine translation capabilities.
About 40% Reduction in Offshore Business Translation Time
Prior to the company-wide roll out of Zinrai Document Translation, Fujitsu first deployed the system as a trial for translating rules at divisions promoting offshore services. Traditional manual translation was very time consuming, but Zinrai Document Translation successfully shortened translation time by 40% while producing the same level of output as manual translation. Furthermore, translation results allowed discovery of ambiguous phrases in source documents in Japanese, leading to improvement of the quality of information written in Japanese.
In the Information Systems Division, Zinrai Document Translation allowed division members to carry on frank conversations with overseas members. In particular, Zinrai Document Translation translated system development specifications to be sent to overseas contracted developers within a matter of 5 to 10 minutes.
Also, a translation system demonstrates its power when a system has problems and requires emergency responses in its management or maintenance phase after the launch. In situations where every minute or second counts, it means a lot if the system can translate what is happening and allow relevant personnel to share the problem and act accordingly.
The Ideal is Communication without Thinking about Languages
After the internal trial, we will identify points to improve while incorporating user feedback and work on these points one by one.
Currently, the supported language pair is Japanese and English, but support for Chinese begins on April 25, 2019. The system will support more languages in the future. Languages in high demand, such as Southeast Asian languages, will be the first ones. The system is now cloud-based, but the on-premises version will be available by the end of FY2019. We will also improve the UI and add a capability to allow users to select specialized dictionaries so that more users will feel a high sense of usability. Plug-ins for translation inside Outlook and Skype, in addition to the text and file translation mentioned above will be offered within the first half of FY2019.
Furthermore, since Fujitsu also offers application programming interfaces (APIs) to be embedded in user systems, users can customize the system as their own system.
The ideal situation Fujitsu is aiming for is employees being able to carry out work communication seamlessly without having to think about languages. With the current version of the system, users translate text or a file and communicate with another person using the translation results. Our goal is to allow users to communicate without noticing that a translation process is going on. We will work toward this end.
---
User Comments
Mitsuyoshi Kimura, Director, Business Intelligence Competency Center, IT Strategies Unit
The IT Strategy Department has four overseas operation bases, but we had difficulties communicating with local employees. Also, when we outsourced system development to overseas offshore development bases, we created specifications and our staff members with English skills translated them. This increased the workload for the translators. Zinrai Document Translation can translate documents and email messages to not only boost our productivity but also allow us to communicate, when for example system problems occur, and share problems and solutions with local staff members in their language on a nearly real-time basis. Members of offshore bases commented that the system was easy to use.
Katsunori Aoki, Manager, Business Intelligence Competency Center, IT Strategies Unit
The IT Strategy Department has the division that outsources system development to the offshore development base in the Philippines. We used to translate specifications from Japanese to English before sending them to the division. With Zinrai Document Translation, we have been able to significantly reduce the time and effort for translation, and it feels our productivity is now five times higher than before. The benefit of the system is as follows:
Various document formats such as PowerPoint, Word and Excel can be translated without document layout being compromised. Translated documents are therefore ready to use without having to be edited.
Since the quality of translation is of a high level and corrections are basically unnecessary, information materials can be shown immediately to overseas employees who are not good at Japanese. This has changed the way we communicate and the efficiency of know-how transfer, which used to be the bottleneck in offshore outsourcing, has significantly improved.
We were unable to use third-party internet-based translation tools due to concerns about data breaches, but we can use Zinrai Document Translation without such concerns.
The system is still in the trial phase, but I already expect it to be used throughout the Fujitsu group.
Nina Arataki, Manager, AI-HQ Center, AI Services Business Unit
In 2018, Fujitsu established Fujitsu Intelligence Technology ("AI-HQ"), a subsidiary with global headquarters functions for the AI and Digital Annealer businesses in Canada. Our division supported its launch and is supporting solution development from Japan. We translate a wide variety of technical information into English since it is necessary for launching Japanese products overseas. Also, email exchanges with overseas operational bases are part of our daily operation. Zinrai Document Translation translates between Japanese and English and produces translation with quality sufficient for business communication. Technical terms can also be incorporated into translation once they are registered in the dictionary. Currently, about a dozen of our members use the system on a daily basis, and our productivity is definitely improving.
---
Zinrai Document Translation introduced in this article will be displayed at Fujitsu Forum 2019 (at Tokyo International Forum in Yurakucho) on May 17.
Visit the following link for more detail.
Fujitsu Forum 2019 https://event.jp.fujitsu.com/2019/tokyo/ (Japanese)