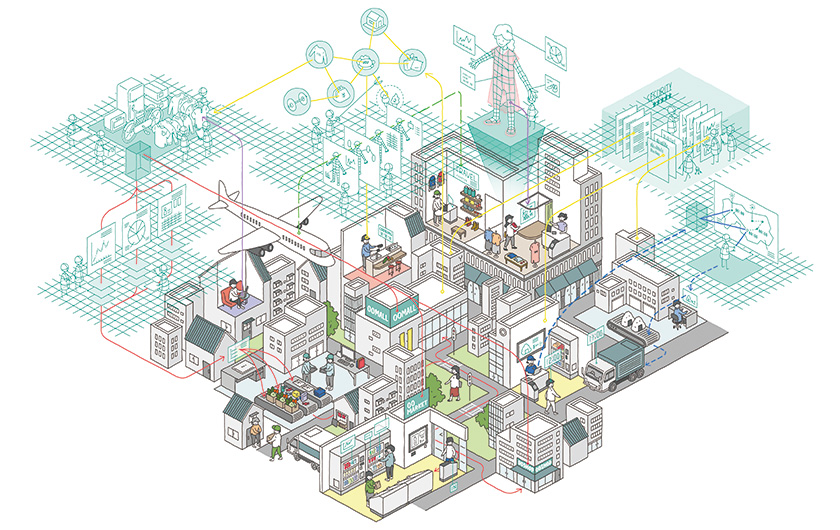 In this day and age, consumers customarily get products that meet their needs faster than ever before. As our world transforms at a dizzyingly fast pace, the retail business faces demand for smarter, more convenient services that connect various forms of information. In March 2019, Fujitsu exhibited at RETAILTECH JAPAN 2019, an event held at Tokyo Big Sight in Ariake, Tokyo. Fujitsu's exhibitions focused on human-centric retail, which adopts a human-centric approach to creating future retail businesses together with customers. Here, we offer a glimpse of future retail businesses and how they will enhance customers' lives through cutting-edge ICT.
RETAILTECH JAPAN 2019 Event Report
At this year's RETAILTECH, based on the three concepts of hybrid smart stores, borderless value, and sustainable retail, Fujitsu introduced stores and shopping experiences enhanced by cutting-edge ICT and the new value offered through industry partnerships.
HUMAN CENTRIC RETAIL - RETAILTECH JAPAN 2019(Japanese)
Hybrid Smart Stores: Achieving Automation and Labor Savings While Enhancing Customer Service
For retail stores and restaurants, it is important to make customers want to return. To do so, attention must be paid not only to store design, layout, and ambience but also to providing new experiences of joy and convenience to customers in the store. Today, in the retail and distribution industries, labor shortages are leading to serious problems such as excessive employee workloads and increasing labor costs, thus heightening demand for automation and labor-saving solutions.
At the event venue, Fujitsu introduced IoT solutions and the latest technologies that support hybrid smart stores, a new retail concept that provides enhanced customer service to shoppers while achieving labor savings and improving task efficiency.
Shopping with Your Palm—an Enjoyable, Convenient Shopping Experience
It is becoming increasingly important for stores to make shopping experiences that leave an impression. For example, even if a customer forgets their wallet at home, they can use their palm to shop. By registering their palm vein data at the Palm Charger and adding money to their account, customers can make payments by palm at stores, restaurants and vending machines.
Vending machine with palm vein payments (reference exhibit)
Other examples include the Product Pick-up Locker with a refrigeration function, which enables customers to pick-up groceries even after business hours These lockers can be unlock by palm vein authentication as well, allowing customers to safely pick up products they have ordered without worrying about the time.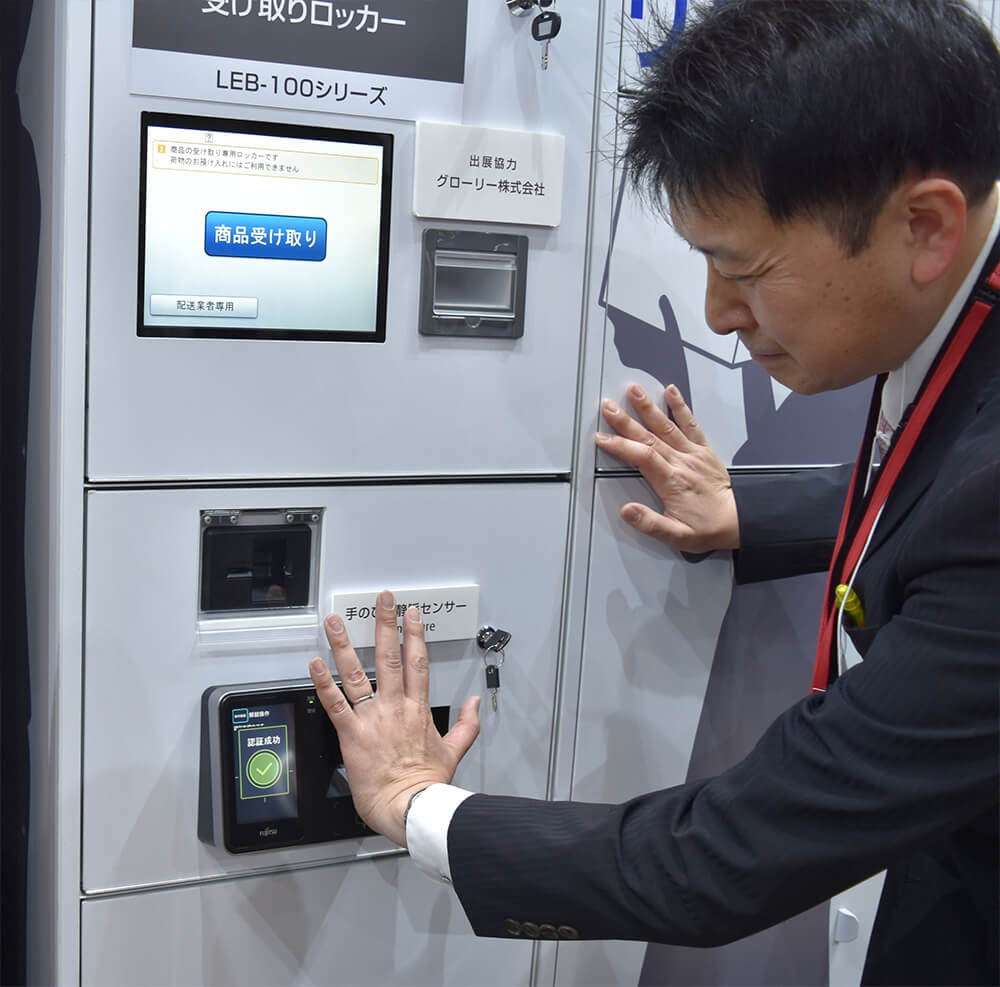 The Product Pick-up Locker with palm vein authentication (reference exhibit)
The Multi-Payment Stationaccepts credit cards, electronic cash, QR codes, and even palm vein authentication as payment methods. After the customer adds money to their account at the Palm Charger, they can immediately proceed to payment using palm vein authentication. This eliminates the need to pull out a credit card or smartphone, facilitating a much smoother shopping experience for customers.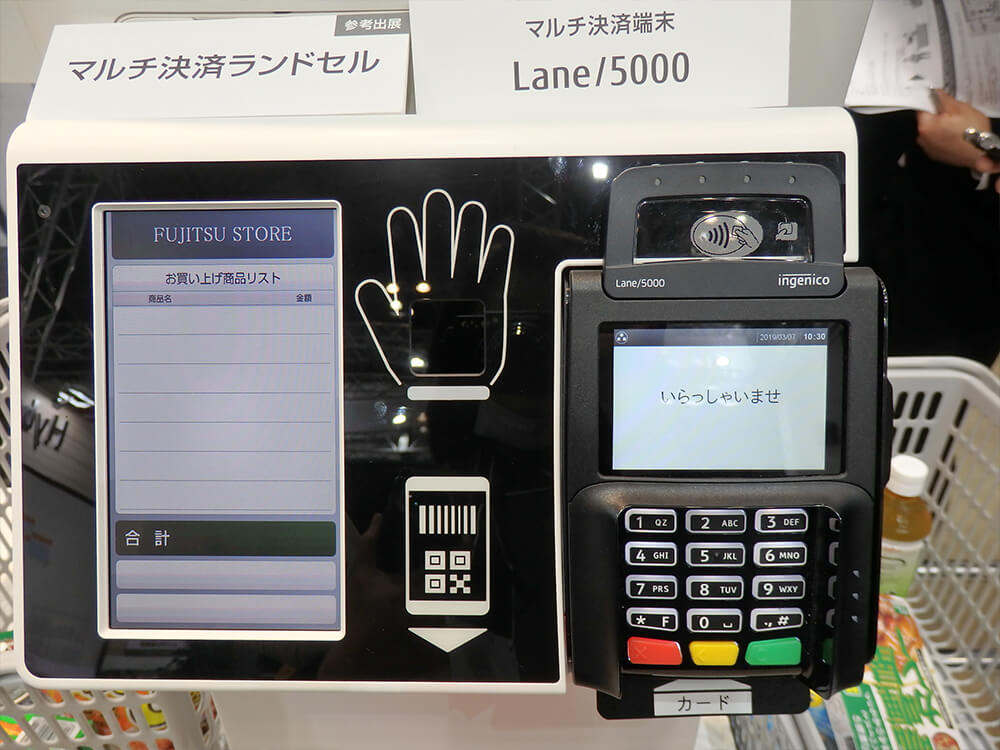 The Multi-Payment Station offers various payment methods, including credit cards and palm vein payment (reference exhibit)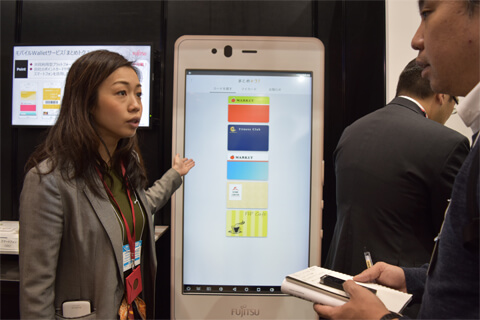 Mobile wallet service "MatomeToku!"
Carrying numerous electronic cash cards and loyalty cards often causes delays for shoppers when making payments. This is where the mobile wallet service "MatomeToku!" can help. Fujitsu offers a smartphone app for collectively managing various electronic cash cards and point cards. Another feature of "MatomeToku!" is that it can be used as a marketing tool. Through push notifications that specifically target certain areas and members, the app can help build customer relationships and realize flexible sales promotion measures. Security is also addressed by the use of one-time barcodes.
Solving Labor Shortage Issues Using IoT and Robots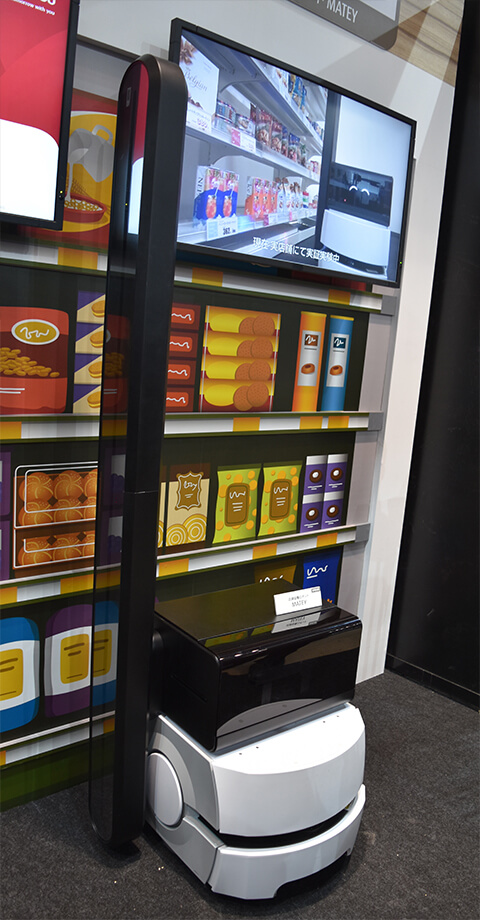 Autonomous robot equipped with various sensors and cameras
Store support robot MATEY (reference exhibit)
MATEY is an autonomous store support robot equipped with cameras. It moves around stores late at night after they are closed and checks the sales floor to ensure that the correct prices are displayed, that expired ads are not displayed, and that products are in stock. These tasks, which traditionally require store staff to perform visual checks right before stores close, can be carried out by robots instead.
Moreover, the store information collected by the robot can be used to improve the quality of customer service, provide timely information to customers, improve stock order accuracy, and reduce the stock depletion rate, among many other benefits for store operation. This technology is being developed to achieve further labor savings by integration with inventory control systems, demand forecasting, and order management systems.
Labor savings in terms of management of products and food ingredients is another important matter. Fujitsu's temperature and moisture management solution for refrigerators and freezers involves installing beacons with attached solar cell sensors inside refrigerators and freezers in order to automatically collect temperature and moisture data, which helps achieve labor savings in temperature management, a labor-intensive task. It also enables temperature management automation, which is necessary for meeting the HACCP standards.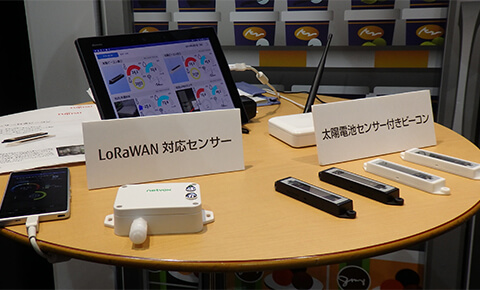 Various sensors used to remotely collect data from warehouses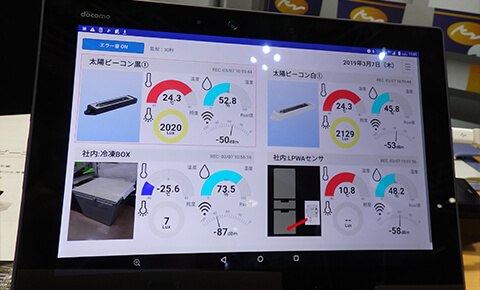 Data collected using sensors is confirmed in real time at stores and head offices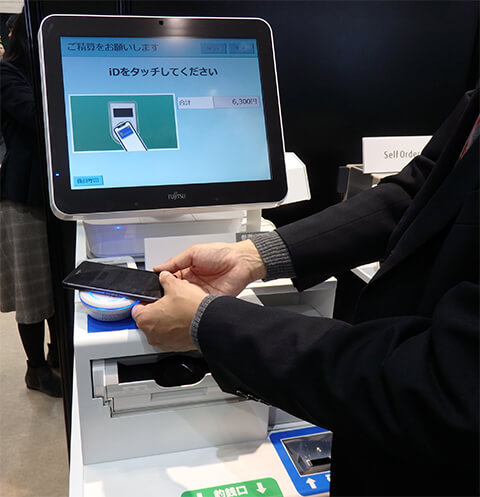 "E-Order + Self-Payment Systems" (reference exhibit)
In cases that require reducing staffing for store operations, labor savings when taking orders and processing payment are important topics. At an exhibit that combines e-orders with self-payment systems, customers can use a dedicated app to make orders at their tables and perform self-checkout. This leads to reduced losses due to canceled orders because staff could not be found.
Achieving Task Optimization for Store Staff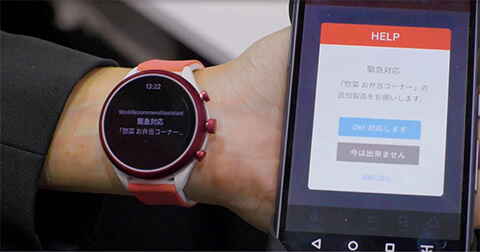 Work Recommend Assistant (reference exhibit)
To improve task efficiency for store staff, Fujitsu developed the Work Recommend Assistant for Staff. Information related to store operation (e.g., store sales figures, sold-out stock and temperature abnormalities in store equipment that are collected from store IoT, and task progress states such as shelf stocking) are collected, and these information sets are used to send task instructions to store staff members' smartphones and smartwatches. This technology greatly improves operation at stores facing labor shortages.
Borderless Value—Providing Value by Digitally Connecting Places, Processes, and Information
As customer needs continue to diversify, demand is increasing for the construction of value chains that provide individually tailored value to customers. Fujitsu has introduced solutions that provide enhanced experiences by seamlessly connecting places (e.g., stores and e-commerce sites), processes (e.g., manufacturing, distribution, and sales), and information (e.g., changes in customer needs) by transcending the border between the real world and the Internet.
Providing Shopping Experiences Optimized for Each Customer Using Personal Records
Imagine a scenario in which a customer is looking at clothes they are interested in. They want to find a certain article of clothing in a different color, but no staff member is immediately available. So, the customer decides to continue to shop for clothes at another time and leaves the store. This is a familiar experience for many.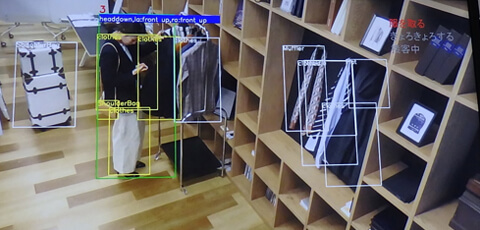 Customer service support for catering to specific customers appropriately in a timely manner using Action Detection AI Technology (reference exhibit)
Action Detection AI Technology detects customers' variegated purchasing behaviors such as those described in the above scenario in real time. The technology recognizes patterns and uses them to make proposals to customers. For example, specific behavioral patterns (e.g., customers' motions when trying to decide which clothes to buy or the act of glancing around) are defined as behavioral patterns of people who are waiting for staff to help them, which are then input in advance into the AI as learning data. When cameras installed around the store detect such behavior, they recognize that a customer is looking for a staff member or is showing interest in a product. Said information is immediately sent as a notification to the tablets and other devices carried by staff members. Thus, this technology supports targeted customer service at the proper timing.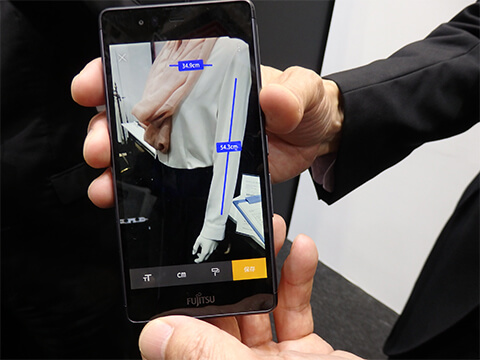 IoT Measure (reference exhibit)
When customers are looking for clothes that fit their current mood or physique, Fujitsu proposes customer service using IoT Measure. Stores can use IoT Measure to take measurements of customers' sleeve lengths and shoulder widths in one-millimeter increments. This technology functions by registering and managing individual customers' personal records.
By managing physique data as personal records, shopping in which customers can easily find clothes that fit them becomes possible, both at physical stores and on e-commerce sites. In addition to using this technology for promoting new product plans, the potential for co-creation and innovation is expanded by capturing and managing purchasing histories at stores and e-commerce sites as well as by sharing physique data among industries.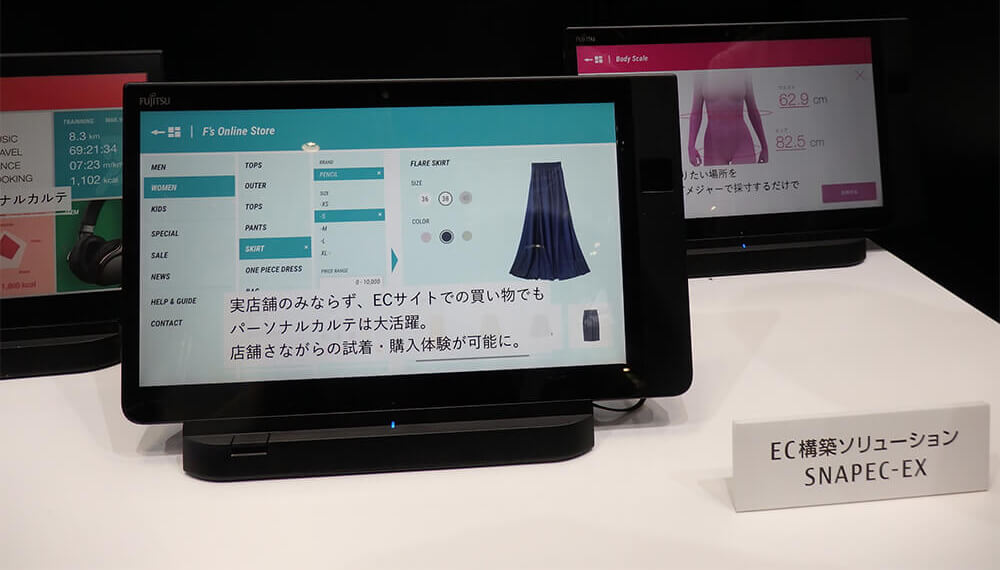 Personal records for managing physique data and preferences (reference exhibit)
In apparel shops and other retail stores, in many cases customers try on clothes but end up not buying them. The retailer is not able to gather the information why the customer did not purchase the clothes. To respond to this, Fujitsu's "Changing Room + RFID" collects records of customers who try on clothes in order to better understand them.
Collection boxes equipped with RFID readers are installed inside changing rooms; doing so enables customers to return the clothes they have tried on by separating them by the reason for returning them, such as the clothes not fitting or wanting different colors. By reading the RFID embedded in the tags on each article of clothing, the reason for not purchasing the product is collected as data.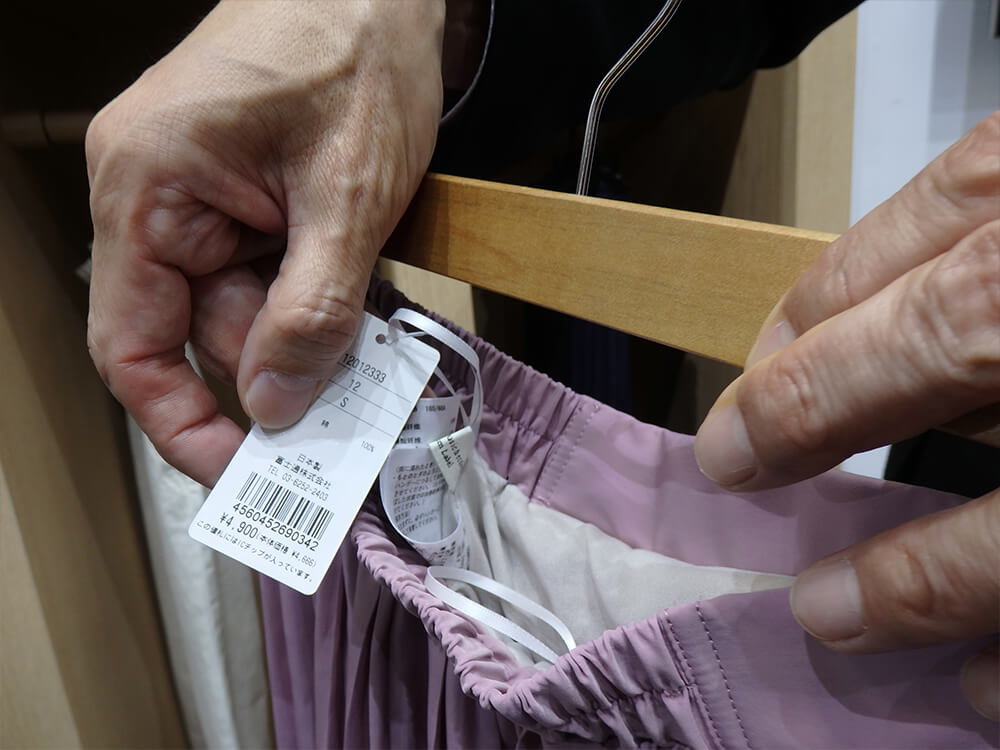 RFID tag
In addition, these data sets are managed as individual customers' preference data. This data can be used for customer service when the customer returns to the store, and new product planning activities can analyze the statistical data from the records of customers trying on clothes.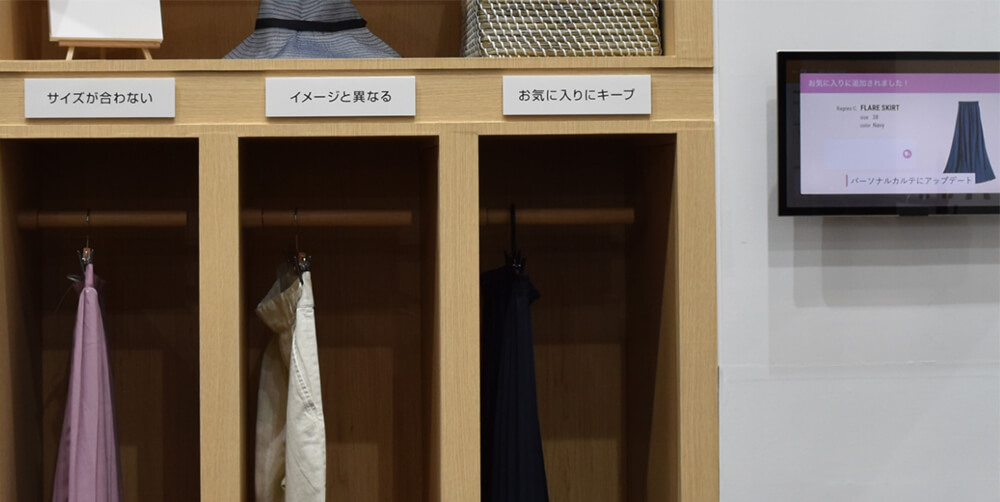 Collection BOX
Flexible Delivery System that Reduces Delivery Staff Workloads
The lack of drivers in the transport industry has a major impact on retail stores and restaurants. Efficient delivery systems that take into account the supply chain of products from manufacturing to distribution and sales are a serious challenge. At the exhibition booth, Fujitsu showcased Fujitsu IoT Solution SMAVIA, a solution concept for using IoT to aggregate status data on manufacturing, distribution, and sales. This solution supports the optimization of delivery processes that take into consideration the entire supply chain.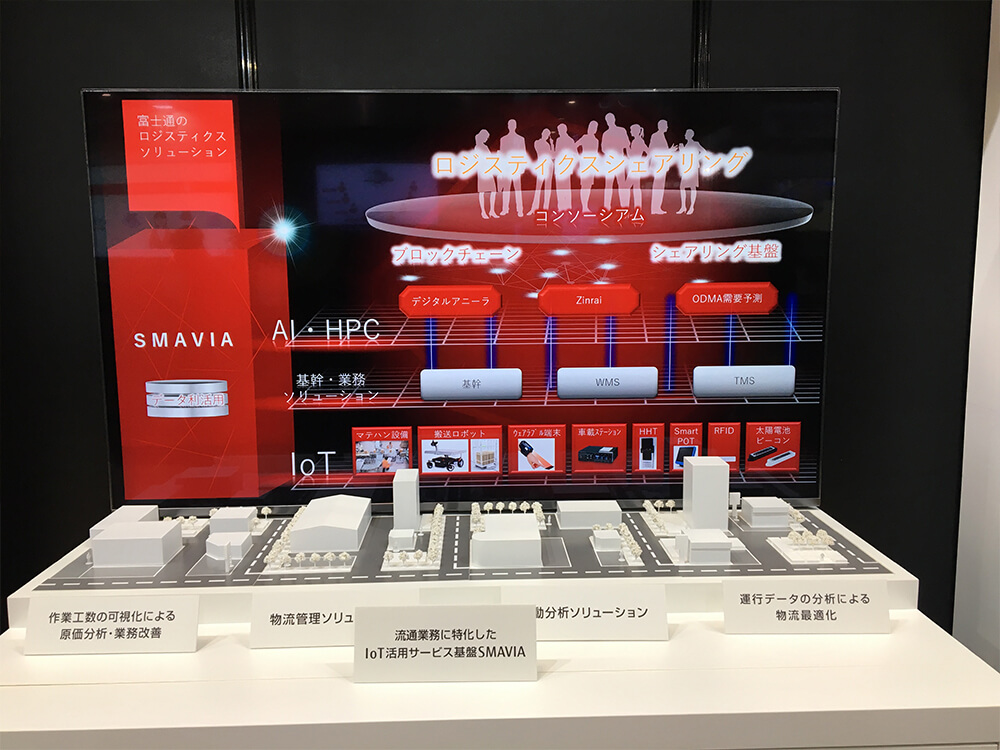 FUJITSU IoT Solution SMAVIA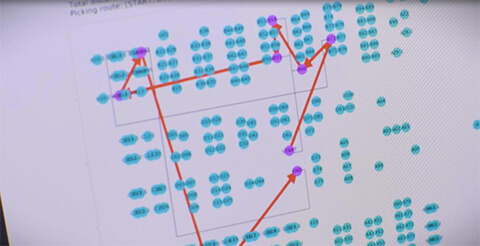 Digital Annealer achieves optimized inventory allocation.
Digital Annealer is used to optimize inventory. Digital Annealer is a digital circuit based on a concept derived from quantum phenomena. It is a computer that can rapidly solve combinatorial optimization problems, which are difficult to solve with today's general-purpose computers. By utilizing Digital Annealer, in addition to instantly completing optimization of inventory allocation, it can optimize inventory and quality management tasks at warehouses as well as prevent dependence on people with specific sets of knowledge in allocation planning tasks.
Sustainable Retail for Co-Creation that Transcends Industries
As mechanisms for delivering value to customers rapidly transform alongside the evolution of digital technologies, what kind of innovation is required to continue to be customers' go-to choice? Fujitsu offers novel ideas by introducing a system for connecting and coordinating with new partners and solutions geared toward co-creation that transcends industries.
Creation of a New Value Provision System by Connecting and Coordinating with New Partners
Today, a business model that considers customers to be more than just simple consumers, which is common among sharing and rental services and businesses launched by individuals, is attracting more and more attention. One example is the Fujitsu New-Retail and Sharing service Dassen boutique (temporary name), a sharing service aimed at empowering physical retail stores realized through co-creation efforts between Fujitsu and Isetan Mitsukoshi.
What impact will this new way of thinking among younger generations, which values being able to use products only when they are needed rather than buying or owning them, have on department stores? We are transitioning from an age in which owning products had value to an age in which value is placed on what we produce using said products. To keep up with customers' changing needs and value perception, Fujitsu and Isetan Mitsukoshi are engaging in co-creation efforts to provide a name-brand clothes sharing service. Smartphone apps can be used for making rental reservations, making payments, and handing off products at stores in order to deliver a new customer experience that integrates the digital world with physical stores. By creating a new sharing-based value provision mechanism, Isetan Mitsukoshi has created new connections with new generations, including millennials, which have thus far not been its main customer base.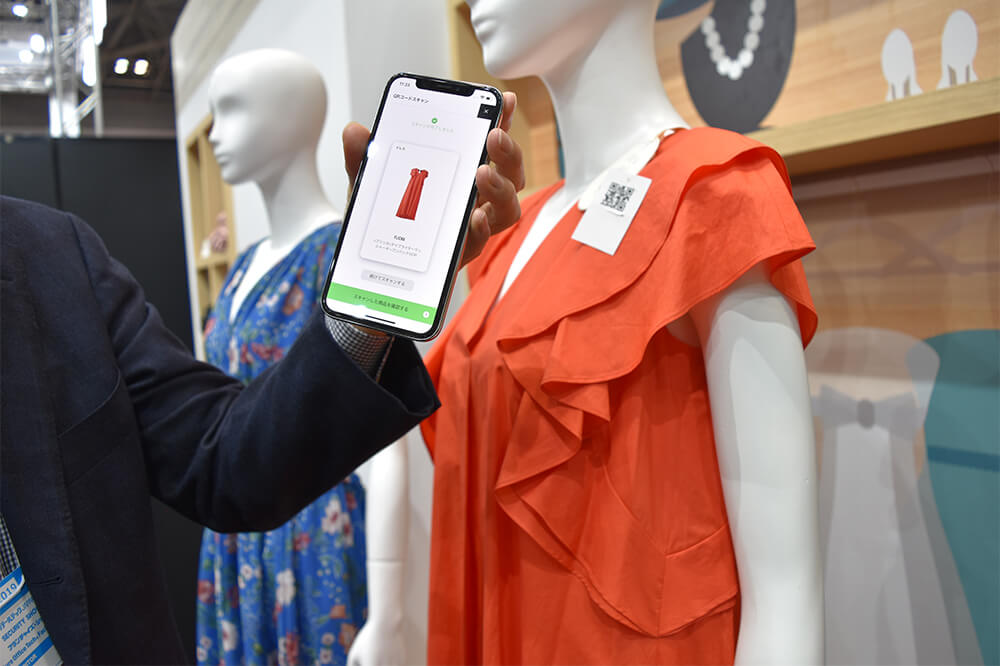 Clothes available for rental can be searched for using a smartphone app. Reservations can also be made in the app.
Fujitsu's Rental Product Management Solution was designed to support sharing services like these. By using waterproof, pressure-resistant, alkali-resistant, and washable RFID linen tags, the number of times the rental product has been rented and which rental products have been returned can be tracked in real time.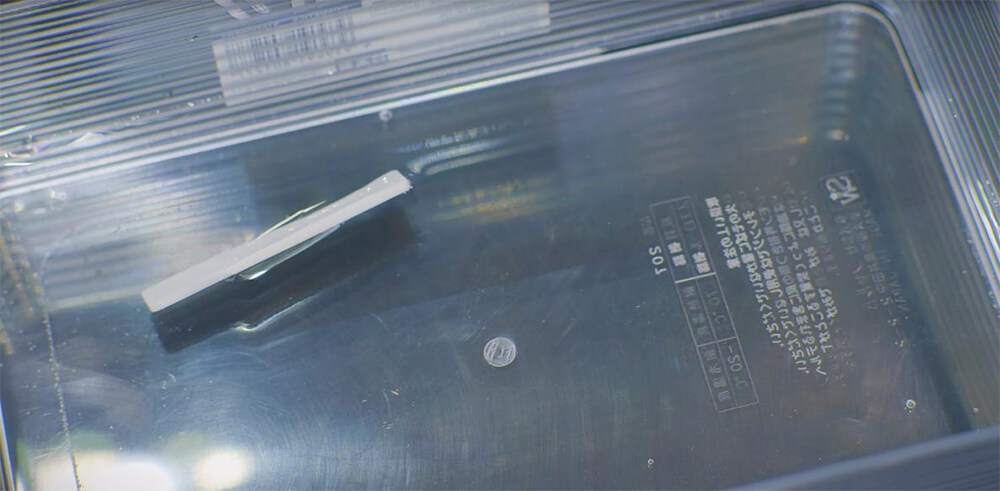 Waterproof, pressure resistant, alkali-resistant, and washable linen tag
Proposals for Co-Creation Mechanisms that Transcend Industries to Continually Produce Value
By creating new partnerships not only with traditional industries (e.g., retail and distribution) but with administrative agencies, regional agencies, and banks, Fujitsu aims to continually provide value catered to customers' lifestyles and to help create a more prosperous society.
At the venue, Fujitsu introduced the Virtuora DX Data Distribution and Utilization Service, a service that uses blockchain technology to help facilitate innovation and co-creation among industries. Provided "Data Jackets" show various forms of corporate information and data, visualizing the data each company possesses. Moreover, by visualizing the relationships between data sets, this service uncovers hints for creating new business models and ideas. In coordination with the Fujitsu Digital Transformation Center (DTC), we also provided a space for making connections among people in a co-creation workshop format.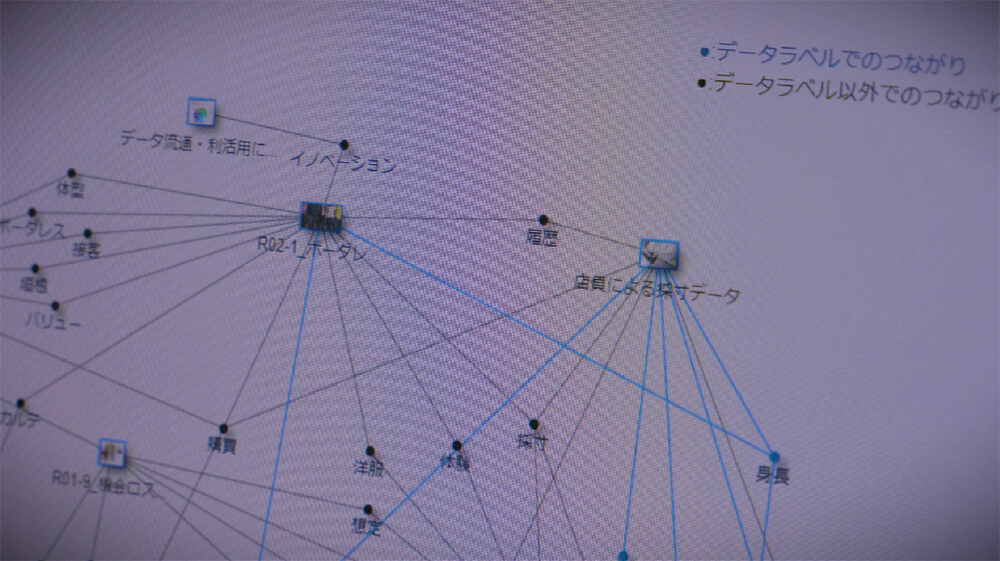 Virtuora DX Data Distribution and Utilization Service
As a successful case study on co-creation efforts between local governments and the retail industry, Fujitsu introduced the "No More Disadvantaged Shoppers" initiative.
Disadvantaged shoppers are people whose circumstances make it difficult for them to shop for groceries and other daily necessities due to weakened distribution functions and transportation networks. By combining various data sets owned by local governments and retail companies using Fujitsu's map solution "GIFocus," the locations of disadvantaged shoppers are mapped. Moreover, by combining open data sets, hills and inclination angles are visualized, exposing areas with poor access to stores in both remote areas and within cities.
Utilizing these marketing tools, local governments and companies can carry out co-creation efforts to reduce the number of disadvantaged shoppers. Retail stores can collaborate with local governments to devise solutions such as offering grocery delivery by bicycle in areas with many disadvantaged shoppers, or to use vacant lots and parks to regularly hold open-air markets.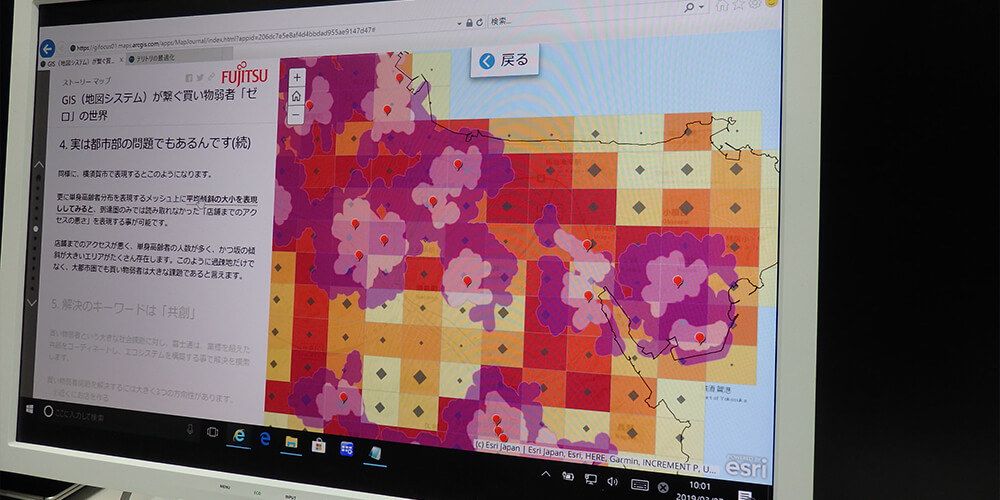 Visualizing areas with many disadvantaged shoppers
Fujitsu aims to develop new solutions that support community growth in a way that keeps up with lifestyle changes. By transcending conventional business boundaries and interacting with new customers, we aim to help create a sustainable retail network, and we propose retail mechanisms that we hope customers will continue to choose.