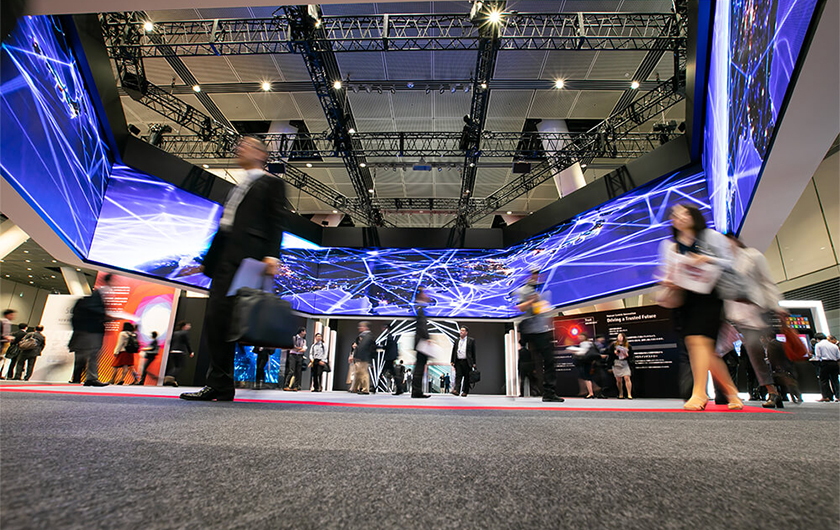 (Continued from Part 1.)
Fujitsu Forum 2019 was held in May at the Tokyo International Forum. This year's theme was "Human Centric Innovation: Driving a Trusted Future." In today's complicated society, trust is vital. Fujitsu aims to create a trusted future by using technology to build trust. At the forum, Fujitsu introduced examples of co-creation with customers that extend beyond industry and business boundaries along with demonstrations, not to mention cutting-edge technologies such as AI, 5G, and blockchain.
The second half of this flash report introduces the event highlights with a focus on the advanced efforts made in each industry undergoing digitization by harnessing cutting-edge technologies.
Smart Manufacturing Driven by the Manufacturing Industry
Visualizing KPIs Based on All Manufacturing Worksite Data in Real Time
In recent years, the manufacturing process has become more complex, and improving productivity more intelligently has emerged as an issue in the manufacturing industry. At a mini stage, Fujitsu introduced a smart factory achieved by the Cyber Physical System (CPS). CPS solves issues by analyzing and verifying data collected from manufacturing worksites in a virtual environment and reflecting said results back to worksites while complementing efforts on both sides.
Fujitsu's smart manufacturing mini stage
Fujitsu introduced a CPS case study in which Fujitsu Oyama Plant (Fujitsu Telecom Networks) uses Intelligent Dashboard.
The plant collects all kinds of data, including data on people, things, and equipment in the plant in real time, and it visualizes factory KPIs in real time as well. Then, visualization proceeds to specific areas and points to improve that cannot be identified by KPIs alone.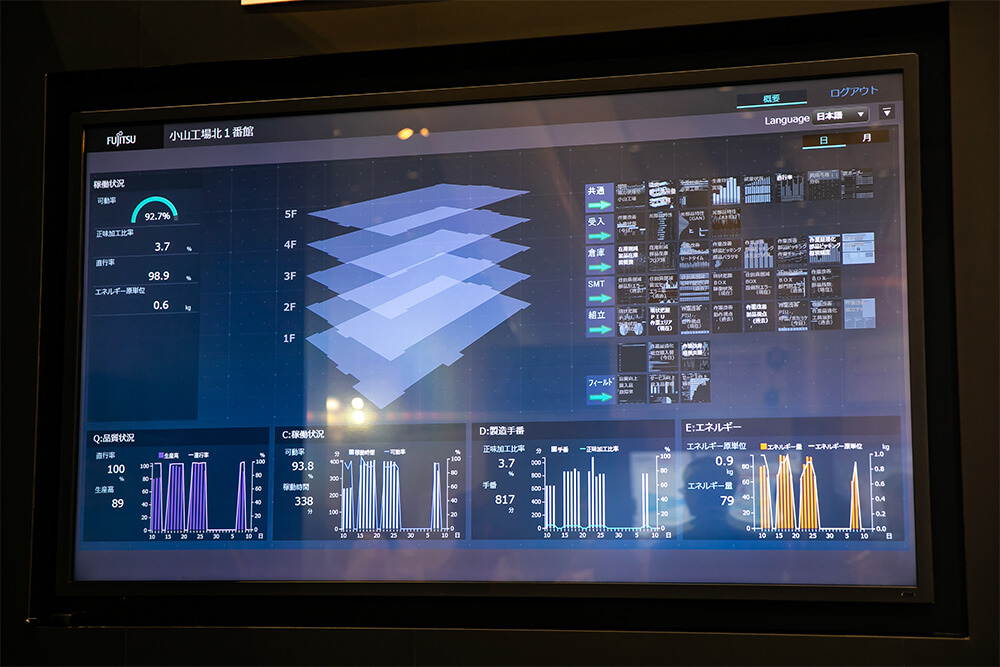 Visualizing worksite data in real time with Intelligent Dashboard
The World's First AI-Based Mass Spectrometer Data Analysis
By combining Shimadzu's expertise in the mass spectrometer business with Fujitsu's expertise in AI technology, the two companies became the first in the world to use AI to analyze mass spectrometer data. Mass spectrometers are used in various fields; one example is research on the metabolisms of organisms.
Consider that analyzing 100 types of molecules may take several tens of hours; use of AI significantly reduces this analysis time. In addition, eliminating dependencies on specific individuals can also be expected. In the near future, there are plans to include the system in LabSolutions Insight (multi-sample quantitative support software) and achieve commercialization.
Solving the Labor Shortage and Other Issues in the Logistics Industry with Digital Tools
Significantly Improving Item Picking Work with Digital Annealer
As an effort to address the labor shortage, improve productivity, and solve other issues in the industry, Fujitsu introduced its initiative to achieve innovation on the front lines of logistics. This initiative analyzes and visualizes customers' operations based on data obtained using the latest technologies, including Digital Annealer, the IoT, and robotics.
A reference exhibit showed how Digital Annealer could be used to eliminate waste in item picking work in warehouses (demonstration only). By using Digital Annealer to optimize picking orders and item locations, workers' movement distances during item picking in warehouse operations can be minimized.
Moreover, Fujitsu proposed linkage with SMAVIA, a sensing device and data utilization solution. By combining and comparing estimated picking times as calculated by Digital Annealer, actual worker picking times, and location data, SMAVIA visualizes waste worker movement. Workers' situations that can only be seen at the worksite can be confirmed, thereby improving the quality of item picking work.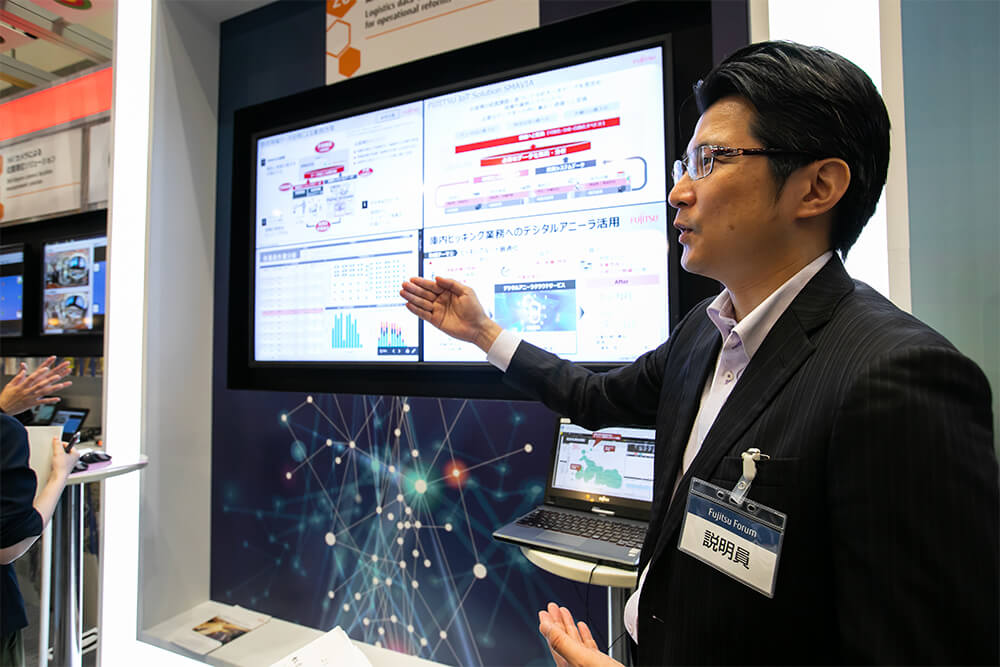 A Fujitsu staff member introduces specific improvements achieved by utilizing Digital Annealer in warehouse item picking work.
360 Camera-Based Positioning
Fujitsu demonstrated its Indoor Positioning Solution Measuring360. Position is measured based on the same principle as that of GPS; markers are shown to a 360-degree camera, which uses at least three markers to perform tripartite observation. This solution is distinguished by its ability to measure direction and height, which other position measuring solutions using beacons or RFID cannot do. For example, when mounted on a forklift, Measuring360 can help grasp the coordinates of the goods being carried.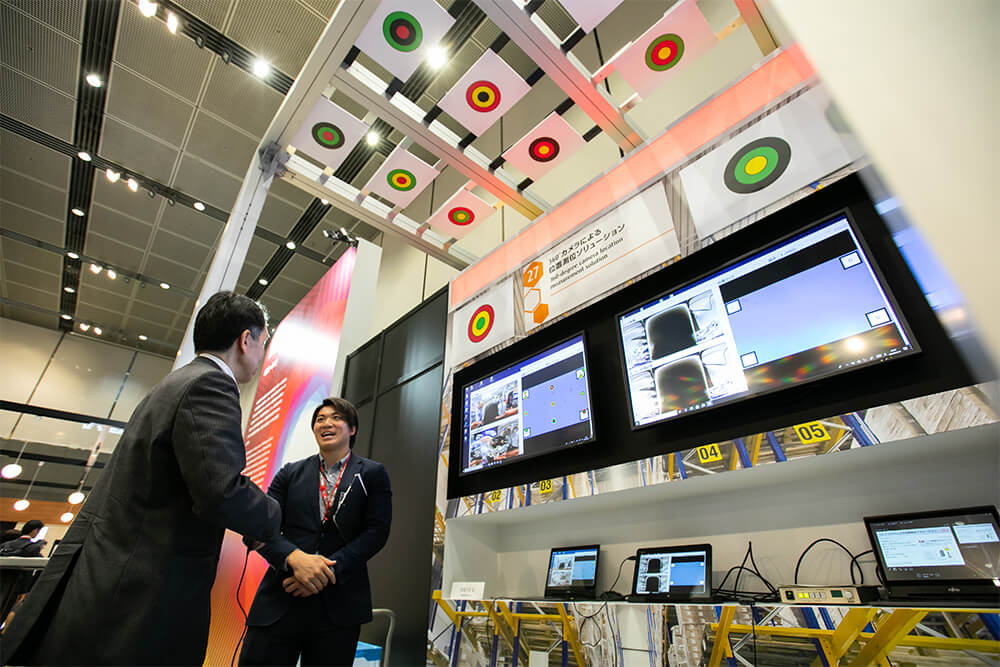 360 Camera-Based Positioning Solution Measuring360 (Demonstration only)
Reforms and Safety Measures with Call Support
In addition to drivers, alcohol usage checks are also required for railway and airline crew members. Operation managers' burdens can be reduced by supporting identification with face authentication and carrying out alcohol checks in advance with a robot.
Fujitsu demonstrated the call support robot "Tenko de unibo," which carried out alcohol checks before and after a driver's shift. After confirming the driver's identity with AI-based face image matching, Unibo, in cooperation with a special alcohol checker and driver's license IC reader, checks for use of alcohol, the license details, and other items in three steps.
Today, the amount of sleep is self-declared, but in the future, sleep amount information can be loaded from wearable devices. The call service system gives operation service instructions and cautions based on the registered operation instructions.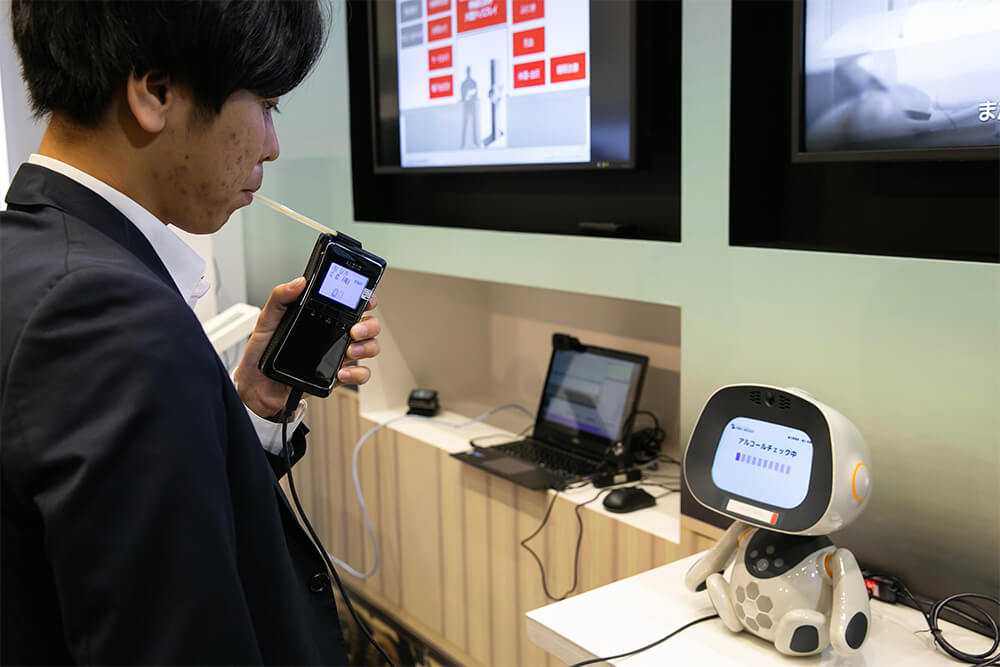 Using the call support robot "Tenko de unibo" to check the breath for alcohol use
Convenient Shopping Experiences and Improved Efficiency at Digital Stores
The retail industry faces issues such as handling labor shortages and differentiating from e-commerce operators. Fujitsu proposes the creation of new stores using digital retail technology. This approach offers a customer experience that makes customers want to visit again while reducing the burden on store staff members through store automation and labor savings.
A customer logs in to the smartphone app to register a credit card in advance; then, in the store, the customer reads items' barcodes with the smartphone's camera to add them to the shopping cart. When the customer presses the pay button, purchasing is complete. The venue offered visitors a hands-on demonstration of Scan, Pay, and Go shopping using a smartphone.
The QR code shown by the app after purchasing items indicates that the process is complete and displays a list of purchased items like a receipt. This can be used as a monitoring function to prevent shoplifting. The new store enables customers to easily purchase items like in e-commerce shopping. It is also effective for improving customer convenience because they no longer need to wait in checkout lines as well as for addressing labor shortages.
Accelerating Financial Innovation – Combination of Real and Digital
The financial industry increasingly needs smartphone points of contact with customers.
The demonstration here displayed a menu for saving money based on the account balance, and one-to-one coupons were distributed when scanning certain items by a smartphone making use of AR. Once a customer has added a bank as a friend on the LINE messaging app, the bank can display the deposit and withdrawal schedule for the week and propose plans for housing loans. Such approaches can be used to encourage users to visit physical branches with social media as the gateway, making it possible to guide users to channels according to their purposes.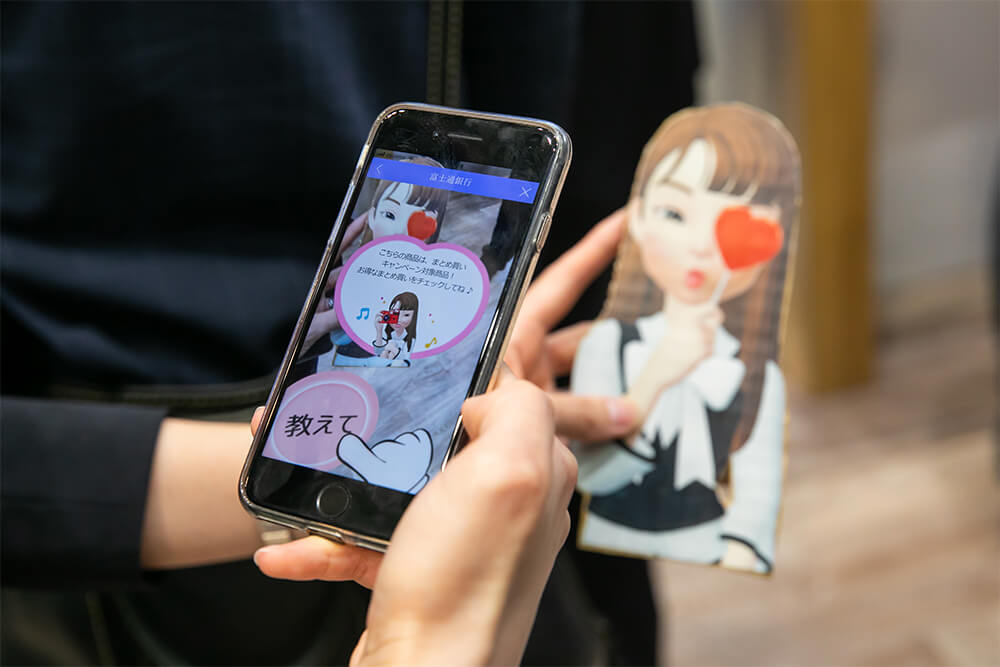 Distributing a one-to-one coupon using AR technology
Development of Safe, Secure, and Convenient Cities
Cashless Betting Terminal Solution – Horse Racing Solution Uses Palm Vein Authentication to Place Bets
Under the concept of "creating a city that relays wisdom and where people look forward to tomorrow," Fujitsu introduced the development of safe, secure, and convenient cities. Based on the theme of city development, this initiative makes use of the latest technologies, including AI, sensors, and drones.
Fujitsu built the world's first horse racing solution to place bets without cash by using an IC card and palm vein authentication. This solution is in operation at approximately 1,000 cashless betting terminals at the Tokyo Racecourse of the Japan Racing Association (JRA) and elsewhere across the country. With the data on an IC card, users can place bets each time without using cash, which eliminates the trouble that occurs when tickets are lost or when receiving money when wins are paid out.
Digital Maintenance with Inspection Drones & 3D Technology
Checking buildings and infrastructure closely with human eyes poses issues in terms of labor and costs. In this solution, drones and tablets are used to safely and easily inspect buildings and infrastructure by taking photos of degradation so that people do not actually have to approach the locations. A digital inspection tool is used to accurately record and automatically extract the degradation situation. Photograph data is managed in a 3D data model to grasp and manage the distribution of degradation and aging.
One feature of the inspection drone is its two wheels, which enable more detailed recording. Another advantage in terms of data management in the maintenance system is that a process for creating inspection reports can automatically be established. In the future, Fujitsu aims to expand application to larger structures with a focus on bridge inspections.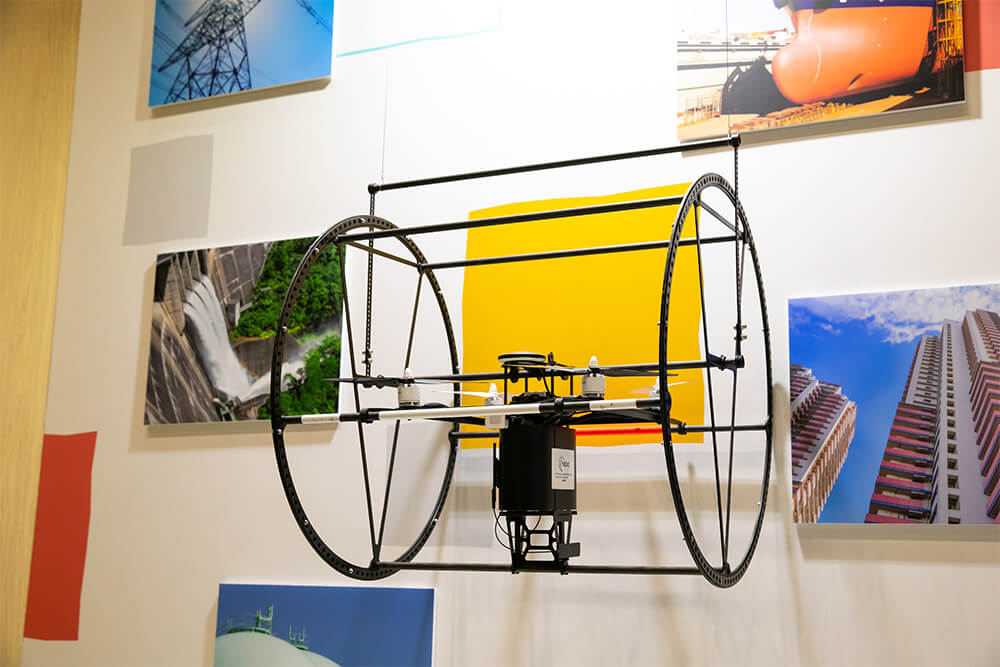 Accurately recording data with a two-wheel inspection drone
AI Based Crowd-Attention Evaluation of City Service
Fujitsu demonstrated an AI-based crowd-attention evaluation solution. In spaces in stations and shopping malls where large digital signage is installed, the amount of pedestrian traffic and pedestrian attributes (e.g., age and sex) can be measured without identifying individuals using cameras and AI-based image recognition technologies. On the management screen, the amount of pedestrian traffic and rate of attention can be displayed statistically.
Previously, signage measured people at a close distance with embedded special cameras. This solution's feature is that the attributes of pedestrians and their focus can be grasped without seeing their faces from the front by using multi-angle cameras.
This solution can help improve the value of locations where signage is installed by allowing advertisers to evaluate rates of attention and enabling facility owners to propose advertising.
At Fujitsu Forum 2019, we presented many co-creation case studies with customers to achieve a trusted future by utilizing Fujitsu's advanced technologies, including AI, IoT, and big data. We look forward to seeing you at the venue someday.