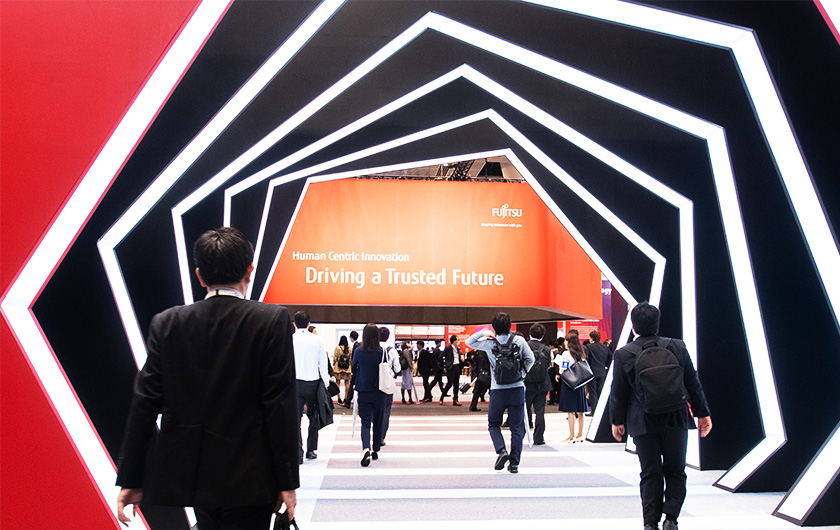 Fujitsu Forum 2019 was held in May at the Tokyo International Forum. This year's theme was "Human Centric Innovation: Driving a Trusted Future." In today's complicated society, trust is vital. Fujitsu aims to create a trusted future by using technology to build trust. At the forum, Fujitsu introduced examples of co-creation with customers that extend beyond industry and business boundaries along with demonstrations, not to mention cutting-edge technologies such as AI, 5G, and blockchain.
This two-part article introduces the exhibition highlights. In Part 1, we focus on Fujitsu's cutting-edge technologies to help build trust.
Society in the 5G Era as Envisioned by Fujitsu
5G Use Cases and Enabling Technologies
The 5G era is about to begin. How will people's lives change when high capacity, low latency communication that connects users simultaneously and concurrently becomes available?
Fujitsu explains its concept for the 5G era as "5G for NEW REAL."
It also presented four 5G use cases: "automated driving technology," "personalized manufacturing," "hospital waiting rooms where you no longer need to wait," and "a new style of watching sports that makes it even more immediate."
In addition, Fujitsu also introduced "local 5G" that enables companies to build out their own 5G environments, "distributed ICT technology" to support the next generation of mobility, and a "rich content cloud" that supports the next generation of content distribution. These presentations offer a glimpse of the new world of 5G enabled by Fujitsu technology.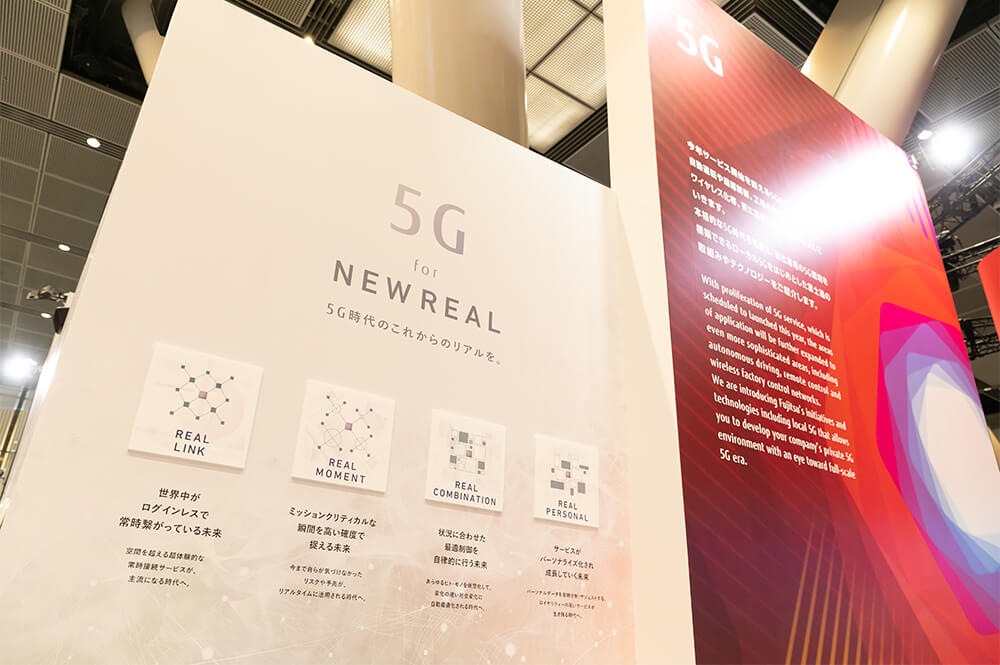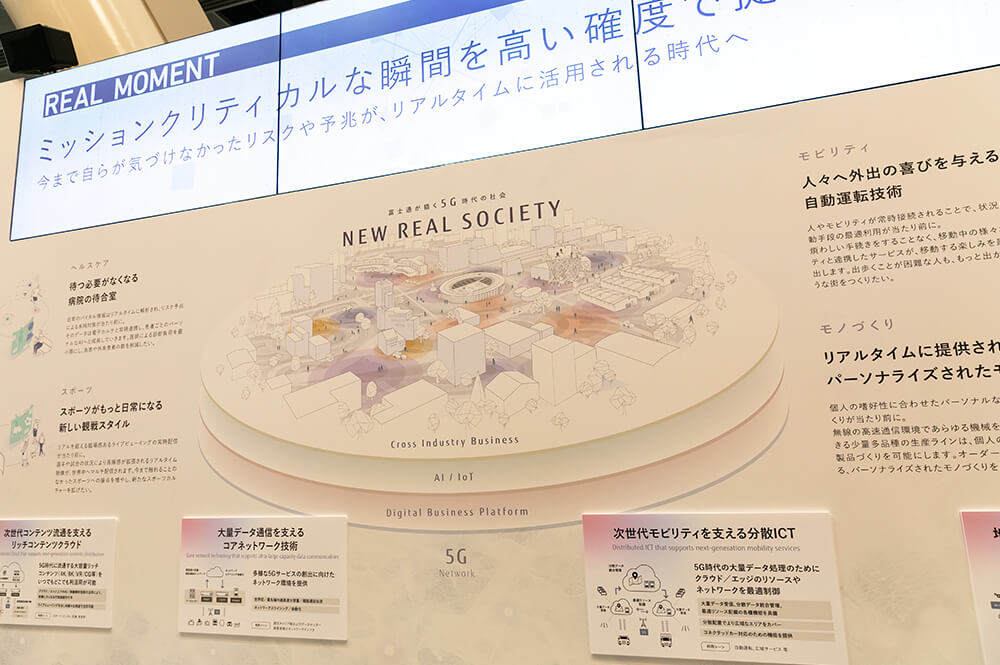 "5G for NEW REAL," Fujitsu's concept for the 5G era
Ever Evolving AI Technology
Digital Annealer, a New Architecture That Solves Combinatorial Optimization Problems Instantly
Using a digital circuit design inspired by quantum phenomena, the Digital Annealer computational architecture bridges the gap to the quantum world and paves the way for much faster, more efficient solutions to today's business problems.
At the venue, Japan Post's case study was exhibited, explaining how the company is making efforts to use Digital Annealer to optimize the number of delivery trucks and the cost of delivering packages from distribution bases to each post office.
As an example application of Digital Annealer in the healthcare field, a complicated combinational optimization problem used to treat patients with heart conditions was introduced. In this case, Digital Annealer solved to determine the arrangement of electrodes, types of medicine, treatment costs, and other matters.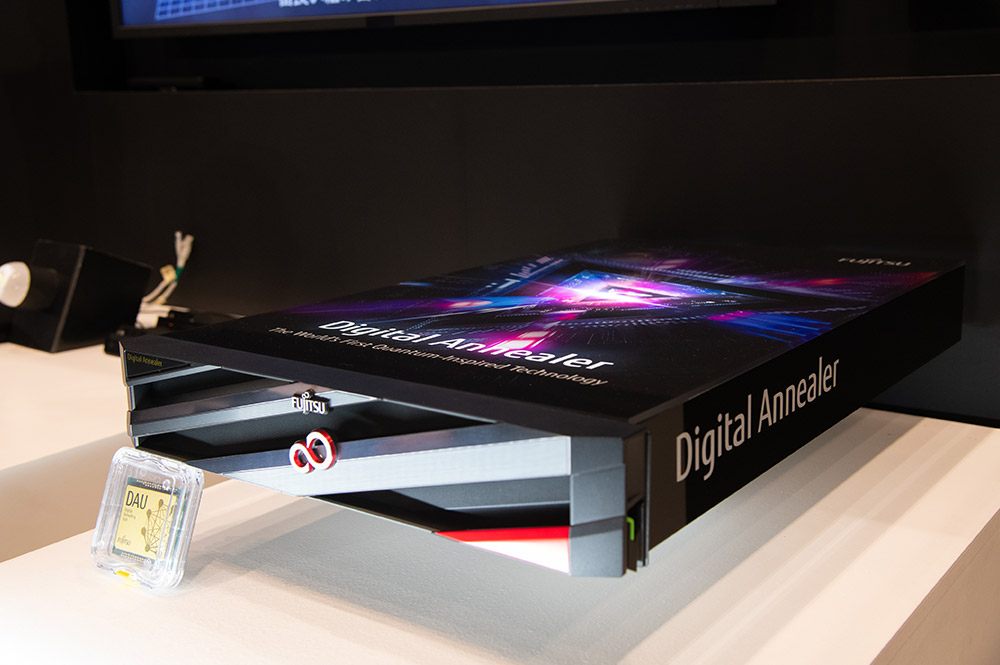 Full-scale mockup of a Digital Annealer server (2U)
Where Is the Evidence for AI Decisions? Explainable AI
Fujitsu's initiatives on "Explainable AI" include Deep Tensor, a new technology to learn graphical data with high accuracy, and Wide Learning, a new AI technology for learning accurately even when the amount of training data is small.
For example, when using Wide Learning to predict whether or not a customer will purchase a product, the AI analyzes many combinations of conditions—sex, marital status, whether one owns or rents one's residence, and so on. This enables companies that have a low volume of customer data to determine the conditions at which customers are more likely to purchase products. Such companies can also predict why customers did not purchase a product.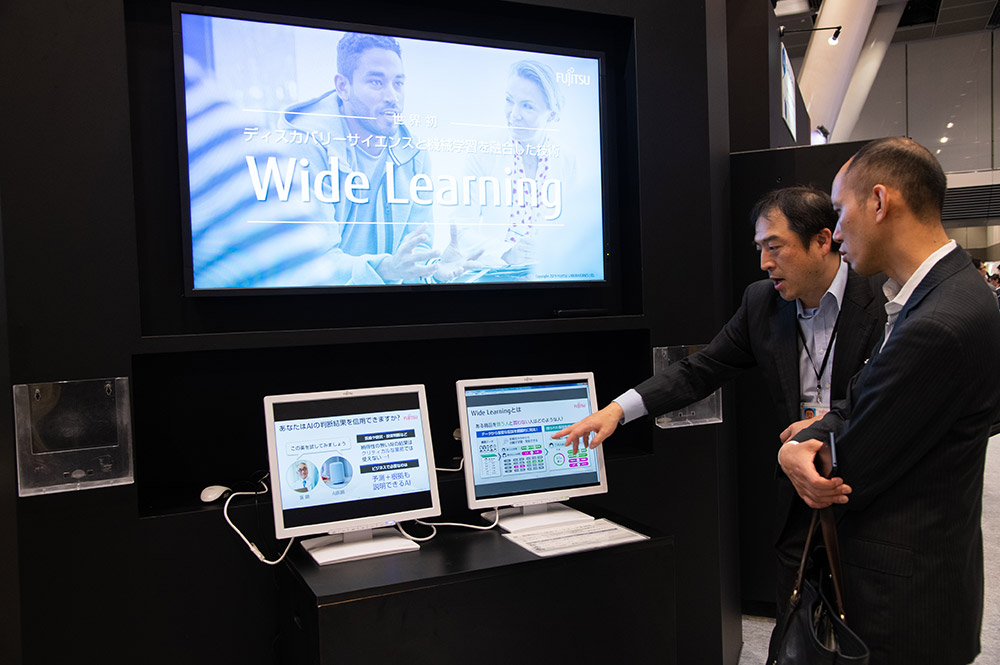 A Fujitsu employee and visitor checking an AI's judgment and reasons using Wide Learning
Post-K Computer Development
The K supercomputer once boasted of the world's fastest computation speed. In collaboration with RIKEN, Fujitsu is again developing an internationally leading supercomputer. The development of the successor to the K computer is making steady progress and we will start production soon after finishing the design.
Post-K's main feature is high computational capability. We aim to achieve the development goal, namely effective application performance up to 100 times greater than that of the K computer. By leveraging technologies cultivated through the development of Post-K, we will work to commercialize supercomputers for a global launch starting in the second half of fiscal 2019.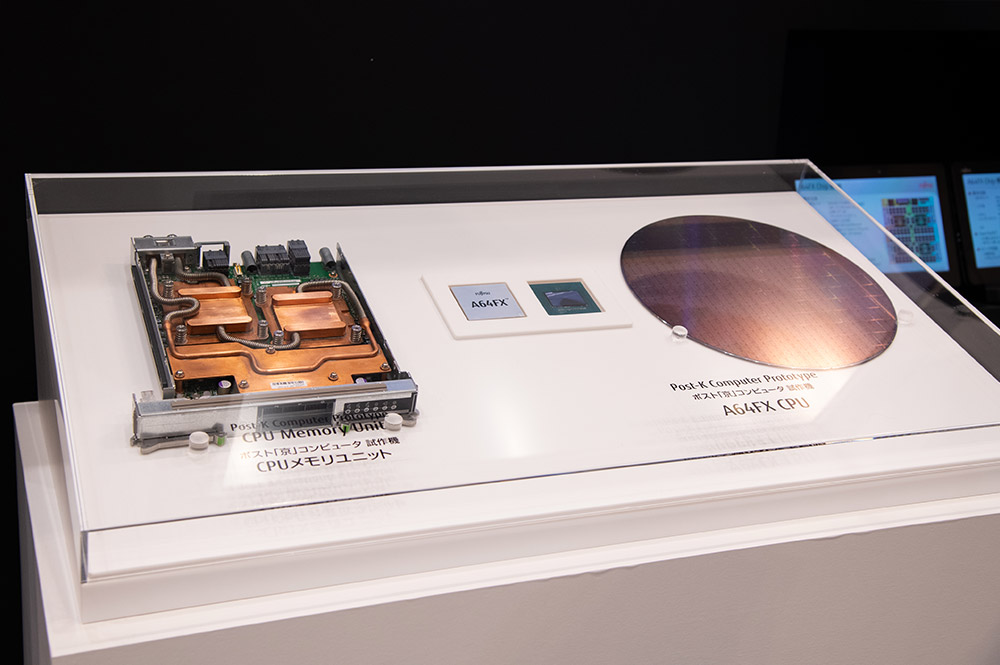 First public showing of the CPU (the heart of Post-K), CPU memory unit, and rack
Using Cross-Industry Data While Maintaining Trust
Personal Data Utilized Ecosystems
Personal data is difficult to utilize and in practice just piles up at companies. If it becomes possible to distribute such data among companies and utilize it for society's benefit, new services or value may be generated.
Fujitsu is working to practically implement the Data Bank concept, which focuses on personal information. At the Forum, we introduced a portal site that enables individuals to easily manage their personal information; a platform to collect, manage, and distribute personal information; and a demonstration case study on one-to-one marketing using the Data Bank. If personal information can be used through the Data Bank, various service providers can offer even more personalized marketing, scoring, matching, and other services.
New Business Begun by Cross-Industry Data Sharing
Fujitsu introduced an initiative to use its proprietary blockchain applied technology to share data held by companies and other organizations securely and safely, thereby generating new services and solutions.
Specifically, data held by companies and other organizations is processed into a "data jacket" which represents a summary of the data; this data jacket is then shared on a portal site. The portal site provides functions to indicate the affinity of data jackets provided by various companies and other organizations as well as to exchange data. In this way, the technology supports "a series of processes from encountering unknown data and checking its summary through to obtaining such data as necessary."
Fujitsu already launched this initiative in a group that initially consisted of four companies, including Mitsubishi Estate. The number of participating companies has now increased to 12, and together we are working to utilize data beyond industry boundaries. Fujitsu has also started to invite participants to join Data Ledger, an open consortium for cross-industry data utilization to be run by Fujitsu starting in July 2019.
A Human Centric Approach to Co-creating the Future
Many companies are working on co-creation with companies in other industries and partner companies. These co-creation initiatives include "establishing brands," "creating new businesses," and "developing human resources."
Fujitsu shared co-creation case studies describing efforts with various other companies, design co-creation activities, leader development at FUJITSU Digital Business College, and the Fujitsu Digital Transformation Center co-creation workshop space.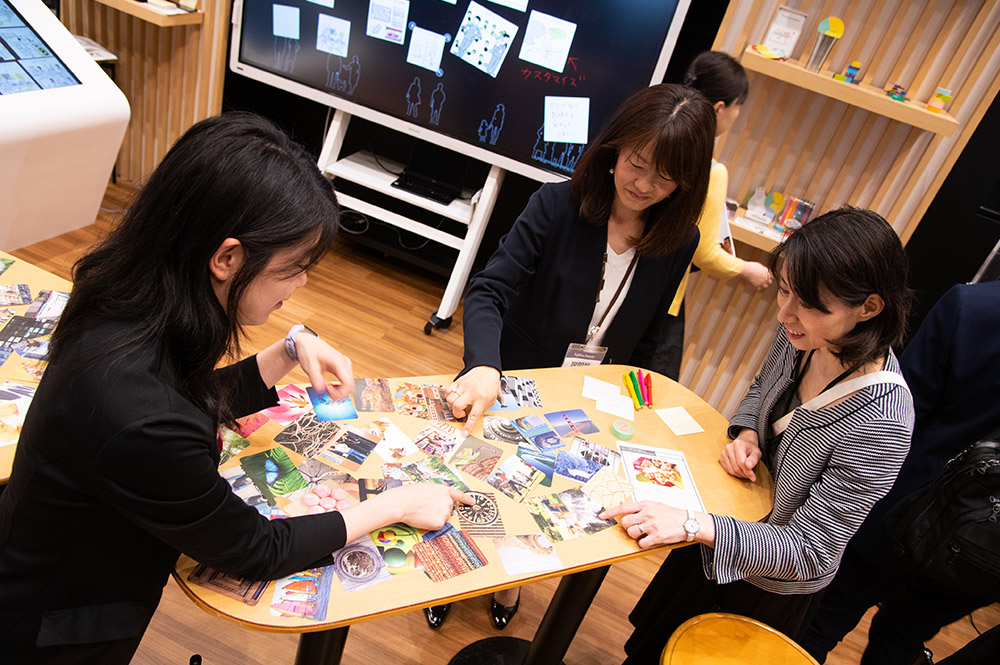 Participants experienced a 30-min. mini workshop using digital tools.
Digital Marketing to Maximize CX by Optimizing the Real and the Digital
Easily Visualizing Web Advertising Cost Effectiveness
Fujitsu introduced a solution to automatically personalize websites using its Sitecore CMS (Content Management System) and AI. For example, a travel agency uses AI to analyze its website's visitor access log. Sitecore CMS then automatically personalizes the content to display on the site, such as the best tour products and travel information. This solution helps significantly reduce site administrators' burden in running and updating sites.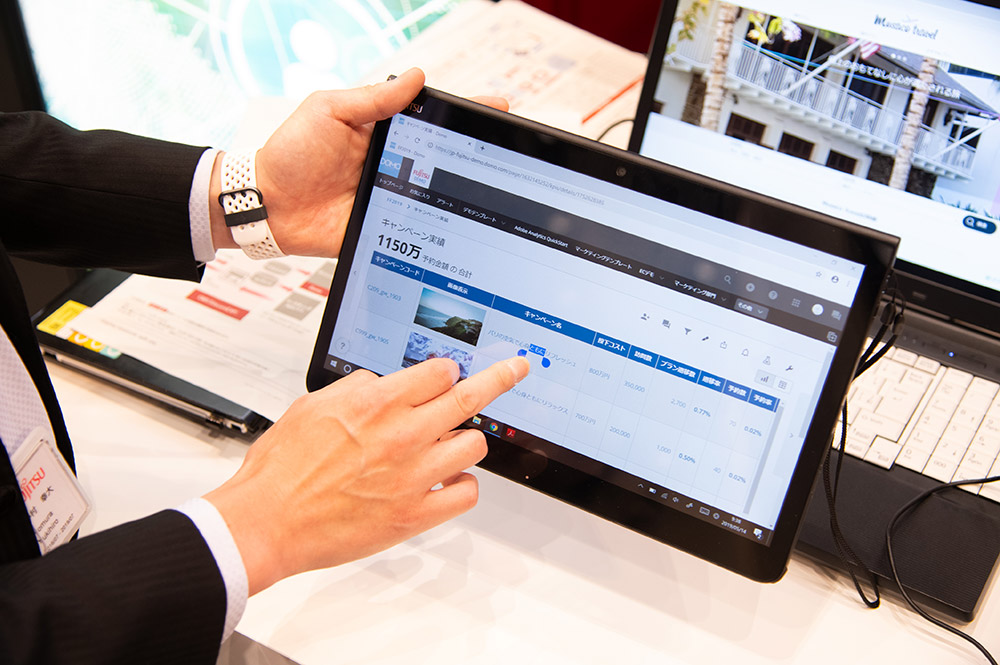 The DOMO dashboard enables displayed personalized web advertisements and cost effectiveness (by conversion rate) to be visualized easily.
VR × e-Commerce Solution SNAPEC-EX
Instead of creating a store in a virtual location for customers to shop at, Fujitsu has proposed a new e-commerce concept. This concept links content in a VR location that provides various shopping experiences with e-commerce in order to motivate purchasing based on experiences in the VR location.
For example, you can experience staying in a hotel room that overlooks Central Park in New York City in a VR location. Then, if you want to take a relaxing trip there and stay in a nice room, you can directly purchase a travel ticket at the VR location.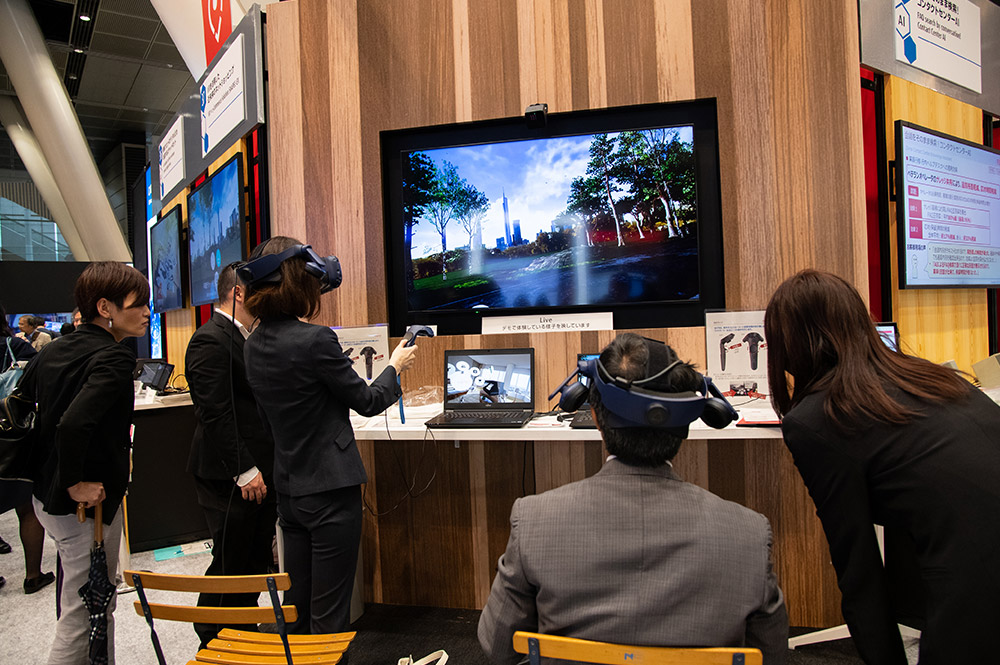 Visitors engaging in e-commerce shopping at a VR location
FAQ Search by Conversation! Contact Center AI
For operators at contact centers, real-time speech-to-text conversion of conversations between operators and customers is available. If an operator wants to check the details of a conversation, a FAQ search can be performed simply by clicking the converted text.
Based on the customer's question, the AI lists FAQs in order from highest to lowest recommendation. This system enables newcomers with AI's help to respond in the same manner as experienced operators.
Fujitsu explained one of this system's specific effects at a financial institution that conducted a demonstration test of the system: "The number of requests to customers to repeat themselves during conversation was reduced because conversations were converted into text in real time."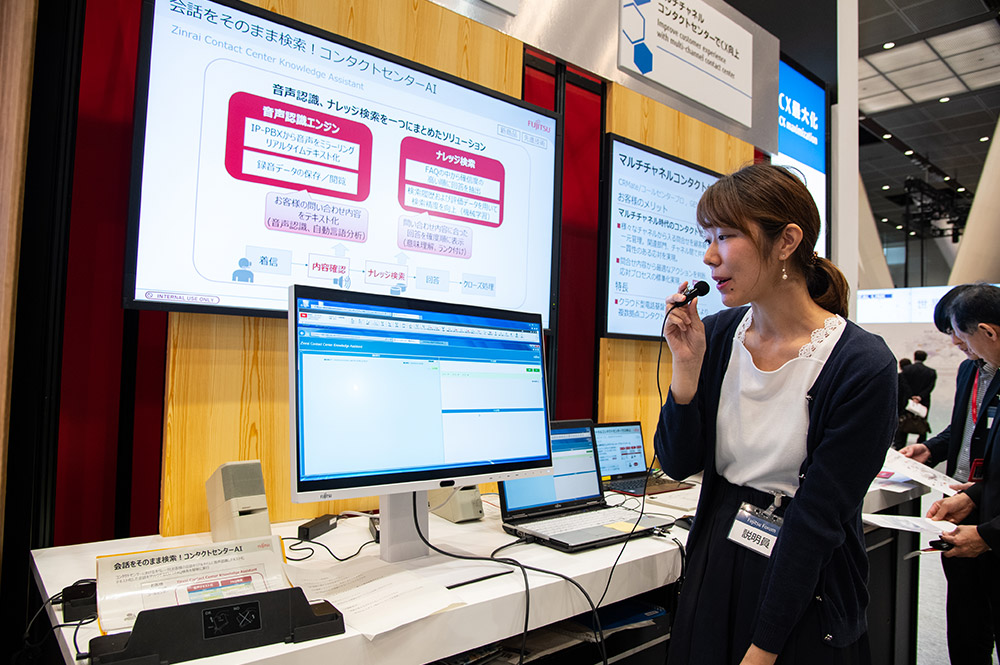 Real-time speech-to-text conversion of conversations between operators and customers and recommended FAQs by AI
Security to Ensure the Reliability of People, Data, and Systems
Improved Business Operation Efficiency and Service with PalmSecure
In a digital society, where everything and every piece of data are connected, the creation of new value using AI, IoT, and other digital technologies is expected. It is crucial to ensure safety so that people can live comfortably and safely in society. Registering palm vein data with security gates for room entry enhances the security of entering secure areas and accessing various applications.
Fujitsu introduced an online authentication solution that combines palm vein authentication with face authentication. Using palm vein authentication, one person can be identified from among up to approximately 10,000 people. When combined with face authentication, one person can be identified from among one million people. As the number of users parameter has been increased by an order of magnitude, the system's applications have been expanded to JRA's cashless voting, domestic flight boarding procedure in South Korea, and Gifuogaki Bank's ATMs.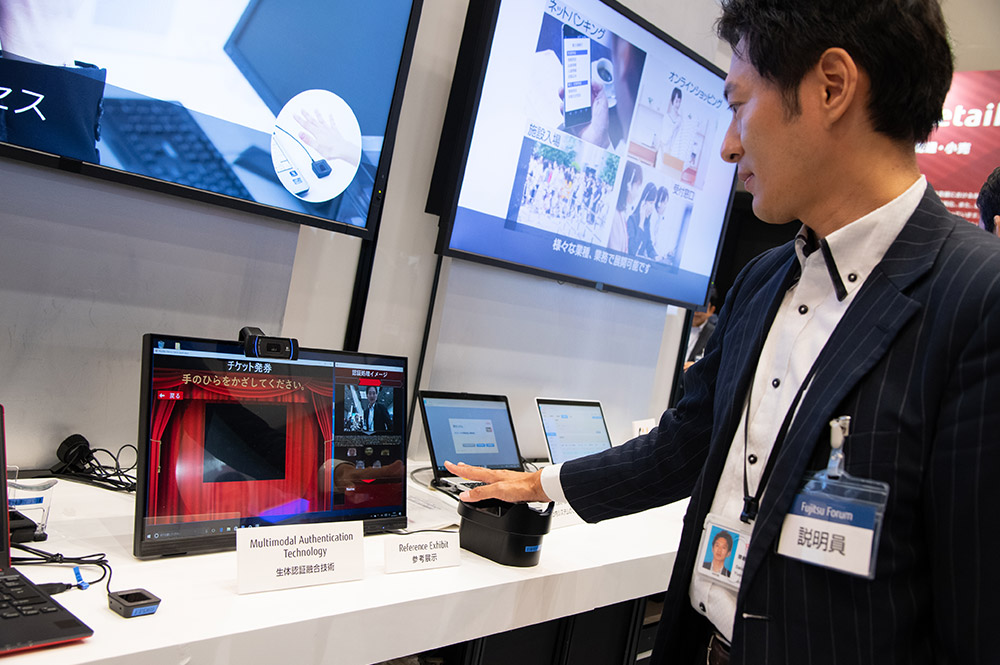 Authentication system that combines biometrics with face authentication
Network Security to Protect Factories
As IoT advances at manufacturing factories, how to secure devices for managing equipment has become an issue. In terms of connection with production systems, there are issues such as the situation in which updating to the latest OS is not possible and thus security fixes cannot be applied. Due to such issues, there is a risk of malware infection.
For such cases, Fujitsu has introduced a solution that ensures the security of factory networks. In this solution, malware detectors installed at the point where the factory network connects to the Internet detect unauthorized communications, and the SDN controller isolates any devices that have been infected with malware. This solution strengthens network security without requiring any special security software to be installed on factory equipment.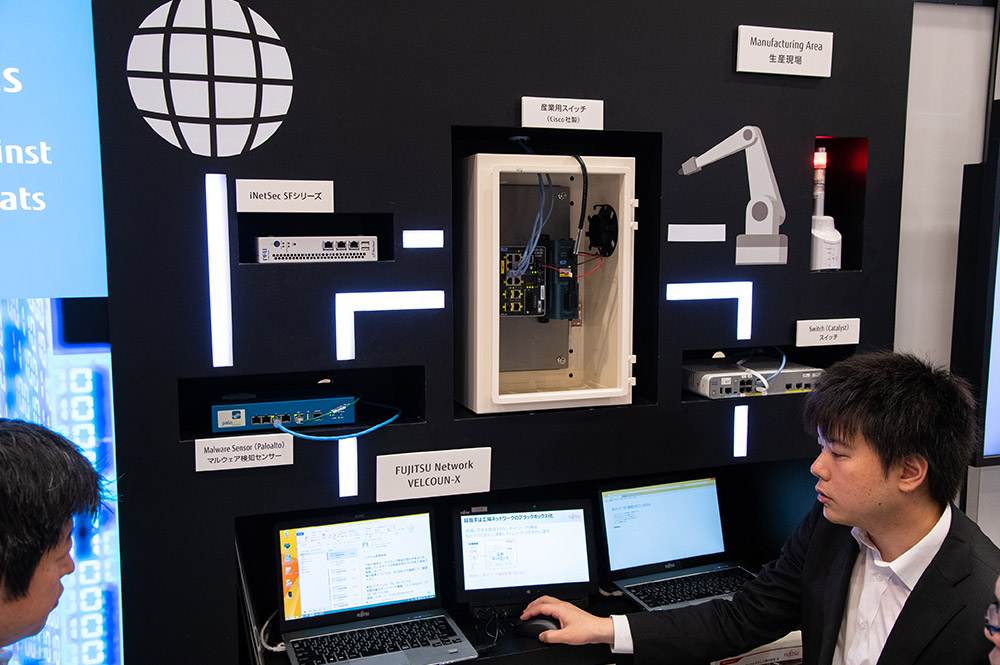 Network configuration for secure factory IoT
Next Generation Mobility That Collects, Connects, and Utilizes Data
At the FUJITSU Future Mobility Accelerator stage, Fujitsu introduced its cutting-edge technologies and solutions for the near-future mobility society.
Real-Time Processing to Support the Next-Generation Mobility Society
On May 14, Fujitsu announced a co-creation project with Autonomic, a wholly owned subsidiary of Ford Smart Mobility, to support the automotive industry's transformation into a mobility-as-a-service model.
Leveraging Fujitsu's capabilities in technology integration and experience in the automotive space, Fujitsu's mobility digital twin technology on Autonomic's platform is combined with Autonomic's Transportation Mobility Cloud (TMC). This allows real-time processing of information reproduced by the mobility digital twin. Information on vehicles running on the TMC and their surroundings are displayed in real time. The companies will provide a platform to promote new mobility services, including sharing services, electric motor vehicles, and automated driving.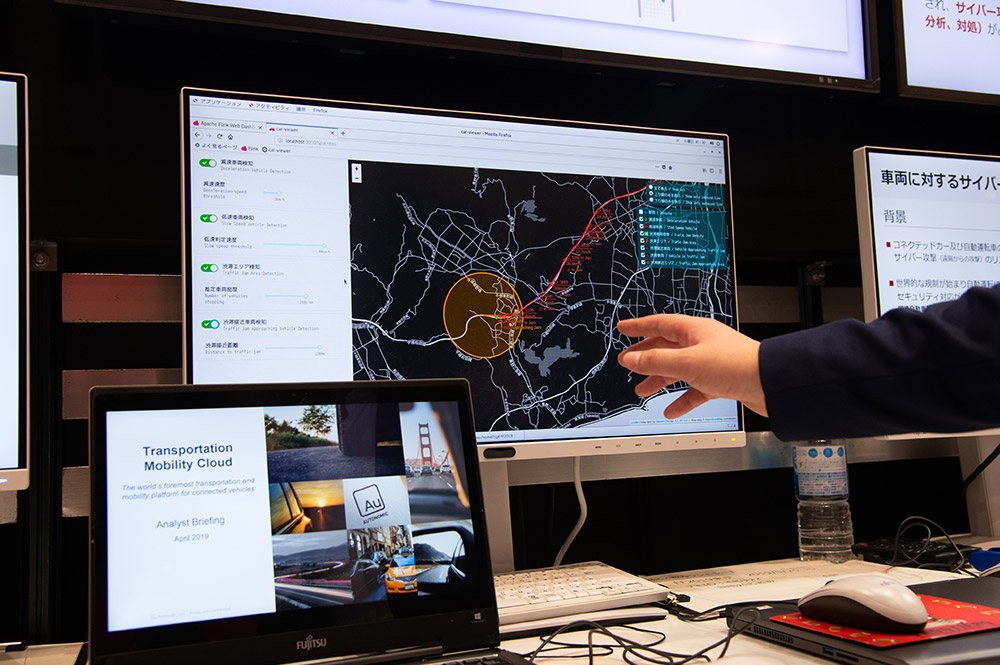 Displaying information on the running vehicle and its surroundings on-screen in real time
Fujitsu's Mobility Digital Twin Realizes the Future
Fujitsu's Mobility Digital Twin technology utilizes big data, including information on driving and the surroundings collected from a running sensor—i.e., the automobile itself—to reproduce ever-changing real world events in real time in the digital world. Various services can be deployed by comparing and analyzing against the past and predicting the future.
Fujitsu is currently working to reproduce Digital Twin using data from events occurring around more than 10 million vehicles simultaneously.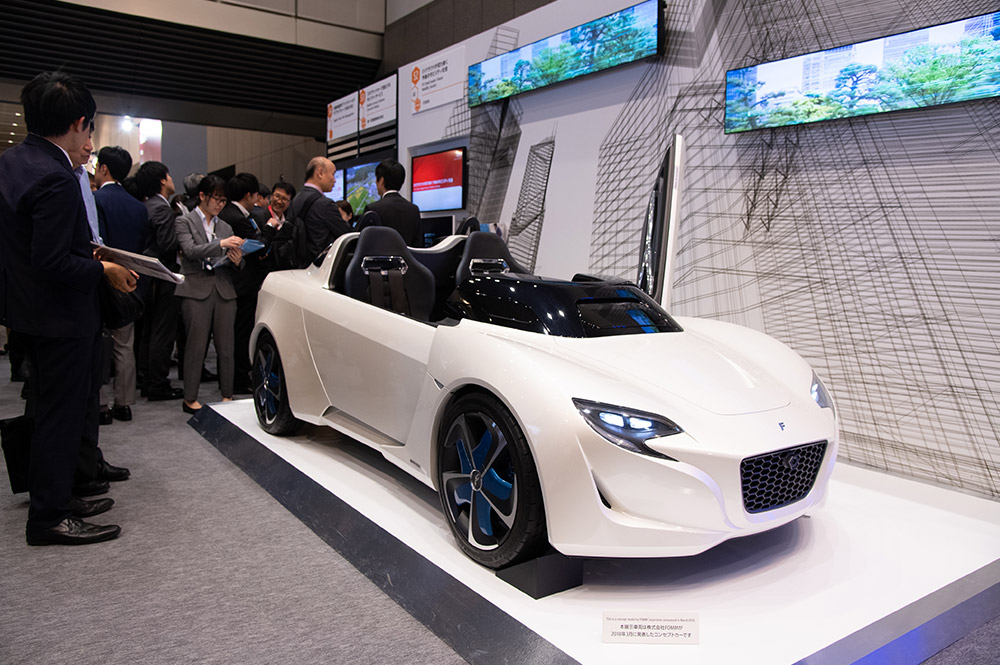 New Workplace Innovation Starting with AI
AI Visualizes Your Workplace
A solution for achieving workplaces suited to each individual—Fujitsu introduced a solution that uses Zinrai to analyze and visualize a person's workplace in the office. It collects and analyzes data such as the time of use of email software and business applications to identify trends: long hours spent preparing materials, doing many jobs alone, and so on. By analyzing data in terms of Work, Whom, and Theme, the ratio of core to non-core business in a person's office work is visualized. This solution presents an awareness to help improve productivity.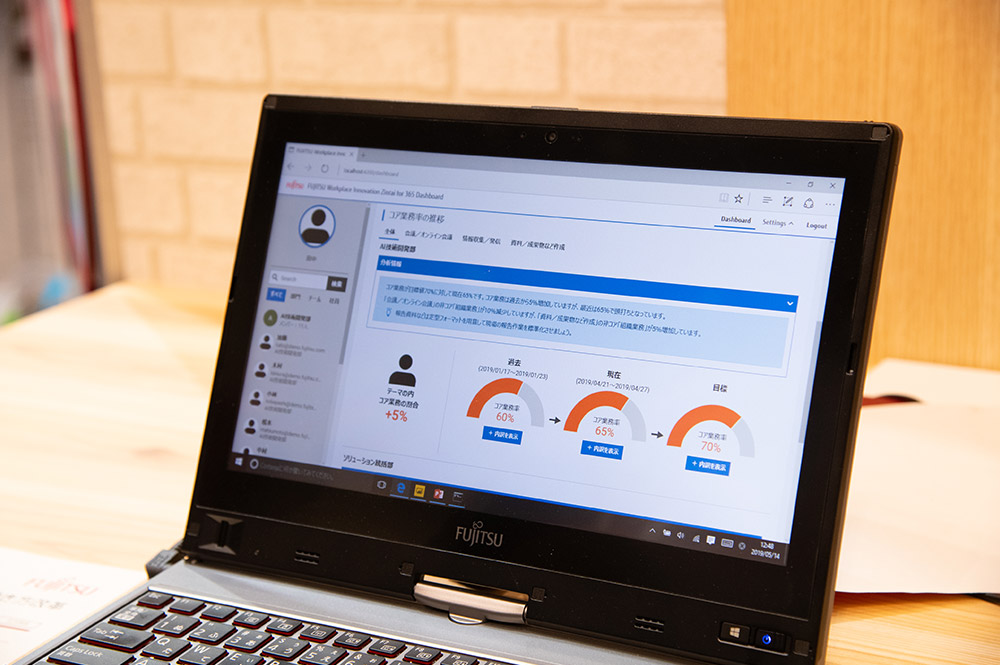 The Al analyzes data in terms of Work, Whom, and Theme.
Creating Meeting Minutes Takes Time. Simplify with AI!
Fujitsu introduced a solution that improves productivity by cutting transcription times as much as 50%. There is no need for dedicated, per-person microphones for meetings. Using audio data recorded with a single general-purpose microphone, the AI automatically identifies who is speaking based on their individual characteristics. By editing the automatically transcribed text with a special editor, accurate meeting minutes can be created quickly.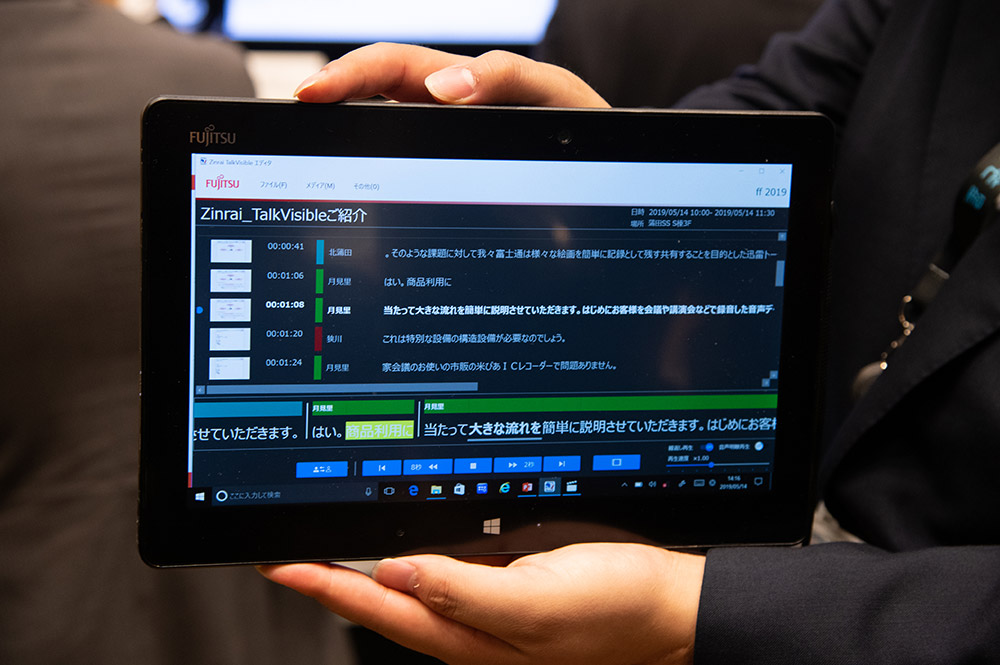 The AI identifies multiple speakers based on their individual characteristics, helping to prepare accurate meeting minutes.
Just Scan Handwriting to Digitize It
Offices contain a variety of documents, including handwriting, special forms, and general-purpose forms. This solution reads such various documents and generates text data, helping to improve work efficiency in data entry to business systems. By adopting multiple OCR engines that support special forms and general-purpose forms and by utilizing AI, this solution can even recognize handwriting very accurately.
Fujitsu introduced how document use expands and operations evolve thanks to the convenience of just scanning paper documents with scanning devices as well as linkage with document filing services.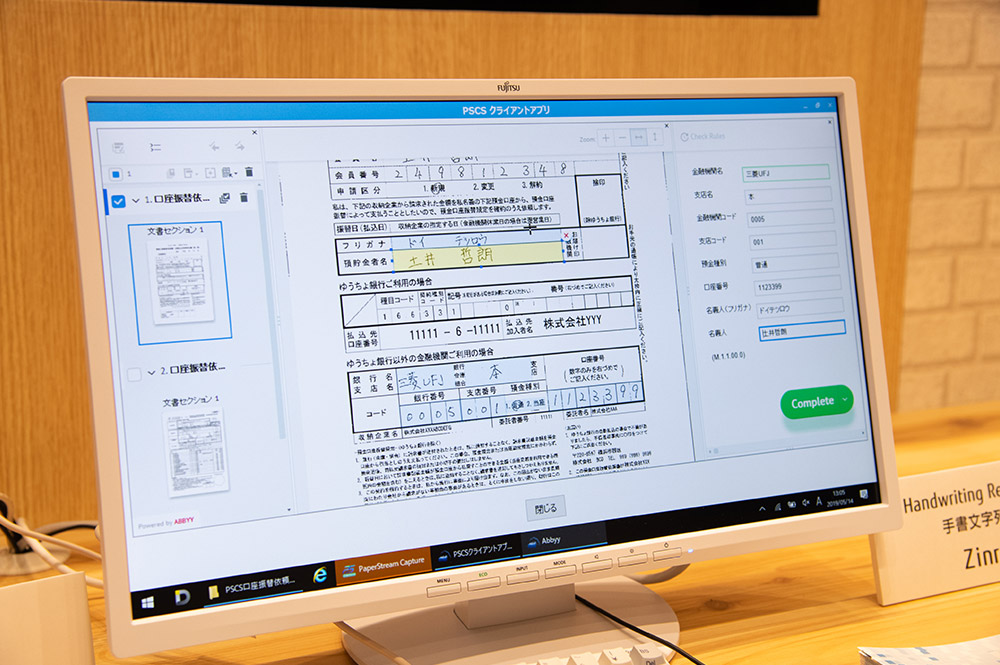 Handwriting can be scanned and read with high accuracy.
Using Highly Accurate AI Translation & Summaries to Promote Communication Abroad
Fujitsu's solution uses AI to easily and highly accurately translate documents and files written in English, Chinese, and Japanese. It also enables the translation accuracy to be confirmed and includes an additional function to summarize translated documents in Japanese.
For the AI-based summarization, you can specify 14 characters for use as the heading, 80 characters as the signage, and 150 characters as a brief summary. As the AI learns more, you can prepare a summary that contains expressions not found in the original text.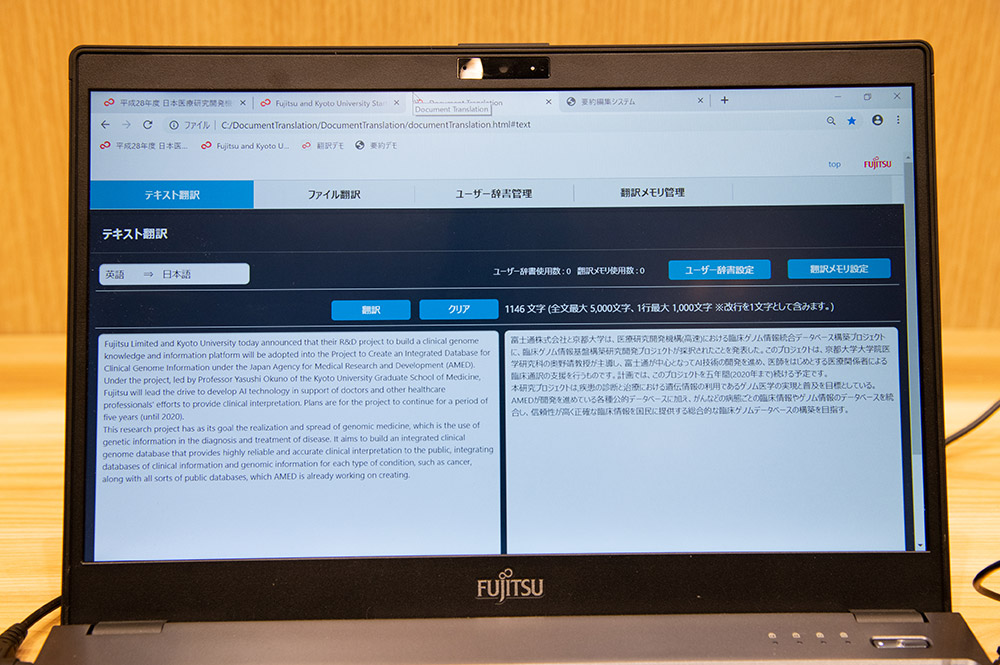 You can check the accuracy of the AI's translation.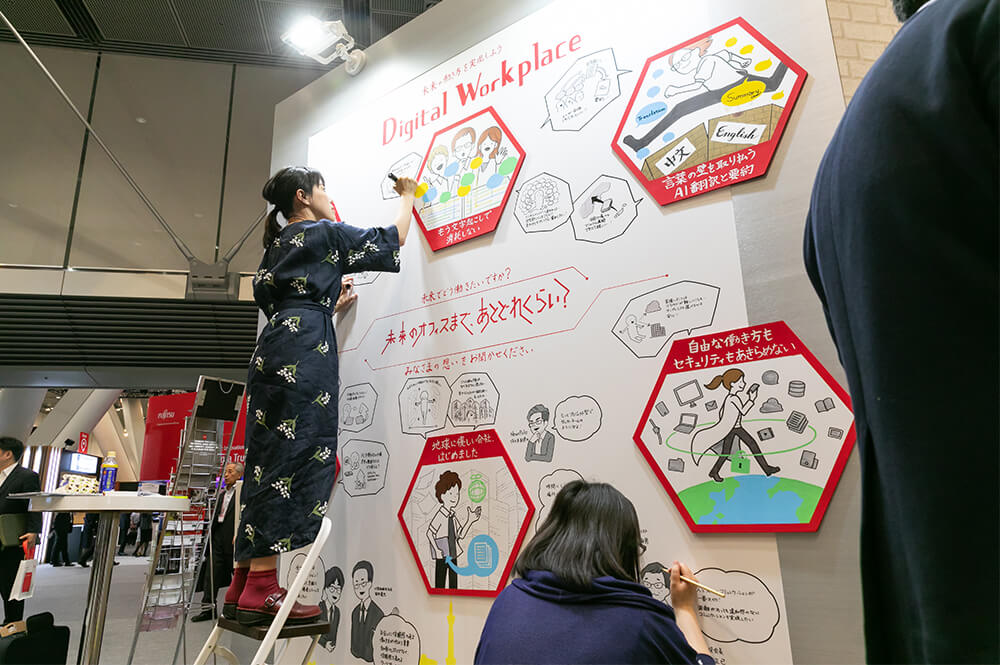 The key points of the exhibitions were introduced graphically.
ICT Further Evolves Sports
Supporting Scoring in Gymnastics with 3D Sensing / AI
Fujitsu introduced its unique 3D sensing technology using AI, a scoring support system for gymnastics that combines laser sensor technology to capture athletes' motions in 3D. This system captures the motions of athletes with a 3D sensor, identifies their builds with software, and supports judgment and scoring of the techniques through matching databases.
At the venue, Fujitsu gave a demonstration that enabled visitors to see gymnastics taking place from multiple angles. Visitors could see the mechanism to accurately judge the bending of knee joints in action in the air by watching from the front, top, side, and other angles in real time. With an eye toward the international gymnastics event to be held in Germany in 2019, Fujitsu will continue to evolve its 3D sensing technology.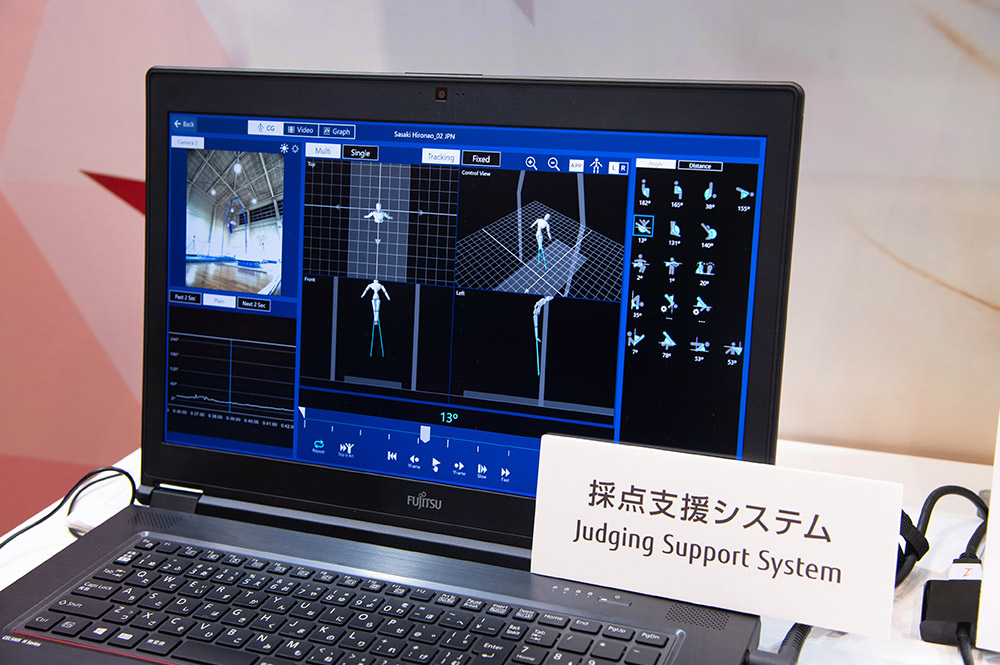 The judging support system now enables you to check even dynamic motions.
---
Live Streaming via Internet TV!
This year, Fujitsu highlighted Fujitsu Forum on the Internet TV "FUJITSU ch." via live streaming by inviting diverse guests at the venue to participate.
To view the Internet TV, access "FUJITSU Event.(Japanese)"
---
In Part 2, we will report a trusted future aimed by Fujitsu for each industry.