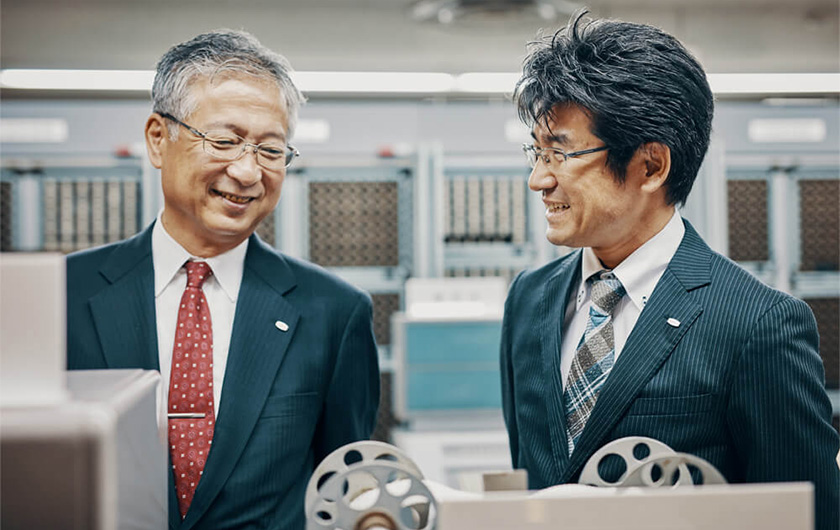 One of the world's oldest computers, FACOM128B relay computer made in 1959, is still operational in Fujitsu's Numazu Complex. Customer Engineers (CEs) have kept it running for 60 years, an unprecedentedly long maintenance period. CEs are the ones to support today's ICT systems, on one hand, maintains the world's oldest computer to keep running. What is the meaning of it? What is their mission? We interviewed Nobuyuki Hori, the CE group leader, and Tadao Hamada, the advocate for running FACOM128B.
The Roles of Customer Engineers (CEs)
Hori: "In 1978, the year I started working at Fujitsu, Fujitsu manufactured the M series of mainframe computers while IBM launched the System/370 series of computers. Since that time, two types of engineers have been needed: System Engineers (SEs) that develop software, and Customer Engineers (CEs) that install hardware, perform post-installation regular maintenance, and do repairs. Thus, SEs and CEs paired up and worked together.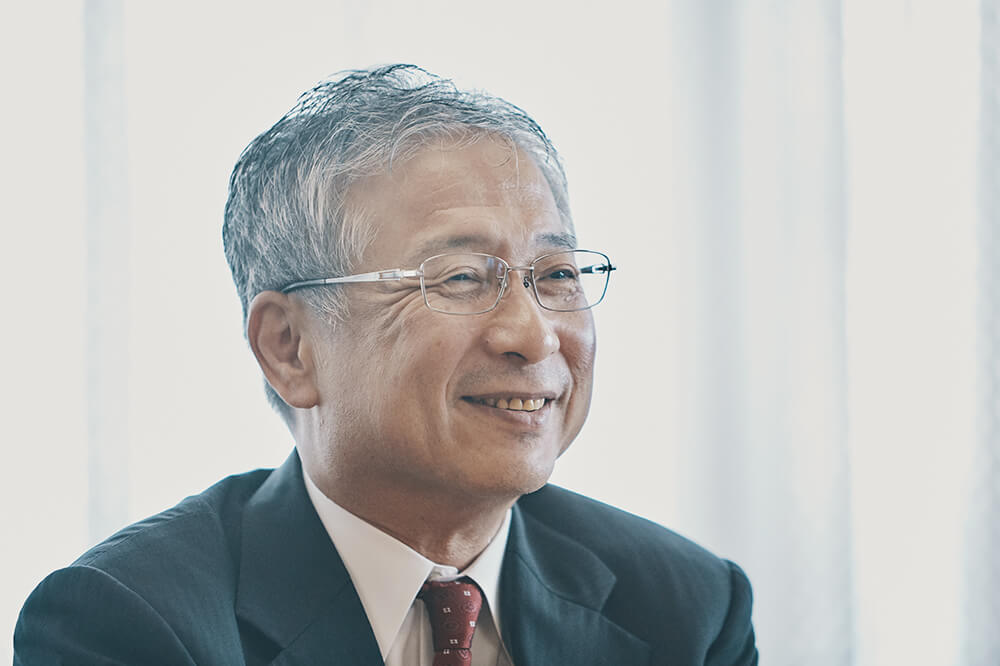 Hori has worked exclusively in the CE field. Computers came into widespread use in society the year he joined Fujitsu.
Computers have seen a parade of technological innovations. We CEs have also continued to develop new maintenance techniques to handle such innovations. Meanwhile, if customers want to continue using end-of-life / end-of-sale devices, it is also our role to make our best efforts to ensure stable operation."
Passing Down the CE Spirit to the Next Generation with "The Fujitsu Relay-type Computer Technology  Inheritance Project"
Hamada: "When I started working at Fujitsu, I was not a CE; instead, I repaired defense-related computers at the Numazu Complex for four years. After some time, I began to want to interact with customers more, so I trained myself and got certified as a CE. Since I had the most experience as Center CE - a leader who manages nationwide system deployment - together with a veteran coworker who maintained relay computers, I also started to maintain FACOM128B, a relay computer made in 1959.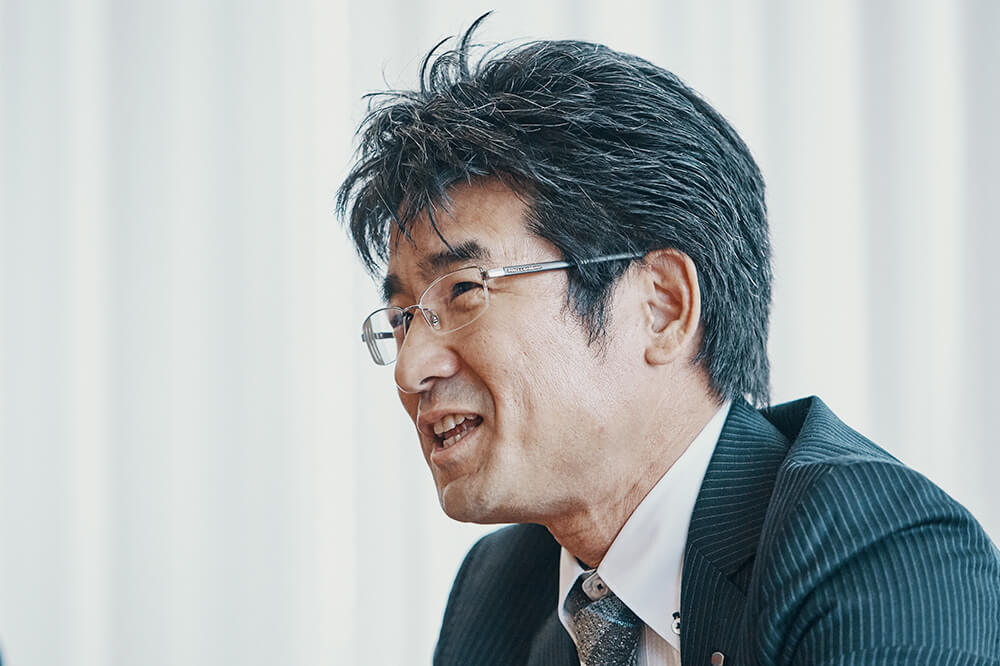 As a grade-schooler, he disassembled broken radios to try to figure out how they worked.
Every time FACOM128B went out of order, the CEs (at that time, now retired) rushed to Numazu Complex and repaired it. They also went to the Complex to do maintenance once or twice a year. However, this alone was not enough to keep the machine running, so the Fujitsu Relay-type Computer Technology Inheritance Project was officially launched in 2006 with personnel and support systems in order to pass down the skills and experience to maintain FACOM128B. This project aims to impart to the next generation Fujitsu CEs' spirit and skills for keeping it running so long as there are customers."
FACOM128B Registered as Essential Historical Materials for Science and Technology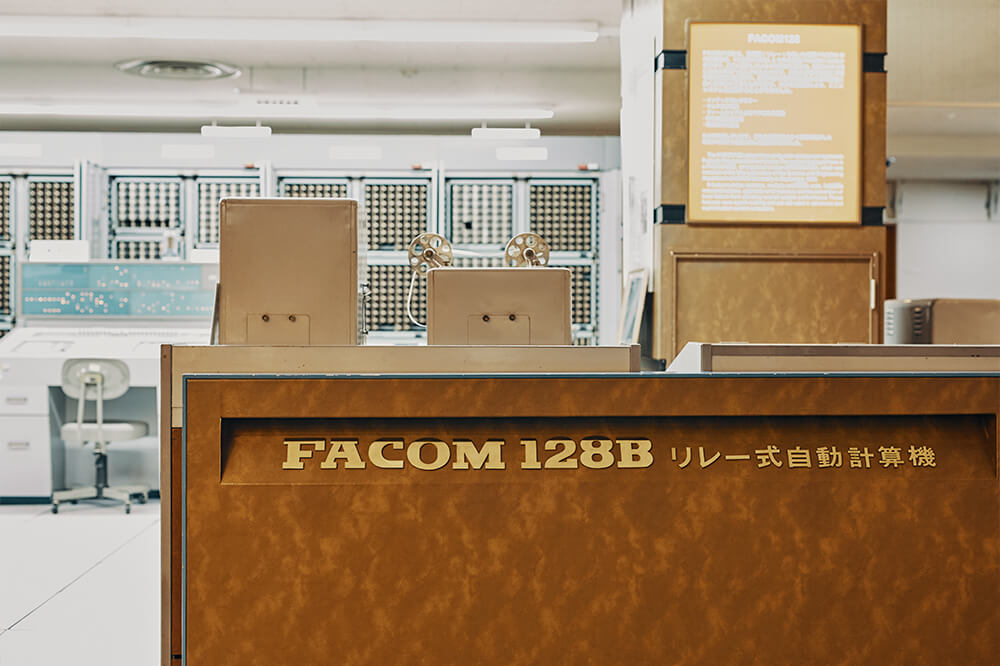 FACOM128B installed in the Ikeda Memorial Room at Fujitsu's Numazu Complex. Visitors can see the machine in action.
Fujitsu FACOM128B relay computer(Japanese)
Hamada: "As part of the Fujitsu Relay-type Computer Technology Inheritance Project activities, we are learning skills from three ex-workers that maintained FACOM128B since it was installed 60 years ago. They teach the team of four of us about relay computers in quarterly regular maintenance sessions. Although there are still original maintenance parts and circuit diagrams, performing maintenance requires an understanding of the computer's logic design. I thought it would take a lot of time before I understood the design concept and operational principles and could read the circuit diagrams, but I was able to increase my maintenance skills thanks to enthusiastic guidance by the ex-workers during the precious quarterly opportunities."
FACOM128B was registered as Essential Historical Materials for Science and Technology of FY2018. This program was established by the National Museum of Nature and Science to maintain significant heritage objects to pass down to the next generation.
The Project which makes ex-workers excited as CEs.
Hamada: "It has been 12 years since the project launched. In the beginning, there were many problems, so we made many repairs. This was because circuits that had not been used before came into use as a result of manual operation checks and new demonstration programs, and we repaired I/O devices that had been left broken. At first, repairs were made at the ex-workers' initiative. However, over many years they prepared manuals for acquiring maintenance skills, including materials that explained how to read diagrams and how the machine worked. Those manuals helped us young CEs to take the initiative in responding to problems. Even so, when our troubleshooting is slow, the ex-workers become impatient and they start troubleshooting the problem themselves. I tell them to sit down and keep quiet as much as they can, but they seem to be too excited as CEs. They really like their jobs. I believe that's why they can still remember what they were doing 60 years ago."
Why Was a Relay Computer Selected as the First Computer?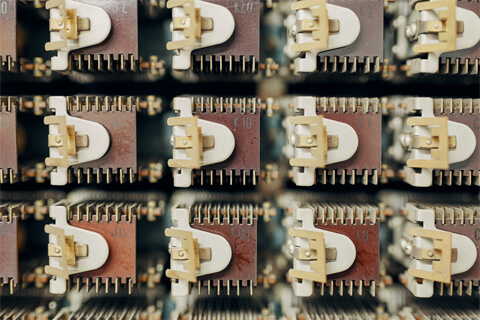 Turning the circuit on or off is controlled by whether or not a current flows at a relay (electromagnetic switch) contact, thereby doing binary arithmetic.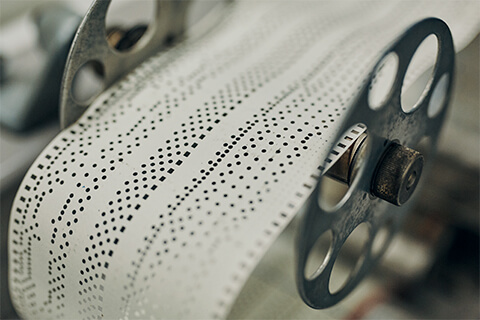 The exhibit reads data on simultaneous equations with five variables and performs calculations. The machine used to solve simultaneous equations with more than 100 variables overnight.
Hamada: "FACOM128B was built as a successor to FACOM128A, a commercial version of FACOM100, the first practical relay computer completed in Japan in 1954. Relay computers were the predecessors of today's semiconductor-based computers, and they were an application of relays, which were components used in telephone exchange equipment at that time.
Many early computers used vacuum tubes, but vacuum tube operation at that time was highly unstable. I heard five reasons why Fujitsu first selected a relay-based design: 1. high performance, 2. high reliability, 3. longevity, 4. ease of handling, and 5. low cost. On top of these, Fujitsu also equipped the computer with a circuit design that was less likely to fail and a retry function (self-check function) as measured against contact failures, which were the bottlenecks of mechanically operated relays. I think they selected a relay-based design not only to be technically advanced but also to help customers use it safely and securely."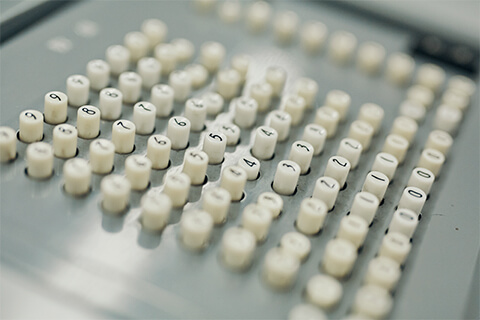 Operation keys with numbers printed on them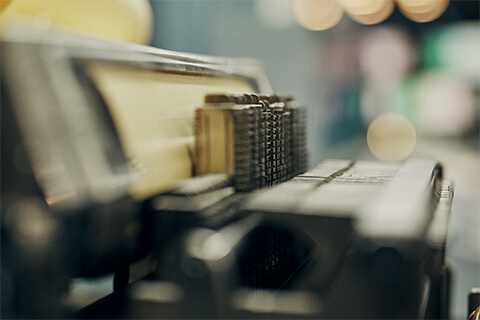 Calculation results are printed with hammers.
Back to the Origin in an Era of Fast-moving Innovation
Hori: "CEs are engineers at heart and when they see an old machine working, they get fired up to keep it going (laughs). To do so, very complicated techniques must be passed down. At the moment, various innovations like the digital transformation are predicted to occur one after another, so I think it is valuable to hand down the original DNA."
Hamada: "We inherited a working machine from the ex-workers, so naturally we cannot allow it to stop. My mission is to keep it running. Running busily is different from merely being exhibited. I want many people to actually see FACOM128B—wondering how it works, feeling something, and getting interested lead to the next step."
FACOM128B Episode
Mistaken for Sumo Wrestling in the Early Days of Computers
Hori: "Early commercial computers were very expensive. Since it was difficult for individual companies to buy computers, FACOM128B was installed in a computer center; companies brought in the data to use in turns.
Today, we kind of do it online."
Hamada: "A long calculation would take all night, so operators and maintainers stayed at the computer center; when the computer stopped, they repaired it to continue the calculations. FACOM128B's printer uses hammers and makes very loud thumping noises. There was a café named Lamonde below the computer center and the sound made them mad, so they told the center personnel not to sumo-wrestle (laughs). The center personnel managed to clarify the situation and maintained 24-hour operation.
FACOM128B was also used by various ministries, universities, and enterprises for scientific computations, including research, design, and investigations, as well as for calculations to design the tail of YS11, the first post-war domestic passenger airplane. FACOM138A, a mid-sized sister machine for which the cost and footprint was reduced to about one third, was mostly used to design camera lenses. American computers at that time cost ten times as much so they were problematic cost wise. I heard this kind of computer was created to enable Japanese companies to use it."
In Part 2 of this interview, we will discuss how CEs support social infrastructure and their vision of the future.
Nobuyuki Hori
Vice President, Fujitsu FSAS Inc.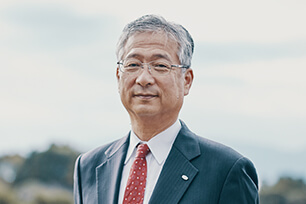 Nobuyuki Hori was born in Saga Prefecture in 1956. He was a club member of kendo, a traditional Japanese martial art, in school.
In April 1978, he joined Fujitsu, was assigned to Tokyo's CE section, and maintained large-scale M series in Tokyo region.
In 1989, he was transferred to Fujitsu FSAS due to the spin-off of the CE section and took charge of maintenance and infrastructure services.
In 2011, he became head of the product support division and took charge of Fujitsu product and OEM hardware and software support.
Since 2015, he has been responsible for the entire corporate function.
He is in charge of OEM hardware and software product support in which he uses a wealth of know-how on maintaining Fujitsu products acquired over his long career as a CE at Fujitsu. He makes the best use of vendor channels and has expanded the infrastructure service business. He now supervises the entire corporate function and tackles new challenges.
Tadao Hamada
Head of the System Support Division, ICT Support Business Division
Fujitsu Tokki Systems Ltd.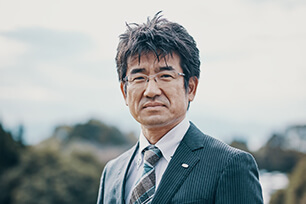 Tadao Hamada was born in Nagasaki Prefecture in 1969.
In 1988, he joined Fujitsu Tokki Systems Ltd. and started to hone his maintenance skills by servicing computers installed on patrol aircrafts of the Japan Maritime Self-Defense Force. Subsequently, he worked as a computer CE.
He is now the head of the Center CE Call Center dedicated to defense. The entire Fujitsu CE group supports the ICT systems responsible for national defense 24/7/365 safely and securely.