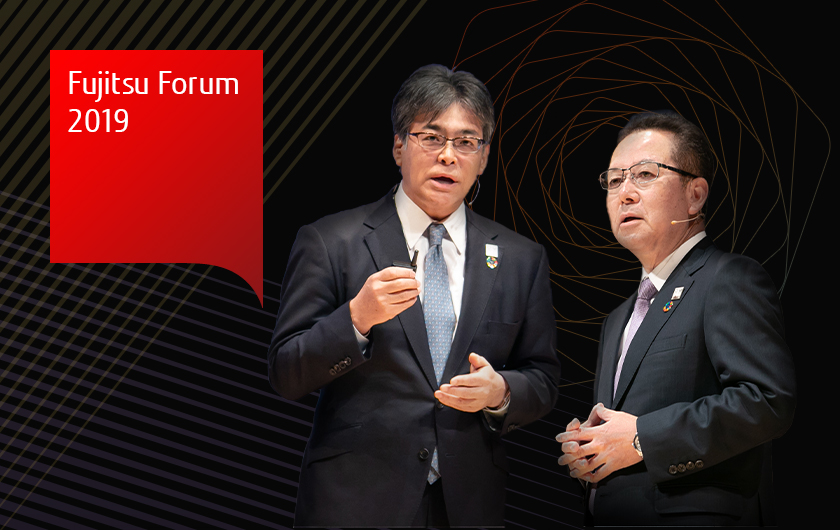 As society becomes increasingly complex as technology advances, various concerns have come to the fore, such as worries about potential harm of AI, risks of cyberattacks, and privacy issues. How can we use ICT to rebuild trust in people's livelihoods, business, and society? In May 2019, Fujitsu's themes and initiatives for the future were introduced by current president Tatsuya Tanaka and the incoming new president (in June), Takahito Tokita. Then, Toshio Hirose presented case studies on co-creation efforts between Fujitsu and its customers and partners.
[Fujitsu Forum 2019 Keynote Speech Report]
During the keynote speech session, Tatsuya Tanaka, Fujitsu's current president, took the stage first to discuss his thoughts on Fujitsu's themes for 2019.
The Present Demands Trust in Technology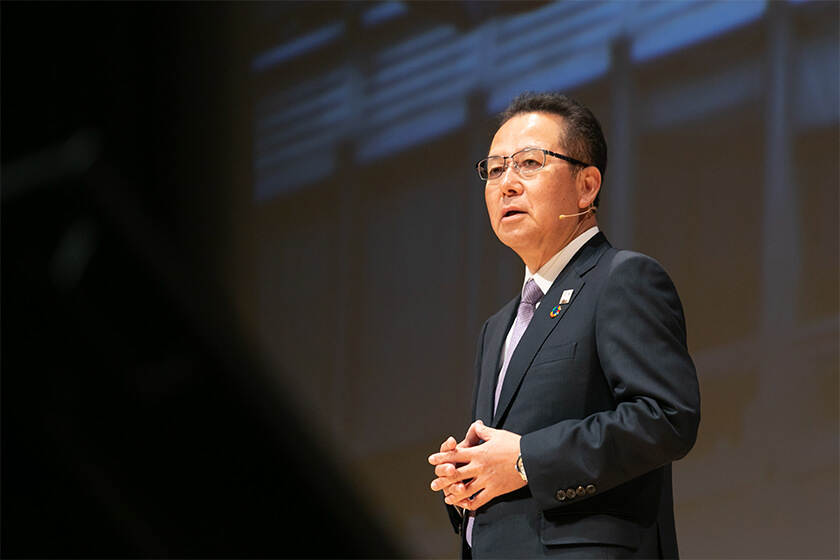 Tatsuya Tanaka
President, Fujitsu Limited
"Trust" is the key word for the themes of Fujitsu's 2019 activities. Core of Fujitsu's corporate vision is to shape a prosperous future—in other words, to bring people happiness and well-being through technology.
We are currently in the midst of the Fourth Industrial Revolution. Groundbreaking services are emerging one after another, with technological achievements that could only be dreamt of 10 years ago becoming reality. This trend will only accelerate going forward.
But, how do we really feel? There's a vague, underlying sense of anxiety that is weighing on our society, including concerns about strings of natural disasters and the heightened geopolitical tensions. In addition, there are concerns about cutting-edge future technologies such as whether AI will truly improve people's lives as well as concerns about how to tackle cybersecurity and privacy issues. Various surveys have surfaced these worries.
Given these circumstances, what do companies need to confidently drive digital transformation forward? Also, what do we need for people worldwide to continue benefitting from technology safely and securely? Fujitsu's answer to the questions is "trust." This includes trust in technology as well as the technologies that underpin trust among numerous companies and people. By pursuing such trust, we hope to contribute to a prosperous future.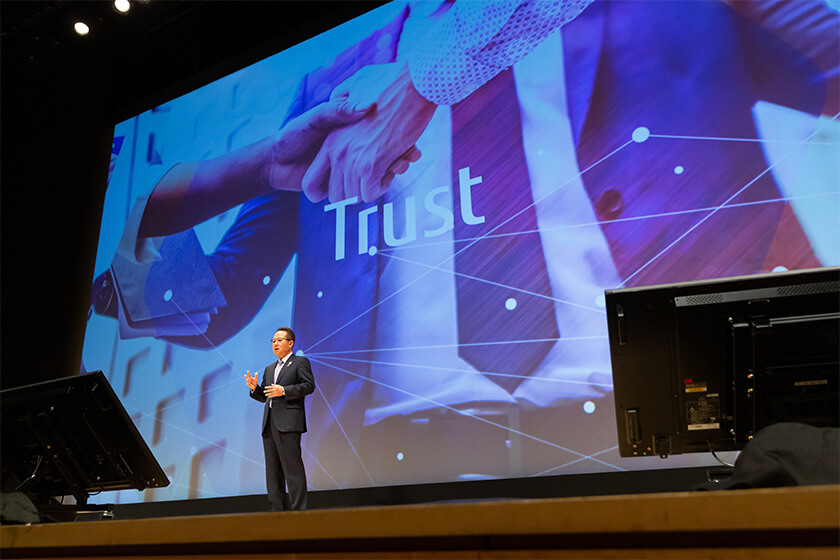 Tanaka spoke of how we have entered a new age with the dawn of the Reiwa era, and he revealed Fujitsu's plans for organizational transitions to be implemented in June 2019. He then explained that the incoming new president, Takahito Tokita, shared his view on the importance of trust, and he invited Tokita to the stage. Upon taking the stage, Tokita began by outlining his career.
Invigorating Fujitsu with a Global Approach that Values Diversity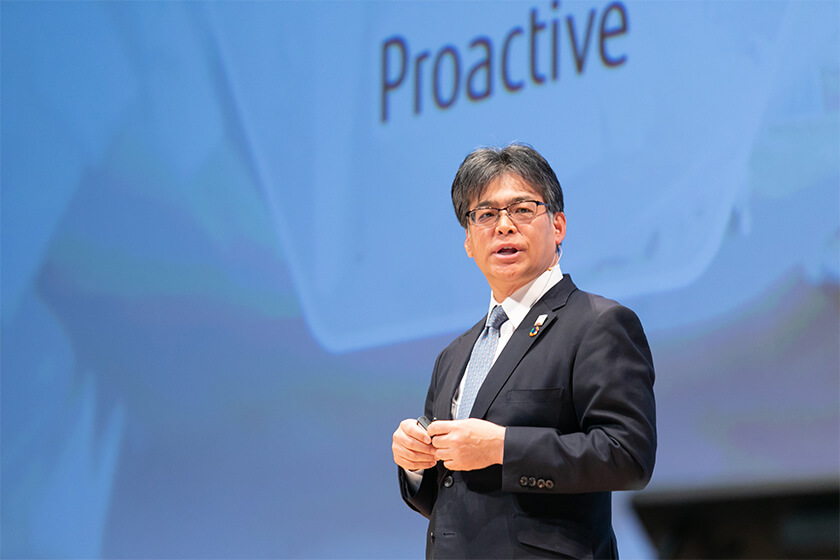 Takahito Tokita
Senior Executive Vice President, Fujitsu Limited
I started off as a system engineer (SE), and I spent many years building systems for clients in the financial sector. Most recently, I was posted in London as the leader of the Global Delivery Group. The Group has about 14,000 employees across 8 countries, and covers every time zone in the world to provide customer support and engage in offshore development. The corps of highly skilled individuals provide hub functions for our services. Going forward, we plan to continue to strengthen these hub functions.
Because I was in charge of such an organization, although I resided in London, I flew around the world and encountered various cultures, experiencing the world's diversity first-hand. I strongly feel that I want to leverage this global sense of understanding that I had cultivated in this environment and apply it to Fujitsu's management going forward.
Tokita continued by describing Fujitsu's efforts to achieve trust, the 2019 theme.
Three Initiatives for Rebuilding Trust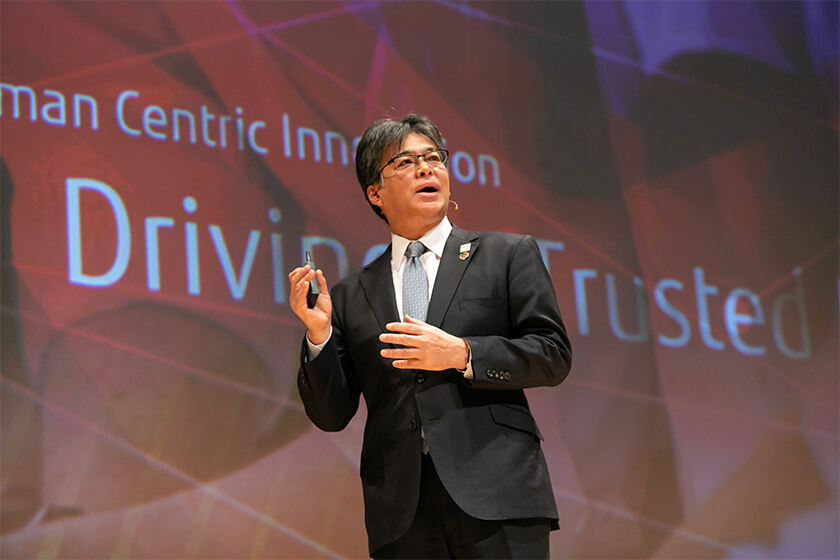 In this rapidly transforming environment, we want to rebuild the trust that people have in technology and continuously support trust in our businesses. To do so, Fujitsu will undertake three main initiatives.
The first initiative is to build technologies that underpin trust. To strengthen trust, technology must play many roles, such as by ensuring the reliability of transactions that are becoming increasingly complex and by countering cyber risks. Fujitsu will further strengthen collaboration with research institutions around the world to enhance our technologies.
The second initiative is to put people at the center. We reaffirmed our goal of adopting a human-centric approach and announced the "AI Commitment" in 2019, Fujitsu Group's ethical stance on AI. Fujitsu's UK research institution is one of the founding members of an influential organization in Europe called AI4People, which formulated the original AI ethics guidelines that were adopted by the European Commission, and has been concerned with the importance of AI ethics since early on.
Moreover, Fujitsu has endorsed the UN's Sustainable Development Goals (SDGs) and is contributing to meeting these goals. Through such efforts, we aim to strengthen people's trust in technology.
The third initiative is to transform Fujitsu itself. We often hear from customers that they do not want us to be passive in our approach; they want us to propose ideas that anticipate where the market is headed. Hearing such voices, we decided to strengthen our consulting capabilities and review our sales structure.
What digital transformation requires is technology and the capability to turn it into services. We aim to take the groundbreaking technologies developed by Fujitsu Laboratories, which has a 50-year history, and Fujitsu's experience and know-how in various industries in order to transform them into business models that can be leveraged further. Our aim is to become the company that customers choose to be their digital partner.
Finally, I would like to mention the importance of global networks. In the digital age, valuable services can cross national borders and spread instantaneously at global scale. Fujitsu also aims to provide value that is appreciated at global scale by supporting customers worldwide with our Global Delivery Center at the core.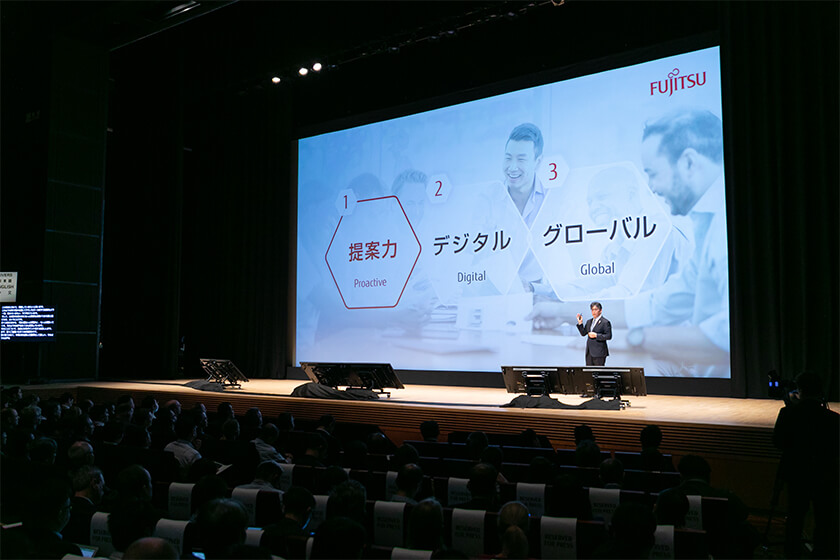 When I first joined Fujitsu in 1988, the corporate message was "Turning Dreams into Reality." I still appreciate this idea very much, and it lives on in Fujitsu's DNA.
As a leader, I want Fujitsu to be a place where employees can express their dreams and that reliably supports trust in our customers' businesses. Finally, I want for us to contribute to a future in which people can trust technology while living prosperous, secure lives.
After Tokita's speech, during the second half of the keynote speech session, Corporate Executive Officer Toshio Hirose took the stage to speak about the value that Fujitsu can provide by aiming to build trusted businesses. He introduced specific case studies on co-creation efforts with customers and partners.
AI and Other Fujitsu Technologies for Underpinning Trust
Significant Shortening of the Decision-Making Process in Genomic Medicine for Treating Cancer Using "Explainable AI"
Toshio Hirose
Corporate Executive Officer, Fujitsu Limited
AI is advancing by the day. In many fields, AI is already forming solutions that are far more accurate than what humans can produce. However, when AI is tasked with making decisions that have more critical implications for business and society, can we really trust its judgment?
As AI becomes more capable of explaining its decisions, humans may benefit from new realizations. This will also lead to heightened expectations for expanding the range of AI applications.
Fujitsu has already developed AI that renders explainable the answers derived by AI.
This is being applied in genomic medicine, a form of cancer treatment. With the emergence of Fujitsu's AI technology that can explain the basis of AI-derived estimation results, the time required to make decisions for treating cancer with genomic medicine was significantly shortened from two weeks to one day.
Volkswagen Advances Task Optimization Using Digital Annealer
Even in this age in which computer technology is advancing rapidly, many challenges cannot be solved. Combinatorial optimization problems, which require optimized solutions to be elicited from a massive number of complex combinations, are extremely difficult to solve using conventional computers.
For example, in stock diversification, when trying to derive the optimal combination with just 20 stocks or securities, there are more than one quintillion possible combinations, making it effectively impossible for conventional general-purpose computers to come up with an answer in a practical amount of time. As a solution, Fujitsu has developed Digital Annealer, a computer with a new architecture that can solve combinatorial optimization problems instantly.
Using Digital Annealer, German automobile manufacturer Volkswagen was able to optimize the scheduling of industrial robots in factories as well as inventory control. Moreover, they use Digital Annealer in complex applications, such as optimizing sideview mirror shape to minimize noise.
Digital Annealer can be used to instantaneously produce optimized solutions even in areas where most people have given up on finding an answer. In the future, we believe this technology can be applied to mitigating traffic throughout entire metropolitan areas as well as in the development of macromolecular drugs.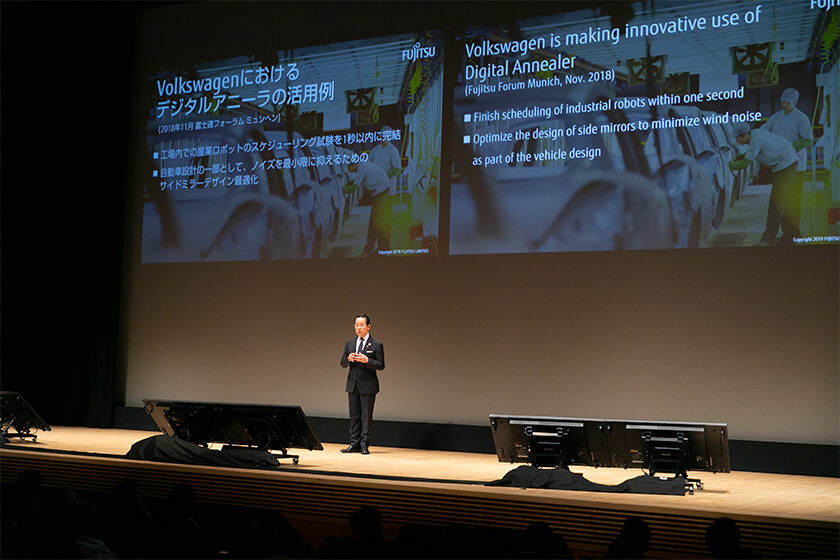 Creating New Value Together with Customers
Fujitsu believes that technology's purpose is to bring happiness and well-being to people. By framing all our ideas in a human-centric context, we ensure that the value we produce focuses on human well-being.
Based on this thinking, Fujitsu collaborated with RIKEN, the National Cancer Center, and Showa University in 2018 to develop technology to automatically detect heart abnormalities in fetuses using AI as part of an effort to address the serious problem of a shortage of OB-GYN doctors.
Hirose invited to the stage RIKEN's Masaaki Komatsu, who is leading this joint development effort. Dr. Komatsu spoke of the difficulties they faced in developing this technology and the results obtained by engaging in this effort with Fujitsu.
Joint Efforts with RIKEN to Develop Fetal Cardiac Ultrasound Screening Using AI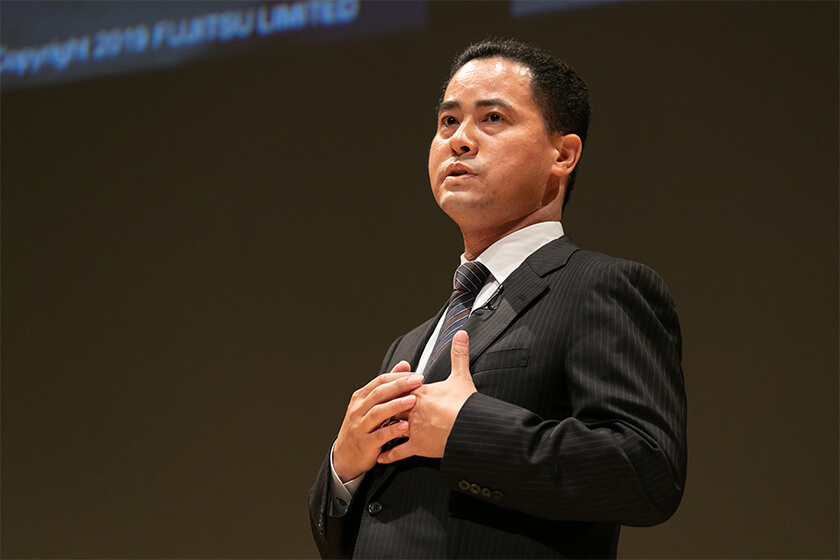 Masaaki Komatsu
Research Scientist, Cancer Translational Research Team
Center for Advanced Intelligence Project, RIKEN
Advanced diagnostic techniques are required to observe the hearts of fetuses, especially in ultrasound screenings, which are largely dependent on examiners' skills. Moreover, AI analysis of ultrasound images is extremely difficult, and development has not advanced much globally.
This is why RIKEN decided to focus on the development of foundational technologies that will prove useful in actual medical care environments by close collaboration between AI technicians and medical specialists from an early stage. In just a few months, these efforts resulted in the development of the world's first AI technology that supports ultrasound image diagnosis.
In the future, by utilizing in examiner training and by implementing telediagnosis using cloud computing, we aim to eliminate disparities in access to medical care among different regions and communities as well as to make pregnancy and childbirth safe everywhere on earth.
Hirose continued the session by introducing a project that Fujitsu engaged in together with four companies in other industries as a case study on co-creation that transcends industry and business boundaries.
Designing the Future of Living by Integrating Mobility Together with Four Companies in Various Industries
EQ House, which was undertaken with Mercedes-Benz Japan, Takenaka Corporation, Nishikawa, and ABC Cooking, is a project to design the future of people and cars as well as lifestyles.
In this project, Fujitsu designers and engineers used the concept of design thinking to design personalized future lifestyles using technology together with customers, creating brand-new lifestyle experiences.
Since March 2019, Fujitsu has applied a proprietary algorithm for analyzing sleep states in collaboration with Nishikawa, which manufactures bedding, and collaborated with ABC Cooking, a food-centered business.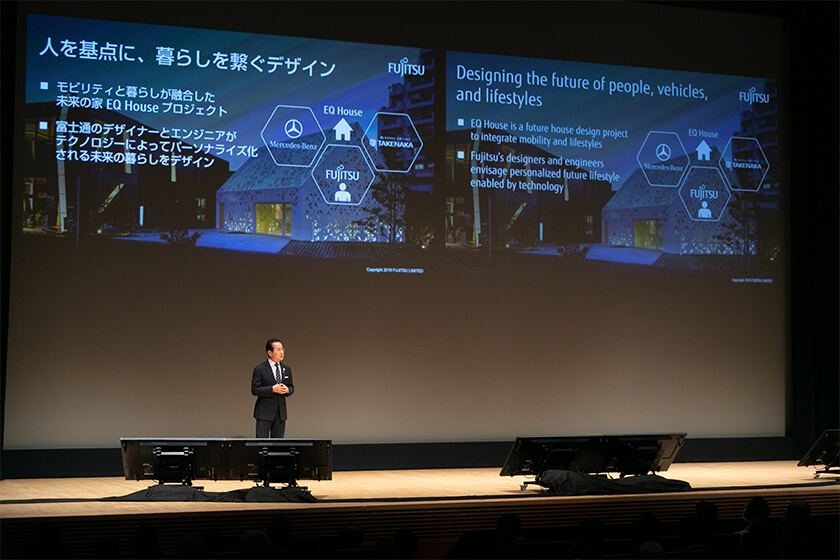 Needs to Use and Apply Data, and the Increasing Importance of Trust
Fujitsu has taken on the challenge of creating new value by using blockchain technology to enable safe use and application of data among companies. In 2018, Mitsubishi Estate led a 12-company initiative to use blockchain technology to gather data across industry boundaries, engaging in research and demonstration experiments to explore new methods of urban development.
Hirose invited Mr. Yasutaka Goto of Mitsubishi Estate to the stage, who is currently engaged in new developments around Tokyo Station. Mr. Goto shared his thoughts on this project and the details of the demonstration experiments as well as the opinions he formed as a result of these efforts.
Initiative Led by Mitsubishi Estate for New Methods of Urban Development that Transcend Industry Boundaries by Integrating Data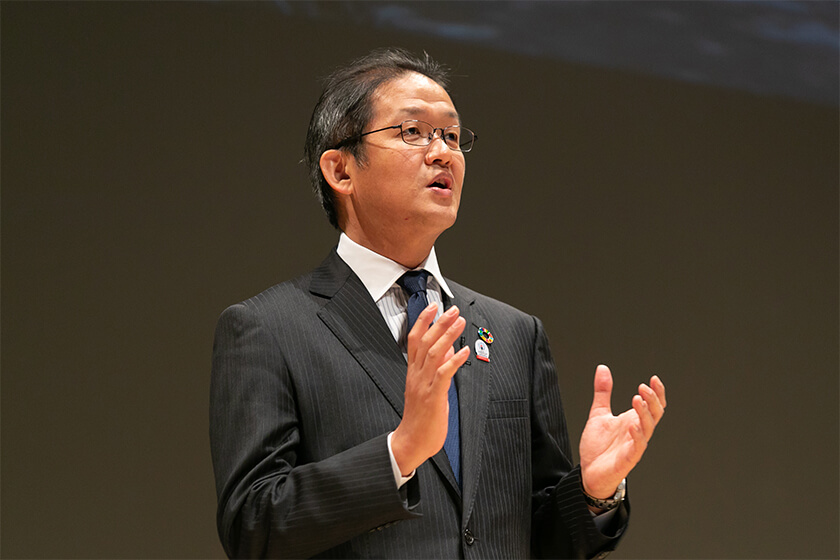 Yasutaka Goto
General Manager, Area Brand Management Department
Mitsubishi Estate
At Mitsubishi Estate, as part of an effort to attract more creative people as well as people and businesses fascinated by innovation in the business center that stretches from Otemachi to Marunouchi and Yurakucho, they aim to create an urban environment that continually generates creative exchanges through gatherings and interactions.
Through collaboration with various companies and startups, they have conducted various demonstration experiments, including operation of self-driving buses and taxis on public roads as well as hospitality services using AI and robots. Moreover, to accelerate these activities, the "Inspired.Lab" innovation center opened in February 2019 as a place where technologies that will transform the shape of industry are accumulated and original ideas are encouraged.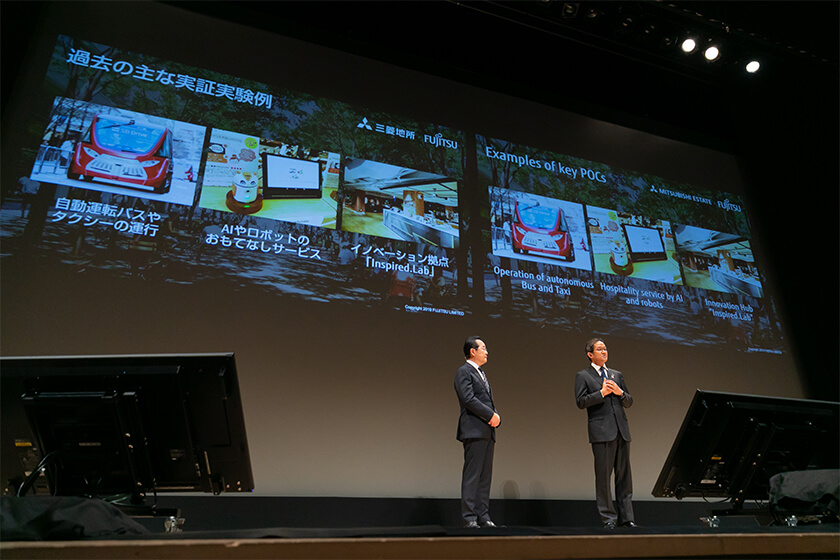 Next, Mr. Goto described his insights from the demonstration experiments conducted between May and December 2018 as well as the importance of using and applying data.
Capturing the Relationship Between Customer Guidance and Objectives through Data Analysis Using the Flow of People and Social Media
This project, which started with just four organizations, including us, Fujitsu, Softbank, and the University of Tokyo, has now attracted the interest of various other companies. There are now 12 participating organizations.
As an example of our achievements, we enhanced the analysis of people walking through Marunouchi by cross-referencing human flow data and social media analysis data, which were previously analyzed separately. For example, in analyzing the number of overseas tourists coming from the direction of Tokyo Station and those coming from the direction of Yurakucho, we could determine that their interests were split between eating and shopping, enabling more targeted recommendation measures.
In order to use and apply data, there must be a variety of types of data as well as a large volume. In Japan, I think there is a need for companies to transcend corporate boundaries to gather various forms of data. Many companies may be waiting to use and apply data in such a way, but to start considering these measures seriously, there must be an environment in which we can safely exchange data. I believe that we could do so fully at an early stage because Fujitsu provided us with such an environment in a timely manner.
Our goal is to continue making proactive efforts to use and apply various forms of data to increase the attractiveness of the Marunouchi district.
To Achieve a Future of Trust
In closing, Hirose took the stage and shared the following words.
Trust is what we need for people around the world to benefit from technology in safe, secure ways. Fujitsu aims to contribute to a prosperous future by pursuing trust in technology as well as the technologies that underpin trust.
Through collaboration with customers and partners, Fujitsu is committed to creating a future in which everyone can safely trust.
Fujitsu Forum 2019 Keynote Speeches(Japanese)
Presenters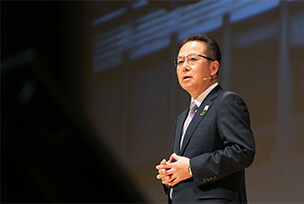 Tatsuya Tanaka
President
Fujitsu Limited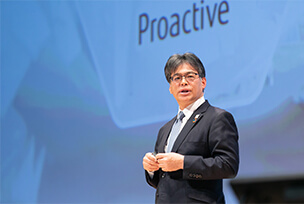 Takahito Tokita
Senior Executive Vice President
Fujitsu Limited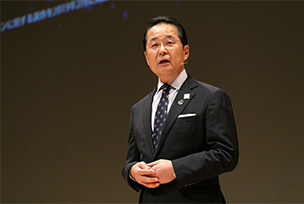 Toshio Hirose
Corporate Executive Officer
Fujitsu Limited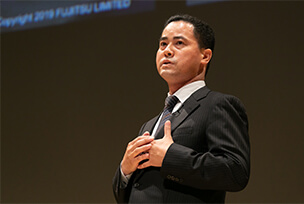 Masaaki Komatsu
Research Scientist, Cancer Translational Research Team
Center for Advanced Intelligence Project
RIKEN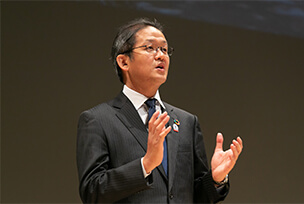 Yasutaka Goto
General Manager, Area Brand Management Department
Mitsubishi Estate