The venue entrance at MWC19 Barcelona. The event's theme was "intelligent connectivity."
From February 25 to 28, 2019, MWC19 Barcelona, the mobile industry's largest exhibition, was held in Barcelona, Spain. (Starting this year, the event is no longer called the "Mobile World Congress.") This year's MWC follows announcements made in December 2018 by US-based Qualcomm and in February 2019 by China-based Huawei on 5G modems for smartphones. The event showcased 5G-enabled smartphones and featured realistic demonstrations of devices and equipment that will be outfitted with 5G modems in the future.
Booth of Qualcomm (US), which released 5G chips
What stood out in the venue were the array of 5G-enabled devices and claims such as "World's first 5G..." Device manufacturers and solution vendors made efforts to enhance the value of 5G capabilities through novel exhibition content, such as by showcasing the shapes and use cases for collapsible smartphones and smartphones that can be equipped with extension modules as well as smartphone apps that incorporate the latest in AR (augmented reality) technology.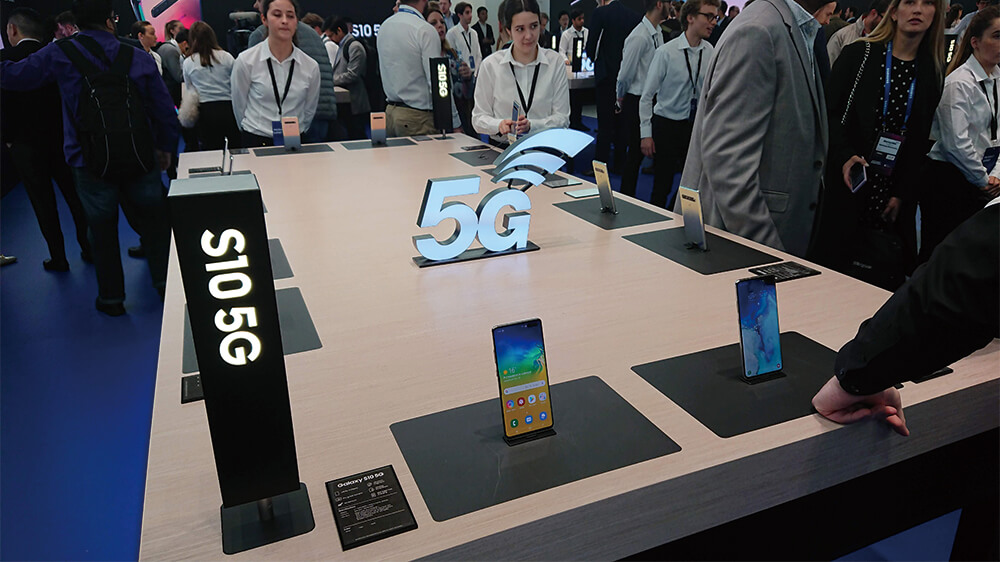 Samsung's (Korea) exhibition section featured the S10 5G, a 5G-enabled smartphone.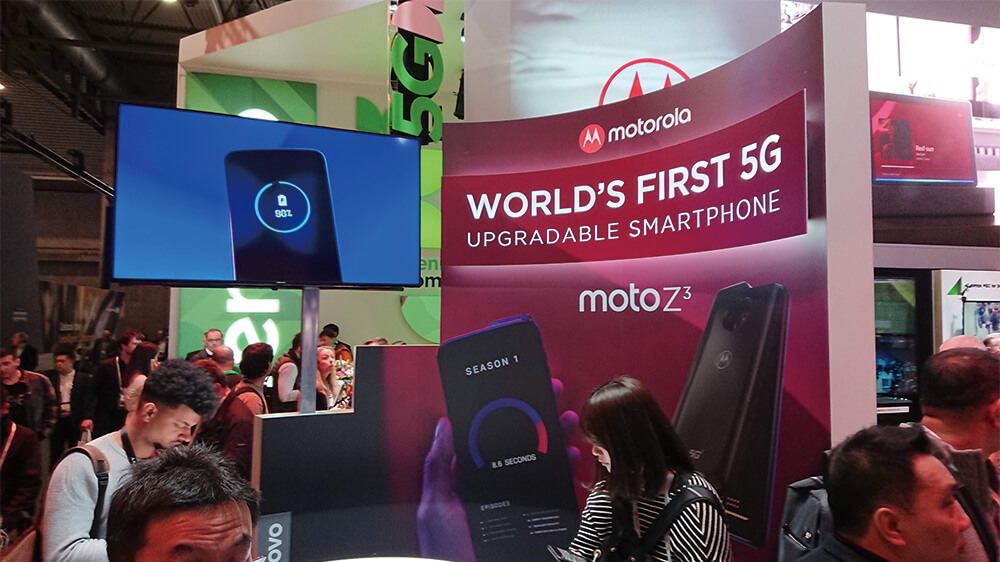 Motorola's (US) exhibition section featured moto z3 play, a smartphone that can make use of extension modules.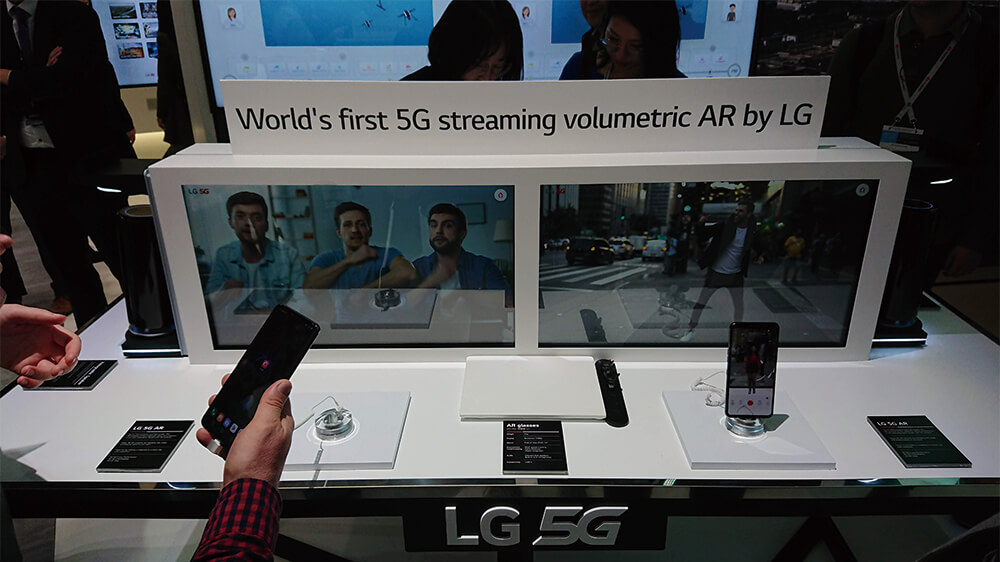 LG's (Korea) exhibition section featured 5G-enabled AR apps.
Although past MWC events focused on smartphones, smartphones are not the only technology that need 5G's wireless communication capabilities. As we described in the first part of this series, 5G aims to realize a mobile network to support society in the 2020s. If 4G has been used as communication technology for smartphones, then 5G will be used as communication technology for all kinds of devices and applications. In fact, presentations at the MWC event venue showcased a variety of 5G devices for a future beyond just smartphones.
5G accounts for a wide variety of use cases, and specifications have been developed to achieve communication capabilities that are appropriate for each scenario. Because such a wide range of use cases was considered when determining the specifications, all of 5G's communication capabilities are in demand, which makes it difficult to identify the specific use cases that most people can expect to see.
Even so, as we covered this year's MWC event, we were able to find two killer use cases with a demonstrated ability to accelerate 5G's spread. In this article, we would like to introduce these killer use cases.
5G in Demand for High-Speed Vehicles, Such as Drone Taxis and Autonomous Cars
One killer use case for 5G that we found at MWC19 Barcelona is the concept of next-generation mobility. Mobility refers to the ability of people and things to move around; next-generation mobility focuses on vehicles that are equipped with autonomous driving functions. These vehicles move at high speeds while performing low-latency communication. Given such circumstances, these vehicles require stable, uninterrupted network communication. 5G is the key to achieving this.
There are two main types of vehicles that will support the next-generation mobility that were demonstrated at the MWC exhibition venue. First is drone taxis, which will be used as the airframe of flying taxis. Second is autonomous cars, which are starting to become more feasible in Japan as legal reforms have been made. Let's examine what kinds of vehicles these are and how close we are to practical application.
Drone taxis, which are designed to transport people, improve upon eVTOL (electric vertical take-off and landing) aircraft such as helicopters. Generally, the term refers to autonomous vehicles. Uber Technologies (US), which is well-known for its ride-sharing service, has a flying taxi business plan called Uber Elevate. The stated goals for the Uber Air flying taxis are to conduct experimental flights by 2020 and to achieve practical application by 2023. However, Uber has not made pilotless taxis a requirement for their goals, so the business may launch with pilots who operate the taxis.
At MWC19 Barcelona, Ooredoo, a Qatari telecommunications company, showcased Ehang 216, a drone taxi developed by China's Ehang. They also showed footage of drone taxi flight demonstrations conducted in September 2018. The Ehang 216 is a two-seater equipped with an autonomous function that allows the passenger to specify a destination and then ascends vertically and moves horizontally until directly above the destination, after which it descends to land.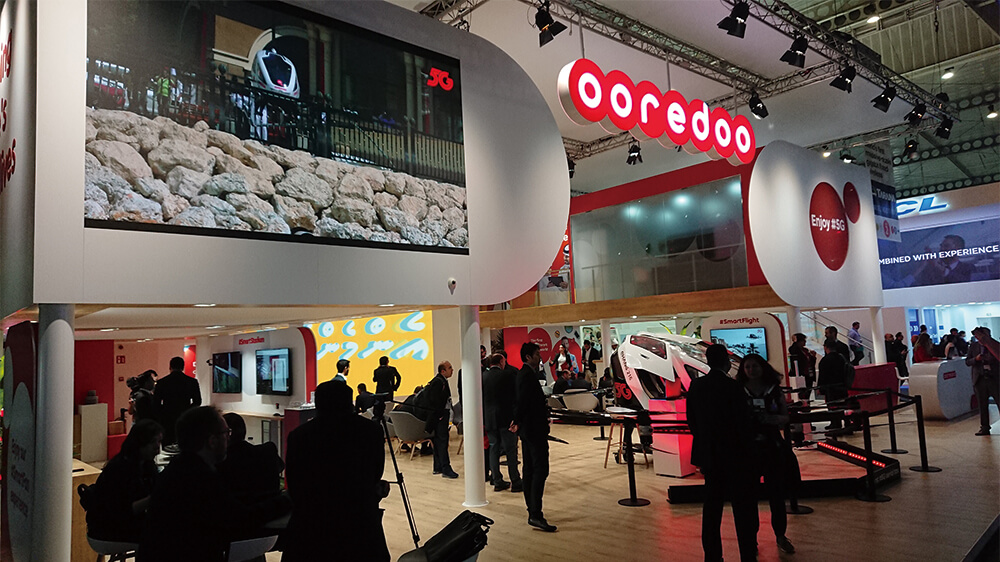 Ooredoo's exhibition booth
The Ehang 216 was installed in the center of the booth, and a display set up above the booth (upper-left in the photo) showed footage of flight demonstrations.
The Ehang 216 at Ooredoo's exhibition booth.
This vehicle reaches a maximum speed of 100 km per hour and can fly for up to 25 minutes.
Saudi Telecom, a Saudi Arabia-based telecommunications company, also showcased a two-seater drone taxi prototype, introducing it as a representative use case for the 5G era.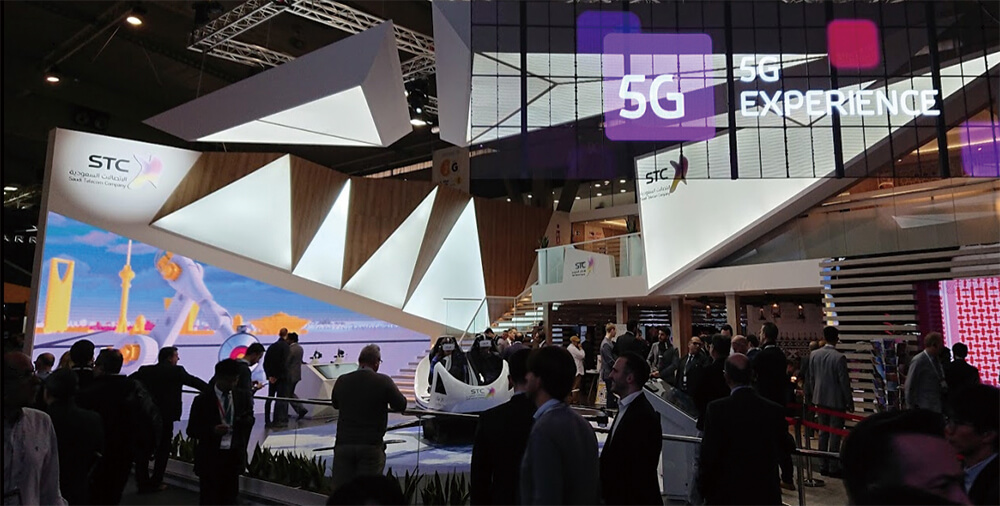 Saudi Telecom's exhibition booth. In the center is a drone taxi prototype.
To ensure safety while operating drone taxis, the airframe's position and condition must be constantly monitored. The airframe is connected to a control center, where appropriate responses can be made in case of emergency. Because of this, the network that connects the airframe and the control center must maintain low-latency communication without any interruptions while ensuring connectivity even when traveling at 100 kilometers an hour. 5G can maintain connectivity while moving at speeds of up to 500 kilometers an hour, meaning that it can ensure stable, low-latency communication between the control center and the airframe.
Commercialization of drone taxis has not yet started. However, in addition to Ooredoo's efforts, the government of Dubai in the UAE conducted trial flights in September 2017, and Volocopter of Germany plans to conduct test flights in Singapore in 2019. Efforts toward practical application are advancing worldwide. The greatest challenge with drone taxis is to guarantee safety, so the adoption of 5G, which will maximize communication reliability, is an absolute necessity. Observations of each company's plans suggest that real-world application of drone taxis should start around 2023, when Uber plans to launch commercial service.
Autonomous Vehicles Require 5G Connectivity for Technologies Such as Remote Monitoring, Cloud Maps, and Cellular V2X
Autonomous vehicles are much closer to real-world application than drone taxis. At the vanguard of these developments are area-restricted on-demand car dispatch services that use fully autonomous vehicles. Referred to as robotaxi services, US-based self-driving tech startups have been emerging throughout the US since 2018, including Waymo, Voyage, Drive.ai, and May Mobility. In March 2019, Japan made a cabinet decision to implement legal reforms to the Road Traffic Law and the Road Transport Vehicle Law, which is expected to allow robotaxi services to launch in 2020.
Autonomous vehicles must be equipped with advanced communication functions to achieve three major features that today's cars do not require. First is remote monitoring and control. This is an essential function for ensuring passenger safety, particularly in the case of driverless robotaxi services. In Japan, this is already a requirement for driving experiments involving driverless autonomous cars, and it is expected to be a requirement for robotaxi services once they launch.
Second is receipt of dynamic maps, which are cloud-based maps designed for autonomous vehicles. These highly accurate 3D digital maps take in traffic information in real time, such as congestion, accidents, weather, and traffic restrictions. By receiving a cloud-based map of the area in which the car is driving in real time, in addition to ensuring autonomous driving safety, the vehicle can avoid known accidents, restrictions, and heavy traffic to find the most efficient routes. Large amounts of data are required for 3D digital maps, necessitating a high-capacity communication function.
Third is V2X (Vehicle to Everything), a technology that enables vehicles to avoid danger by exchanging information among themselves as well as between cars and traffic lights, and between cars and traffic infrastructure. There are several different forms of V2X communication technology, but recently Cellular V2X, which uses wireless services such as 4G and LTE, is becoming widely utilized. In the future, use of Cellular V2X for 5G is anticipated. Avoiding danger requires instantaneous judgment, so low-latency functionality is crucial.
To achieve this third objective requires not only low-latency, high-capacity connectivity but the ability to maintain stable connectivity without interruption during high-speed movement. Early implementation of 5G is important to achieve real-world application of driverless robotaxis.
As these developments occur, the MWC19 Barcelona venue continued last year's trend of showcasing many kinds of autonomous vehicles. Last year, Germany's BMW conducted autonomous driving demonstrations and Germany's Daimler introduced fully autonomous concept cars. This year, BMW exhibited BMW Vision iNEXT, a fully autonomous concept car planned to be released to market in 2021, and Germany's SAP exhibited Snap, a next-generation urban mobility concept that isolates the car frame developed by Switzerland's Rinspeed, demonstrating how the worlds of autonomous driving and connectivity are closely related. For example, SAP incorporated its IoT software line (SAP Leonardo) into Snap as a solution for performing necessary maintenance, such as vehicle monitoring and inspections.
BMW Vision iNEXT, BMW's fully autonomous concept car displayed at their booth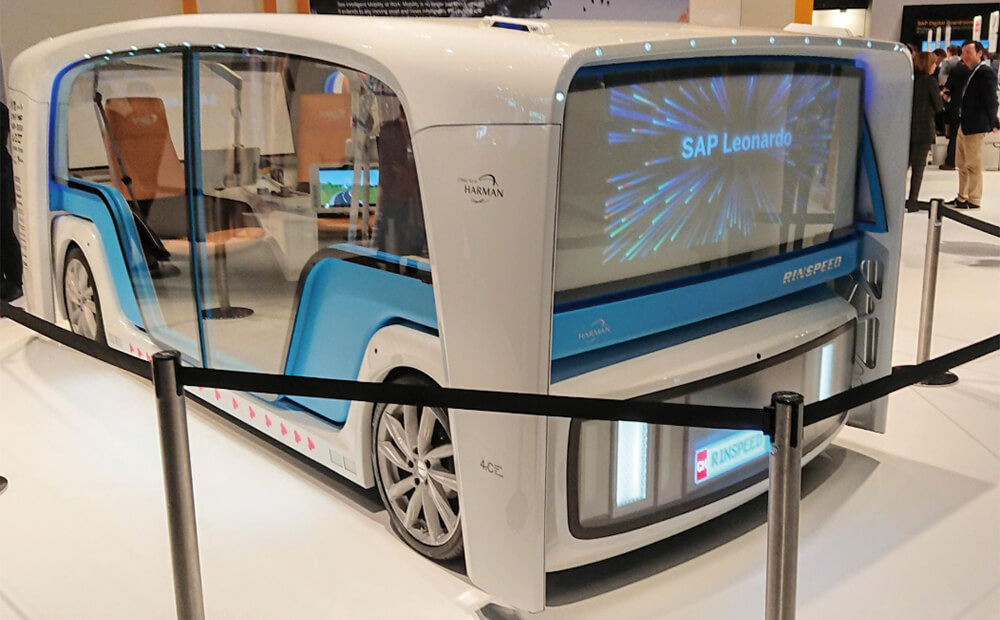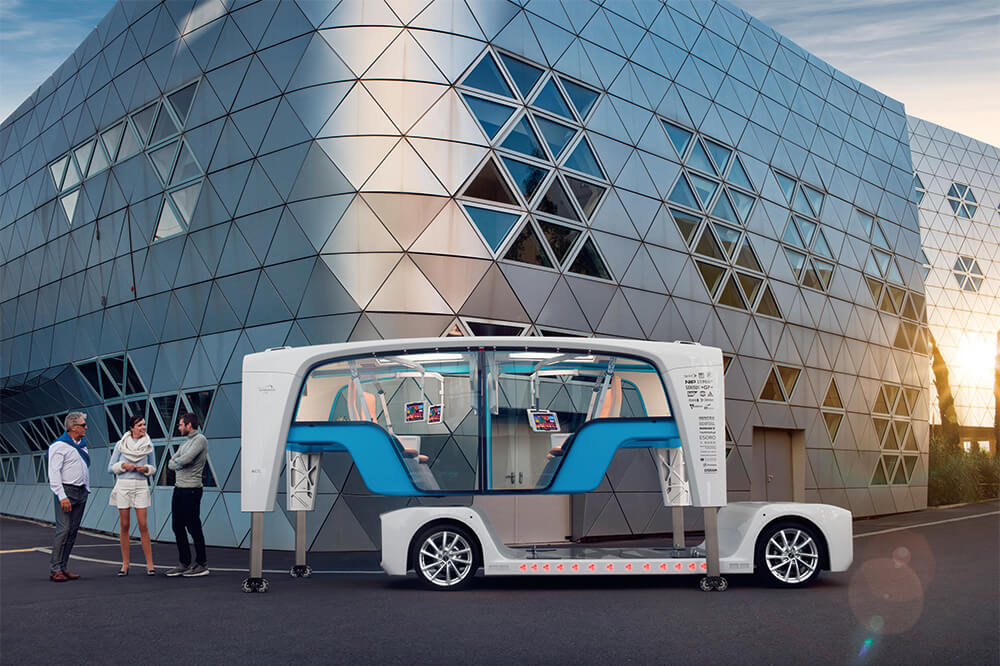 Rinspeed's (Switzerland) Snap, displayed in the SAP booth (above), can be separated into the passenger compartment and chassis, each of which can be swapped and combined (below). (source: Rinspeed)
In addition to what we have introduced above, the 5G Innovation Centre (5GIC), a research institution that conducts collaborative research and development on 5G at the UK's University of Surrey together with external institutions, introduced a 5G-enabled test sports car for R&D purposes at the venue.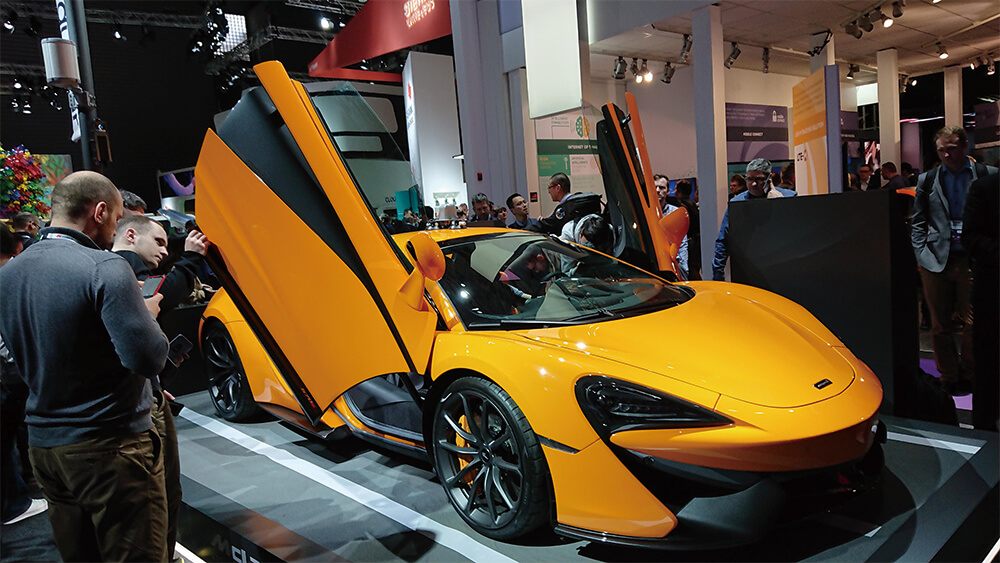 The 5G test car developed by 5GIC at the University of Surrey. The base car is the McLaren 570S Spider.
There is one more thing that we want to cover about next-generation mobility, namely the full-speed implementation of various mobility information services using cloud computing that will proliferate in the future. The exhibition space of Germany's Volkswagen at MWC19 Barcelona is the perfect example. There booth had no cars because they were more focused on the development of mobility cloud computing, and they are expanding their Volkswagen We mobility information service based on this technology. Volkswagen We provides a smartphone app that offers various services, such as making emergency calls, sending traffic information, obtaining vehicle information, searching and paying for parking spaces, using delivery services that deliver to the trunk of your car, and providing product information that considers drivers' needs and attributes. Volkswagen aims to issue 80 million IDs by 2025.
Today, many car companies are undergoing internal reforms to transition into mobility companies. However, from the perspective of car companies that have become mobility companies, 5G is not only a necessary step toward autonomous driving but the foundation for providing mobility services for cars, which will become their core business. We are now entering an age in which automotive manufacturers compete to utilize 5G to the fullest extent to spread the mobility service business.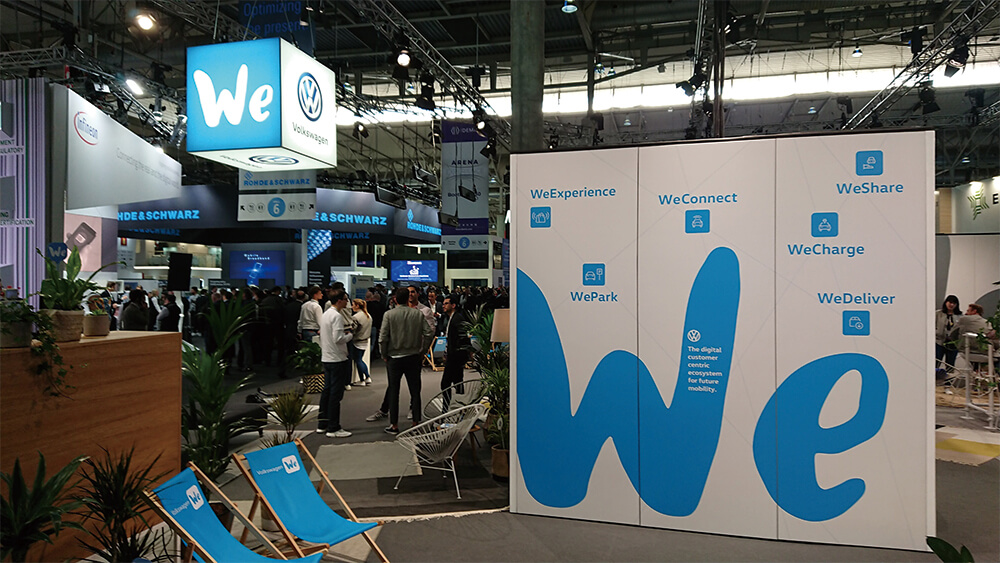 Volkswagen's booth. No cars were displayed here; the focus was on the mobility service brand Volkswagen We.
In this article, we introduced the next generation of mobility through killer use cases for 5G while covering MWC19 Barcelona. In the next installment, we will cover local 5G, another killer use case.
Author Profile
Tetsushi Hayashi
Chief Research Officer
Nikkei BP Intelligence Group
Mr. Hayashi joined Nikkei BP after graduating from the School of Engineering at Tohoku University in 1985. As a reporter and the editor-in-chief for the outlets such as "Nikkei Datapro," "Nikkei Communications," and "Nikkei Network," he has covered stories and contributed articles on topics encompassing cutting-edge communications/data processing technologies, as well as standardization/productization trends. He consecutively held the post of chief editor for "Nikkei BYTE" from 2002, "Nikkei Network" from 2005, and "Nikkei Communications" from 2007. In January 2014, he became the Chief Director of Overseas Operations after acting as the publisher for magazines including "ITpro," "Nikkei Systems," "Tech-On!," "Nikkei Electronics," "Nikkei Monozukuri," and "Nikkei Automotive." He has served at his present post since September 2015. Beginning August 2016, Mr. Hayashi has been writing a regular column, "Creating the Future with Automated Driving," in The Nikkei Digital Edition. Furthermore, he published the "Overview of International Automated Driving Development Projects" in December 2016 and the "Overview of International Automated Driving/Connected Cars Development" in December 2017. Mr. Hayashi has also been a judge for the CEATEC Award since 2011.