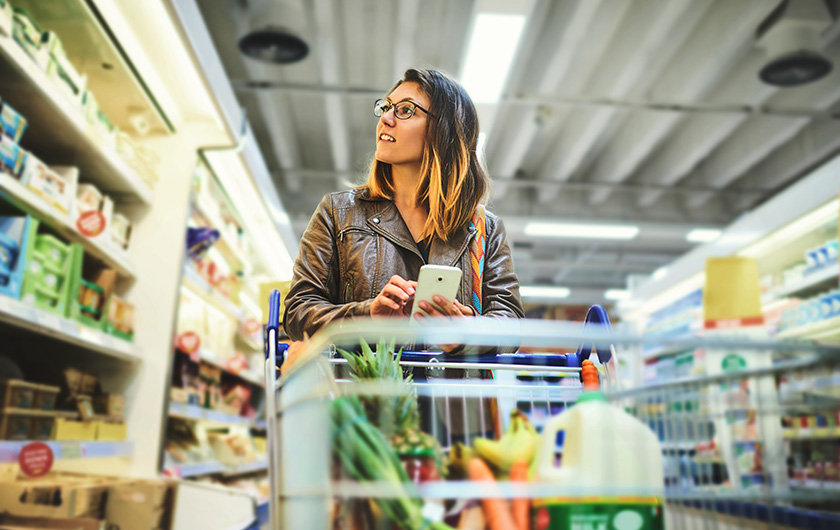 NRF 2019, the world's largest retail show, was held at the Jacob K. Javits Convention Center in New York City from January 13-15, 2019. The National Retail Federation (NRF) is a conference and expo where innovative retail visions and cutting-edge technologies are gathered under one roof. Attracting more than 38,000 visitors, this three-day event was the global retail industry's center of attention.
As online shopping is fast becoming the norm in many regions, including the U.S., retail businesses with brick-and-mortar stores face various challenges. Many booths focused on improving the value of shopping experiences at retail stores from perspectives such as how to integrate physical stores with online shopping, how to create unique shopping experiences, and how to effectively connect the frontend to the backend at stores.
In the exhibition hall, numerous cutting-edge solutions infused with AI, image recognition, and IoT technologies jostled for attention, presenting various possibilities and opportunities for advanced IT in retail stores. For example, self-driving retail robots that take inventory by scanning store shelves were shown at a number of exhibition booths. Bossa Nova Robotics, a leading retail robot company, was a particularly big draw. Solutions based on video image processing were everywhere. Trax unveiled technology that detects items removed from shelves, while Diebold Nixdorf demonstrated a cafeteria solution that automatically calculates the cost of meals based on plates on a tray.
Under the theme of Connected Retail, Fujitsu America rolled out many retail tech-based solutions for near future brick-and-mortar stores.
Combining RFID and Biometrics for "Walk-through Shopping"
Allow me to introduce some of the demonstration highlights. Grocery RFID, a solution that simplifies supermarket checkout, enables customers to walk their cart through a checkout gate that automatically scans all items instantly and completes payment without the customer having to lift a finger.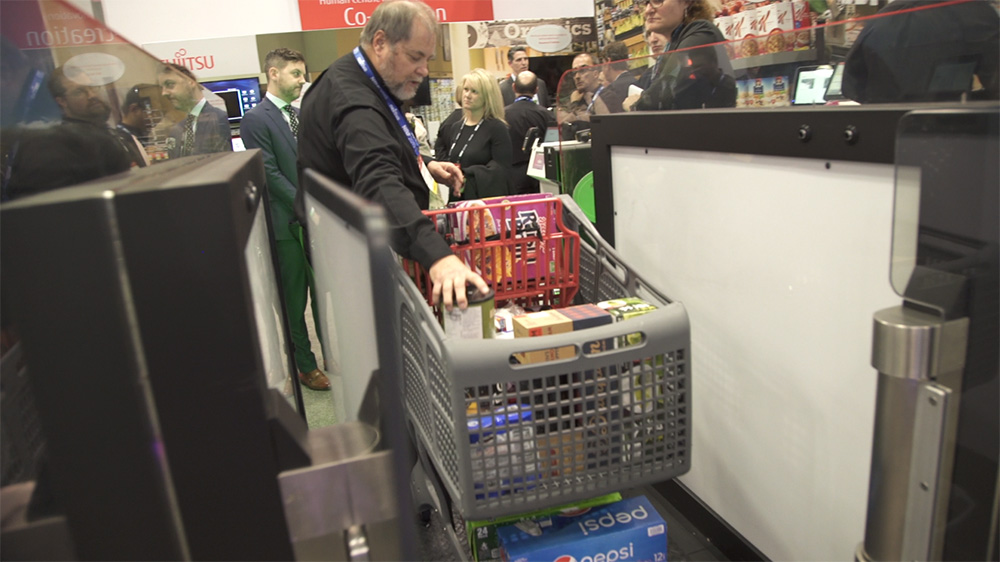 First, biometric authentication is performed at the gate. Using palm vein biometrics, Grocery RFID identifies customers who have registered in advance. Next, while RFID tags attached to the items in the cart are being scanned, the system crosschecks the customer ID, customer's account, and items to be purchased. The entire process takes just seconds, after which the gate opens and shopping is complete. Shopping with biometric authentication eliminates the need for traditional payment methods, including cash, credit cards, and QR code smartphone systems, essentially achieving "walk-through shopping."
Preventing Self-checkout Fraud with Image Processing Technology
In the retail sector, self-checkout (SCO) is spreading in order to shorten queues at cash registers. However, SCO is accompanied by the risk of fraud due to criminals who switch barcode labels on expensive items with those of lower-priced goods, which is a critical weakness for conventional barcode-scanning SCO.
AI Loss Prevention helps guard against this type of SCO fraud. AI Loss Prevention crosschecks the items being purchased using product image recognition to match the item with its barcode. If the system detects an improper barcode, it halts the payment process and alerts a staff member.
SCO Age Verification is another image recognition technology that employs face recognition authentication to verify the customer's age when purchasing alcoholic beverages.
Face recognition technology has advanced to the stage that it can detect a person's age with considerable accuracy. The system crosschecks the customer's age with the items about to be purchased and, if it determines that the customer is (possibly) under the legal drinking age, it alerts a staff member. To make a final judgement, the staff member then checks the customer's ID at the checkout gate or checks the customer's image remotely.
Versatile Alerts for Staff Members
The aforementioned alert features are part of Fujitsu's Taskforce solution, which integrates all in-store systems to inform staff members about which action to take now. Immediate alerts can reach staff members anywhere in the store, ensuring a rapid response and minimizing the time lost while away from one's regular job duties.
Taskforce is powered by a unique communication platform. Linking SOC, POS, ERP, Work Management, BPM, and other systems, it directs alerts to various types of devices, including smartphones, tablets, and wearables. In addition to preventing fraud and verifying age, alerts can be used to report running out of stock, price checks, cash register queues, and fitting-room requests.
Using RFID to Achieve Safe, Secure SCO
Self-Checkout with RFID ensures safe, secure SCO when using RFID tags with various products. Until now, when a customer put multiple clothing items into a shopping cart, each item had to be scanned separately at an SCO kiosk. Self-Checkout with RFID can scan all shopping cart items simultaneously and instantly.
Fujitsu has also developed a flexible, washable linen RFID tag that can be attached to garments. As it can be embedded in small articles of clothing or bed linens, this linen tag does not affect the wearability of fashionable items and it ensures that all items are scanned reliably. Various technologies such as these are combined to create new shopping styles in retail.
Stress-Free Try-Ons
Smart Fitting Room makes use of technology to provide new try-on and shopping experiences.
Before entering the fitting room, a customer first scans the item he or she wants to try on. Once inside, a touchscreen mirror displays the item. When the customer wants to try different colors or sizes, he or she can press the image on the mirror to alert a staff member.
The staff alert feature is provided by the aforementioned Taskforce. A request is sent to staff members' smartwatches wherever they are. Then, a staff member can quickly bring other items to try on to the fitting room, thereby shortening the customer's waiting time.
When finished, touching the item's image in the mirror displays the purchase price. Combined with palm vein authentication for self-checkout, walk-through shopping is completed instantly.
Reducing Downtime with AI
Intelligent Engineering is an AI-enabled service platform designed to prevent system downtime.
Traditional IT support is usually deployed after problems emerge. This results in system downtime that negatively impacts revenue streams and reputation. Intelligent Engineering utilizes AI to analyze hardware and software data sets in the system to predict with high accuracy when and where problems are likely to occur. Proactive support based on such predictions can reduce system downtime.
Should a system go down, the solution also provides the IT team with technologies to quickly bring it back online. For example, the augmented reality (AR) self-fix toolset enables IT staff members to determine where to check and how to fix problems by holding a tablet with an AR function over the malfunctioning hardware.
Many booths at NRF 2019 showed how new technologies are transforming retail storefronts, enabling us to preview the future of brick-and-mortar stores as well as the new shopping experience created by retail tech.
Author Profiles
Tetsushi Hayashi
Clean Tech Laboratory Chief Research Officer
Mr. Hayashi joined Nikkei BP after graduating from the School of Engineering at Tohoku University in 1985. As a reporter and the editor-in-chief for the outlets such as "Nikkei Datapro," "Nikkei Communications," and "Nikkei Network," he has covered stories and contributed articles on topics encompassing cutting-edge communications/data processing technologies, as well as standardization/productization trends. He consecutively held the post of chief editor for "Nikkei BYTE" from 2002, "Nikkei Network" from 2005, and "Nikkei Communications" from 2007. In January 2014, he became the Chief Director of Overseas Operations after acting as the publisher for magazines including "ITpro," "Nikkei Systems," "Tech-On!," "Nikkei Electronics," "Nikkei Monozukuri," and "Nikkei Automotive." He has served at his present post since September 2015. Beginning August 2016, Mr. Hayashi has been writing a regular column, "Creating the Future with Automated Driving," in The Nikkei Digital Edition. Furthermore, he published the "Overview of International Automated Driving Development Projects" in December 2016 and the "Overview of International Automated Driving/Connected Cars Development" in December 2017. Mr. Hayashi has also been a judge for the CEATEC Award since 2011.
Noriko Takiguchi
Ms. Takiguchi is a freelance editor and journalist based in Silicon Valley. She covers a broad range of topics in technology, business, politics, international relations, design, and architecture. She is also an expert on robotics development trends in Silicon Valley and elsewhere in the U.S., and she runs a website, robonews.net, to distribute robotics information. She has authored several books, including "Why Silicon Valley Does Not Separate Trash," President Inc., "Activism: Rem Koolhaas Document," TOTO Publishing, "Japanese Architect: Observation Notes of Toyoo Ito," Chikuma Bunko, and she has translated "The Quest for Common Ground Between Humans and Robots (by John Markoff)," Nikkei BP and "Bringing Design to Software (by Terry Winograd)," Pearson Education, among others. She graduated from the Department of German Studies, Faculty of Foreign Studies, Sophia University. She was a Fulbright Scholarship recipient (1996-98) and visiting scholar at the Department of Computer Science, Stanford University (journalist program).