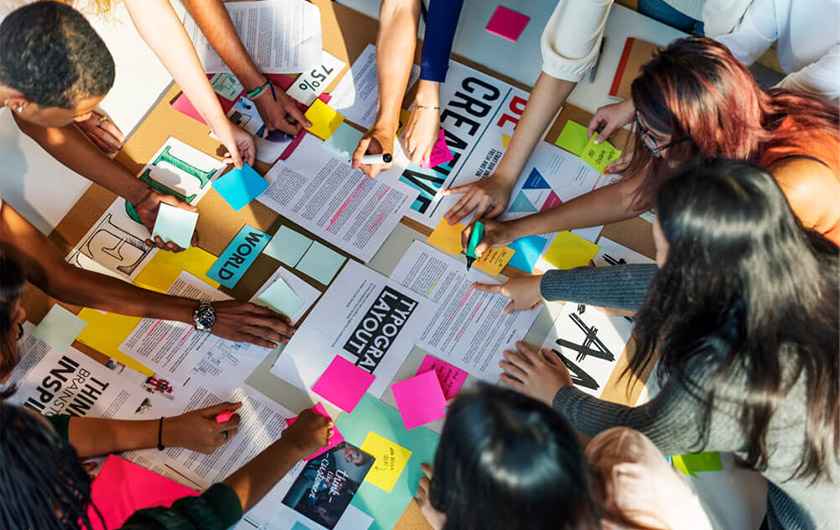 In recent years, an increasing number of companies have adopted what is known as the design approach to pursue innovation within themselves and with other companies. In the Fujitsu Insight 2018 seminar entitled "Applying Innovation and the Design Approach," practical methods for adopting this design approach were introduced through case studies of Kawasaki Heavy Industries and Ajinomoto.
[Fujitsu Insight 2018 AI/IoT Seminar Report]
Kawasaki Heavy Industries Case Study: Design Approach as an "Excitement Sharing Tool"
The first presenter was Mr. Ryo Sakai of the Aerospace Systems Company of Kawasaki Heavy Industries (Manufacturing System Group, Manufacturing Planning Department, Manufacturing Division). The company has the following mission: "As Global Kawasaki, contribute to enriching the lifestyles of people around the world and the future of the environment."
Kawasaki Heavy Industries is a comprehensive heavy industrial manufacturer that includes six companies: the Ship & Offshore Structure Company, the Rolling Stock Company, the Aerospace Systems Company, the Energy System & Plant Engineering Company, the Motorcycle & Engine Company, and the Precision Machinery & Robot Company. Under the Smart Factory Project (Smart-K Project), the Aerospace Systems Company is currently aiming to utilize IoT to build smart factories to optimize all of aerospace manufacturing sites.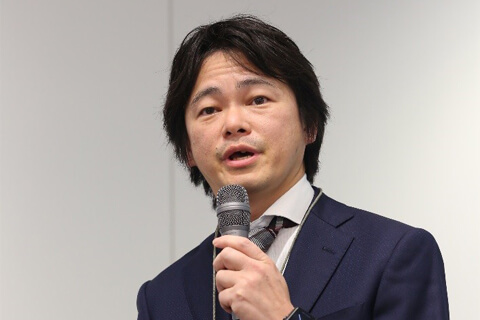 Ryo Sakai
Manager
Manufacturing System Group, Manufacturing Planning Department, Manufacturing Division
Aerospace Systems Company
Kawasaki Heavy Industries, Ltd.
This project was launched because of concerns that for many years we have depended on paper and veteran personnel in tasks such as communication and management of information within factories as well as data collection and analysis. The Smart-K Project started as an effort to address the need for a breakthrough to further improve quality management and productivity by focusing on digitization.
Various efforts are being made under the Smart-K Project. One is to use mobile tools to introduce "electronic task instruction and record documents." By structuring a method to communicate design and technical information including change logs, as well as the ability to record detailed results and manage information, this tool has helped eliminate our dependence on paper. It also visualizes the state of progress and manufacturing processes in each division in real time based on the collected record data. We are also accelerating control and decision-making to optimize entire factories.
However, trying to get everyone to understand the whole project was very difficult. For people on the factory floor, seeing terms like "smart factory," "IoT," and "innovation" in a proposal document did not conjure up a clear image, and they were unclear about how they would be impacted. One of the company's slogans is "Changing forward." A crucial component in advancing this project was to ensure that everyone involved understood the importance of change, and to check how well defined and widely shared such understanding was.
This was where Fujitsu's UX (user experience) design approach helped us. Under this approach, everyone involved is first asked to conceptualize the ideal future, and then they organize ideas to formulate specific measures while assessing how to use specific technologies.
How do factories look when they are made smarter? What benefits do these changes bring? Together with the people from Fujitsu, we talked to the people on factory floors and worked to create a single visual representation of what the factory should look like. Regarding the aforementioned mobile tools, we clarified each user's experience and created a wireframe that showed what kind of experience the on-site personnel wanted and the results that would satisfy them. We also participated in Fujitsu's "Optimization of Entire Factories" workshop held at the Fujitsu Digital Transformation Center. There, we saw some cutting-edge solutions such as how sensor information can be visualized, and we considered various departmental collaborations using digital technology.
As a result, we could share a specific mental image of the changes that each individual will experience, such as how building a smart factory would help visualize each project's progress state, various KPIs, and the actual physical flow of things in real time.
Sharing these kinds of user experiences makes the impact on on-site personnel more apparent. This enables them to get excited about the changes, and this sense of excitement is a major benefit of the design approach. We truly feel that this is a very effective approach when trying to change or advance something.
Some people may hesitate when they hear about innovation. However, it is actually not as difficult or daunting as it may seem. You can summarize the design approach as a type of tool for sharing excitement among people working at a company. If you are going to change something, you should enjoy that process. I consider the design approach to be a tool that helps you visualize the process in specific ways. This experience can then be leveraged to develop the next system and onward into the future.
Ajinomoto: Achieving Open Innovation in a Co-creation Space
The presenter following Mr. Sakai of Kawasaki Heavy Industries was Dr. Yasuyoshi Miyachi, deputy general manager of the Ajinomoto Research Institute for Bioscience Products & Fine Chemicals and chief of the Value Creation Group. He introduced Ajinomoto's open innovation initiatives that utilize their innovation center and digital workshops.
Ajinomoto operates in two fields: the food products business and the AminoScience business. These businesses are based on leading-edge bioscience and fine chemical technologies; technologies centered on manufacturing are the core that supports our businesses. In our company, we refer to open innovation as "open and linked innovation," and we consider it to be one effective method of growing our business.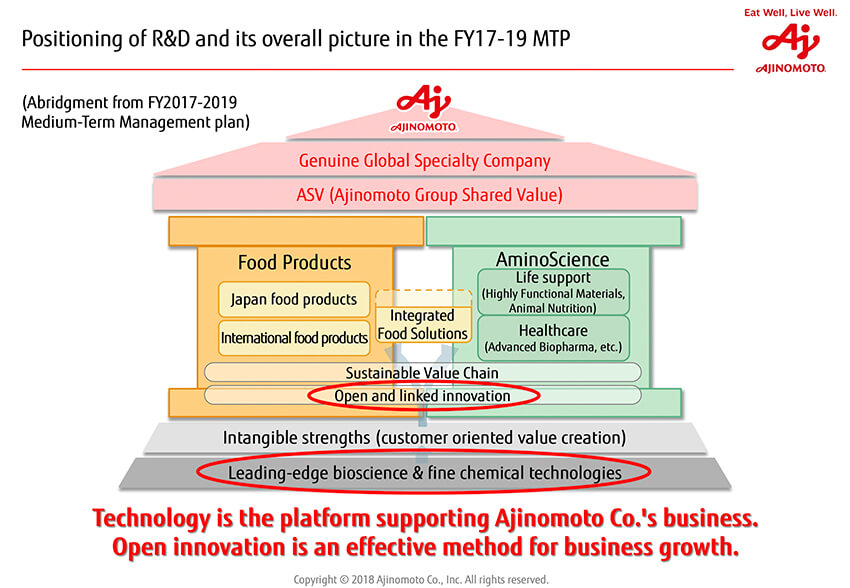 Overall picture of Ajinomoto's business, including open innovation
Collaborative corporative projects are the kind of open innovation we want to achieve. In such projects, we aim to work with clients and partner companies to combine diverse strength of each other to create new value and to build businesses that contribute to solve social issues.
As one such effort, we established a value creation group in the institute four years ago that aims to achieve open and linked innovation. This involves researchers visiting clients to match each other's technologies and needs in order to create new value.
To accelerate this initiative, in June 2018 we built the Client Innovation Center (CIC) in Kawasaki, Kanagawa Prefecture as a center for promoting open innovation. This is a space for co-creating new value through encounters and connections between people, technologies, and expertise based on the concept of how neurons interact. We engage in activities at our Kawasaki Plant under our ASV (Ajinomoto Group Shared Value: Ajinomoto version CSV) mindset, where 1,000 of the Ajinomoto Group's 1,700 researchers currently work.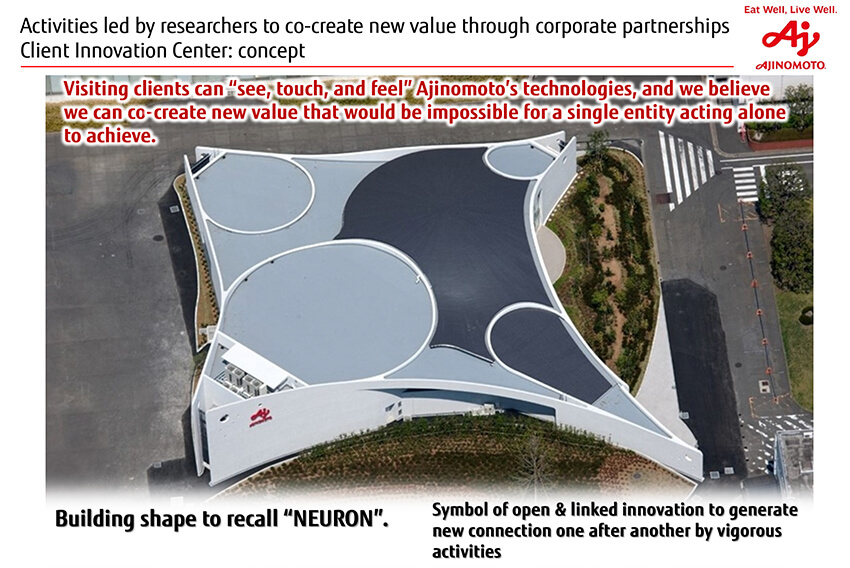 The concept behind CIC is to guide business partners in taking an empathetic approach to Ajinomoto Group's co-creation activities, and to give them the opportunity to experience our technologies, which are the key to value creation. It also serves to encourage each of us to pool our expertise and to expand networks.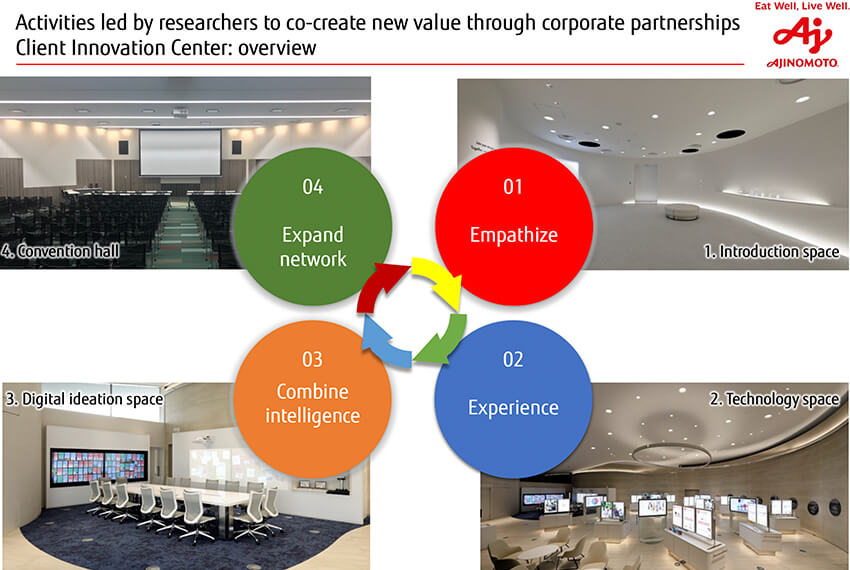 To encourage visitors to empathize with this approach and to enable them to experience the technologies we have cultivated, the facility contains 37 exhibits of core technologies in 14 categories based on three themes: "Health and Well-being," "Living with Society and the Earth," and "Comfortable Lifestyle."
Moreover, we hold digital workshops that use Web Core Innovation Suite (WCIS), Fujitsu's platform for supporting co-creation activities. Harnessing the design approach methodology, we aim to make this a place that inspires visitors with the possibilities of creating something new by pooling their expertise.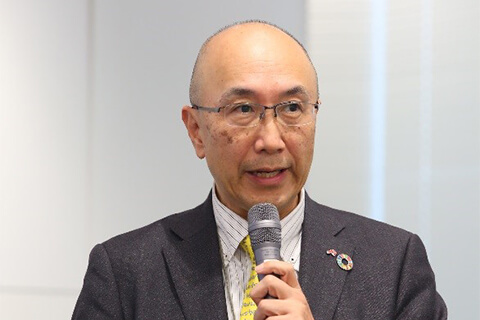 Dr. Yasuyoshi Miyachi
Deputy General Manager, Research Institute for Bioscience Products & Fine Chemicals
Chief, Value Creation Group
Ajinomoto Co., Inc.
We have also built a 400-person-capacity convention hall as a place to expand networks for open and linked innovation. We are integrating the technologies of our company and those of our partners while engaging in co-creation of new businesses aiming to create new value and to solve social issues while perpetuating a cycle of empathy, experience, pooling expertise, and expanding networks.
To facilitate collaboration at workshops, we employ the design approach by which participants envision the ideal future and then start applying realistic solutions to achieve such a future. We repeat the process of splitting up, bringing together, and assessing ideas by utilizing digital tools such as "inspiration cards," which encourage participants to form new ideas. Then, we draw out realizations from the participants and start creating new value. We believe that this process is the core of the design approach.
Dr. Noboru Konno, who is known as the leading figure on design thinking in Japan, speaks about the "law of gravity"* that constrains innovation. He has explained that to escape this "gravity" and achieve innovation, redesigning the space in which you work is extremely crucial. We believe that our activities and the facility that I have introduced are part of our efforts to create spaces to enable Ajinomoto Group's innovation to emerge.
While building the CIC, we had the opportunity to collaborate with Fujitsu in using the design approach to create co-creation spaces, to plan workshops, and to develop human resources. We hope to continue working with Fujitsu to make the CIC a valuable facility for our clients.
*: Excerpt from Design Thinking for Business (by Noboru Konno)
The Design Approach in Cities and Daily Living: Fujitsu's Efforts
The seminar's final presenter was Akari Maejima, a UX/UI designer in the Service and Platform Design Group of Fujitsu Design. She is in charge of service design for various industries and businesses from a human-centric total design perspective, and her focus is urban development and facility construction. She explained how the design approach applies to cities and daily living.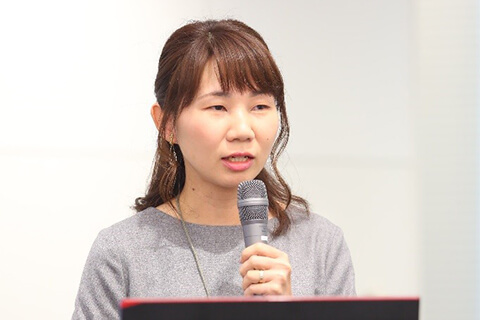 Akari Maejima
UX/UI Designer
Service and Platform Design Group
Fujitsu Design Limited
Today, the tide of digitization is tearing down conventional business norms and dramatically transforming business structures around the world. This game-changing innovation is propelling the arrival of an age of unpredictable global VUCA**. Moreover, the Japanese government aims to achieve a human-centric society called "Society 5.0," which achieves both economic development and resolution of social issues through a complicated system that integrates cyberspace with the physical world.
Against the backdrop of this social state of affairs, we at Fujitsu have noticed a change in recent years in the kind of requests clients make. In the past, most requests centered around building something, such as a system, or solving a problem, but recently there has been a dramatic increase in the number of requests that are concept-oriented and creative, such as plans for futuristic housing complexes and leveraged use of urban data.
To respond to these needs, Fujitsu offers a unique, future creation approach we call Fujitsu Human-Centric Experience Design (HXD) to support our customers in the digital transformation of their businesses. HXD is a design method for forming new business paths by conceptualizing all design elements related to a better future experience for customers in a comprehensive, consistent manner. This method has four characteristics and delivers three kinds of value.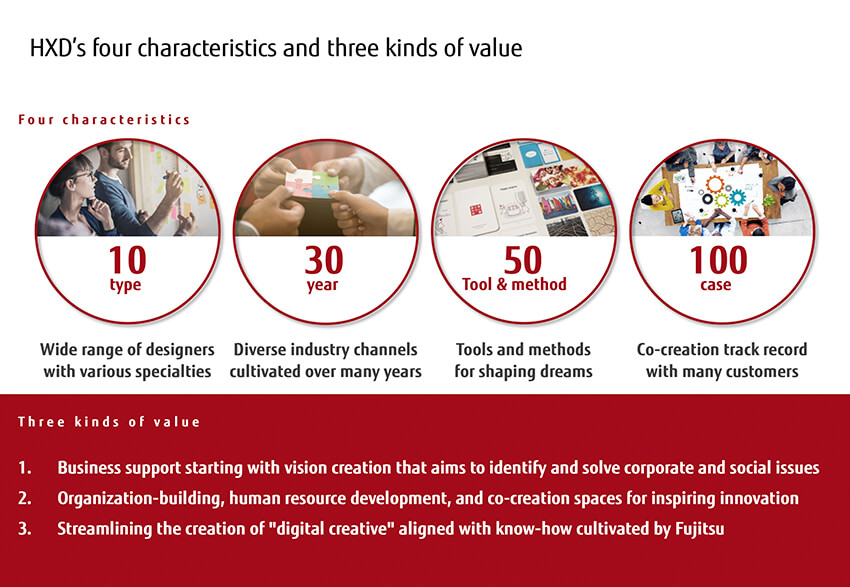 I will introduce this process concretely. The process of advancing a new business involves three steps: formulating a vision, developing a concept, and verifying the business. What is crucial here is to envision the ideal future based on human experience and behavioral principles by pursuing human-centric design, which involves understanding people, society, and technology.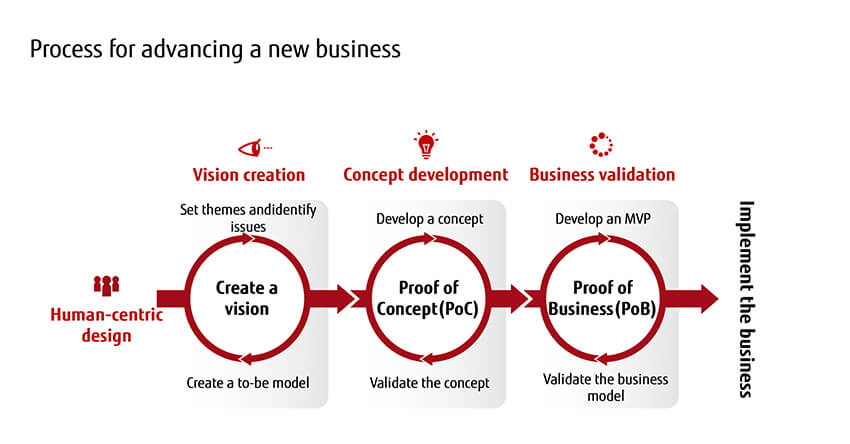 The innovation approach for forming a future path involves a process of correcting the current course by valuing research and providing input, and then forming measures based on the envisioned future.
There are three approaches to vision formulation. First is research, which is a way of knowing the present. This is done by first discussing with the customer about what you want to achieve with the project, and then setting goals and objectives. For example, if the goal is to build futuristic housing complexes, we do fieldwork in the town and interview residents.
Next, we formulate a theory about the ideal future based on the research, and then start coming up with various ideas through co-creation based on our theory. From there, we create a concept for the future, and then formulate a platform and business that defines the course in terms of the framework in which these ideas will take form as well as how to proceed in relation to our partners.
I would like to introduce three case studies that have employed this HXD approach. The first is the "grand concept and collection of ideas for urban planning and facility construction." We began by examining the success story of the Futako Tamagawa redevelopment district, and we walked around the town to elucidate the town's assets. Then, we examined the town from various perspectives of people involved with the town, including those who had previously lived there as well as new residents, and surfaced some of their issues and desires.
Next, we invited people from the design office to participate in discussions and gather ideas through workshops. We ended up with about 500 ideas, and we built five concepts as brand concepts that were consistent with those ideas, which we consolidated into future ideas that can be achieved with technology.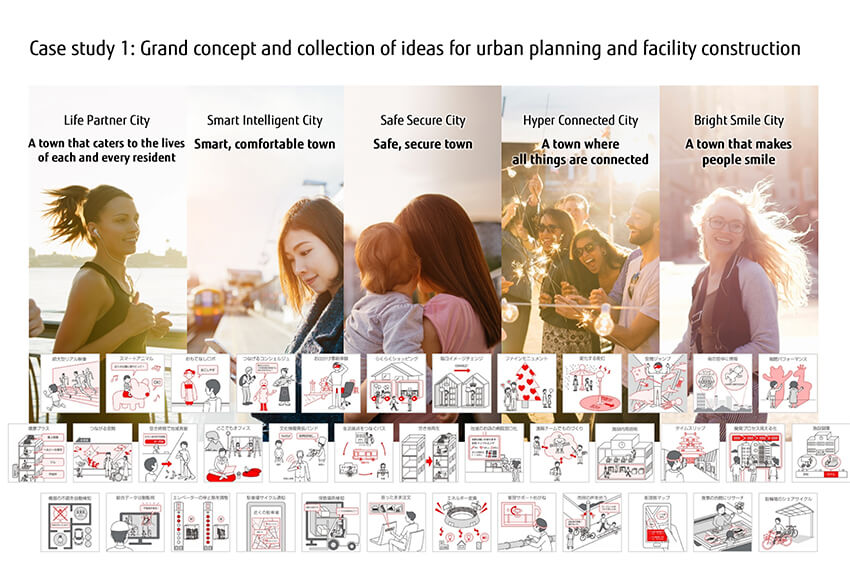 The second case study concerns the development of a futuristic housing complex. We created a prototype while conducting workshops in a town overseas that is successfully re-envisioning the future of living. What came out of that was the idea of the "entire housing complex as a single home." We built a concept in which an entire condominium becomes a home by pursuing comfort and efficiency as well as by forging relationships with other parties. This project is being advanced by holding exhibitions and listening to our customers.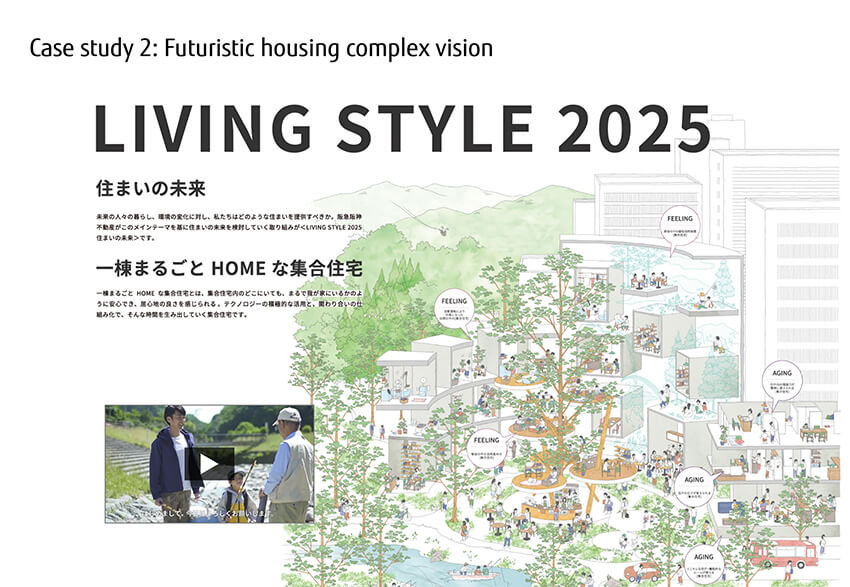 The third case study is about projects related to the mobility industry, which has been a major topic in recent years. These efforts include future visions and service development that combines mobility with another element, such as "mobility × healthcare."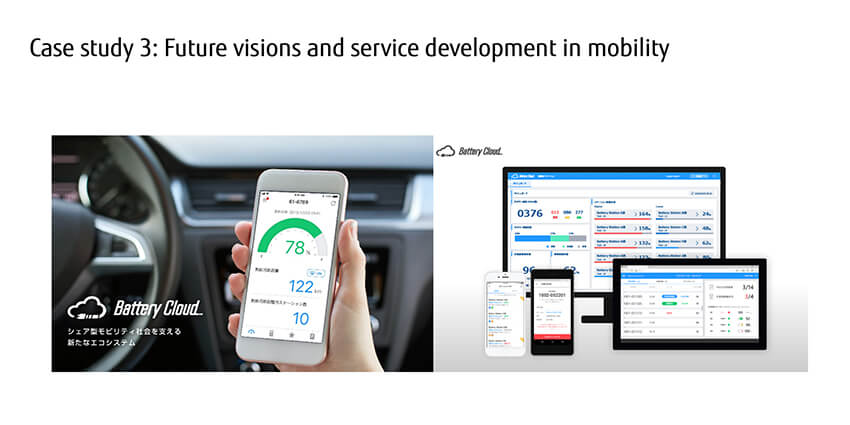 Finally, I would like to talk about the "relationship between the social and design." For example, when thinking about futuristic housing complexes, it is crucial to think about the people who will live in them and the surrounding space. However, by widening this definition and looking at the concept from the outside, we can create a new definition of housing complexes. The visions born in that process are realized through collaboration with other industries, and such services can potentially be redeveloped for other industries. I believe that future urban development projects born out of such visions will lead to the creation of new culture.
**: VUCA: An acronym consisting of the words Volatility, Uncertainty, Complexity, and Ambiguity.
As I have introduced, an increasing number of companies are adopting the design approach to pursue innovation. This concept has a wide-ranging scope and can apply to efforts within companies, between companies, and to society; a diverse set of achievement methods are available. Through Fujitsu Human-Centric Experience Design (HXD), Fujitsu's unique design method, we support people, organizations, and society in achieving their visions by utilizing technology and leading them to success in digital innovation.
Presenters: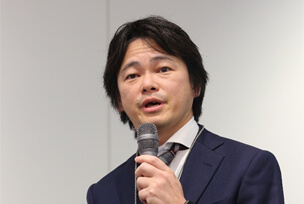 Ryo Sakai
Manager
Manufacturing System Group, Manufacturing Planning Department, Manufacturing Division
Aerospace Systems Company
Kawasaki Heavy Industries, Ltd.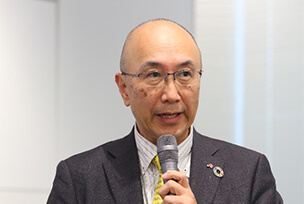 Dr. Miyachi Yasuyoshi
Deputy General Manager, Research Institute for Bioscience Products & Fine Chemicals
Chief, Value Creation Group
Ajinomoto Co., Inc.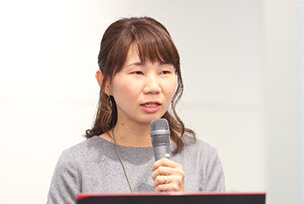 Akari Maejima
UX/UI Designer
Service and Platform Design Group
Fujitsu Design Limited