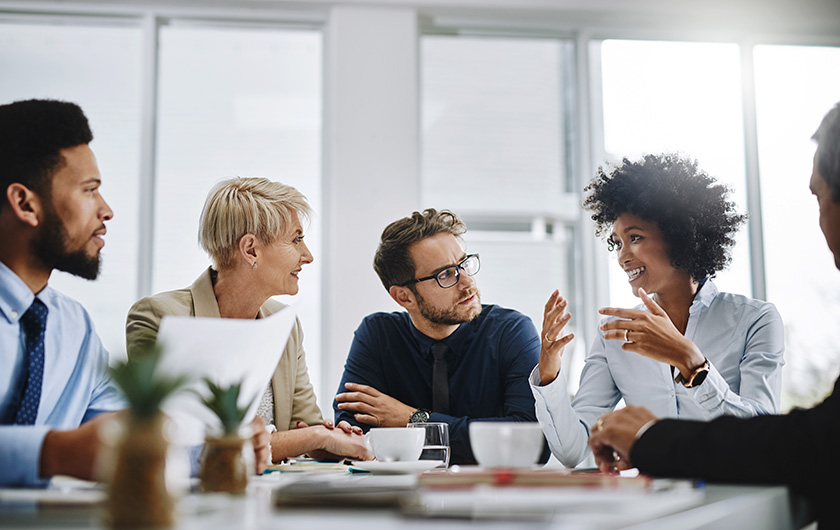 Martin Smithen, Head of Offerings and Capability, Digital Workplace Services EMEIA at Fujitsu explains why automation is driving greater productivity in the workplace.
In the workplace, "whatever can be automated is getting automated", according to a new Digital Workplace of the Future report from analyst firm ISG. That's due to businesses taking advantage of technology's ability to take on mundane tasks, enabling people to focus on more value-added work.
Even though service desk professionals like me are able to highlight the inexorable pace of change that is transforming our industry, as a regular employee, you'd be forgiven for not noticing this automation. Slowly and surely, we are making technology problems disappear – and the IT service desk is becoming invisible as a result.
Although it's automation that is to thank for much of the progress we've made so far, as the ISG report makes clear, making IT easier to use – and resolving problems faster and more efficiently when they occur – isn't what's driving automation forwards. It's much more about creating the ideal working environment, focusing on the overall experience that people get from using technology, using automation and other service desk technologies to enhance this.
In the old days, everything IT service desk-related started in the same way – you dialed the IT service desk number. Your call was routed to a call center, but before you'd get any advice, you needed to go through the ritual of providing your cost center, location and other related details. Then you'd try and describe your problem. In many cases, something as simple as just restarting your computer would clear the problem.
For example, think about connecting to a network printer in the office. For a regular user, this used to be somewhat of an ordeal. Not only did you need to find out which printers on your network were in the same location – it's not unheard of for people to mistakenly print tens of pages on printers in offices hundreds of miles away – but also you needed to connect your PC to that printer, and in many cases, install a driver – and to do this, you needed elevated administrator privileges. As a result, a seemingly simple process could easily turn into a 15-20-minute process, culminating in a frustrated call to the service desk.
Those days are long gone, and hooray for that. Although you probably haven't noticed, many everyday computer problems are also solved: Many of them in the background, detected and fixed without you even noticing. This doesn't just apply to your desktop PC or laptop; for example, we're supporting a Spanish financial services company that is using proactive problem tracking and solving to keep its network of ATM cash machines up and running.
Although you would be forgiven for not noticing, today it's probably easier to print to a local device than ever – because, in the background, service desk processes have detected that an employee is visiting a new office location, and have then connected to printers on the same floor, and already installed the required drivers. When the user eventually wants to print, it's a simple and trouble-free process. And it's one less call to the service desk.
That's why we no longer focus on tracking service desk performance by the old metrics, such as the percentage of issues resolved in the first call, or even the number of rings before the call was answered. As support moves more into the background, we are focusing on soft factors, like driving behavioral change. The endgame for us is to increase productivity, through delivering effective, proactive service desk support to employees. We want people to feel positive about using technology – and we're constantly trying to use automation to provide a better, more rewarding experience. We see the process of connecting services in the background as part of delivering a new experience, in terms of providing the behind-the-scenes support so that people get a seamless working experience throughout their working day.
As the ISG report highlights, no two businesses are alike – they are digitalizing at different paces and in different ways. ISG goes on to classify enterprises into five broad categories, grouped by their behavior when it comes to enterprise workplace transformation, then to identify vendors whose solutions are best placed to help customers fitting in each category. We're proud to have been recognized as leaders in four of these five categories, in terms of our ability to comprehensively meet customer needs, and we were highly rated in the fifth!
Simply because every business is different, we don't offer a one-size-fits-all solution, nor do we think there any benefit in having a "big bang" where employees are switched over to new service desk processes. What's more, we also encourage our customers not to track the effectiveness of service desk on a per incident or per call basis – because there will always be people who are still more comfortable picking up the phone and explaining their problem to another person. Instead, we focus on outcomes, and on helping enhance overall productivity.
This starts with the consumerization approach – where we're giving users the ability to choose their workplace services just as easily as they order from an online store. Just pick the tools and apps you need – and they're instantly available: no more waiting so long to receive a piece of shrink-wrapped software that you've forgotten what you needed it for in the first place. The whole concept is about removing any barriers that are holding people back from doing their best work.
So if that means you have a handful of users who still feel more at home dialing the service desk, then there's no need to make their lives more difficult by forcing them to use a different solution – but it's there if they need it – and one day, they will also give it a try. We are seeing the growing adoption of our Social Command Center – our next generation service desk. Users like just being able to ask questions, in natural language, and are being delighted by the answers. The surge in popularity for this self-help service is in part due to the Social Command Center's high success rates in solving problems, and also because it uses a natural language interface. Today, the Fujitsu Social Command Centre can tackle and resolve increasingly-complex IT problems, and take automated steps towards solving IT problems – for example, in archiving data to free up space on a hard drive that's running out of space, or in running automated programs to clear out the clutter, helping speed up a PC that's started to slow down. We tend to find that once users have given it a try, they're hooked – because it's so intuitive and hassle-free.
Fujitsu's consistently-strong overall ranking from ISG highlights how much progress we've made. We've done this through listening to our customers and responding accordingly. We've rolled up our sleeves and focused on providing the enhanced services that allow people to connect and collaborate and work together, and it's paying off.
Our deep technical understanding is supplemented by select solutions from strategic partners in addition to the latest thinking from academia – via a growing global network of dedicated Centers of Excellence. Here, we are accelerating the adoption of key technologies such as artificial intelligence and robotic process automation into our customers' portfolios. Fujitsu's unrivalled global systems integration expertise means we are well placed to help customers navigate the complexity of these complex workplace transformations, bringing all the pieces together to create environments that work harder.
Even though we are very proud of the progress we have made, there is of course more to do. As our customers and their employees needs evolve, so do our offerings. We're constantly finding new ways to bring advanced technologies into the workplace to enable business to reap the benefits of a connected, collaborative and innovative workplace environment. If you'd like to know more, click HERE.