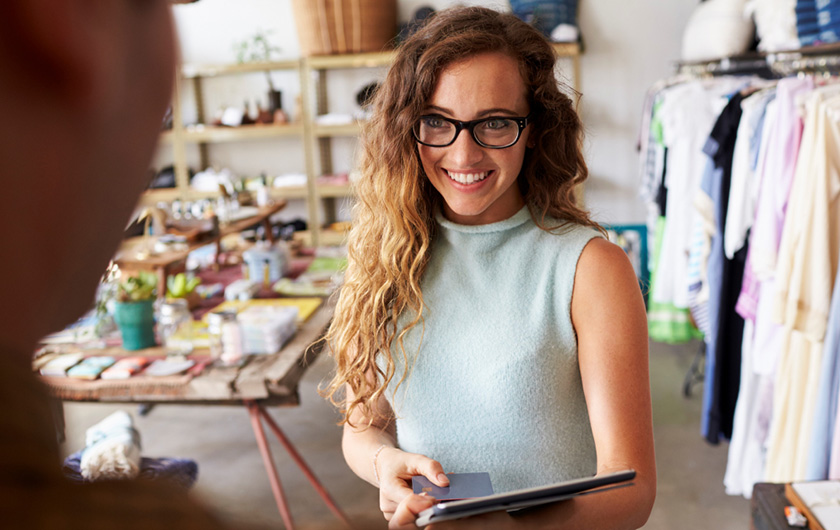 Retail is a risky business at the best of times, but today's volatile landscape is making it even harder than usual.
Customer service and experience is down, leading to reduced sales and challenging market conditions. Additionally, store running costs are increasing, with the fall in sales adding to this further.
And as a consequence of this (or perhaps even a cause) staff turnover is increasing. 11% of vacancies within the UK employment market sit within retail. That's 94,000 of 840,000 vacancies according to the ONS.
The role of the store is also changing. As the majority of retail traffic is driven online, customers are looking to the shop floor to provide a new experience – something that will delight and surprise.
In this climate, retailers need to look at how they can leverage one of their largest costs, into one of their greatest assets…
For most retailers, this will mean turning their whole organisational model upside down. In this blog, I'm going to explain how you can bring about this change in your business – and why it matters.
Your frontline may know best
To explain why retailers should be enabling their sales associates, I'm going to ask two questions.
Q: Who makes decisions in most retail businesses?
A: The head office.
Q: Who is closest to the customer in most retail businesses?
A: The sales associates.
I don't think this makes much sense. The sales associates are on the frontline, communicating with the customer every day- they're the ones who are in the perfect position to spot trends as they emerge because they have access to all the relevant information.
Take the rise of veganism as an example. The demand for vegan products has been building for some time, but most big retailers were slow to notice it. If they'd spoken to one of their store associates, I bet they would have learned that customers were asking for plant-based products constantly.
The world is moving very quickly, and it's too hard for the head office – who are far away from the front line – to keep up. To stay ahead of the curve, and your competitors, you need to utilise the part of your workforce that is best able to spot trends.
Another advantage of moving decision making to the store is the wisdom of crowds. In a store you have hundreds and thousands of people all testing ideas in parallel – say thirty stores all try out a new denim jacket. This means there are thirty opportunities to test the decision, and for people to find a better solution if there is one.
If just one group is handling the decision making, you lose this advantage. It's like the old saying: two heads are better than one. In this case, many stores are better than one head office.
Close the store associate to customer gap
Nowadays, the sales associate role has a reputation for being largely menial and dull.
When I speak to some sales associates, they tell me they run a building instead of servicing a consumer. They move stock about, build displays, run fitting rooms and open the shop floor.
Their customer interactions are not always prioritised, and they feel that their work is adding little value. This perception of low value manifests itself in low engagement – which then results in high churn.
We should reverse this trend, bringing your store associates to the front of the customer chain where they can collect information on trends to send back to HQ.
In this way, the sales associates create change in the business, and their role transforms from store site colleague into customer advocate.
Empower the frontline
Empowering the retail employee in this way will create a new environment of trust and responsibility in-store. Seeing their own ideas reflected in the store will help them to take ownership of it.
And when the whole team feels invested in this way, the culture changes for the better.
It also requires a completely new skill set from retail employees. In fact, more than that, a new mindset. They need to be talented and enthusiastic sales people, interested in human interactions and helping people make the right decisions.
We're looking into technology that can help sales associates make this shift in mindset. It's called MIND-NAVIGATOR, and it focuses on developing accountability, productivity, and engagement in a store associate or manager by monitoring individual and team based incidents, and then asking for feedback on how the individual felt that they handled the situation.
Ultimately, inspiring this change is really important, since consumer trust in most brands is really deteriorating. To combat this, you need to have employees that can act as ambassadors for your brand.
Every store associate is an influencer, and this means they're incredibly powerful.
How technology can make a difference
The right tech can free employees from the mental stress of having to deal with administration and wasteful menial tasks. Automation, AI and IoT can save the sales associate from having to run the shop, instead of empowering them to focus on customer engagement and delivering an experience that adds value.
Similarly, tools like predictive maintenance and cash management can help to provide a connected, frictionless service. Incidents are recorded effectively, and follow-up processes can be automated so that cases are resolved in an efficient manner.
Fujitsu has developed this technology through our experience as a partner to some of the leading retail organisations. This experience, combined with our sound analysis of the sector, means we are well positioned to assist any retailer – large or small – revolutionise their business model with the store associate at the center.
Put employees at the heart of decisions
In order to operate within today's retail market, retailers need to empower their employees, bringing decision making back into the heart of the business.
The focus needs to shift to the front line so we can create brand-building store ambassadors, armed with an overview of their in-store performance and ready to generate demand-signals for where stock and services need to be established.
When there is a lack of an agile, regionally-led business model, the store fails. But when employees are enabled to perform at a high level and deliver the best experience to their customers, the store will succeed.
And not just succeed – it will triumph.