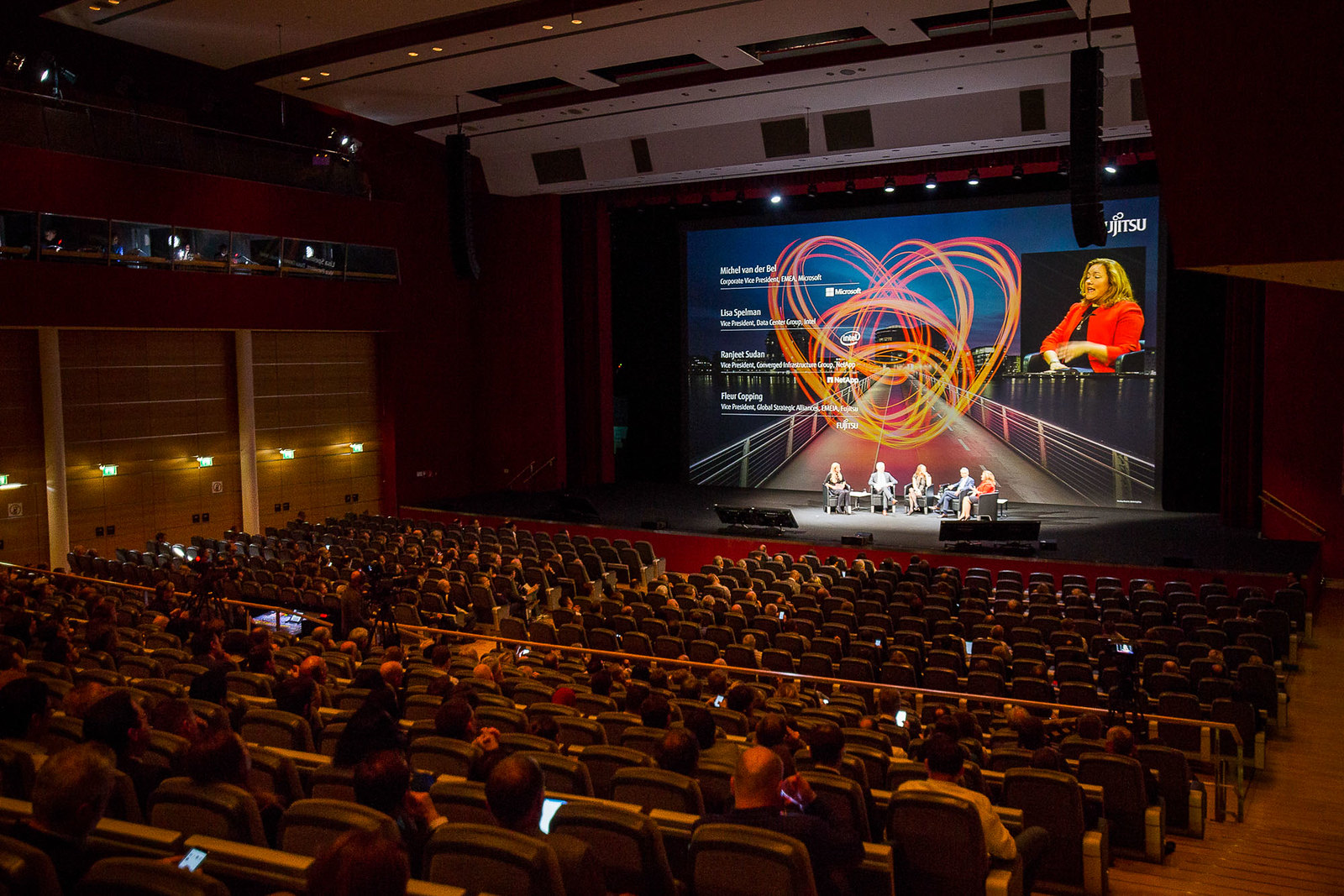 At Fujitsu Forum in Munich last November, the theme of change came through loud and clear.
Three quarters of business leaders (78%) say the ability to change will be critical to their success in the next three years, with this desire for transformation driven by the customer: seven in ten (71%) say that their customers expect them to be more innovative in the way they deliver services and work with them.
Because speed, flexibility and scale are all vital to success in the age of digital disruption, many businesses are now realizing the value of the cloud. Last year, we found that 89% of business leaders believe the cloud will be key to their financial success in the next decade, with the cloud market as a whole growing at an exceptional rate of 30% year on year.
The event provided a great opportunity to listen to and review recent customer cloud successes stories. While business leaders generally understand the value of cloud computing, the debate is now whether organizations should work with a single cloud provider across the board or simply choose the best platform for each workload and work with multiple providers.
In other words, is it better to single-cloud, or to multi-cloud?
This is a discussion that we're seeing unfold across technology providers, industry analysts and businesses, as we heard at Forum. Here is my view on why multi-cloud is best for businesses. In a follow-up post, I'll share some thoughts around best practice in how to design a cloud strategy for success.
The magic of the multi-cloud
It's crucial to remember that every organization's needs are unique and there is plenty to consider when you're looking at new cloud services. Cloud computing is far from an IT 'bolt-on'; it's directly linked to the operations and the future strategy of the business.
Depending on the organization, adopting the cloud might mean migration, transformation, hybrid IT or the deployment of new digital services – the possibilities are endless.
Creating a cloud solution that will suit an individual business' needs is at the heart of Fujitsu's co-creation approach – and that is why we're firm proponents of a multi-cloud, rather than a single vendor, approach. By partnering with our customers, we can find the best cloud balance to deliver the performance, flexibility and of course ease of use that they need.
To achieve this, we've strengthened our relationships with an outstanding ecosystem of partners, including Microsoft, VMware, Oracle, SAP and AWS – and there's more to come. If you'd like to hear more about how we work with our partner network, check out the Collaboration Economy keynote from Fujitsu Forum:
We have seen the advantages that this multi-cloud approach can bring in practice. At the Post Office in the UK, we helped to move mission-critical infrastructure to the cloud, including the point of sale (POS) system. At Lowell Credit Management, our work was about realizing significant cost-efficiencies to power growth. And at Securitas, our objective has been to work together to fundamentally disrupt how cyber-security is delivered worldwide.
The common factor uniting these organizations is a massive migration from the physical to the digital world. It's not just operational efficiency; every Euro saved can be re-invested into digital co-creation projects, to create whole new streams of revenue.
But with so many potential platforms, and a whole range of considerations, how can businesses design the best multi-cloud strategy for success? Let's look at a great example.
Bridgestone's road to the cloud
One company that has been on its own multi-cloud journey is tire and rubber manufacturer Bridgestone. Bart Kerhofs, Director of IT Operations, shared his experiences during a breakout session at Fujitsu Forum.
Bridgestone's transformation began in 2010, when the company decided to centralize its disparate IT operations into a standard service desk and security. Fujitsu and Bridgestone worked together and successfully consolidated the IT environment in Brussels.
With this critical streamlining completed, Bart then wanted to consider how technology could bring even more value to the business. Bridgestone as a business is evolving from a tire manufacturer to an automotive solutions provider and bringing products to market at speed will be critical.
It will also be important for Bridgestone's European business to collaborate closely with other geographies worldwide. Creating a flexible, cloud-based environment was key to the next stage of the company's global transformation.
A custom environment
Bridgestone and Fujitsu worked together to create a custom multi-cloud strategy, focusing on the company's ultimate business objectives. This meant bringing together elements from VMware, SAP and Microsoft. But ensuring that these platforms worked together in the right way was crucial. As Bart noted: "Putting the cloud up is the easy part; integrating it is incredibly tricky."
Our team at Fujitsu was able to act in complete partnership with Bridgestone, working effectively as part of the business. All platforms were integrated effectively from Brussels, and Fujitsu's ServiceNow workflow tool means the team can run services remotely. New tools like SAP HANA and Microsoft Office 365 have brought significant productivity improvements to the workplace, benefitting every employee.
As Bart explained, the transition has delivered significant business benefits. Moving to the cloud has already brought further operational efficiencies, with a rapid reduction in the traditional IT servers in use. Bridgestone is able to be a much more flexible partner to its customers, while internally the team can pursue rapid, agile projects to develop new solutions at speed.
While the business is still in the investment period, Bart is looking forward to near-term cost-savings and believes Bridgestone will significantly reduce its operating rate by 2019. Bridgestone is a great story of how a multi-cloud strategy, informed by the long-term business objectives, can deliver exceptional value.
Fujitsu Forum underlined that cloud technology can unlock incredible potential in a business. A multi-cloud approach can allow organizations to choose the best applications from every provider to create a powerful combination.
But deploying the cloud is the middle, rather than the end, of the digital transformation journey.
In the coming years, we'll see powerful advances in machine learning, the Internet of Things and edge processing, and it's crucial that businesses are ready to evolve further as new technologies become accessible.
By co-creating with a partner that understands your business, as well as your technology, needs, you can ensure that you have the flexible infrastructure to thrive in the further years of change ahead.
And if you'd like to read more on how you could transform through the power of co-creation, take a look at our article in the Cloud for Business Report, which provides guidance from Fujitsu and AWS on to get started.
You may also be interested in my follow-up blog on three guiding principles for multi-cloud success.