In December 2018, Lawson, a major convenience store chain, announced that it will expand the number of stores where it makes self-checkout with Lawson Smartphone Pay available to 1,000 by October 2019. The company's Lawson Smartphone Pay enables users to check out items in the store by themselves. Users identify the items to purchase by scanning the price bar codes and press the buy button on the smartphone app. They do not need to be in front of self-checkout registers, nor do they need to communicate with store staff members. Though this cashless payment solution can be considered to be a way of addressing the upcoming consumption tax hike in October 2019, the fact that a major convenience store chain developed an easy to use environment for self-checkout will also make self-checkout much more familiar to users.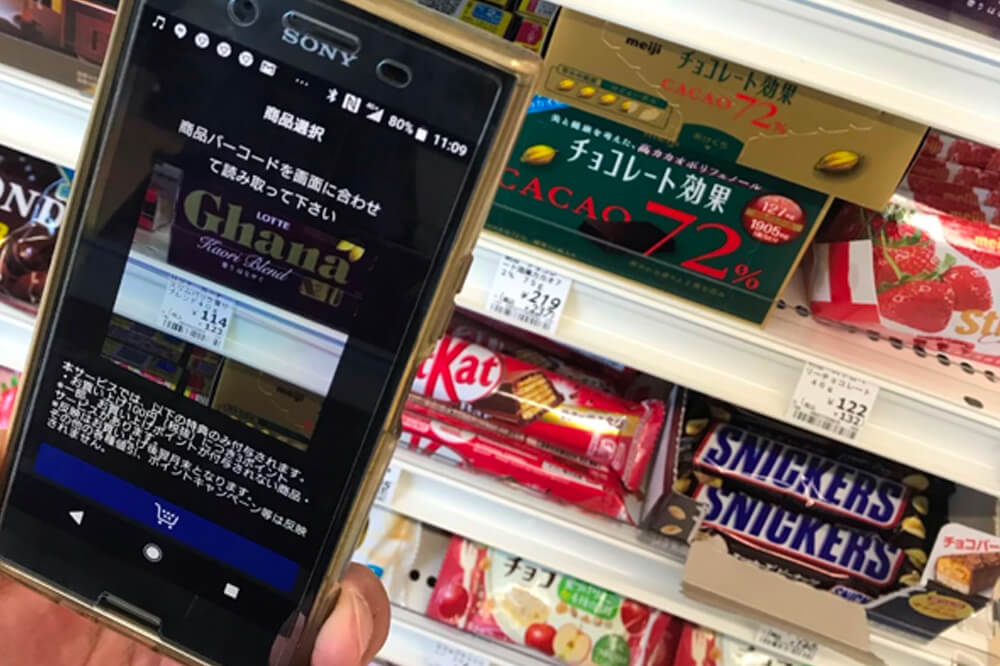 A customer using Lawson Smartphone Pay to self-checkout an item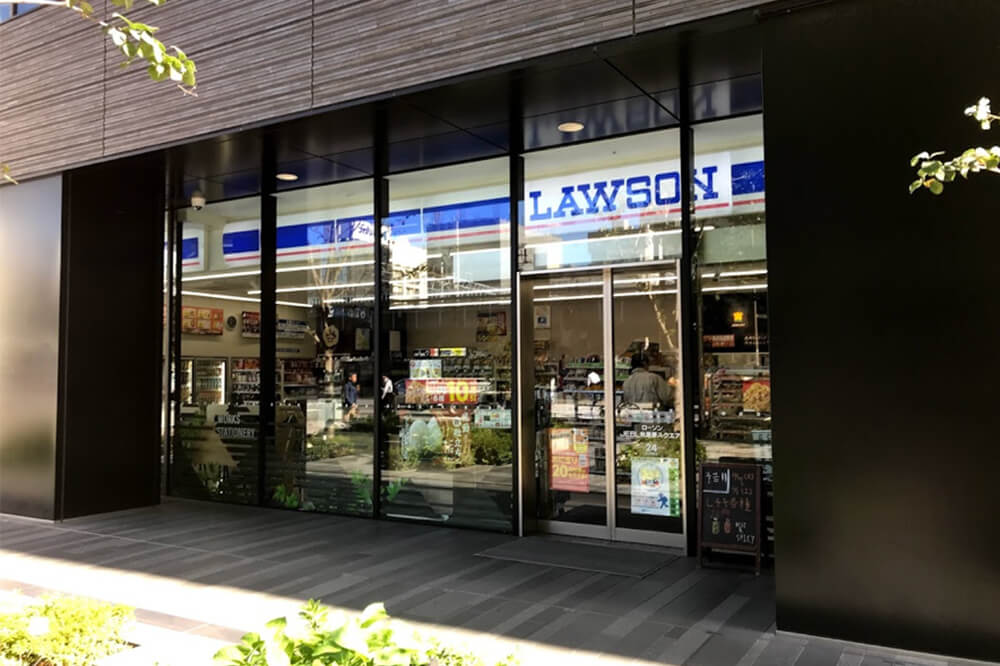 The Lawson JEBL Akihabara Square store, one of the Lawson demonstration stores for Lawson Smartphone Pay
Meanwhile in the US, Amazon.com, which was the first to devise a cashierless grocery store concept, has been accelerating the opening of "Amazon Go" stores. Starting from a store for general customers that opened in Seattle in January 2018, the company has established a total of nine cashierless grocery stores in 2018: four in Seattle, three in Chicago, and two in San Francisco. US-based Bloomberg reported that Amazon plans to open 10 more stores by the end of 2018. This report claims that the plan is to open 50 more stores in 2019 and 3,000 stores in total by 2021, and so far this pace is being maintained.
Amazon has also been actively deploying other types of brick-and-mortar stores, not just cashierless grocery stores. In addition to "Amazon 4-star" which sells products that have received four stars or more on Amazon.com, the company has opened over 100 brick-and-mortar stores, including bookstores and kiosks, across the US. Having acquired Whole Foods Market, a major supermarket chain with more than 400 stores, in August 2017, the company is technically not only a major e-commerce platform but also a major retailer.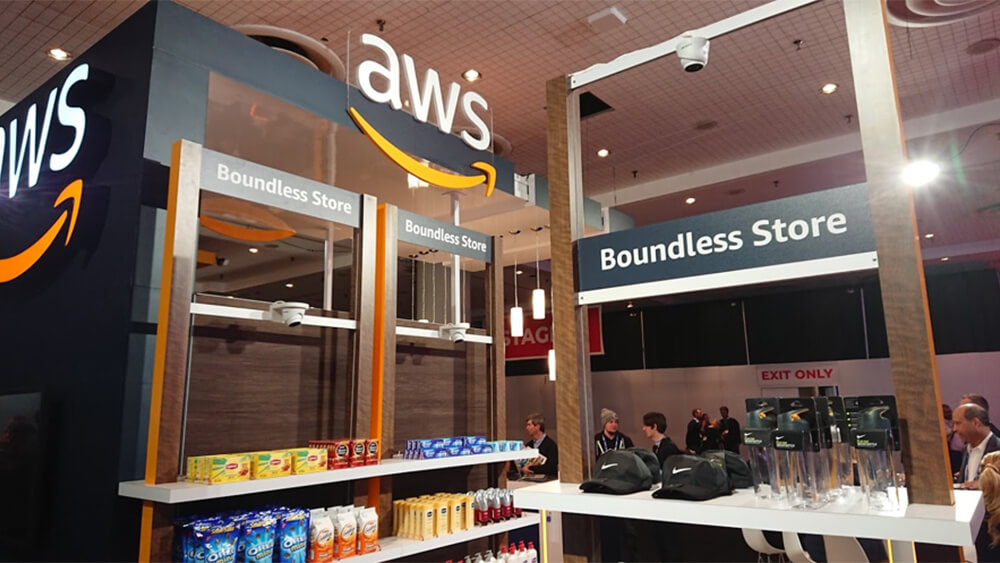 Amazon Web Services booth at NRF2019 held in New York in January 2019
Compared to online stores, the biggest frustration users feel with the purchasing process in brick-and-mortar stores is long checkout line waiting times. Brick-and-mortar stores can only process as many payments as there are cash registers at one time. If many users attempt to pay at once, long checkout lines form. They cannot pay for their items until everyone in front of them in the lines has finished paying. Both Lawson's smartphone app-based self-checkout and Amazon Go's checkout-free payment eliminate the problem brick-and-mortar stores face posed by checkout line waiting times. This is one direction brick-and-mortar stores should choose to pursue in the future.
Self-checkout via smartphone app has been realized by developing a dedicated smartphone app that supports bar code payment and bar code display in stores. Amazon Go's checkout-free payment has been realized (1) by using a dedicated smartphone app featuring a QR code payment function and (2) by developing a mechanism to identify as well as associate the items to purchase and purchasers in real-time through image recognition and AI processing via video taken inside the store. In this way, smartphone apps, image processing, AI, and other cutting-edge IT technologies are now used to add value to the purchasing experience on the retail floor. Such solutions that combine retail and technology are referred to as retail tech.
Amazon Go's checkout-free payment is called Grab-and Go and has become a typical example of the new purchasing experiences achieved by retail tech. However, Grab-and Go is not the only valuable purchasing experience created by retail tech. Let's examine the latest retail tech solutions as we report on the NRF2019 exhibition held in New York in January 2019.
Immediately Scanning Shopping Carts to Display the List of Items to Purchase
Achieving smart payments without waiting times at brick-and-mortar stores was a theme even at NRF2019, where Grab-and-Go and many other self-checkout solutions using smartphone apps were exhibited. Grab-and-Go is convenient for purchasing a small quantity of items, as in the case of shopping at convenience stores. But, when making bulk purchases at a large supermarket, users may want to confirm the items in their shopping carts at checkout. Also, paying using a smartphone app when one's hands are full is troublesome because users need to launch and operate an app. At NRF2019, Fujitsu exhibited Grocery RFID, a convenient, secure payment solution for resolving such problems.
Grocery RFID is a payment solution that combines RFID tags and palm vein authentication. With this technology, a user brings a shopping cart to the payment gate and confirms the items to purchase before placing his or her palm on a sensor to make payment. More specifically, when the user brings the cart to the gate, the RFID tags attached to the items in the cart are read. Then, the user is shown the list of items to purchase on a display. The user confirms the items to purchase and the total amount, and if there is no problem, the user places his or her palm to execute the payment.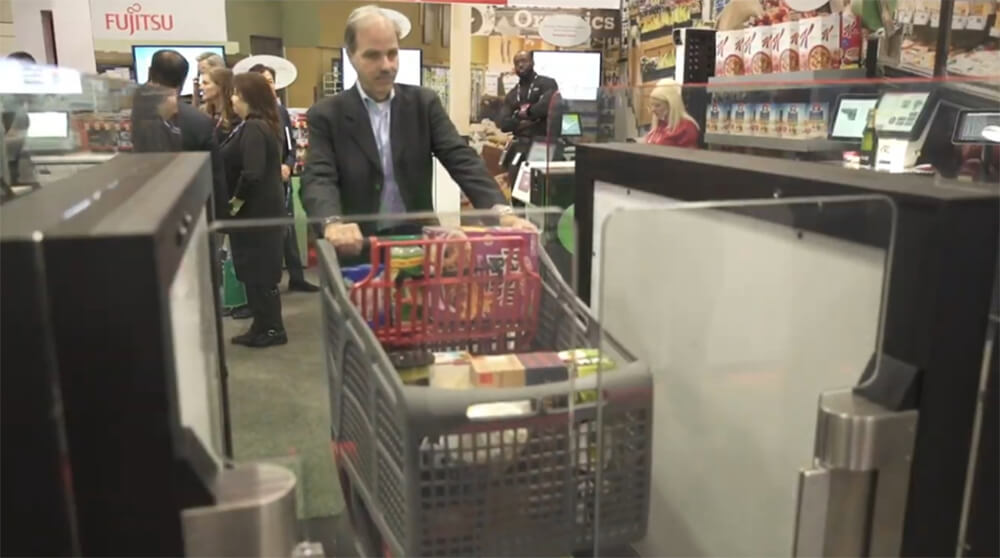 Demonstration of Grocery RFID at the Fujitsu booth at the NRF2019 exhibition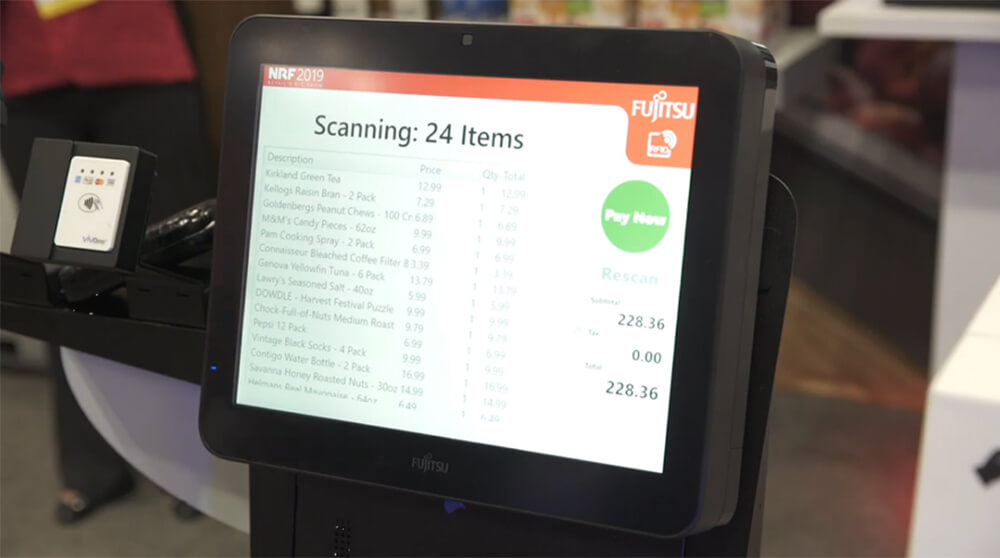 The list of items to purchase and the total amount shown on the display at the payment gate using Grocery RFID
From Shelf Management to In-store Transport: Widening Applications of Store Robots
In-store robots that run autonomously throughout stores are an example of IT technology increasingly used in retail. In-store robots first attracted attention when US-based Walmart announced an alliance with Bossa Nova Robotics in 2017, stating that it would use the in-store robots of the US-based startup in order to manage product shelves installed in Walmart stores. Until then, shelf management at supermarkets had been carried out by humans as they walked among product shelves to check them. It took many working hours, and management errors frequently occurred due to oversights. In-store robots can resolve these problems. The robots move around the store autonomously while taking photos of product shelves with cameras and analyzing the images. By doing so, they can verify which items are out of stock, incorrect price tags, and the appropriateness of item display and guide display.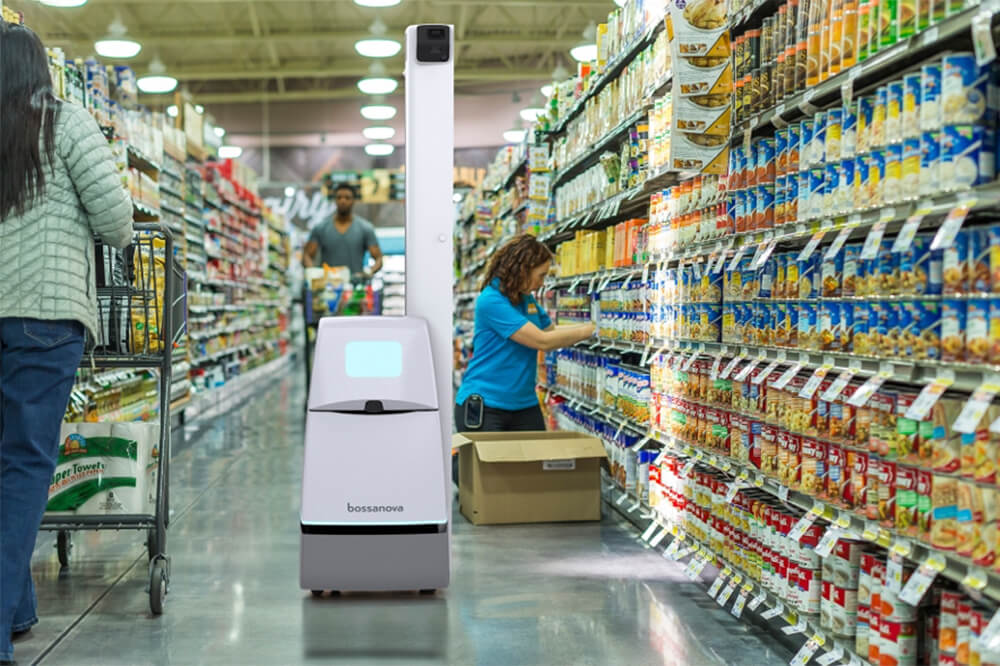 US-based Bossa Nova Robotics' in-store robot moving around the store while taking photos of product shelves (Source: Bossa Nova Robotics)
At NRF2019, Bossa Nova Robotics' robots were exhibited not only in its exhibition corner but at the booths of Fujitsu and other solution vendors that integrate Bossa Nova's robots in their solutions. Fujitsu has also been developing an in-house robot, "Co-worker Robo MATEY," and prototypes have been shown to the public in Japan.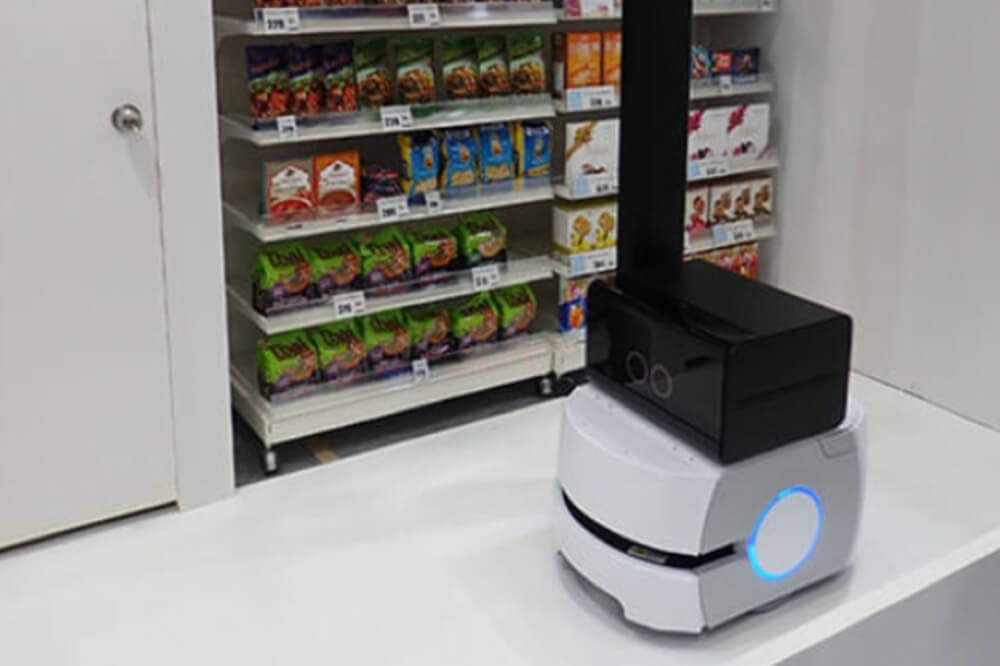 Co-worker Robo MATEY prototype (Fujitsu)
Freshippo, a China-based Alibaba Group company that is expanding a supermarket chain, is a much talked about company in retail tech. At the exhibition, Freshippo drew the attention of many visitors with its exhibits: an in-store automatic delivery system for purchased items used by the company at its supermarkets in China; smart checkout based on a smartphone app and QR code; and a robot serving system used in Robot.He, an automated serving restaurant.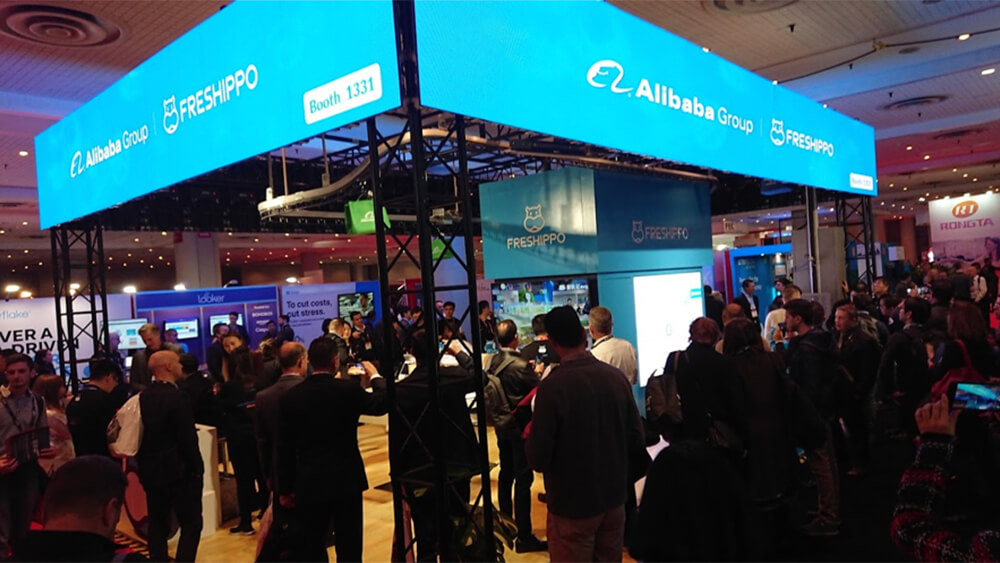 Freshippo's exhibition booth at NRF2019, which gave a demonstration of the automatic delivery system for purchased items (in a green bag) installed at the top of the booth (already in practical use in China)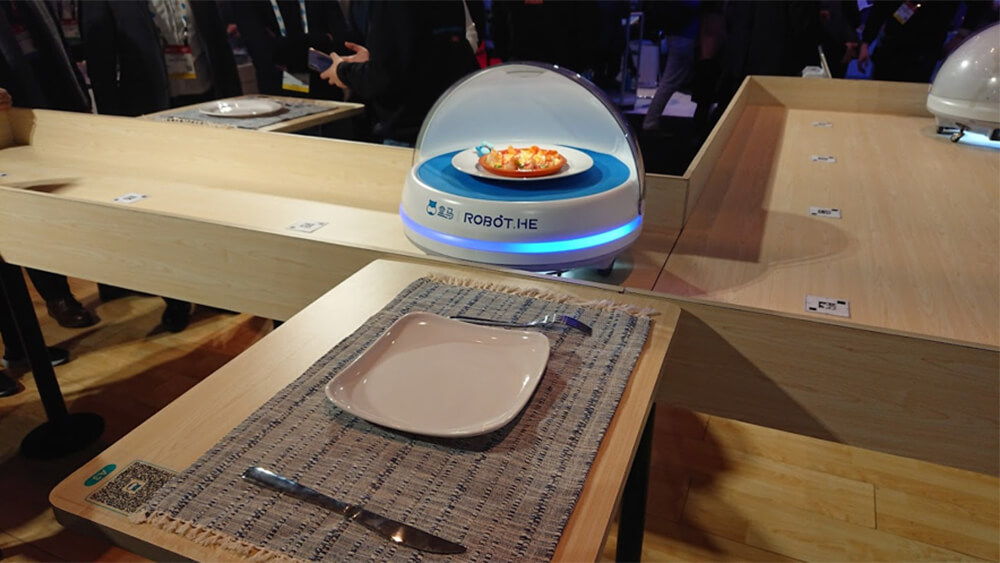 Demonstration of a serving robot introduced at Robot.He
New User Experiences in Brick-and-Mortar Stores Created by Image Recognition Technology
For both Amazon Go and in-store robots, the underlying technology is computer vision, which uses computers to analyze photographed images. Various companies showed off the features of their own computer vision systems and demonstrated practical operations at NRF. For example, Swiss-based Scandit demonstrated store innovation using smartphone apps adapted to each scenario; high-speed bar and QR code scanning and augmented reality (AR) are the core technologies. With the employee app, when a user scans an item's bar code, an empty shelf to store the item is shown via an AR overlay. Meanwhile, when a user scans the bar code of an item sold, the app for purchasers shows movies of how to use the item and user reviews in an AR overlay.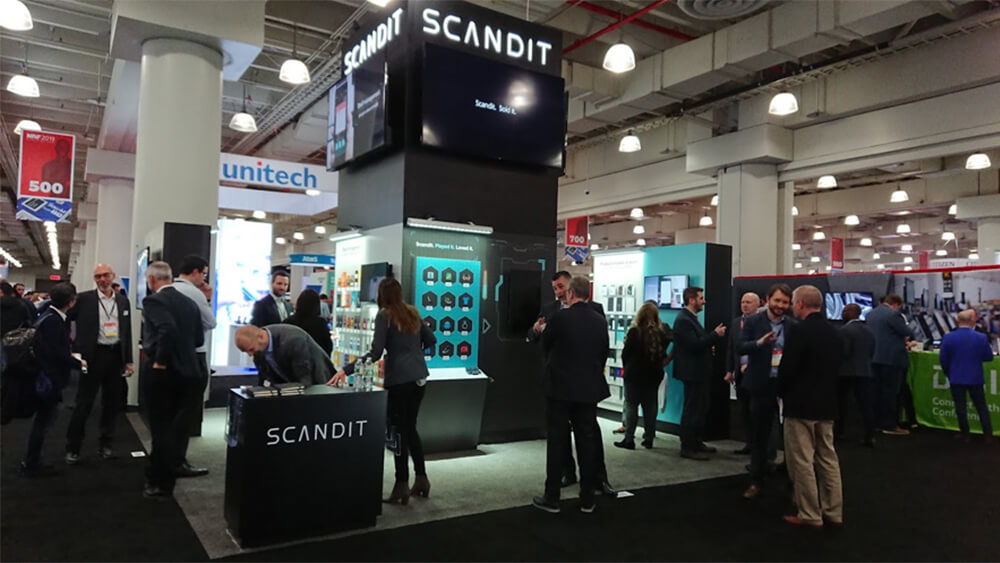 Scandit's exhibition booth at NRF2019
Using Retail Tech to Support Try-on and Other Customer Services Offered Only at Brick-and-Mortar Stores
Try-on service is among the purchasing experiences that users can expect only from brick-and-mortar stores. Some solutions can only be achieved by retail tech, such as overlaying images of clothes on a user shown in the mirror to try them on. However, users may still face problems while actually trying on clothes if they want to change the size or color of the clothes they brought into the fitting room. It would be convenient if, when a user wants to try on something one size smaller, a store attendant would immediately go out and bring it back for the user. Such a solution for resolving problems at stores was in fact exhibited: Fujitsu's Smart Fitting Room. A mechanism to promptly communicate users' needs to store attendants enables users to ask them to quickly go and bring back the desired clothes.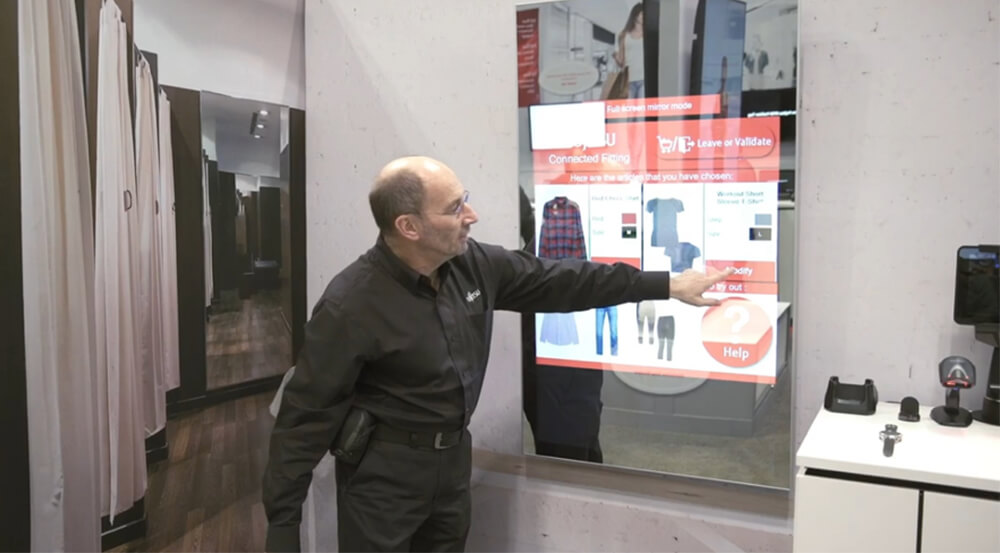 Demonstrating the Smart Fitting Room at the Fujitsu booth at NRF2019
An attempt to apply retail tech to a scenario in which brick-and-mortar store staff members are provided support for face-to-face customer service has already commenced. In April 2018, Aoyama Trading and Fujitsu conducted verification testing of support for face-to-face customer service by assessing customer psychology by analyzing their gaze patterns with AI.
During verification testing, Fujitsu used a new AI technology developed by Fujitsu Laboratories that presumes people's interests or indecisiveness from time-series data based on customers' gaze patterns. With this technology, Fujitsu realized new customer experiences, such as showing customers related product information on a screen according to the way they looked at products. In addition, by informing the store attendants via their mobile devices of related products based on the customers' interests or indecisiveness assessed by AI, Fujitsu supported them in their customer service tasks.
As described above, retail tech at brick-and-mortar stores is an area where computer vision, AR, smartphone apps, AI, and other high-tech IT under rapid technological development are used extensively. Today, the movement of Online Merges Offline (OMO), which combines the convenience of online stores with the purchasing experience at brick-and-mortar stores, is accelerating. Against such a backdrop, while competing in terms of what and how high-tech IT should be used, approaches to improve the value of purchasing experiences at brick-and-mortar stores will further develop.
Author Information
Tetsushi Hayashi
Chief Research Officer
Cleantech Institute
Nikkei BP Intelligence Group
Graduated from Tohoku University's faculty of Engineering in 1985 and joined Nikkei Business Publications, Inc. in the same year. As a reporter and assistant editor for Nikkei Data Pro, Nikkei Communication and Nikkei Network, he wrote about advanced technologies related to communication/information processing as well as trends in standardization/commercialization. Chief Editor of Nikkei Byte in 2002, Chief Editor of Nikkei Network in 2005, and Chief Editor of Nikkei Communication in 2007. Publisher of ITpro, Nikkei Systems, Tech-On!, Nikkei Electronics, Nikkei Monozukuri, Nikkei Automotive, etc. before becoming Director of the Overseas Business Division in January 2014. Has been in his current post since September 2015. Writing the series Jido unten ga tsukuru mirai (A Future with Self-driving Cars) since August 2016 on Nikkei Online Edition. Issued Sekai jido unten kaihatsu project souran (An Overview of Global Self-driving Development Projects) in December 2016 and Sekai jido unten/connected car kaihatsu souran (An Overview of Global Self-driving/Connected Car Development) in December 2017. Has been serving on the CEATEC Award Review Panel since 2011.
Fujitsu
February 15, 2019