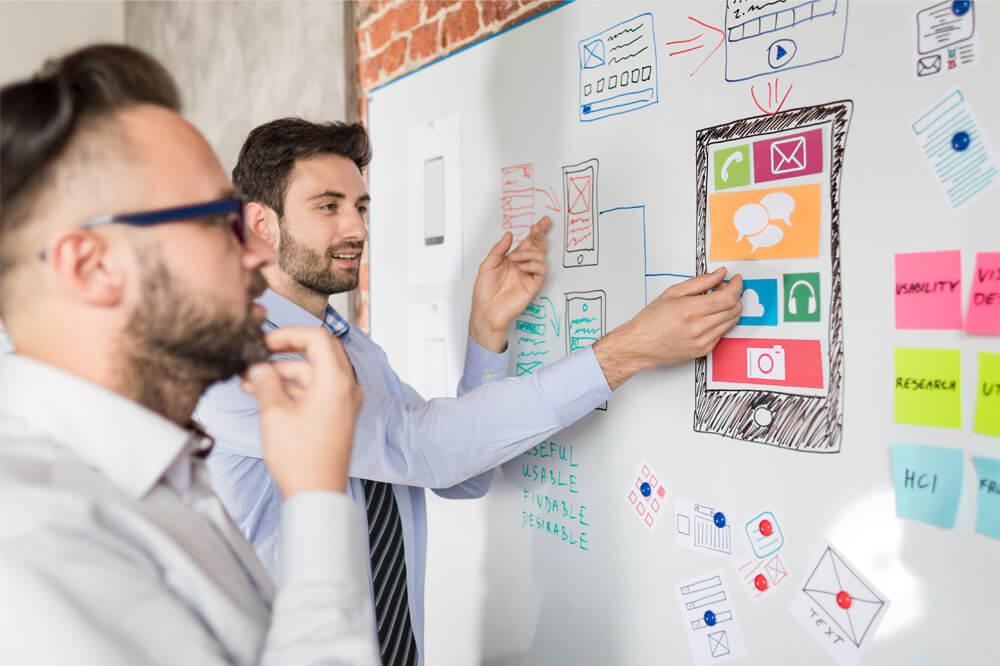 Continued Double-digit Growth in Internet Ad Market
Advertisements are intended to attract consumer interest and encourage the purchase of products and services. Previously, television, radio, magazines, and newspapers were the main advertising media. In recent years, however, there have been significant changes in the market since the advent of Internet advertising.
According to 2017 Advertisement Expenditures in Japan, published by Dentsu Inc. in February, 2018, Internet advertising expenditures has enjoyed ongoing double-digit growth for four consecutive years. This indicates that Internet advertising has become critical in marketing activities.
In addition, the widespread use of smart devices and social media services has increased the importance of the Internet in the purchasing process. Corporate marketing departments aim to enhance customer engagement by using such digital technologies.
Internet advertising can become more effective through coordination of digital marketing tools managed by a marketing department and mission-critical data, such as CRM, managed by an information system department. In most cases, however, corporate marketing departments and information system departments manage two different systems separately. Thus, Internet ad delivery was not necessarily effective in reality due to the lack of data coordination between the two departments.
AD Drive, a New Service that Coordinates the Operations of Marketing and Information System Departments
To tackle the situation, Fujitsu started providing corporate marketing departments with AD Drive Programmatic Marketing Service, which supports delivery of Internet ads effectively in April 2018.
AD Drive Programmatic Marketing Service is a service that combines Fujitsu's advanced digital marketing solutions and know-how on expanding business with Internet ads, both of which has built up over many years, to achieve sophisticated Internet ad delivery. By performing diverse operations related to Internet ad placement such as the purchase of ad spots and the targeting customers to whom ads will be delivered in cooperation with partners who deal with Internet ad delivery, the service efficiently delivers ads to domestic Internet ad media.
Moreover, coordinating the service with CX360, Fujitsu's digital marketing solution, integrates mission-critical data kept by an information system department such as customer information with logs of website visitor behavior or attribute information gained within marketing departments. Furthermore, analyzing the integrated data using Fujitsu's unique AI technology, Human Centric AI Zinrai, and utilizing the results for ad delivery improves its efficiency.
In short, AD Drive is a revolutionary service that achieves sophisticated Internet ad delivery while eliminating barriers between marketing and information system departments.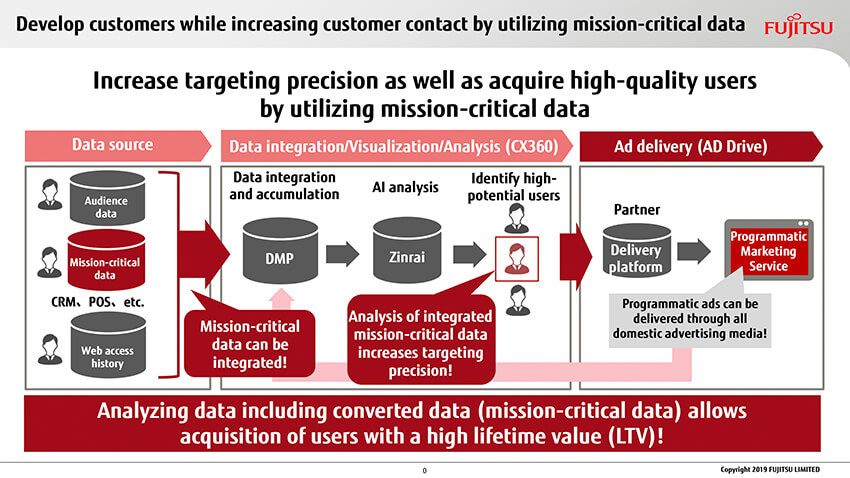 Acquiring about 2.5 Times More Potential Customer Information by Providing Total Support for Corporate Marketing Activities
Fujitsu runs a service integrating AD Drive with CX360 or AI internally. By intensively delivering display ads to website visitors similar to the customers with a high conversion rate determined by Zinrai's machine learning technology, we acquire about 2.5 times more potential customer information than conventional methods with the same Internet ad budget.
Going forward, we will work on brand safety, which is currently a hot topic. Brand safety means the risk of reputational damage to a corporate brand due to ad placement as well as preventive measures against such damage. Through cooperation with Momentum Inc., a specialist in this field, Fujitsu aims to achieve safe, high-quality ad delivery.