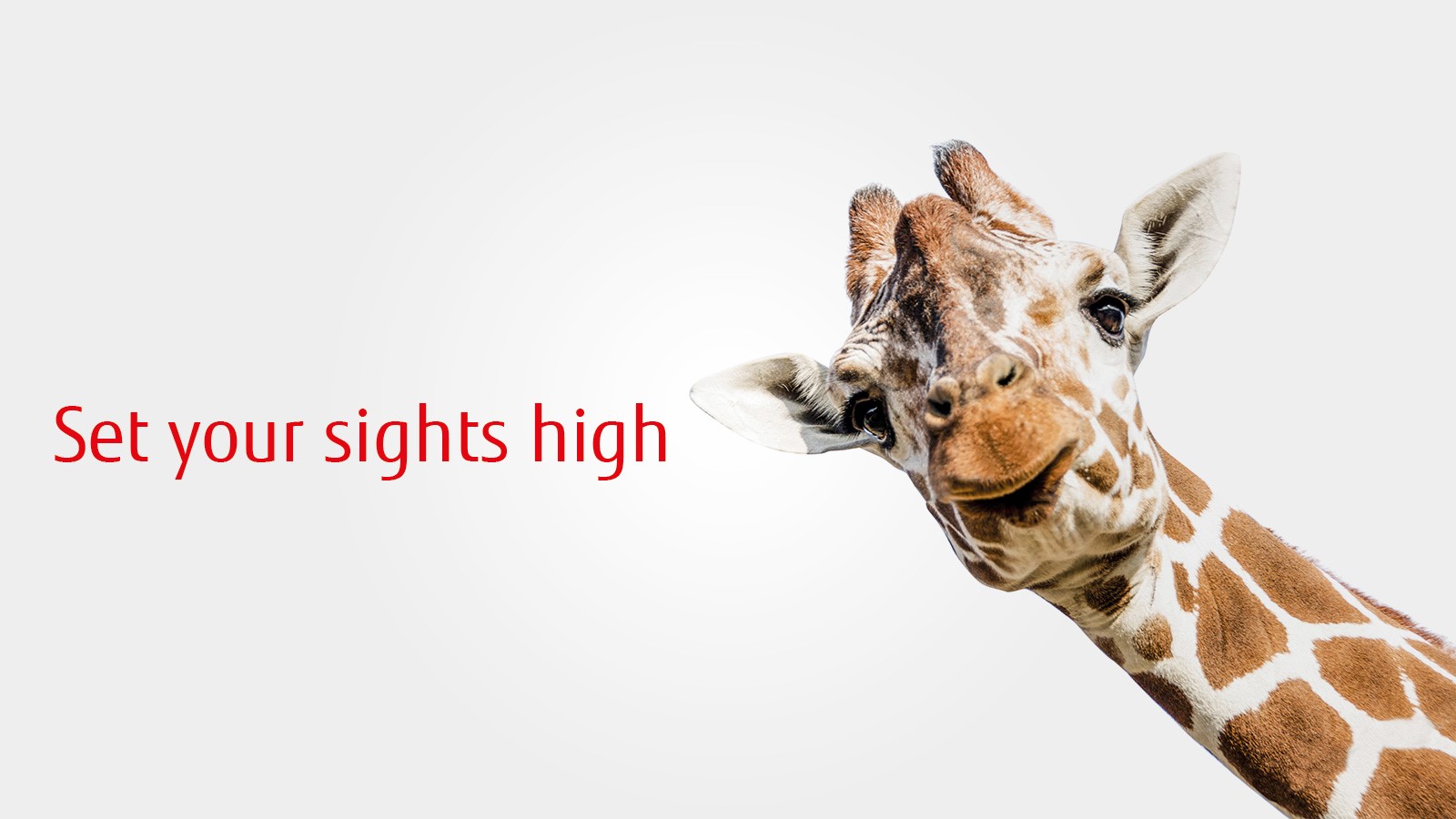 Those people wanting to keep pace with digitization need to constantly follow and understand the latest developments and innovations. It's very similar to a decathlon. Without continuous training in several different disciplines, athletes cannot expect to excel in competitive events. If you don't stay on the ball, you will fall behind and perhaps end up as a spectator – this is true in sports and in the world of digitization. To make sure that our customers have the full support they need to meet future challenges, Fujitsu is always at their side, providing them with outstanding expertise and a strong ecosystem.
Enterprise Platform Services for addressing the needs of the digital world
The ultimate goals of digitization are well-known: higher efficiency in business processes, the further development of business models and services, along with success in reaching new customer target groups and markets. The enormous value that data has for business models still needs to be recognized and effectively leveraged in a number of areas. Smart data management and effective transaction process design are very important. For years everyone has known that mainframes are real champions when it comes to processing mass data – they are still the "super athletes" in this discipline. That's why it makes good sense to push the development of mainframe ecosystems and systematically integrate new basic digital technologies. With Co-Creation and Connected Services, Fujitsu offers customers considerable value along the entire process chain to support future business models and allow customers to accelerate and shape their transformation processes in response to their specific needs.
Training digital muscle and strategies for more strength and stamina
Today customers need strategies that focus on customer interfaces as well as internal processes – in principle, they must be implemented to reach various goals. The Fujitsu Global Digital Transformation Survey 2018 outlines what 1,500 leading entrepreneurs perceive as the success factors needed to satisfy the requirements posed by digitization – namely: agility, business integration and better exploitation of existing data potential, in addition to enabling people to take the lead in realizing and operating healthy ecosystems. As in the world of sports, training and development are necessary to ensure a high level of fitness.
Setting up partner networks, which can effectively help individuals boost their own performance, are very important in this regard. By enabling partners to help each other during "workout sessions," co-creation initiatives and partner networks make it easier for "digital athletes" to reach their goals. This was evident at the Fujitsu Forum 2018. To know what is needed, to enhance each other's performance, to integrate proven strategies and solutions. Mainframe developments like Fujitsu Server BS2000 SE Infrastructures are brilliant examples of how Connected Services strategies can provide customers with an extra boost.
Infrastructures in the SE Series offer a number of advantages, like an architecture which supports the running of mainframe applications on Linux, Windows and in virtualized environments within a common infrastructure having common overall management. They are really strong backbones thanks to their application units, which make them superbly suited for digitization!
Here are some great examples of where SE Infrastructures are making their mark among current IT trends:
In the immutability of blockchain data for solutions that are useful wherever the tracking of product origin and authenticity plays a key role. Banks, logistics companies and retailers are already using this technology intensively. Production-enabled frameworks like Open-Source Hyperledger are being used for private block chains. Hyperledger nodes can easily be run on the application units of the BS2000 SE Series – and they interact with other applications within the SE Infrastructure. That results in turbo power for our mainframe customers and gives them the highest levels of agility possible!
When setting up high-performance ecosystems, interfaces are absolutely essential, especially when it comes to data management. In many business enterprises networks are built around SAP applications. The SAP HANA Data Management Suite (HDMS) is a solution that enables the orchestration of all data streams. It goes without saying that BS2000 and VME-based Fujitsu mainframe systems can be seamlessly integrated in solutions based on this suite.
When it comes to the business integration of data which, for example, originates from sensors, narrow-bandwidth network connectivity usually results in bottlenecks. The IoT solution INTELLIEDGE™ from Fujitsu provides a platform for innovative edge computing, which bridges the gap between Operational Technology (OT) and Information Technology (IT) – and is thus relevant to applications on BS2000 and VME-based Fujitsu mainframe systems.
Artificial Intelligence (AI) technologies – which are already being deployed with great success – support improved medical diagnostics that can save lives, and AI can boost the productivity of business enterprises. This is where mainframes are strong and reliable systems that meet the most stringent requirements of relevance to transaction security and disaster resilience.
Overcoming challenging hurdles
Of course, digitization is much more than mere technology. This was discussed at the Digital Summit of the Federal Ministry for Economic Affairs and Energy 2018 held in Germany. Digitization has drawn the attention of leaders worldwide because it poses challenges in terms of infrastructure, education, ethics, etc. – it affects virtually all walks of life.
To stay on top of the key issues, people need to know more about the nature of infrastructures and how they can be optimally used for good purpose. Digitization involves innovation and change – it is making many jobs and business models obsolete while creating new ones at the same time. People need to be ready for new demands and challenges so that they can successfully overcome the hurdles facing them – again, this is similar to the world of sports.
Shaping the future successfully through co-creation
Building alliances through partnerships across diverse industries have always been an advantage – in the digital world establishing such alliances is an absolute must. Our FUJITSU Digital Transformation Center has a dedicated platform and creative space to do just that. In so-called think tanks, we join our customers and partners in line with our co-creation approach to jointly develop ideas, conduct feasibility studies and come up with real results quickly.
What's more, we take on the challenges posed by demographics – we are fit and hitting our stride when it comes to getting employees and staff into top shape so that there will be no lack of experts who can master the unique challenges of digitization. The Fujitsu Enterprise Platform Services Academy also serves to back up our customers when it comes to data center technologies, including mainframes, by offering ongoing training and recruiting new talents. Customers and partners join us in this endeavor, along with educational institutions, universities, professors and students – and we are always happy to welcome academy participants who express interest in joining the Fujitsu family. We place special emphasis on various project initiatives for colleges and universities so that hands-on expertise, along with IT trends and related topics, can be covered in the academic environment. In addition to the so-called "hot topics" among current IT trends, mainframes are gaining in popularity. Why has Fujitsu been investing in education, partnerships and collaborative alliances for so many years? Because, in addition to combining strengths, it is absolutely essential that we make sure the next generation of young experts is well-qualified and enthusiastic about IT – and we do this through theoretical research and real hands-on training programs. Creative offerings like the Mainframe MOOC initiative of the HPI Potsdam, our Mainframe Days and Winter School projects all contribute to achieving our goals. The Winter School 2019 will be offered with four days of interesting sessions and events for interested students – this program has become quite popular over the years. In cooperation with the NEXT user organization, we are scheduling the upcoming session for February 2019. The location will be Bayrischzell, Germany. Plans are well underway, and we are already looking forward to hosting an exciting event.
Joint projects and initiatives that are based on real-life scenarios with innovative technologies, progressive co-creation and strong partners for digital transformation help all of us to "flex our digital muscles" and stay in great shape!
We will be happy to guide you through digital transformation – remember, it's good to have an expert coach at your side to keep you fit!