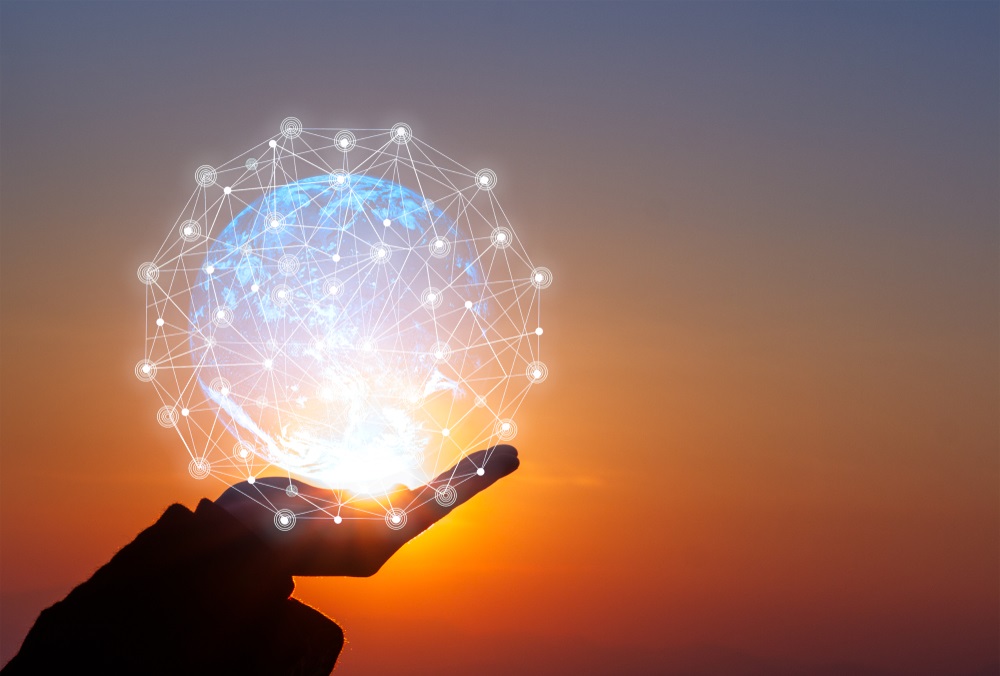 2019 is a big year when it comes to predictions… in 1982 Blade Runner took the world by storm showing a sense of the future, a dystopian future based in LA, in 2019. The year after Blade Runner's launch, in 1983, another prediction of what life would be like in 2019, this time from none other than Isaac Asimov in a newspaper interview with the Toronto Star.
A number of these crystal balls gazing visions of the future have come true. Asimov predicted the extent of computerization but more importantly the extent of mobile computing and its societal impact. Asimov and Blade Runner both predicted the extent of robotics and automation disrupting clerical and assembly line workers… perhaps Asimov's predictions about space travel and making the moon hospitable haven't quite got to where he predicted, but we may not be too far away given recent investments and developments.
Blade Runner hasn't quite got the accuracy of Asimov with bio-engineered robots and super intelligence. We have still come a huge way with exoskeletons and of course artificial intelligence now accelerating at an ever-faster pace across many different fields. We are still way off the tipping point, however; the singularity where AI moves beyond that of human intelligence. Blade Runner's predictions have long been surpassed in analytics, image manipulation, voice control, video communications, and again our mobile and connected experiences surpass the film by some extent.
I'm certainly not comparing myself to these visionaries but I am going to give you my own views of the year ahead and beyond; a much easier task than looking 35 years ahead… Given the extent of predictions around (including some fantastic 'Cloudy' ones from Fujitsu's Mark Phillips), I'll start with what I consider a few certainties, and then share some more contentious views.
The less contentious…
DevOps maturity and the challenge of availability of skills to achieve business differentiation will drive more focus towards identifying and managing the 'transition to live' of maturing innovations, proofs of concept and business applications. DevOps + Ops will bring opportunities for reskilling and bringing on talent from the classical technology department. This will be driven by the IT function growing in value to business-led IT initiatives, enabling greater differentiation and enhanced brand experiences. DevOps will also continue to bring along its fair share of challenges… more on that here from Fujitsu's Nick Herbert.
I think we will also see Artificial Intelligence experts within DevOps teams, starting towards the end of this year as AI becomes commonplace for driving differentiated consumer experiences and business projects. I'll explore AI in more detail later. The IT department will also regain relevance, driven by other business-operational technology (IoT) projects. For example, IoT projects that have deployed a significant amount of operational technology are now as big a risk to compliance, data leakage, and business cyber-security penetration as classic IT applications and infrastructure environments. The management of devices 'at the edge' and industrial technology across the organization remains a large hole for many, with firmware patching, security hardening, credential management, encryption (and the like) often either not implemented or very poorly managed, opening the door to reputational damage. As a result, the security department will drive maturity and IT operations will likely be the most cost-effective means of delivering such projects quickly and at scale.
Security Compliance awareness becomes paramount in digital application ecosystems. As pointed out in Mark Phillips' Cloud Forecast, Cloud Native Application development means the accelerated adoption of true multi-cloud services – but it also means embracing data and Business Process Outsourcing through API integrated micro-services. However, the real challenge when taking on services from across the world is managing the entire ecosystem. How do you manage data across your various cloud services? How do you make sure all of your services and platforms are always secure? How do you recover in the event of erroneous loss or corruption? For these reasons, I anticipate the security organization to become more wary of data leakage and non-compliance risks in a truly multi-cloud environment.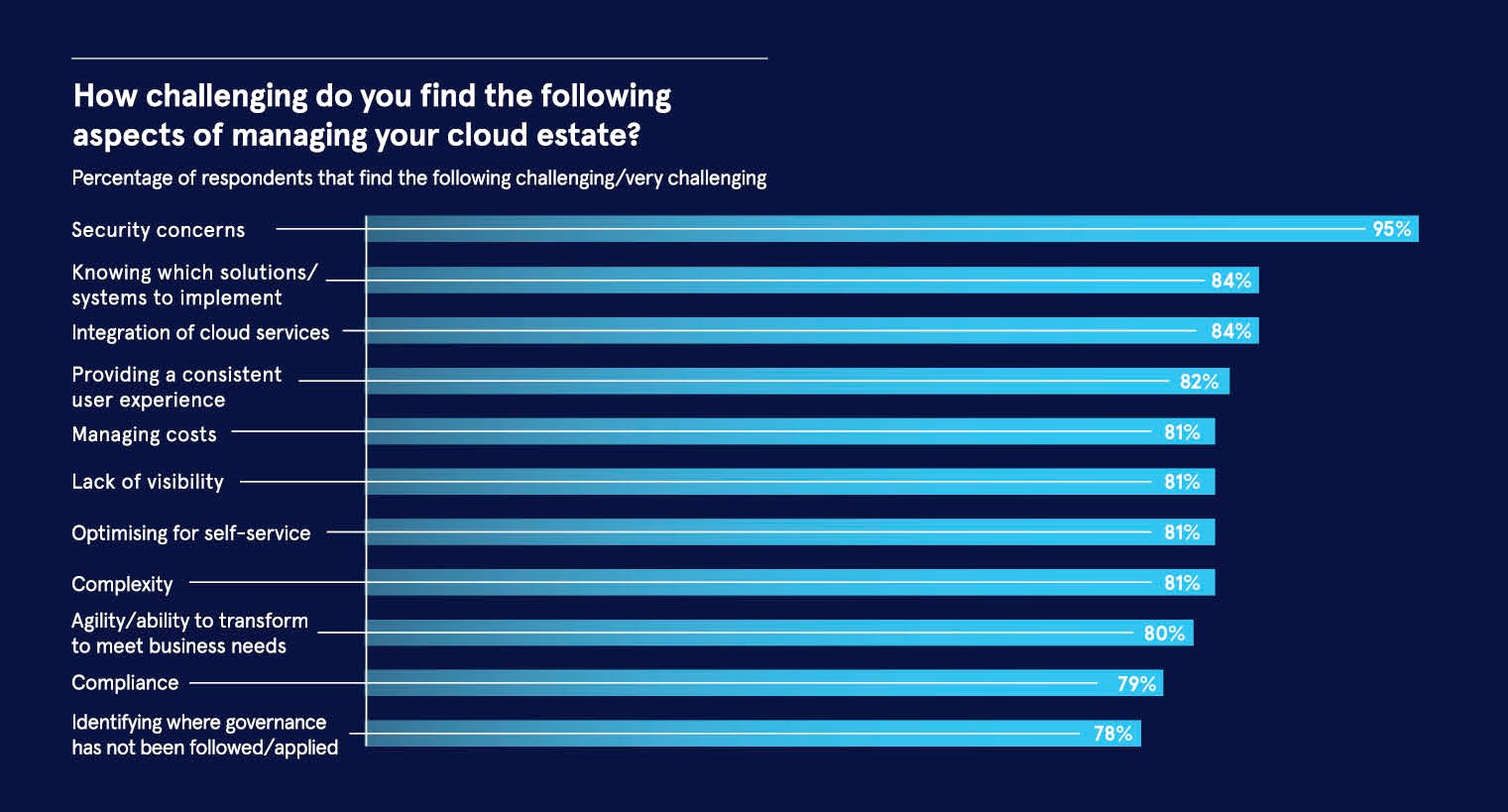 95% of organizations find managing Cloud Security a top challenge (Fujitsu – State of Orchestration 2018/19)
Enhanced awareness of security, as well as mandatory inclusion of security checkpoints and vulnerability testing, will be built into development pipelines. Most good developers will already be testing for security in a layered way, leveraging SonarQube for code quality inspection and automating security-hardening in their infrastructure configurations. This is still left to chance by many… but the security organizations in most enterprises will crack down on this as awareness and usage of the cloud increases.
To finish my Cloud Native predictions, I also feel that whilst many are launching Kubernetes-based services (mainstream already in lots of organizations), the attention and buzz will turn towards the integration and management layer with Istio, Spinnaker and other opensource technologies 'rounding-out' container-based application platforms.
Cloud transformation programs will accelerate and become more direct. The benefits of just migrating to the cloud – or transitioning 'in-situ' are not sufficient. If organizations want to embrace the full range of cloud benefits, then it really is necessary to move faster to broader transformation and leverage greater availability and agility as quickly as possible. But you only get savings through high levels of automation, managing licensing costs carefully, embracing the serverless services of the Cloud and either resizing or switching things off when not in use. Most can drive efficiencies of 30 percent or more just by managing their environment of leading cloud providers more effectively.
The industrialization of the Cloud is also now a necessity for the next wave of business-critical applications moving to the Cloud. Having the skills and experience to do this is essential. The more progressive organizations are now well advanced in this, yet there are many that are still leaving this to chance and learning the hard way, unfortunately.
Serverless Functions continue to accelerate with Amazon's Lambda software becoming the leader. Lambda's recent Open Source shift will mean wider-scale adoption across most Cloud projects, in a similar way to how Kubernetes has for Containers. Almost every AWS project now uses Lambda due to its speed and ease in orchestrating the logic in business processes and applications – and I see little competition challenging Lambda now. We may well see a joint initiative to tackle it between the likes of Google, Microsoft, and others, as greater business logic via Lambda is likely to lock organizations into the Amazon cloud.
'AI growth' is always a popular prediction… of course, I expect it to drive more value out of most new business projects and be retrofitted to enhance experiences, now that the technology is maturing.
However – that may not be news to many of you so I will delve deeper, with my belief that – the emergence of Explainable AI will drive more adoption in ethically challenging use cases, such as medicine and law. This will take time but it's certainly an interesting direction in which to apply both human augmentation and understanding to a technology field that promises more accuracy than humans in, say, a cancer diagnosis. The power of 'Human + AI' is massive, and now we can understand why an outcome is suggested, with additional accuracy again driving higher diagnosis rates, for example, or even removing misdiagnosis.
AI will of course grow but its use may expand into new and more challenging industries.
From an employee perspective, we will also see smart workspaces coming to the fore with voice-driven commands, more immersive experiences made available, adaptable working environments with sounds, colors, and aromas being used to maximize the productivity of employees or to change and enhance the experience of customers. Effective voice-driven command – and the extent to which automation is used by many already in the home – will now reach the office environment.
The more contentious…
I believe the following won't hit us hard in 2019, though this for many is a real missed opportunity. I am hopeful that you at least test and trial initiatives around some of these, to beat the competition to wider-scale adoption in 2020 and beyond.
The use of Blockchain in achieving greater business transparency is very interesting but still emerging… embracing aspects of Distributed Autonomous Organizations, though, should be one for your watch list. I think we will see the first DAO's take some market limelight this year.
Incredibly immersive business experiences will still not make it this year but this is coming. I recommend trialing virtual reality, mixed reality or augmented reality. In particular, I am a big fan of VR and see this as being a strong focus area for the retail and media sector, with over two million Sony VR headsets and multi-millions of Google Cardboards already out there. With Facebook's Oculus and others now driving even more content, I expect sales and brand marketing opportunities to increasingly be explored through this medium.
Ahead of immersive virtual or mixed reality experiences is the post-app era with voice and augmented devices being seamlessly integrated into our lives. Whilst it is early days to say where this will finally arrive at, innovation investment and focus on human interaction experiences is essential to maintain your business if you are in financial services, retail, health or hospitality. Apple, Google, and Facebook are coming after more of your business…
On a different front, the financial forecasting and investment planning changes are essential. Every business needs to be adapting to more product-focused organizational models – and removing the barriers to investment business cases in their product development cycles, based on small incremental features. Further, the predictability of spend is harder still as Cloud-delivered services and the extent of new user experiences drive 'spiky' technology spend. This means the finance department and budget owners need to think differently and adapt their processes, or else risk limiting your innovation and development speed when competitors are going full-steam ahead. A financial forecast shift and having an agile mindset to change investment direction is essential.
Driving more effective employee engagement and empowerment means changing the way we manage and trust our talent. The use of OKR (objectives and key results) are often found in the most agile organizations and start-ups as a way of driving outcomes and setting 'guiderails' for staff, whilst leaving them to figure out how best to achieve the results you desire. This can be a hugely effective way to manage teams and something to test and trial with yours.
And some 'hot-topics' to keep a close eye on… more to follow from me on these, this year.
Smart(er) team composition, bringing together groups from across your business, or more effectively still from across your sector and ecosystem, is an interesting topic. The use of scrum agile teams is the start of the Enterprise Gig Economy, as we increase focus on outputs and action. The next evolution of scrum team formation will be in embracing agile multi-disciplinary teams from the right resources anywhere in your ecosystem or even the world. Tools, experience, and trust need to happen before this occurs – and will be a hot topic for 2020 and beyond. It will likely take until 2025 before we get near mainstream adoption of this way of working.
Finally, look out for and explore quantum, as this technology and its ability to solve problems radically quicker already exists and is evolving rapidly. Quantum-inspired technology is already driving huge returns for some businesses and promises much. Wide-scale adoption will be hindered, however, due to the complexity and skills gaps in being able to turn business problems into mathematical problems suitable for quantum computing. Similar to AI and analytical tools, this will become easier, and more visual and abstract over time. Realistically, quantum maturity and mainstream adoption is another topic for 2025 onwards, but please do investigate and consider it in your innovation teams, as I have already seen this return big business benefits in financial services and manufacturing.
And now to put down that crystal ball and see what comes true… have a great 2019 everyone.