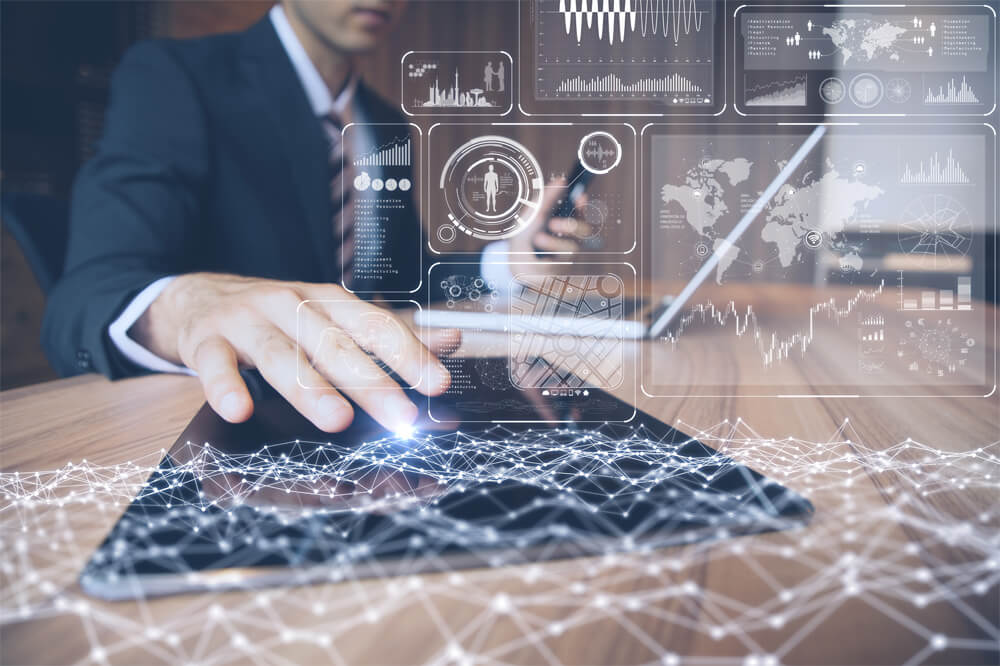 Cutting-edge technologies such as AI, the IoT, and VR are indispensable to digital transformation (DX). How can high technology be effectively applied to drive DX? [Fujitsu Insight 2018 "AI and the IoT" Keynote Speech Report]
Entering the Singularity Era after 30 Turbulent Years
As the first keynote speaker, Iwao Nakayama, Fujitsu Corporate Executive Officer and Chief Evangelist, took the podium.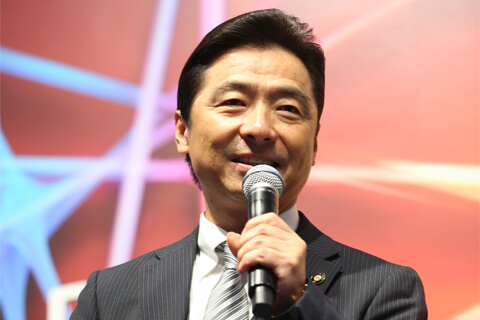 Iwao Nakayama
Chief Evangelist
Corporate Executive Officer
Fujitsu Limited
Giving many speeches enables me to hear about many customers' problems. In particular, digital transformation (DX) is now a commonly voiced problem. While some companies are driving DX well, others are not. In fact, my understanding is that it is not going well in most cases. Today, I want to give you some tips on issues and strategies for promoting DX.
The Heisei period (Japanese emperor's reign) is ending soon. Having started in 1989, this was truly a turbulent period. So much has happened these past 30 years.
In the first year of the Heisei period, the Berlin Wall fell. Later, the J. League (soccer) began, the Nagano Olympic Games were held, the first Shinzo Abe administration came into power, and Apple released the iPhone. In 2008, the collapse of Lehman Brothers triggered a global financial crisis. A few years later, we faced the disaster brought about by the Great East Japan Earthquake. Meanwhile, the world also underwent a large shift.
A large shift can also be found in the World Stock Market Capitalization Ranking. The current top three companies are Apple, Amazon.com, and Alphabet (Google) in that order. From fourth place onward we find Microsoft, Facebook, and Berkshire Hathaway. Chinese companies such as Alibaba (7th) and Tencent Holdings (8th) have also made it onto the list. JPMorgan and Exxon Mobil are the last two of the top 10.
Unfortunately, no Japanese companies made the top 10. The highest ranked Japanese company is Toyota Motor Corporation. Although its market capitalization is approximately 20 trillion yen, this is still not enough to reach the top 30. Japanese companies have not been able to make it into the upper echelons.
Let us look back 30 years ago. NTT was at the top of the list, way ahead of the rest, and it was followed by the Industrial Bank of Japan, Sumitomo Bank, Fuji Bank, and Dai-Ichi Kangyo Bank. Finally, IBM, then a computer manufacturer, was ranked 6th. The list continued with Mitsubishi Bank, Exxon Corporation, TEPCO, and a UK company, Royal Dutch Shell. Thirty years ago, Japanese companies were strong, dominating the world.
Do you think the current top companies will still be on the list 30 years from now? Maybe none of them will be. Perhaps new companies yet to emerge will grow and take over the list.
During the next 10 to 20 years, we will enter the singularity era in which technology will change rapidly, transforming our lives so much that we can never go back. An era more turbulent is said to be coming.
Facing Many Challenges, Japan Should Aim for Society 5.0
How will Japan change in the next 20 years? The Japanese government periodically administers a census. Based on census data analyzed by a research company, I will give you a few example predictions of the future.
In 2020, one in two Japanese women will be age 50 or older.
In 2022, one in three households will have only one resident (in particular, the number of elderly people who live alone will increase).
In 2024, one-third of the Japanese population will be age 65 or older.
In 2025, Tokyo's population will start to decrease.
In 2027, surgical operations will become impossible due to insufficient blood infusions.
In 2033, one in three houses will be vacant.
Japan faces many challenges. We, all of us here today, must create the new Japan. Society 5.0 is the society that we and the government will create together.
Society 5.0 is a human-centric society in which a framework developed by tightly and intricately integrating cyber and physical spaces grows the economy and resolves social issues simultaneously. It is realized by technology such as the IoT and AI. Examples of such technology to support our daily lives include drone deliveries, AI home appliances, telemedicine services, smart agriculture, smart company management, and self-driving vehicles.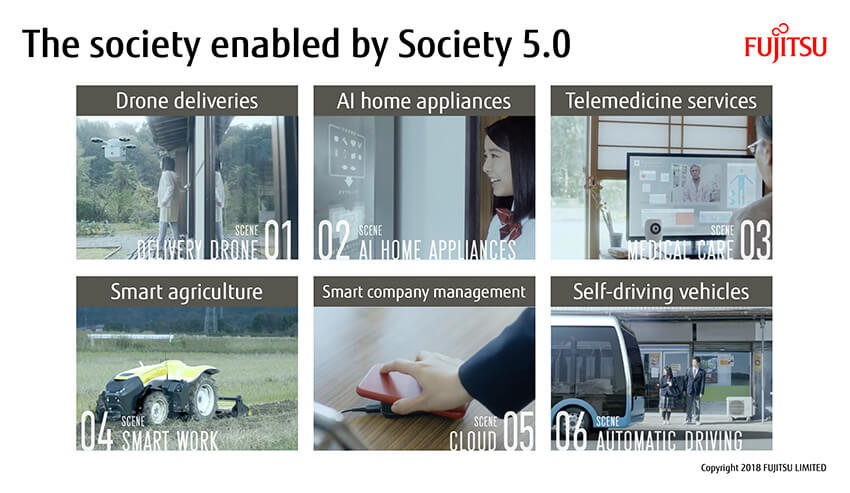 Society 5.0 will realize a wide variety of services.
The Latest Case Examples Using AI, the IoT, and VR
I will now introduce some of the latest DX case examples using the IoT, AI, VR, MR, and AR.
The IoT and AI to further visualize factories
The Chinese company INESA uses the IoT to operate a cutting-edge factory. INESA's aim is to achieve visualization inside the factory. The company uses the IoT to collect various types of data, and it uses AI to analyze this data to understand what is happening in the factory and to predict the future. Fujitsu provides the platform for big data analysis. With this futuristic factory, INESA has increased productivity by 25%, shortened the manufacturing cycle by 50%, and reduced analysis time to approximately 1/10.
The VR era is at hand
The Internet spread during the 30-year Heisei period. VR is said to be the key to the coming singularity; VR will spread rapidly, bringing about the VR era. While the current TV market size is 12 trillion yen, the VR market size in 2025 is estimated to be over 13 trillion yen. The term "smartphone generation" may be replaced by the term "VR generation." The emergence of VR will change our lifestyles and businesses significantly.
VR changes shopping.
Shopping at brick-and-mortar stores is a thing of the past. By donning a head-mounted display, shopping at a VR store within your own room may become a regular part of daily life.
VR changes travel.
With VR, you can enjoy scenery around the world without flying for long hours. In 2016, KDDI conducted a demonstration experiment of a remote travel service that connects Japan with foreign countries.
VR changes medical care.
A 3D patient model in VR enables doctors to check blood flow, blood vessel movement, and organ positions immediately before surgery. For example, using VR in the final rehearsal before cancer tumor removal will facilitate a short, accurate procedure.
VR changes manufacturing sites.
When designing automobiles, designers located around the world can enter the same VR space via the Internet, examine a 3D automobile model from many angles, and finalize the design.
VR changes offices and meetings.
Commuting, working at an office, and attending meetings will all become things of the past. Employees can place their avatars in a VR office and have a meeting in which avatars talk to each other.
As outlined above, the world of VR will become reality quite rapidly.
AI Now More Familiar to Us
AI is an indispensable part of DX. AI has begun to be applied in various situations, and we are now becoming more familiar with it. However, introducing AI does not in and of itself lead to DX. The road to DX has a wide variety of hurdles, and many companies take a mistaken approach.
You must be very careful if your president says, "Think about how we should apply AI to our company and business." With this line of thinking, introduction of AI will fail because of the absence of a clear vision after introduction. If there is no vision, employees will not understand why AI should be introduced. Nonetheless, a very large number of presidents speak like this.
First, a discussion that involves everyone from the management to rank-and-file employees is needed to decide "the company's ideal state" and "the company's goals." The company as a whole must prepare a vision for the future. It is important to express this vision as an easy-to-understand image or video instead of simply announcing it. By doing so, the vision can be shared internally clearly and accurately.
If AI and the IoT appear as elements necessary to realize the future vision, then you can begin thinking about introducing them. If you do not need them, there is no problem. It will be a waste to introduce them if they are not included in the vision.
Fujitsu as a Professional Design Thinking Team
I must say that creating a vision is an extremely difficult task. While every single employee has ideas, drawing these ideas out from them is not easy. Many corporate managers lament that "Our employees have no good ideas" or "Employees do not share their opinions."
To support vision creation, Fujitsu established the FUJITSU Digital Transformation Center. This co-creation workshop provides a space to prepare for digital transformation. Using the new method of design thinking, the environment encourages each employee to output ideas. Design thinking is a method of thinking to achieve the most suitable solution for unprecedented business problems or yet-to-be discovered business tasks. Today, Fujitsu has become a professional design thinking team.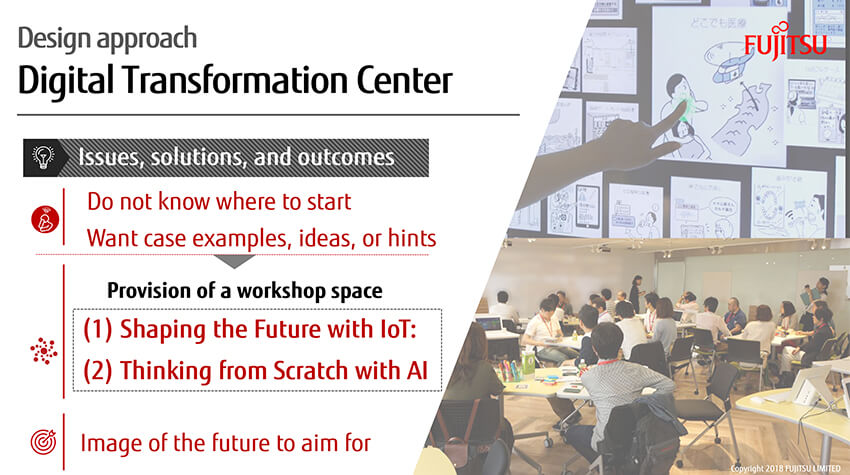 A "design approach" is necessary to realize DX.
At present, there are FUJITSU Digital Transformation Centers in Munich, London, New York, Tokyo, and Osaka. We plan to open more in the future. I hope you can use these facilities effectively to help you create a vision for your company.
The next speaker was Keizo Azuma, head of the AI Services Business Unit at Fujitsu Limited. He introduced specific examples of Fujitsu's efforts with AI and Digital Annealer.
Fujitsu AI Technology to Support DX
Keizo Azuma
Head of AI Services Business Unit
Fujitsu Limited
I am in charge of some of Fujitsu's cutting-edge technology products, such as Zinrai and Digital Annealer. The concept of Zinrai is human-centric; thus, Zinrai is human-centric AI. Zinrai is also an AI that continues to grow.
In Zinrai, the latest AI technology known as deep learning is used to handle a wide variety of data, including media data, natural language data, and numerical data.
Zinrai achieves a higher level data analysis by using technology developed by Fujitsu Laboratories, such as topological data analysis (TDA), Deep Tensor®, and Knowledge Graph. However, there have been issues in using AI in areas where it is held accountable for AI-enabled experts' decisions because it had been impossible for humans to judge why the AI produced certain estimates. In this way, AI became like a black box, so Fujitsu now offers Explainable AI.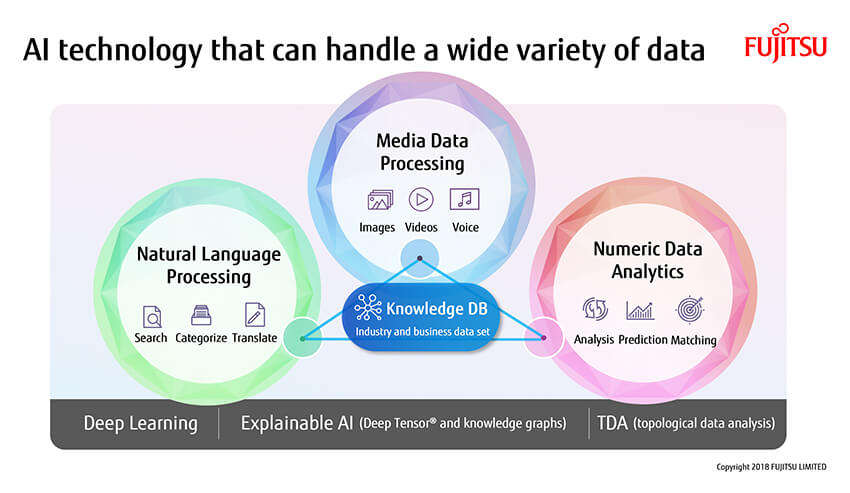 Fujitsu offers a lineup of AI technologies to handle a wide variety of data types.
Another AI technology, Digital Annealer, is a new architecture that solves combinatorial optimization problems at high speed using a digital circuit inspired by quantum phenomena.
Digital Annealer helps address unresolved social issues. We primarily plan for it to support the five fields of chemistry and drug discovery, medical care (treatment plans), traffic (congestion avoidance), finance (investment portfolios), and manufacturing and distribution.
Here, I want to introduce some case examples that use the latest AI. Painstaking tasks that experts previously spent much time to process can now be done instantaneously.
Kawasaki Geological Engineering Co. Ltd.
The company uses our AI to search for cavities under road surfaces to prevent roads from sinking. Conventionally, experts used a ground-penetrating radar system to identify cavities. Deep learning technology can identify underground cavities from among the huge volume of radar images collected from the system, shortening the analysis time by 90%. With recent accuracy improvements, AI can find cavities even better.
Siemens Gamasa Renewable Energy (Spain)
The company uses our AI solution to examine the quality of wind turbine blades. An examination that used to take six hours manually has been shortened to about an hour while achieving a 100% defect detection rate.
Shimadzu Corporation
The company uses jointly developed AI technology in its mass spectrometry system. This technology has demonstrated the possibility of automated peak picking, which is frequently carried out manually, and it can extract data with the same proficiency as experienced operators.
Here, I would also like to touch upon the use of AI in call center operations, which uses a large-scale solution realized with multi-layered AI technologies. The solution employs its speech recognition capability to automatically convert voice inquiries into text and then summarize responses by operators. This has dramatically reduced operators' work between answering a call and the processing post-call procedure.
Next, I will introduce a few case examples of the use of Digital Annealer.
A European car manufacturer
The company uses Digital Annealer to optimize the production process. More specifically, it uses Digital Annealer in the production planning process to efficiently assign jobs to machines so as to address scheduling problems that require delays to be minimized in job completion or delivery.
National Westminster Bank (UK)
The bank uses Digital Annealer to process its asset portfolio combinatorial optimization problem approximately 300 times faster than other computers.
Fujitsu released the second generation Digital Annealer in December 2018; its processing speed is 100 times faster than the previous generation and it can solve more extensive combinatorial optimization problems. From FY2019, we plan to scale up the architecture to achieve massively parallel processing in order to solve 1 million bit class problems.
Fujitsu has also established a new company called FUJITSU Intelligence Technology in Vancouver, Canada. Its task is to develop and globally expand the AI business. The company will serve as the base for providing AI and Digital Annealer solutions on a global scale.
The Latest IoT Case Examples and Notable Technologies
Takaaki Suga, head of the Network Service Business Unit at Fujitsu Limited, followed Keizo Azuma. He gave detailed examples of Fujitsu's IoT projects.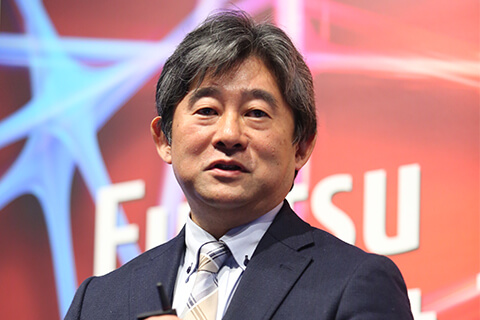 Takaaki Suga
General Manager, Network Service Business Unit
Fujitsu Limited
In 2014, Fujitsu created a business unit dedicated to the IoT. From its inception, the IoT has changed from an objective to a means. Inside the company, we have formed teams to offer IoT solutions for each business field, such as manufacturing and distribution.
According to the 2018 White Paper on Manufacturing Industries (Monozukuri) by the Ministry of Economy, Trade, and Industry, in the manufacturing field, regardless of company size, more corporate managers and corporate strategy divisions are involved in divisions leading strategies and plans for data collection. IT divisions are also fully engaged in such divisions. This thus suggests that the IoT is now in the practical application phase.
The number of orders we received for paid IoT projects has increased 1.5 times since 2017. This also shows that the IoT is in the practical application phase after carrying out PoC experiments with customers.
Fujitsu currently offers industry-specific IoT solutions such as COLMINA for the manufacturing field and SMAVIA for the distribution field. Here, the important points are "how to combine data from existing systems and new data obtained by the IoT" and "how to guarantee non-functional system requirements, such as availability, performance, and security."
During the course of an IoT project includes PoC, new issues emerge that cannot be solved within the PoC process. For example, issues such as "how to process the large volume of data created by connecting more devices and systems" and "how to secure wider connections" have come to the fore. These issues must be addressed before practical application. Fujitsu aims to do so using two technologies: large-scale real-time processing and edge computing.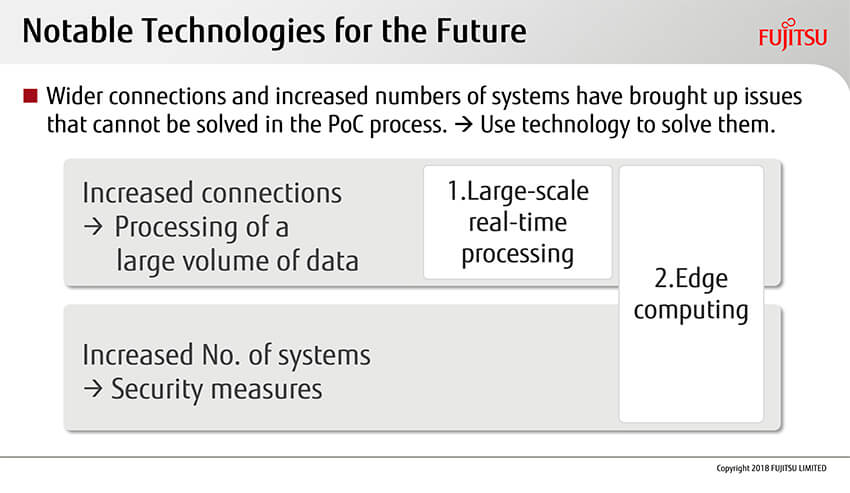 Solving issues in use of the IoT by large-scale real-time processing and edge computing
In large-scale real-time processing, technology developed by Fujitsu Laboratories called Dracena is used. This stream data processing architecture can add or change processing elements for a large volume of IoT data without stopping the processing.
Collecting all data in the cloud is painstaking. In such a situation, edge computing comes in handy. You can use it in a hybrid mode, which means data that is important in terms of security can be used at worksites, while data necessary only for analysis can be used in the cloud.
Fujitsu is developing dynamic resource controller (DRC) technology that facilitates efficient reuse of distributed edge data. DRC can automatically assign processing of a large volume of data collected from sensors to the cloud and an edge computer to achieve the most efficient processing.
As described above, various technologies are needed to connect existing systems with the IoT and to meet demand for large volume data processing and security for the IoT. Fujitsu has a rich lineup of solutions to meet such needs.
Working with approximately 400 group companies, the entire Fujitsu Group will continue to support our customers' digital innovation.
Speakers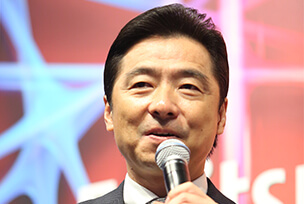 Iwao Nakayama
Chief Evangelist
Global Marketing Department
Corporate Executive Officer
Fujitsu Limited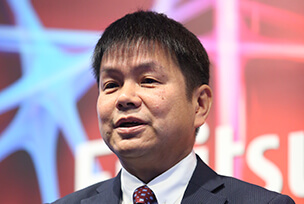 Keizo Azuma
General Manager,
AI Services Business Unit
Fujitsu Limited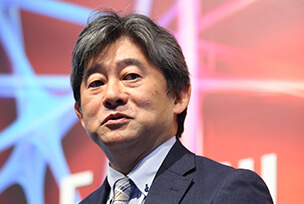 Takaaki Suga
General Manager
Network Service Business Unit
Fujitsu Limited