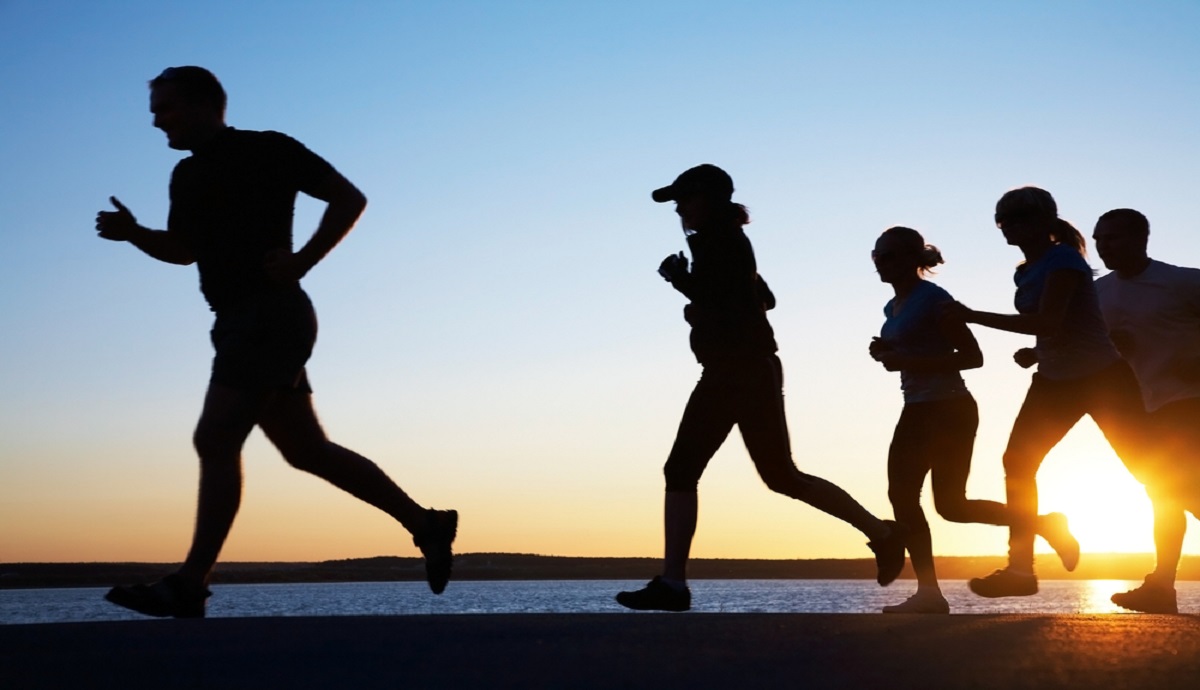 DevOps has undoubted benefits, but you need a clear reason to adopt it other than following the pack, says Nick Herbert, Head of Offerings, Hybrid IT, EMEIA.
DevOps is one of the hottest organizational IT trends around and with good reason. By unifying development and operation, organizations can become more agile and decrease costs. Who wouldn't want higher-velocity, lower-cost delivery of products, applications and services with the promise of outpacing competitors stuck using conventional methods?
It's an area of digital transformation Fujitsu understands well and where we are well placed to support implementations. Leading independent analyst firm IDC recently confirmed Fujitsu as a "leading player" in this increasingly important field, citing Fujitsu's key strengths in its services offering, delivery model and portfolio benefits1.
We also have a pretty good picture of which way DevOps is developing. Considering the adoption of DevOps, our investment in new research shows that a whopping 92 percent of large organizations globally2 already have plans to explore DevOps. That doesn't mean it's a mature approach in IT departments – at least, not just yet. Current maturity is surprisingly low, with only 20 percent of our respondents describing their programs as "fully-established". But hold on to your hat: nearly eight in 10 enterprises expect to embrace DevOps to deliver applications and services at scale.
Know why you're starting
I think it goes without saying that if you don't know why you're doing something, there's a good chance it will get messy. That's why one finding from our survey really jumped out at me. I'm sure you will also be surprised – and concerned – to read a statistic which suggests as many as one in three large organizations might be pursuing DevOps as a way of making sure they "keep up with the crowd".
Let's be candid: That's probably the worst of reasons to do DevOps. I'm sure we've all been involved in projects at some point in our career that lacked a solid strategic purpose. Perhaps there were instructions from high up, driven by a false reading of a situation on the ground – or an over-reaction to a competitor's change of approach that resulted in an over-hasty demand for a response. What I've learned is that it never ends well when you take an approach like this. At some stage, someone inevitably points out that the emperor has no clothes and that's when the repercussions start.
Reasons to take the DevOps path
If "keeping up with the crowd" is a bad reason, what should you be looking for? I'd suggest that business agility aims should be front and center:
Pursue increased speed, especially for business-driven innovation projects
Use it to break down silos, foster collaboration and avoid process waste
Don't forget the human impact of DevOps, since it is a fantastically collaborative approach that is good fun and empowers participants
Assuming you agree that DevOps has the potential to transform service development and provides benefits that will put an organization out in front, then it's important – or even vital – to first define and agree on the formal objectives of the project. Map out how they link to the organization's strategic goals. If you can't find that match, slow down and think again.
Speed and agility are the two keywords you automatically associate with DevOps and our survey bears that out. We found that the key reasons today for pursuing a DevOps model are to cope better with continuous change and improvements (42 percent) and become faster and more able to support business change (37 percent). If you roll those together as speed and agility, then it accounts for nearly eight in 10 (79 percent) of the people likely to be making decisions on DevOps programs.
DevOps as an enabler of agile working
That's a strong pointer to where you must look first when you evaluate your own motivation for exploring DevOps. Most organizations face accelerating demands for change: being able to respond to these faster might be a key to transforming overall business performance. But there are other ways to look at this. Why are there so many demands for change? Is this legitimate because, for example, customers change their method of engagement regularly? Or does it point to some underlying flaw in processes that allows internal disruption – a minor variation in team structure perhaps – to escalate to the point where it drives uneconomic demands for software changes?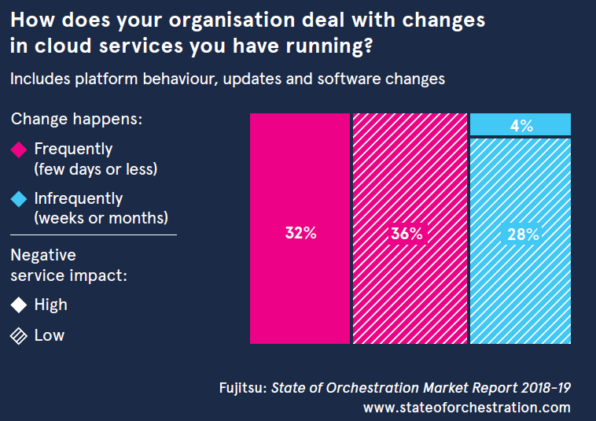 DevOps is an enabler of agile working and with the constant drive for more business agility, I was pleased to see that more than two-thirds of enterprises implement change very frequently. This is a fantastic sign of IT alignment to deliver more agility. However, half of these "agile changes" have a negative service impact. This is unacceptable and a clear flag of DevOps implementations that still have a lot of work to do before they are effective.
Given that a third of the sample aren't that clear why they embarked on the DevOps path in the first place, I suspect that improvement in the failure rate will be slow. Deeper thought can pay handsome dividends here. The clue to successful DevOps is in the name itself: consider the harmony between development and operations, and make sure you set clear guiding principles from the start. It's orchestration which makes DevOps so powerful – an area where, of course, Fujitsu has some deep and hard-won expertise.
The early adopters of DevOps models are reporting that it gives them a clear competitive advantage, and our survey provides a very clear prediction that DevOps – still relatively immature today on the whole – is about to go mainstream in a very big way.
We see a clear risk, however, that many organizations are adopting DevOps without necessarily understanding the full power of what it can deliver. Don't let this happen to you. Having a clear strategic objective is vital to ensure you get the full benefits from investment in DevOps. And if you're still struggling to find that objective, maybe we can help?
1 IDC's MarketScape Worldwide DevOps Services Vendor Assessment (November 2018) commends Fujitsu for a strong focus on helping clients execute application life-cycle management activities… [and having] …large inventory of reusable assets that the provider can leverage as part of its delivery. Fujitsu customers interviewed by IDC remarked favorably about Fujitsu's cultural values, finding team members to be respectful and human in how they operate. IDC notes that Fujitsu was also commended by its customers for strong capabilities in knowledge sharing across teams to ease workflows and communications as well as generated holistic solutions that were not just technical but were scalable and multilingual and transcended varied user demographics and different countries that used the applications.
2 The Fujitsu State of Orchestration 2018/19 survey was conducted among 253 IT decision makers with responsibility for decisions around cloud and IT infrastructure in organizations with 500+ employees across target sectors (Australia: 40, Finland: 41, Germany: 42, Spain: 40, UK: 45, US: 45).