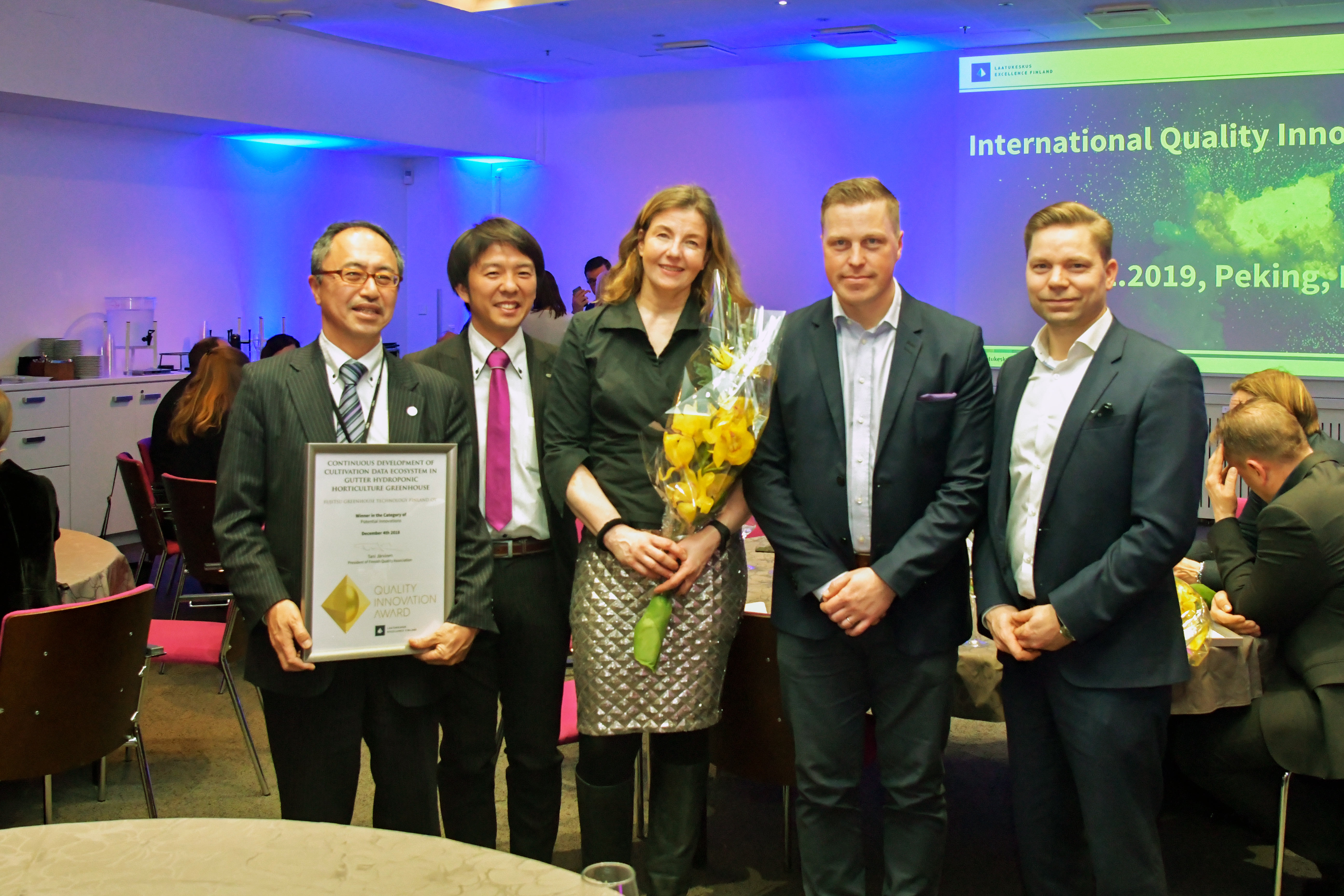 I'm very pleased to share that Fujitsu Greenhouse Technology Finland Oy recently won the Potential Innovations award at the Finnish Quality Association's national competition. The association seeks to find the most innovative organizations in Finland. Our award is for the development of a cultivation data ecosystem in vertical greenhouses.
The Quality Innovation Award ceremony, arranged in connection with the famous Slush conference for start-ups, was all about recognizing the best service and product innovations in Finland. According to the Finnish Quality Association, there was a record number of international entries this year: some 464 innovations from 18 countries. The Finnish winners had common denominators in being societal, ecological and customer-oriented.
We are very proud of the award jury's assessment of Fujitsu's work. They said: "This innovation represents a bold approach to enriching a traditional business sector with big data. It significantly changes the possibilities of greenhouse cultivation in different kinds of environments, complementing traditional cultivation by using technology ecologically and using very few resources."
This is not the end of the story. Winners from the Finnish national competition now advance to an international contest with a prize-giving ceremony in Peking, China, at the end of February. We're looking forward to seeing Fujitsu and Finland represented there next year.
Fujitsu Greenhouse Technology Finland, a company specializing in greenhouse technology, was founded in November 2016 by Fujitsu Limited and Fujitsu Kyushu Systems Limited. Robbe's Lilla Trädgård horticultural company, based in Lindkoski, Lapinjärvi, is our Finnish partner.
Fujitsu has ensured the latest technology is being used in Lindkoski by implementing full automation with the help of the Akisai cloud platform, which was developed specifically for the needs of food production and agriculture. The greenhouse is operated based on sensor information with Ubiquitous Environment Control System technology managing the greenhouse equipment and technology through remote monitoring.
Salad, sprouts and herbs are grown in the experimental greenhouse with optimized conditions. The vegetables are planted in four separate layers, making it possible to considerably increase the production per cubic metre. There is no need for natural light, since the greenhouse is lit by LED lights throughout the year.
The company selected Finland as it's base thanks to its strong technical expertise, climate and energy costs suitable for the experiment. Fujitsu's goal is to accumulate know-how in applying cloud services to food production and agriculture and to utilize this in other parts of Europe in the future.
At the moment, the future looks really bright when you look at the fresh salad, sprouts and herbs happily growing in that little garden in Lindkoski, Finland.