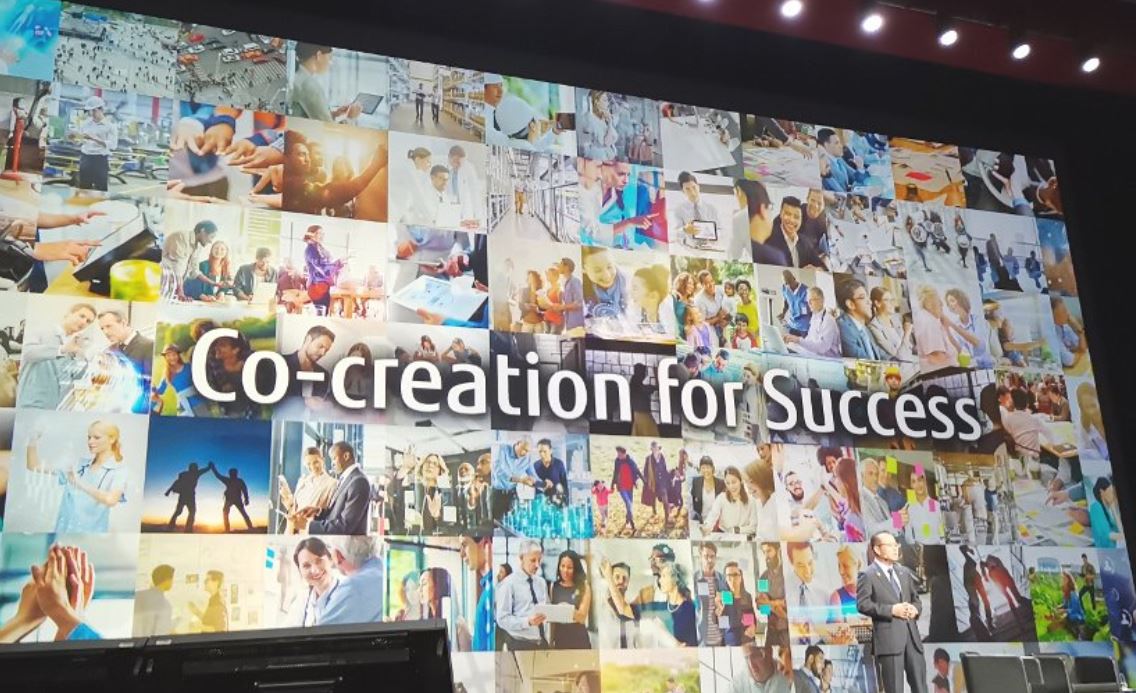 What do you need to succeed in business today? Beyond the cutting-edge technology and exciting applications at Fujitsu Forum last week, this was the question really on everyone's mind.
We asked nearly 2,000 business leaders for their view, and the answer was perhaps comforting. Despite living in the midst of the fourth industrial revolution, people remain at the heart of success – and particularly, the innovators, 'do-ers' and collaborators.
And why is it that so-called 'soft' skills, rather than technical competencies, are so crucial? Because we're living through a period of unprecedented change.
Digital disruption is at the heart of this evolution; today $60 trillion of wealth is moving from established enterprises to new players. Businesses know they need to transform to keep up, as 78% agree that change will be critical to success in the next three years.
But underpinning this change is a realisation that, as President Tanaka-san says, no company can do everything alone. The pace of change is transforming how every business works, including Fujitsu, and 'soft' skills are key to working together to evolve.
Fujitsu was founded 83 years ago as an ICT company delivering every service. While we've always been committed to collaborating with other companies, today our strategy centres on co-creation, both with our customers and other technology partners.
That's why the theme of 2018's Fujitsu Forum has been co-creation for success: connecting people and organisations to draw on their respective strengths.
Throughout Fujitsu Forum, it was clear that from quantum-inspired banking to VR cancer support, the results of co-creation can be truly amazing – and it's a process that's always evolving.
A contactless charity bucket and 360-degree cancer support
Co-creation can deliver outstanding – and sometimes unexpected – results, as Declan Hunt from Macmillan Cancer Support discussed in our co-creation breakout session.
Macmillan is a charity committed to helping millions of people in the UK affected by cancer. In 2016, Fujitsu embarked on a two-year partnership with the charity, focusing not just on fundraising, but delivering digital technology that would help with the charity's operations and overall strategic objectives.
Macmillan relies on a network of 10,000 healthcare professionals and 20,000 volunteers to deliver its vital services. Together the charity and Fujitsu developed a new mobile volunteer management system, to improve logistics and support the experience of those at the heart of its work.
Together Fujitsu and Macmillan also identified and tackled a fundamental strategic challenge: the decline in cash leading to falling charity donations. Following an innovation session at Fujitsu World Tour in London, the partnership developed a contactless cash bucket, that has so far collected over £250m of donations.
Emerging technology was deployed to deliver front-line support in new ways. The partnership developed a 360-degree film of a radiation suite, to give patients of head and neck cancer the opportunity to tour the room before treatment – and to make an intimidating experience more accessible. This shows how wide-ranging – and how fruitful – the outcomes of co-creation can be.
"There's no manual on this"
So why is collaboration so important for innovation? Because digital transformation is easy to say – but actually very difficult to do.
As Michael van der Bel of Microsoft noted in a panel discussion, "Everyone is doing something they've never done before. There's no manual on this."
Technology in isolation is not enough; as our previous research has shown, balancing People, Actions, Collaboration and Technology is key to delivering business value.
To solve – and even identify – customer issues, there's a need for a true understanding of the sector and the position of the individual business, and that means working with, not simply for, your customers.
Today collaboration between individual technology companies is vital. New tools like the Internet of Things are too complex for companies to work alone. Moreover, combining different technologies – and emerging technologies – can create whole new possibilities.
Co-creation then is critical, but the nature of these relationships is continuing to evolve – for us at Fujitsu, our customers and our partners. So how is collaboration changing and what makes for a truly powerful partnership?
Thinking outside the business
Throughout Fujitsu Forum, we saw fantastic examples of how the process of co-creation works in practice and its most important tenets. The first stage is actually identifying the problem. Sometimes this is obvious, but on other occasions we've found new challenges that businesses might not even have known about.
Our partnerships over the last 12 months have included issues as diverse as hotel chains looking to evolve their city centre parking systems and coffee chains looking to optimise a critical source of expense – their milk supplies.
Real innovation requires both parties to abandon their preconceptions and consider new perspectives. Technology is not mentioned until halfway through the ideation process, to focus on the business challenge, not a pre-packaged solution – as the case of Macmillan highlighted.
The environment is also key. We have hosted over 100 businesses in our Digital Transformation Centres in the last year.
At Fujitsu Forum, we even hosted our own pop-up Digital Transformation Centre to demonstrate how co-creation works in practise and accelerate our customers' journeys, breaking down barriers and stimulating new thinking.
Quantum-inspired banking
Co-creation is also key to making use of new and emerging technologies today, including quantum-inspired computing.
NatWest, like other UK-based banks, faces the complex issue of finding the right composition for its High Quality Liquid Assets (HQLA) – the portfolio designed to enable it to weather any financial storms. The objective is to balance the management of risk with the maximum returns.
Calculating the HQLA portfolio with current computing methods was slow and computationally intensive, with the result that NatWest could only run checks at particular moments in time, rather than in real-time.
This seemed like the perfect use case for the Digital Annealer – the quantum-inspired computing platform developed jointly by Fujitsu and technology pioneer 1QBit.
After a week-long hackathon in London, the team demonstrated that the Digital Annealer could re-balance the portfolio in quasi real-time, enabling more effective management of the £120bn fund.
NatWest is able to take advantage of some of the benefits of quantum computing today and has improved one of the core operations of the bank: a fantastic example of how co-creation can deliver new technology today.
The new technology ecosystem
The rise of co-creation is also necessitating change in how technology providers work together, which was the subject of a panel discussion we hosted with Microsoft, NetApp and Intel.
As a company we've always prided ourselves on being an excellent collaboration partner, but as our EMEA head of partnerships, Fleur Copping, explained, it's time for a new approach – moving from 'suppliers' to partners.
As our recent work with the UK Post Office has shown, working together as technology providers from the beginning of the process is central to delivering greater value for customers.
The Post Office has 11,500 branches with around 60 million customers visiting every month.
Digital transformation is no small undertaking for the organisation, with services including home phone and broadband, currency exchange, bank transactions – and of course the postal service.
Fujitsu and Microsoft worked together to deliver a new hybrid IT environment, to enable the Post Office to move key operations to Azure and move at consumer speed. Fujitsu and Microsoft have undertaken a truly agile process and now branches can be deployed in days, instead of months.
The evolving culture of co-creation
It was clear from discussions at Fujitsu Forum that co-creation is still evolving, as we identify and instil the best behaviours to delivers results. As Lisa Spelman of Intel highlighted, it's critical to acknowledge that the journey isn't over yet and there are still learnings to use and apply.
Three key takeaways at the conference were:
Soft skills must be shared and nurtured
Innovation, collaboration and execution are fundamental to the success of individual businesses and partnerships, but often those skills can be in short supply. The best partnerships will share and maximise those competencies between businesses. To instil 'soft' skills in the long term, businesses must create reward systems that nurture and promote those behaviours formally within the organisation.
Embracing new technologies and ways of working is challenging, wherever you work. Even in technology companies, the pace and comfortability of change varies. Leaders should be prepared to evolve before expecting others to and design all change plans from the ground up.
There's now a general acknowledgement that if you're transforming, failure is almost inevitable and it's how you respond that counts. But as Michel van der Bel noted, that means that you need to have appropriate support and procedures in place, for staff to take risks and move on from failures.
Trust is everything
Co-creation is at its heart dependent on the relationship between companies. Perhaps unsurprisingly, our attendees voted that trust – more than clear goals and even contracts – is the most important element in a partnership.
At Fujitsu, that's a key part of how we'll be measuring our success in the year ahead. I want to see even more customer advocates at Fujitsu Forum in 2019, joining us to share their successes, achievements and learnings.
By bringing together people from diverse sectors, expertise and backgrounds, Fujitsu Forum really is a brilliant example of co-creation in action – and even during the show, there were some exciting beginnings to new projects and partnerships.
The theme of 2018 was co-creation for success and I can't wait to see the outcomes in the year ahead.