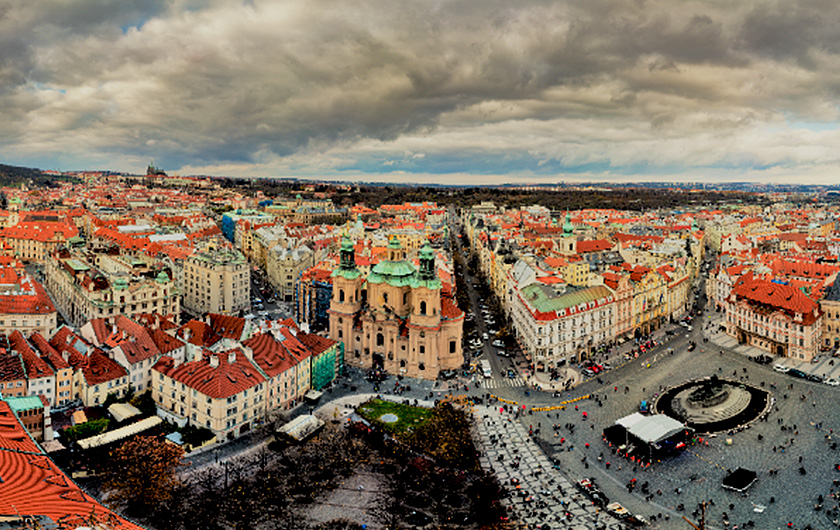 In the beginning, there was a picture. A panoramic picture of Prague which would be bigger than any taken before. The location was also unique. Once every 30 years, the Old Town Hall´s roof and its tower need some refurbishing. We got lucky to hit this once-every-thirty-years-window when we could utilize scaffolding in the heart of Prague´s UNESCO site.
Making such a monstrous picture is not easy at all. A basic 360° camera does not have the resolution for such a task, therefore it was necessary to use the classical one. On top of the scaffolding, Jeffrey lifted the camera up by another 5 metres and launched the pre-programmed software in the camera's automated grip, which moved the camera frame-by-frame and row-by-row in clear-cut sequences. The camera with a huge telephoto lens took enormous amounts of data in rapid sequence and after three days of shooting, Jeffrey had over 8000 photographs on his disk; each photograph with 50 megapixels.
The hard work with pixels began right after we climbed down from the Old Town Hall. Jeffrey had to sew it together, match lightning conditions and replace blurred images. This needed a very powerful workstation, which we found in the vault of Marcus Hartmann. We got a shiny new CELSIUS R970 with 128GB RAM, extremely fast disks and very special software.
In the end we had a single 500-gigapixel picture of Prague's unique panorama. We decided that such a picture would also need a special presentation, therefore we printed it on a roll three metres high and 54 metres long, specially carved in order to create a unique experience for ten thousand visitors of the MakerFaire in Prague. The result was breathtaking. When I saw it for the first time, I was really proud that we were able to make this happen. Seeing thousands of people amazed by it was simply superb. For our efforts we were rewarded with dozens of media outputs, new leads and prices for the best exhibition booth of MakerFaire.
We were also creating a "making of" movie but we decided to step out of the usual track and create something different- a story of the workstation told by creators themselves with virtual reality and the Prague panoramic picture. Because, in the end, the customer is always the one who can tell the best story about Fujitsu's products and services. Watch now to see for yourself – I hope that you will like it.