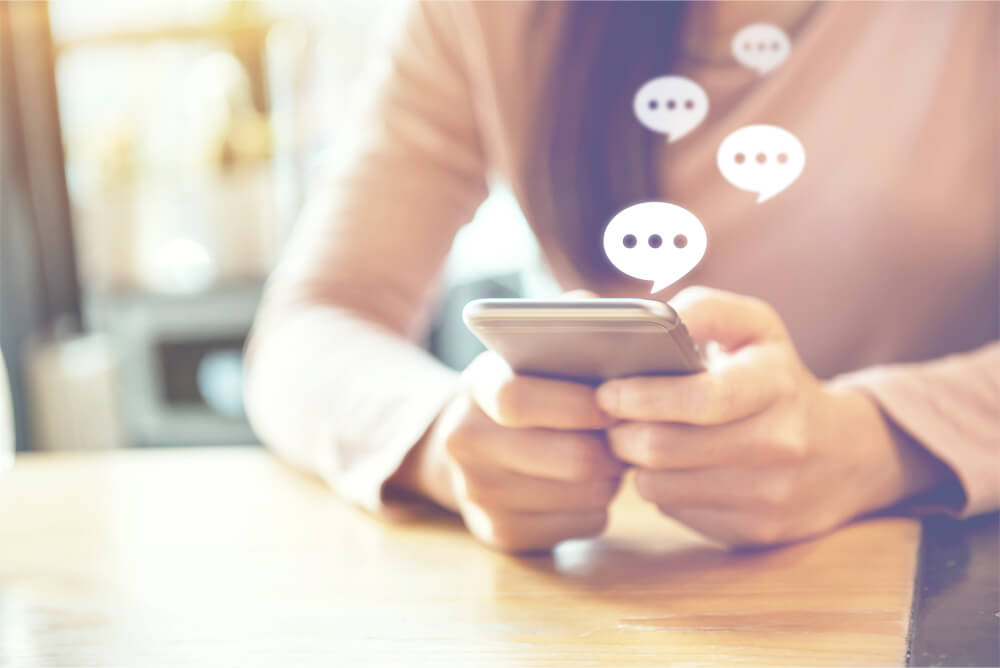 Businesses are increasingly leveraging messaging services, such as WhatsApp, iMessage, WeChat, Line and Facebook Messenger. In the following article, we illustrate the growing impact that messaging apps are having in the financial services industry on business functions such as sales and marketing.
Business-Messaging Trend
In the United States and many other countries, the popularity of messaging apps is giving rise to a new channel for customer communication, pushing out old-school methods. Email continues to lose its effectiveness as a customer engagement tool. Many customers now perceive e-mail newsletters as "noise" in their inboxes.
On the other hand, messaging apps, such as WhatsApp, iMessage, WeChat, Line and Facebook Messenger, are attracting growing interest from companies that view them as a key communication tool. One report estimates there are 5 billion mobile phone users worldwide, and those people prefer to use messaging apps over other communication tools.
Another report shows that 95% of text messages are opened and read within three minutes of receipt, and recipients, on average, send replies within 90 seconds of opening the messages.
This data helps explain why the messaging revolution is encouraging businesses to adopt messaging apps as the optimal one-to-one communication method with their customers -- and the success stories pouring in from the United States and India confirm this view. It's no coincidence that Apple, Google and Facebook have all launched messaging apps for business use.
Challenges for Corporate Users
Despite the data and the trendlines, many companies are hesitant to adopt messaging apps for customer engagement. Their biggest challenges lie in corporate governance and compliance. Unless management can strictly control the messaging activities, including the type of information employees share, when they share it and with whom, they risk information leaks and subpar treatment of customers. Especially in the financial services industry, which requires the highest level of credibility, a failure to stay in compliance could be disastrous.
Notwithstanding these risks, companies are seeking ways to utilize messaging apps beyond simple information sharing and notifications. They see the potential value in using messaging for more targeted and effective sales and marketing. Start-ups and other organizations are adapting popular messaging platforms and turning them into a valuable tool for business communications. For example, companies are integrating messaging platforms with multiple corporate systems:
business intelligence system
CRM, ERP, SFA programs; and
marketing-automation solution.
Eltropy: Accelerating the Financial Industry's Digital Transformation
A Silicon Valley venture founded in 2013, Eltropy Inc. designs solutions for the financial services industry. The company is well-known for technology that helps financial services providers, including banks, credit card companies and insurers, enhance their sales and marketing efforts for products and services, including home mortgages and asset management.
Its namesake technology, Eltropy, is a cloud-based platform consisting of three modules: messaging, content management and AI-enabled analysis. Through the secure use of messaging apps, like SMS, WhatsApp, Line, and WeChat, Eltropy helps clients to improve a range of business processes, including customer relations and engagement, sales, marketing, billing, claims, support, lending and collections.
Connecting to Multiple Messaging Apps with APIs
Using APIs, Eltropy's messaging module helps financial services providers quickly connect to messaging platforms like WhatsApp, iMessage, Line and Facebook Messenger, enabling fast, convenient and secure customer communication.
Managing and Delivering Content from the Same Page
Eltropy's content management module helps companies seamlessly manage content and share it with customers. Companies can upload, save, manage and share more than 50 file types, including marketing deliverables as PDFs, questionnaires, documentaries and videos. The module allows companies to manage all the content in an integrated way. As a result, companies retain complete control over the content they share with customers.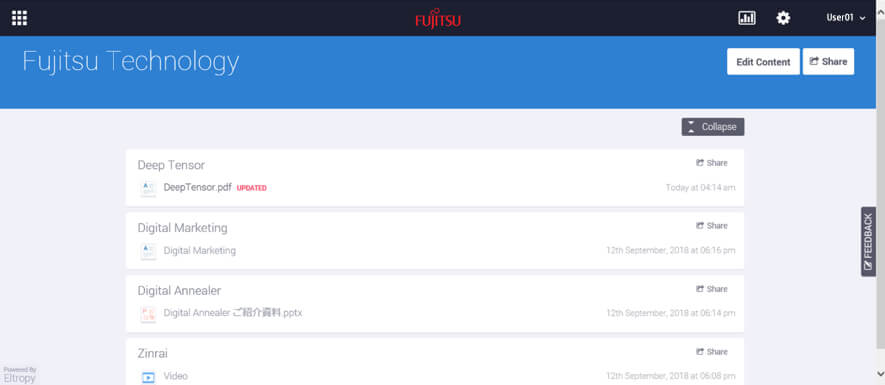 Eltropy's content management page enables clients to quickly edit and deliver content.
Artificial Intelligence-Enabled Predictive Analytics
Eltropy's artificial intelligence module helps companies analyze customer behavior to derive valuable business insights, such as identifying promising prospects. Most importantly, companies get a clearer view of how customers are responding to their content in real time, including whether they read a message, opened a file, or clicked a link.
The AI-enabled analysis of customer engagement with messaging content extends to data points like click rates and access counts. This ability to compare customer behavior over time helps companies make better decisions in targeting prospects.
For example, the data analysis enables companies to quickly assess the sales potential of a customer and determine the most opportune time to follow up.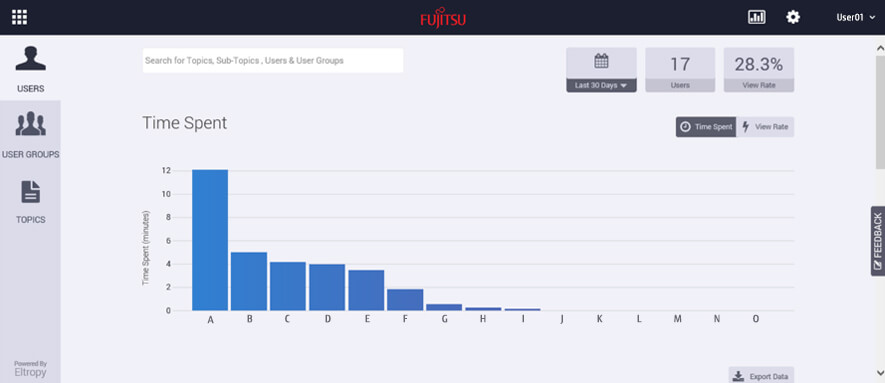 A dashboard helps companies to visualize and analyze individual customer behavior.
Soaring Customer Engagement
One of the largest commercial banks in India represents one of the most successful Eltropy implementations to date.
Team members at this bank were grappling with a growing problem. Traditional methods of communication, such as phone calls and e-mails, were becoming ineffective. An increasing number of the bank's wealthy customers were ignoring or even becoming annoyed with the unnamed sales calls and e-mail messages they were receiving daily.
However, the customers were still accessible through WhatsApp to selected, trusted contacts. To reach out to these customers, the bank decided to use messaging apps as its main channel. It selected Eltropy as the platform to effectively manage communications. The bank's team started to share content with customers through WhatsApp, establishing a channel for personalized communication with the targeted customers. Eventually, this approach resulted in an 11-times increase in customer engagement and 300% growth in sales of exclusive products, generating more than US$70 million in additional investments by wealthy customers.
Helping Broader Implementation in Japan
Fujitsu is preparing a partnership with Eltropy Inc. to help financial services providers in Japan take full advantage of Eltropy's technology and to accelerate their digital transformation by leveraging Messaging, Content and AI.