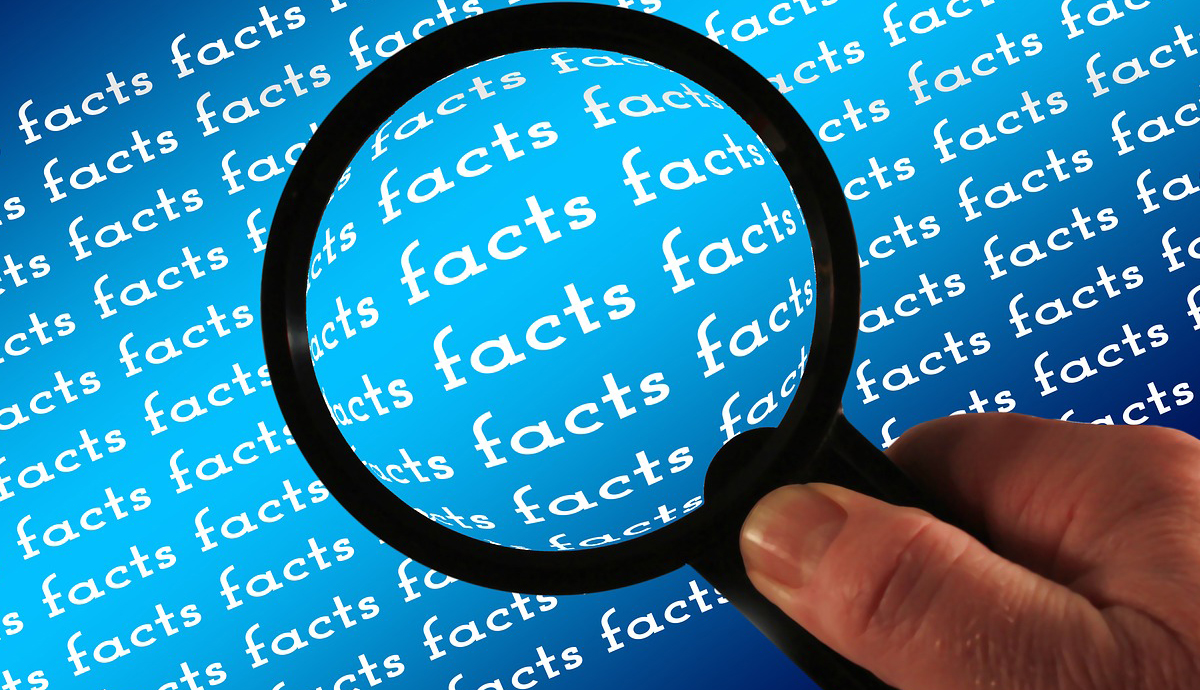 A 57 percent return on investment over three years: That's the impressive headline figure from a new Total Economic ImpactTM (TEI) study from leading research firm Forrester Consulting, which assesses the potential return on investment (ROI) that enterprises can realize by deploying Fujitsu PRIMEFLEX for SAP Landscapes.
If you're like me, hard facts embedded in an economic case are the only basis for making investment decisions. This is especially so when it involves complex, large-scale, global IT infrastructure that is vital to the operational health of an organization. That's what makes this study so important since it shows savings achievable not in a theoretical model but derived from real-world use cases.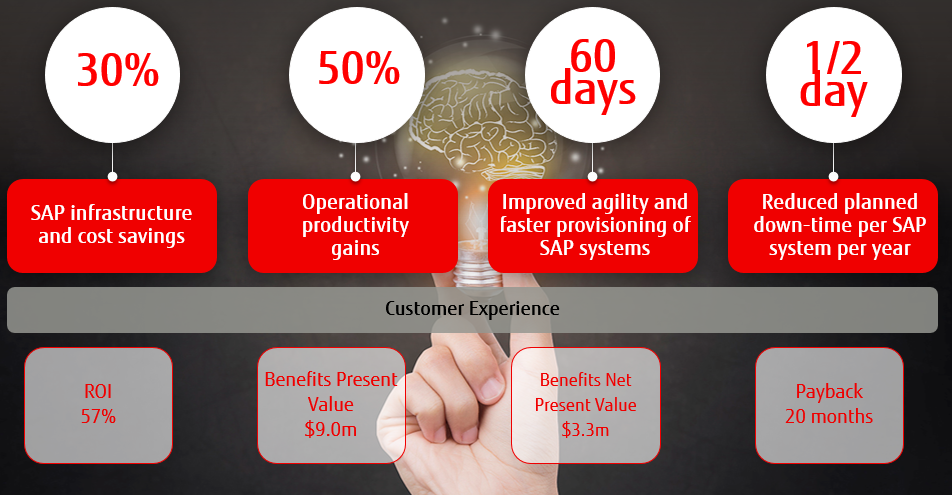 The Total Economic Impact™ Of FUJITSU Integrated System PRIMEFLEX for SAP Landscapes, a commissioned study conducted by Forrester Consulting, May 2018
Fujitsu PRIMEFLEX for SAP Landscapes delivers proven cost savings.
Let's have a look at the main findings: Forrester's analysis found that a composite organization, based on interviews with Fujitsu PRIMEFLEX for SAP Landscapes users, would enjoy savings of approximately US $9 million over three years, versus costs of $5.7 million, which adds up to a net present value (NPV) of $3.3 million and gives us the headline ROI of 57 percent.
We agree with Forrester that SAP users tend to be large, sophisticated global firms and often face similar challenges and opportunities. It's often also the case that SAP environments tend to grow both organically and through mergers and acquisitions, which means the "average" installation is rather complex or even sprawling – but no matter what it looks like, still of vital importance to the business. And while they need to protect their existing investments, organizations must also respond to ever-changing business imperatives which means making sure they offer a flexible and scalable SAP environment. To achieve this, they are of course looking for ways to modernize their SAP instances, by creating a robust, agile infrastructure that supports business growth and innovation.
Forrester constructed the investment case study based on interviews with two typical SAP users, both of whom switched to Fujitsu PRIMEFLEX for SAP Landscapes. The first is Nakilat, a Qatari shipping and maritime company with the world's largest fleet of liquefied natural gas (LNG) carriers – 65 LNG vessels and four large liquefied petroleum gas (LPG) carriers. Nakilat also operates an extensive ship repair and construction facility via two strategic joint ventures and provides a full range of marine support services to vessels operating in Qatari waters.
The second use case involves a global manufacturing company. Headquartered in Europe and best known for its design, research and development, plus its manufacturing activities in a number of different industrial sectors, this company has more than 200 production locations in 40 countries and employs more than 130,000 people worldwide.
These two companies are both running between 140 and 270 SAP systems ranging from 1,200 to 55,000 SAP users. Prior to adopting PRIMEFLEX for SAP Landscapes, both were running their respective SAP environments on legacy infrastructure. Their challenges are typical of many legacy SAP environments:
Rising operational costs caused by complex SAP environments running on systems from multiple vendors, usually arising from organic growth over the years, plus mergers and acquisitions along the way.
Maintaining a broad technical skillset and facing a war for talent – another consequence of operating a heterogeneous SAP infrastructure.
Long implementation cycles that are receiving push-back from the business users.
General maintenance activities that require downtime due to partial virtualization, creating a challenging situation for organizations with global operations.
So many reasons to make the move to Fujitsu PRIMEFLEX for SAP Landscapes.
There are solid reasons why these two organizations made the move to Fujitsu's PRIMEFLEX for SAP Landscapes. First, it's an integrated system — designed, delivered, and supported as one product. That means faster time to value with simplified and secure setup of infrastructures optimized for SAP applications and databases, through a predefined, pre-integrated, and pretested combination of hardware, network connectivity, and software from Fujitsu and specialist partners, for example, SUSE.
Next, our integrated FlexFrame Orchestrator Management software results in the consistent and standardized administration of infrastructure, databases, and applications. It facilitates the operation of SAP applications, SAP databases, and the SAP HANA platform, simplifies the management of complex SAP environments, and optimizes planning, operation, and change management.
Finally, centralized administration of SAP software components allows dynamic deployment across physical and virtual resources based on business demand. The result is better business continuity and faster provisioning of innovations, updates, and new SAP applications like SAP S/4 HANA.
And this can all be applied for any IT provisioning model: on-premises, as a managed or hosted service or deployed in the cloud.
To get to grips with value and payback from addressing these challenges, Forrester's TEI methodology constructs a framework – a synthesized composite company based on specific use cases – and develops an aggregate financial analysis. The composite organization derived from the two Fujitsu customer interviews is a large manufacturing and distribution company with global operations, with around 35,000 employees, including 10,000 SAP users worldwide, within a legacy SAP landscape involving 200 SAP systems (including 20 in production) and running on heterogeneous infrastructure with minimal virtualization. In total, the entire legacy SAP infrastructure in the composite organization was running on approximately 80 physical servers. The financial impact estimates are indicated as three-year, risk-adjusted present values (PV).
Starting with the savings, the largest single category ($4.2 million) is refresh cost avoidance for legacy infrastructure. Most organizations tend to refresh their legacy SAP infrastructure every four to five years. When moving to a new infrastructure, they avoid the refresh costs of the previous environment, and this must be factored into the business case to be able to compare the future state with the pre-investment state.
Next comes legacy infrastructure maintenance cost savings, which total $2 million, including the decommissioning of the legacy SAP infrastructure and associated annual hardware and software maintenance fees.
Thirdly there is $1.3 million in business value from faster provisioning of SAP systems. Both interviewed organizations reported that their new SAP environment based on PRIMEFLEX for SAP Landscapes is now much more flexible and allows them to support their businesses better. They cited the ability to provision new SAP systems more quickly as an important benefit of the overall investment.
Forrester calculates that operational productivity gains account for a further $987,701. The use of pre-integrated infrastructure components optimized for SAP, the general harmonization of hardware and software, the standardization of processes, and the move to a fully virtual server environment resulted in productivity gains for the core SAP infrastructure team estimated at approximately 50 percent.
Finally, reduced planned downtime of SAP systems brings another $556,039 of benefit, with both organizations highlighting the built-in high availability and disaster recovery capabilities of Fujitsu's PRIMEFLEX solution.
The total benefits identified in this TEI of $9 million do not include any value attributed to increased flexibility, something that is clearly unique for each customer and may come from simplified deployment and operation of a SAP HANA platform or the ability to reap new, future opportunities through a system's greater scalability.
Against the $9 million of benefits, Forrester identified $5,735,335 in costs. These were infrastructure costs of $5,037,566, made up of hardware, associated software licenses, and maintenance costs for the new SAP infrastructure; set-up and migration costs of $647,769, which includes the decommissioning of legacy infrastructure; and initial training costs of $50,000, to include time spent on training the core SAP infrastructure team of 12 people.
The many faces of digital transformation
Digital transformation has many faces. SAP is so fundamental to the life-blood of many of the world's major organizations. Therefore, any program that simplifies complexity, lowers project risks, and increases operational efficiency for SAP environments really will have a transformational impact. But you still need that hard body of facts, including the most fundamental– what's the ROI? – to build an unassailable investment case. What the Forrester TEI study proves beyond reasonable doubt is that the multiple benefits on offer from the pre-defined, pre-integrated, and pre-tested Fujitsu PRIMEFLEX for SAP Landscapes solution are proven, quantifiable, and significant.