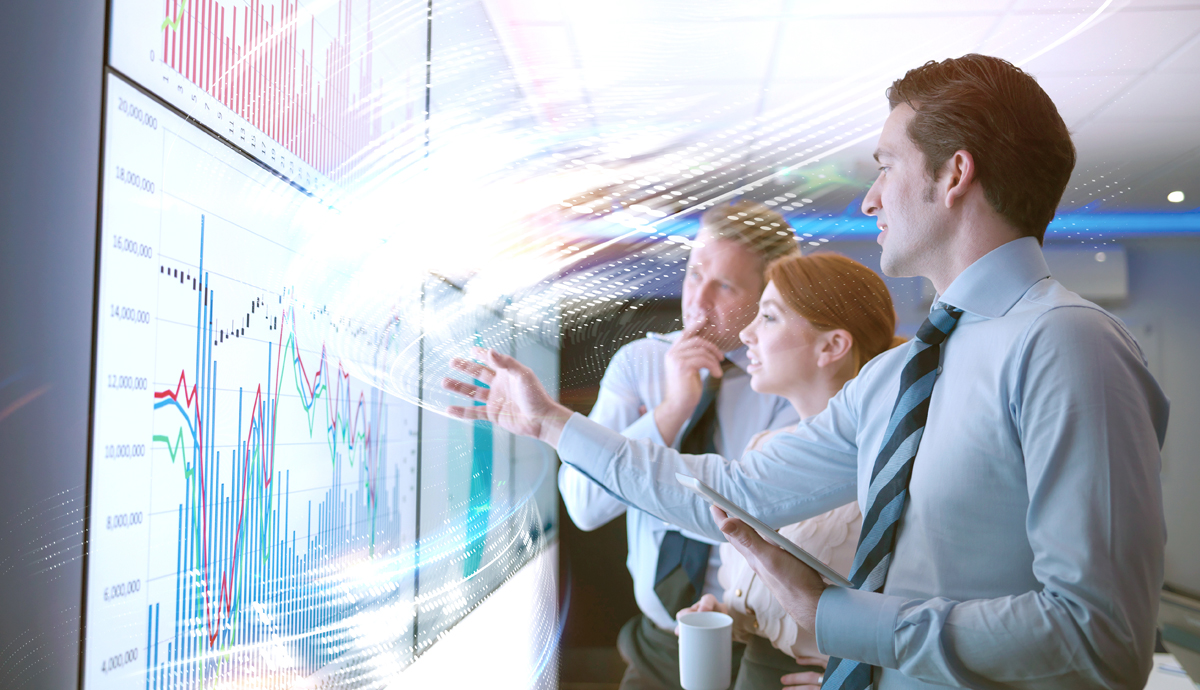 In my last blog, I looked at the impact of digitalization and how it is blurring the boundary between banks and technology companies within the financial services Digital Arena: a space where a wide ecosystem of parties are coming together to create new value for customers and participants. This time I'm going to polish my crystal ball and make some specific predictions as to where this is taking us – looking first at the trends driving transformation of banking services and then the strategic options available for traditional banks and opportunities for new entrants.
At Fujitsu we see five megatrends where digital is accelerating the formation of a decentralized Digital Arena to provide users with innovative banking services. Participants in this ecosystem could include technology companies, retailers, telecommunications firms and companies from other industries, as well as traditional banks.
The Five Megatrends
1. Engagement Banking: Providing services integrated with people's lives and businesses
It used to be that banks had very restricted points of contact with their customers – basically just branches and ATMs. Smart phones have changed that: There are now four billion in use globally, according to the Ministry of Internal Affairs and Communications (MIC) in Japan. Also, the increasing use of voice-controlled smart devices such as Siri and Alexa, enabling easy voice-controlled operation, will generate even more profound changes in the near future.
Banking service providers have already responded to the ability of and demand from consumers to access services whenever and wherever they wish and have multiplied the number of available points of contact. This includes non-bank services that are already part of our daily lives. For example, the Commonwealth Bank of Australia collaborated with a large real estate information company to develop a smartphone app that allows users to immediately check the price of properties for sale, access home loan simulations and contact loan officers, just by using their smartphone to take a picture of a property for sale. The app actually makes it possible for users to complete the entire process of purchasing a home on their smartphone.
2. Platform Banking: Providing plug-and-play banking functions
New platform banking providers have appeared, encouraged by new legislation from the EU and the Japanese government1, for example. These offer back-end banking operations and related business processes that require banking licenses. These firms are specializing in front-end service and in delivering customer experience that is nothing short of exceptional. These back-end service providers are developing banking functions on highly-scalable cloud infrastructure, so they can leverage the economic and flexibility benefits of consolidation, offering to the 'non-banks' via APIs – application programming interfaces.
There are two-way benefits here. New entrants can now provide front-end services to customers; and banks can also incorporate the services offered by non-banks into their own platforms and use this to develop new businesses. In 2007, Fidor Bank was founded in Germany as a completely digital bank, designed without branches and ATMs, with all transactions completed online. Fidor provides its banking platform to other industries wanting to provide new financial services, and this allows companies from other industries to immediately start providing financial services, without the need to apply for banking licenses.
3. Technology Banking: Providing technology-based efficient services
Leading US financial institution Citibank estimates that AI and other technologies will replace some 30 percent of banking jobs over the next five years, while Goldman Sachs, a leading investment bank in the US, has already reduced the number of traders working at its headquarters from 600 to just two, with the majority of trading work now being performed by software applications. In Japan, the country's mega banks have announced plans to use AI and other cutting-edge technologies to reduce workloads over the next 10 years by the equivalent of 30,000 employees.
While AI and robots will replace people in difficult and routine operations, and take over repeatable activities, people are still very much part of the future outlook. Humans will focus on tasks requiring rich communication skills, leveraging planning abilities and creativity, and in the development of higher value-added services. Wells Fargo, another leading US financial institution, recently announced plans to offer a new asset management service that combines AI-based asset management with personal contact through financial advisors. The financial advisors will be able to understand the customer's life plan and need for asset management. AI can then be applied to those ideas to achieve the optimum asset management solution for the customer.
4. Social Banking: Creating new services without intermediaries
The sharing economy is attracting interest as a new form of economic activity that can directly connect a large number of service providers and users via a network and the white paper from Japan's MIC predicts this market will expand to around 35 trillion yen (320 billion US dollars) by 2025.
Blockchain is an important component in these peer-to-peer transactions. Its underlying technology provides the necessary trust between two parties who are possibly unknown to each other, and to help form a platform for autonomous transactions within the sharing economy. To help create these new services, Fujitsu is collaborating with Japanese financial institutions through the development and field testing of Blockchain technologies that enable peer-to-peer remittances between personal bank accounts.
5. Inclusive Banking: Helping maximize social value
As many as four billion people around the world are currently living on an annual income of US$3,000 or less. Most have a cash-based existence and have probably never used financial services. With no access to obtaining a loan, they live in circumstances that make it difficult to improve their standard of living.
In the past, microfinancing services had to determine the strength of an individual's personal network and estimate their creditworthiness before they could extend loans. But there is now another way. By leveraging the massive amount of personal data generated by smartphones, it is possible to create new opportunities for economically-challenged people to access financial services and provide returns to individuals.
There are privacy risks here, and the European Union has formulated a new General Data Protection Regulation (GDPR) that defines the rights to personal data as belonging to the individual. In Japan too, the public and private sectors are joining forces to spearhead discussions on personal data stores (PDS), where individuals can manage their own data and connect that data for use by new services. For example, Fujitsu and the Japanese AEON Financial Service have conducted field testing for a so-called Information Bank, where individuals administer and manage their personal data themselves, and earn rewards in the form of a Blockchain-based intra-company virtual currency, according to the volume of data shared.
The future of banking
Finally, I want to look at where these trends are taking the traditional banks, where there are three distinct profiles emerging, and the opportunities opening up for new entrants.
The first possible profile for traditional banks is to evolve into 'better banks', using digital technologies to transform customer contact and business processes to create a new, improved customer experience. The second profile is the provision of back-end platform functions via APIs to new entrants who provide financial services. In addition to basic banking functions, these include digital services for authentication and data analysis, as well as banking transaction services that require a license. And the third profile is to evolve into front-end banks that leverage the trust they have built up with their customers. They use both digital channels and physical channels, including shop fronts, to deliver services closely aligned to their customers' needs, while procuring any required back-end functions from other banks.
In pursuing any of these three business models, it is crucial that banks identify their greatest area of strength, focus their management resources, and use digital technologies to transform their business model accordingly.
And what about the new companies entering the sector and offering banking services? The key to success here is to combine their existing areas of business expertise with new banking services to redefine the value that they provide to users. An example would be telecommunications and power companies, with their own customer base and detailed individual customer data, or large-scale retailers with extensive store networks and a high volume of visitors who can provide banking services finely tuned to each of their individual customers refined by access to purchasing data.
Flexible strategies are important for new entrants. They may focus on providing banking services to their particular niches, while procuring the required banking functions from banks specializing in back-end platforms. To maximize business opportunities driven by digital transformation and exploit the big trends of banking services, companies must work on co-creation with trusted partners.
In a Digital Arena, enterprises are connected beyond the borders of existing industries and create ecosystems for the co-creation of new value for customers. We expect traditional banks and new entrants alike to join forces in a Digital Arena to co-create new banking services for users. Fujitsu is focusing on developing and offering leading digital technologies, such as AI, IoT, security and Blockchain, as well as providing industry platforms for API-based financial services. In this way, we will continue to contribute to the co-creation of a new banking services Digital Arena.
---
1 In January 2018, the European Union implemented the PSD2 (Revised Payment Service Directive), specifying that banks are obligated to connect data and services securely with Fintech companies and companies from other industries. In Japan as well, the revised Banking Act of 2017 obligates financial institutions to define basic policies for open APIs when connecting with FinTech's.