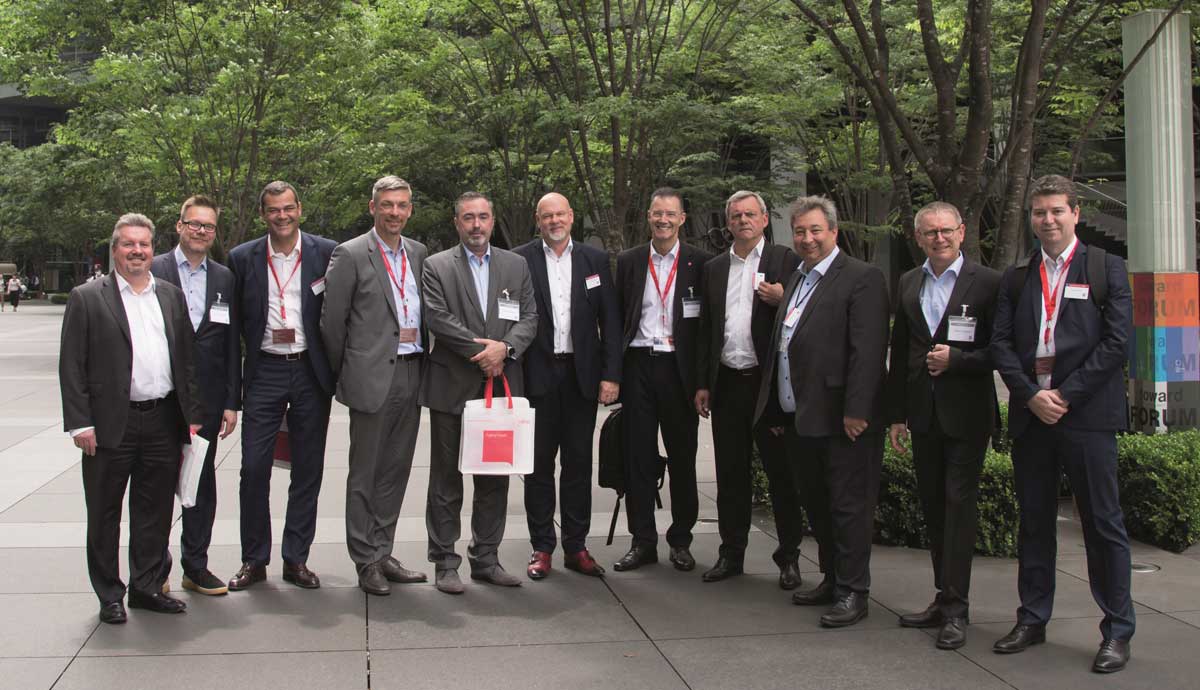 We kicked off our new SELECT Partner Infinity track in style recently at Fujitsu Forum Tokyo. Inaugural SELECT Infinity partners Bechtle, Cancom, Computacenter, Dustin and Econocom received their official nominations to this invitation-only program during the prestigious Channel Award ceremony, attended by more than one hundred Fujitsu Channel partners from Asia and Europe.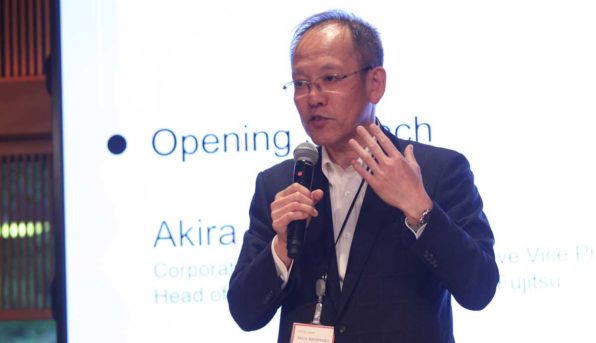 Akiro Kabemoto doing welcome part – SELECT Infinity track – at Fujitsu Forum Tokyo 2018
I am proud to be able to launch this new SELECT Infinity partner track and look forward to even closer collaboration as we continue to co-create solutions with the first five members. The official nomination to this exclusive group of highly respected European channel partners was personally handed over by Fujitsu Senior Executive Vice President and Head of Service Platform Business Group Akira Kabemoto and by Michael Keegan, Head of Product Business EMEIA.
The SELECT Infinity track was announced earlier this year to meet the specific needs of pan-European corporate resellers – in response to feedback from our partners themselves. The new track makes collaboration at scale much easier by giving them unlimited access to the portfolio and support the need to deliver digital transformation for their customers. The foundation of the program is based on enabling an extremely close working relationship to drive mutual success.
The underlying topic of close collaboration was underscored by the Fujitsu Forum event theme: 'Human Centric Innovation: Co-creation for Success'. The first perk for our newly minted Infinity partners was to hear the company vision and direction direct from Fujitsu executives and to see innovation in action.
In fact, the Fujitsu Forum Tokyo was a part of a full week in Japan for the Infinity partners – consisting of both opportunities to enjoy the local culture and opportunities to see some of Fujitsu's latest technology innovations first hand. Partners were able to see the latest solutions in the fields of artificial intelligence (AI), the Internet of Things (IoT), and security, as well as the cloud and supporting technologies. Also in evidence were advanced technologies such as the innovative Digital Annealer, a quantum physics-inspired computer developed with Fujitsu's proprietary architecture. The technology-focused itinerary also included a presentation on the future of IoT at one of Fujitsu's daughter companies – Net Community – and a visit to the Fujitsu data center in Yokohama.
The new Infinity partners left Japan energized and full of ideas for how to more effectively leverage Fujitsu solutions for their customers and for new opportunities to collaborate with us. But now that the event is over, the real work begins. The next step in the relationship is to create dedicated business plans for mutual success. These will include not only any relevant training from pre-sales to aftercare on any of Fujitsu's portfolio but also any other support required to help them meet their objectives – such as dedicated Fujitsu resources on site.
Just like the SELECT Circle track partners, the SELECT Infinity members are already very closely involved with Fujitsu and have ambitions and plans in place for mutual business growth. The relationship can be considered strategic on both sides. Channel partners invited to join the SELECT Infinity track profit from the widest range of program benefits and selection of products and services in addition to a boundary-less approach to delivering international projects.
But we also look forward to working more closely with ALL our partners
We recently updated our partner program based on feedback from our Channel and the 2018 Partner Program has more training opportunities, a broader portfolio and more support than ever before. There are countless opportunities for partners at every level – in fact you could say the possibilities are infinite….
For more details of any of the partner tracks: http://www.fujitsu.com/fts/microsites/spp/index.html