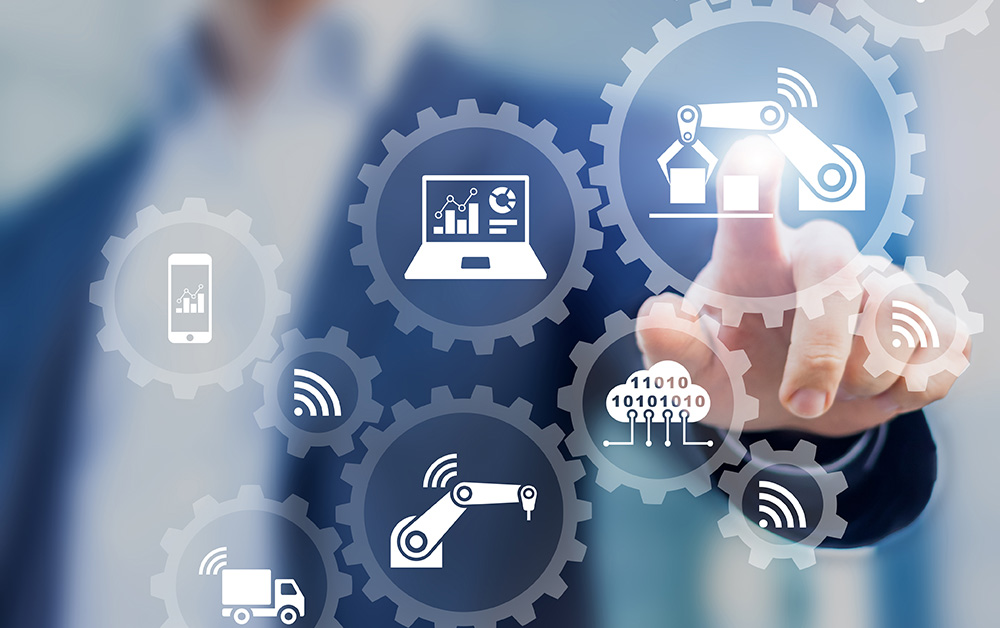 The manufacturing industry has taken a step forward to promote the "Connected Industries" policy concept to create new added value by facilitating a variety of organic connections among humans, companies, factories, technologies, and more.
At Fujitsu Forum 2018 held on May 17-18, 2018, a conference under the theme of "The New Value Created by the Connected Manufacturing Industry" discussed which initiatives the manufacturing industry must undertake to create new value and services.
[Fujitsu Forum 2018 Conference Report]
The Manufacturing Industry, Now Shifting to Realize Connected Industries
During the first half of the conference, Koichi Asari of ITR Corporation summarized the concept of "Connected Industries" proposed by the Ministry of Economy, Trade, and Industry (METI) as well as the benefits brought about by smart factories. Also, Toshimasa Morita of Yamaha Motor Co., Ltd. introduced an initiative his company is currently working on, and Junichi Azuma of Fujitsu explained how Fujitsu supports innovation in the manufacturing industry as a solution provider.
The Changing Manufacturing Industry, Which Had by Far the Highest IT Investment Increase Index Last Year
To start, Mr. Asari of ITR explained the concept of Connected Industries as well as IT investment trends in the manufacturing industry.
"To realize Connected Industries, digital technologies such as IoT, big data, AI, and robots are used as tools. METI has set two goals as requirements to achieve Connected Industries: 'overcoming weaknesses' and 'maintaining and enhancing strengths.' Maintaining and enhancing strengths refers to physical aspects, including factories and facilities, which Japan's manufacturing industry has traditionally excelled at. Meanwhile, overcoming weaknesses means to gain power to innovate not only in manufacturing but also in developing services and solutions that lead to customer value. The purpose of Connected Industries is to solve problems in order to achieve these two goals by using digitalization technologies and by connecting companies' bases, partners, and suppliers."
"According to the IT Investment Trend Survey 2018 conducted by ITR, the manufacturing industry's IT Investment Increase Index exceeds the average of all other industries, which shows the significant positive change in the industry's attitude over the past couple years. One reason is that the phase of exploring the meanings of keywords, such as Connected Industries and Industry 4.0, has finished, and the industry has moved into the implementation phase. The boundaries between the operational technology (OT) division, the information technology (IT) division, and the marketing division have been significantly reduced, thereby generating a good flow to develop an environment for innovation to occur."
Yamaha Motor Working on Smart Factories and Challenges
Next, Toshimasa Morita of Yamaha Motor took the podium and introduced the company's initiative.
"Yamaha Motor's production technology division is working to automate assembly processes for products and parts of two-wheel engines. Yamaha Motor is also promoting smart factories; however, because digitalization requires numerous man-hours and developing solutions requires large investments, I think that it is important to check the balance between investment and effects. At present, we have started to digitalize assembly factories while using Fujitsu's solutions on a trial basis. We are promoting this initiative under a big vision while getting on-site leaders and personnel involved without putting too high a priority on the concept and vision."
"Going forward, it is necessary to consider what we should focus on to maximize effectiveness, looking at the entire lifecycle from the planning stage, including the engineering chain, while taking into account customers' reactions after factory shipment and the proposals we can make to satisfy customers."
Fujitsu's Wealth of Experience in Solutions for the Manufacturing Industry
At the end of the first half of the conference, Junichi Azuma of Fujitsu took the podium to explain a Fujitsu initiative.
"Digitalization has progressed in all manufacturing processes, including design, manufacturing, and maintenance. For example, conventionally, we created prototypes based on CAD drawings in the design phase and repeatedly carried out tests until completing the product. However, thanks to modeling automation, even when specifications are changed, we do not have to re-make the CAD drawings. In addition, simulation helps shorten the design period, which enables collision experiments in a virtual space. In fact, we have successfully reduced the number of wind tunnel experiments to one."
"At Fujitsu Shimane Factory, we optimized setup operations by visualizing the line processes and sending push notifications to on-site mobile devices regarding parts preparation and replacement in advance. At factories that manufacture a wide variety of products in small quantities or lots, these solutions can improve production efficiency. Digitalization has also streamlined maintenance. For example, Murata Manufacturing Co., Ltd. collects and visualizes sensor data from factory equipment in real time to predict failures using AI."
"Fujitsu has long worked on solutions and SI services for the manufacturing industry, such as CAD, PLM, and production management; we have accumulated many customer case studies. In addition, Fujitsu has provided standardized solutions we have developed through factory improvements as a manufacturer ourselves. Going forward, besides providing such services individually, we aim to develop services that connect industries."
What the Manufacturing Industry Should Do to Create and Provide Customer Value
* During the second half of the conference, presenters discussed what initiatives should be taken and what initiatives are currently being implemented by the manufacturing industry to "provide customer value," the ultimate goal of Connected Industries. Satoshi Miyoshi of Nikkei BP served as moderator.
Yamaha Motor's MOTOROiD Embodies the Product-in Approach
Yamaha Motor has already begun to explore how to develop value to be provided to customers, and "Man-Machine Sensuality (Jinki-Kanno in Japanese) is its underlying development philosophy. Man-Machine Sensuality represents the values to be embodied in development, such as "reconstructing the relationships between humans and machines, machines for generating joy and excitement, and machines that are necessary for people." So, how can we reconstruct and strengthen relationships? Yamaha Motors thought that human sensuality is maximized when interacting with living things, so they wanted to make machines to embody that concept. The MOTOROiD thus developed was showcased at Tokyo Motor Show 2017.
The MOTOROiD is an autonomous-driving motorcycle that employs a battery pack as a counter-weight for self-balancing. Because it is equipped with a gesture-recognition feature, it slowly moves toward the vehicle owner upon detecting a simple hand gesture. While driving, winglets appear from the seat's rear to embrace the rider's hips, which further promotes the rider's sense of unity with the motorcycle. "Immediately after the product announcement, we received comments from customers one after another, such as 'The future has arrived,' 'This is like a pet,' and 'I'm charmed by this machine.'" (Mr. Morita) The MOTOROiD has truly become a product that embodies the new value of Man-Machine Sensuality.
Towards proposing new value, Mr. Morita explained: "Generally, specifications have been determined by development personnel, and designers performed styling after designing the approximate structure. In this development effort, however, engineers and designers collaborated from the start to incorporate design elements from the structuring phase."
The MOTOROiD is also new in that it was designed based on the product-in approach instead of the market-in approach. "Customers' true ideas and thoughts do not come out just by interviewing them about what products they want. Rather, we should first provide some value to customers based on hypotheses from our side, and if we observe any reaction, that leads to innovation. To generate and provide customer value, I feel that we must make suggestions first," said Mr. Morita.
Mr. Asari agreed that the product-in approach enables voices to be fed back from supply chains, engineering chains, and customers, pointing out that the IT departments of the future will be responsible for building platforms to realize this.
The Importance of Talking about Self-fulfillment and Dreams before Providing Customer Value
Finally, Moderator Miyoshi asked the presenters to share messages for the people who will work to create new value and services in the future.
Mr. Morita said, "I think it is important to talk about self-fulfillment and dreams before providing customer value. In the United States, startups talk about their big dreams, raise funds, and then work towards realizing those dreams. However, it seems such dreams are not talked about enough in Japan. Talking about big dreams, connecting with supporters, and striving to achieve those dreams-I think the concept of 'Connected Industries' should be thought of as a means for realizing this."
Revealing how he was impressed by Man-Machine Sensuality, Azuma said: "In computer system development, defining precise specifications has been believed to be important; however, recently Fujitsu has started to use concepts such as design thinking and art that are seemingly opposite to IT. We will work on development while believing that harmonious integration of logic and emotion will lead to providing customer value."
To conclude the conference, Mr. Asari addressed the audience: "Going forward, the key is to connect with outside parties that are implementing open innovation, shifting away from in-house-only discussions. Whether or not the milestones leading up to 2020 will be met has already been determined, and the post-2020 challenges to achieve sustainable growth after 2020 are now being considered. I hope you will evaluate your companies' future activities while keeping these circumstances in mind."
Presenters
Koichi Asari, Principal Analyst, ITR Corporation
Toshimasa Morita, Executive Manager, Technology Planning Department, Advanced Technology Division, Yamaha Motor Co., Ltd.
Junichi Azuma, EVP, Head of the Private Enterprise Business Group, Global Services Integration Business, Fujitsu Limited
Moderator
Satoshi Miyoshi, Principal Researcher, Cleantech Institute, Nikkei BP Intelligence Group