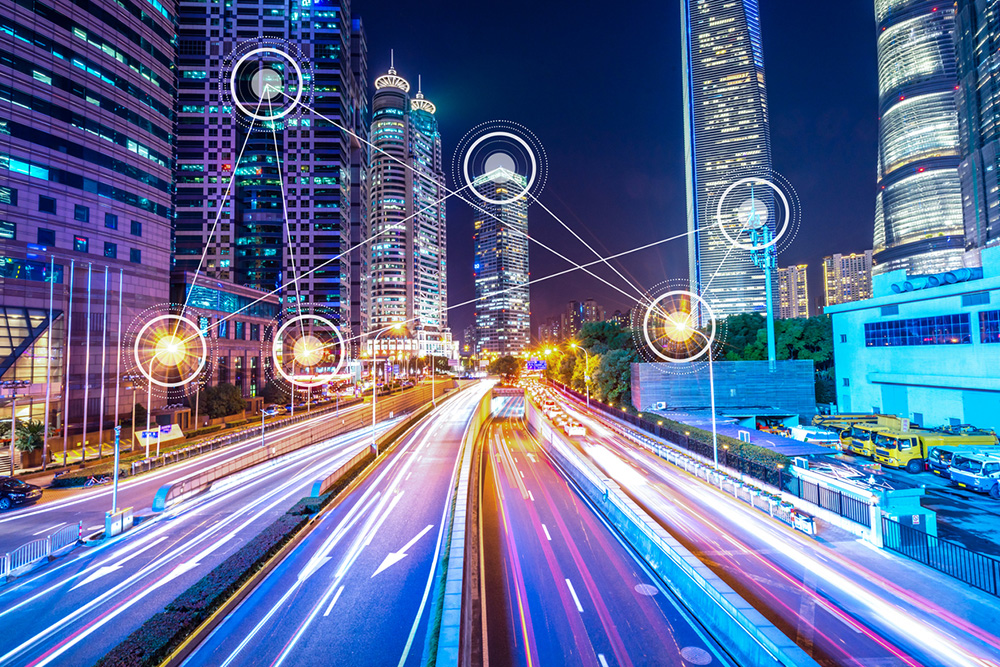 CASE (Connected, Autonomous, Shared & Services, Electric) is a key emerging concept in the mobility industry.
A panel discussion with the title "Co-Creation for Innovation in the Mobility Society" brought together representatives from Fujitsu, HERE Technologies and FOMM. Prior to the panel discussion with the moderator, each speaker described their co-creation initiatives and contributions in the area of mobility solutions.
Fujitsu Forum 2018 Conference Report
Fujitsu Collaborations on CASE Platforms
First to the lectern was Fujitsu's own Shikou Kikuta, who talked about Fujitsu initiatives in the CASE domain. Next, the presenters described their co-creation work on future mobility solutions.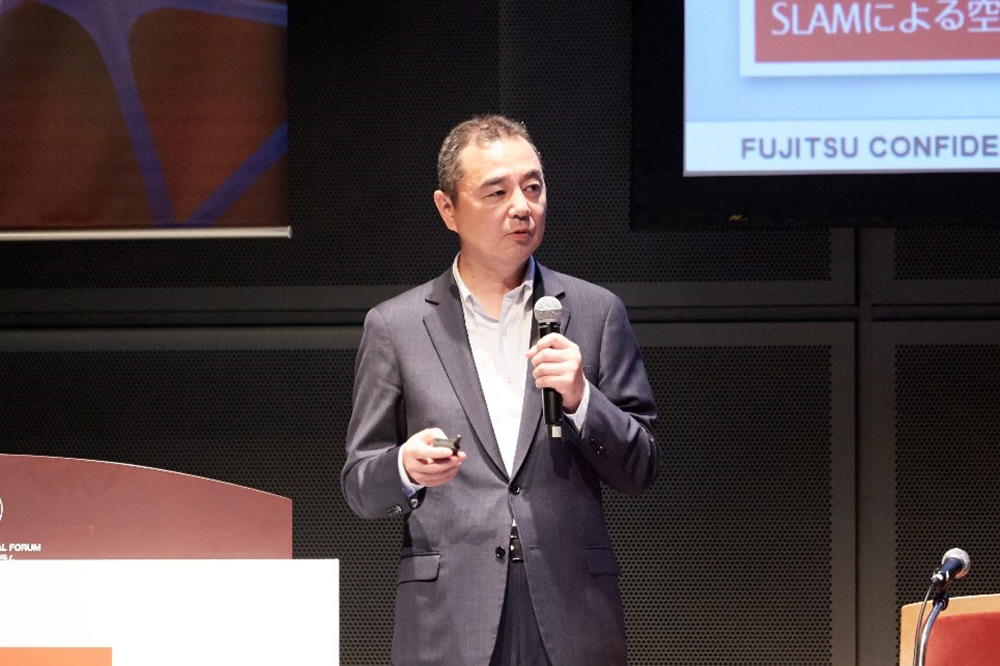 Shikou Kikuta, Corporate Executive Officer, Fujitsu Limited
Fujitsu is developing a platform for CASE together with a number of partners. The aim is to supply vehicle data to a range of industries other than auto makers, as part of Fujitsu's commitment to pursuing the development of mobility solutions across multiple industries.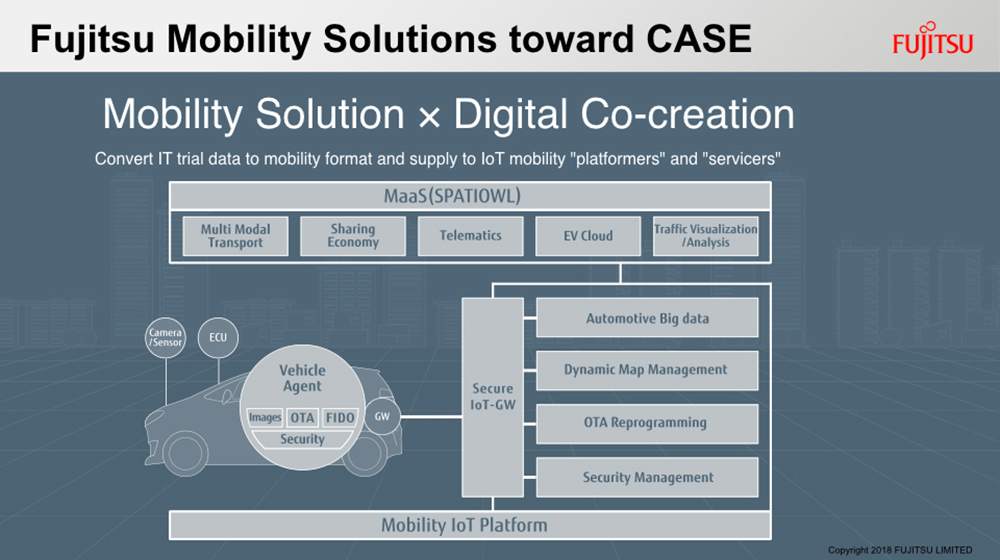 Connected--image data compression, OTA and security benefits
What does Connected mean? It means aggregating ever-expanding volumes of vehicle data in the cloud. The volume of data is expected to increase ten-fold between 2015 and 2020, and 100-fold by 2030. Much of this will be external sensing data, particularly image data, and generated by vehicles. In a bid to reduce overall data volumes, Fujitsu has developed an image data compression system that drastically reduces image size. Other solutions include an OTA (over-the-air) platform providing wireless access to vehicle software and features updates, and security solutions against threats caused by vehicles being connected to the Internet.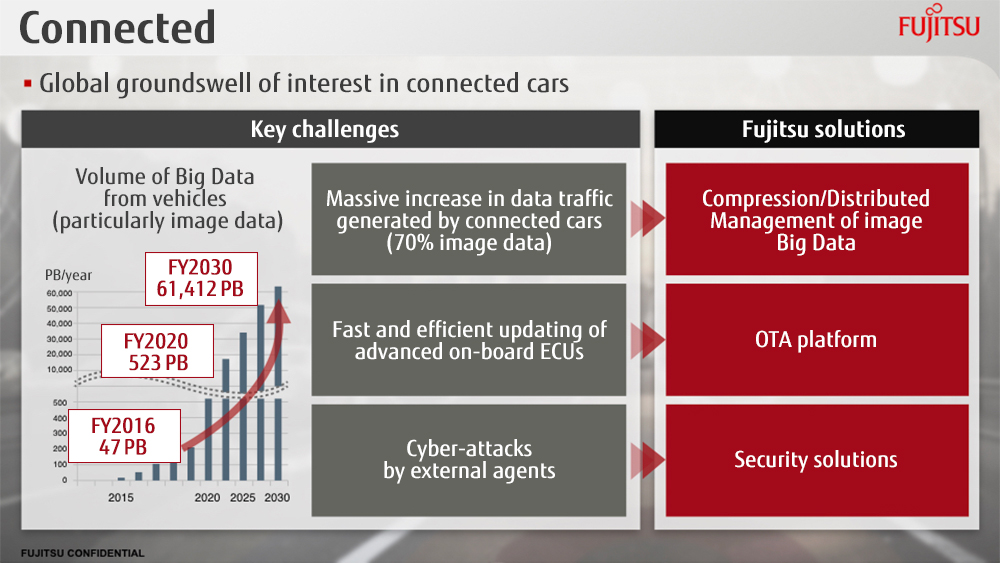 In the Connected field, Fujitsu is working on image compression and distributed systems, OTA platforms and security solutions.
Fujitsu's technology enables raw image data to be shrunk up to 1,000 times with the image compression algorithms. We have been collaborating with our partners so that compression is performed by the on-board ECU before uploading to the cloud, thereby reducing both data transfer volumes and storage capacity.
Development of OTA (over-the-air) reprogramming solutions, a joint initiative of Fujitsu and VMware, was prompted by the increasingly crucial role of on-board software. Program code for self-driving cars is said to run to around 300 million steps. The software has to be updated constantly with enhancements and modifications, including new features and services as they become available. Fujitsu is helping to develop the OTA platform that will be used to deliver software updates.
Data transmission between on-board ECUs and networks will initially be secured via encrypted message authentication and key management. Since new threats are expected to appear in the future, Fujitsu Laboratories is also developing algorithms to identify unusual activity and discrepancies. These can be used to design on-board security patches that are dispatched via the OTA platform.
Autonomous--high-precision mapping system featuring SLAM
Now let's look at the Autonomous aspect of the project. The Japanese government has committed to producing high-precision maps of 30,000 km of highways and expressways. In total Japan has around 1.2 million km of roads, including minor roads in regional areas. Self-driving cars use dynamic mapping, which combines live (dynamic) information with high-precision maps of all types of roads. Fujitsu is working closely with map providers to develop systems for supplying high-precision maps to the self-driving vehicles of the future.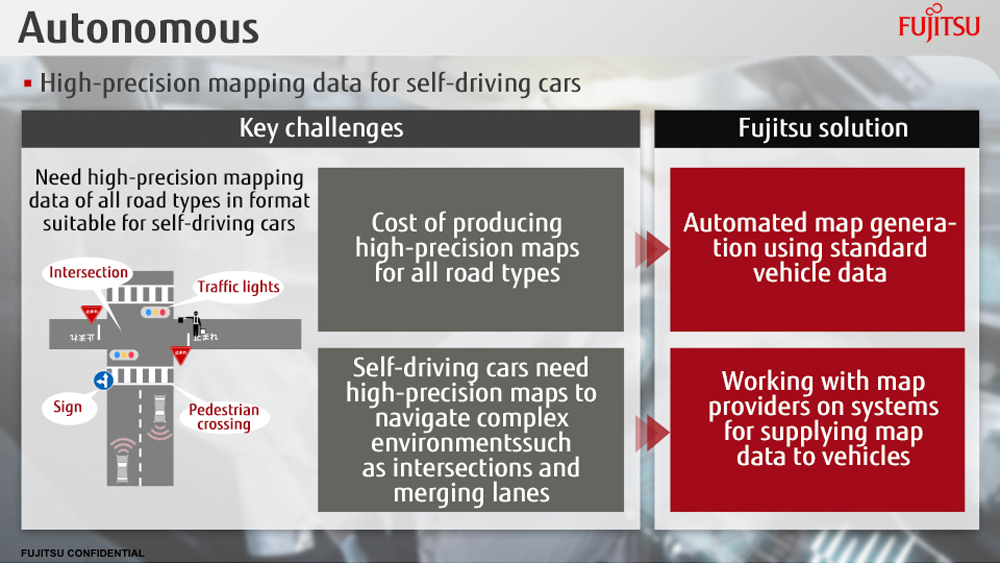 Self-driving cars use dynamic mapping. Fujitsu is helping to develop an automated map generation system to supply vehicles with super-compressed high-precision spatial recognition data for dynamic mapping.
Another project at the early R&D stage uses SLAM self-positioning estimates generated by standard on-board cameras to produce mapping information for uploading to the cloud. Vehicle-generated mapping information is then compared to the existing map in the cloud. Where new features such as roads and buildings are identified, these are used to update existing maps. In combination with high-resolution 3-D maps and mapping systems supplied by HERE Technologies, who we will hear from shortly, Fujitsu will supply maps to the self-driving cars of the future on a global scale.
Shared & Services--Matching providers with end users, and Providing secure authentication through FIDO
The third aspect is sharing. Fujitsu has considerable experience in matching algorithms that are used to generate on-demand services at the business level, as well as secure authentication systems at the individual level.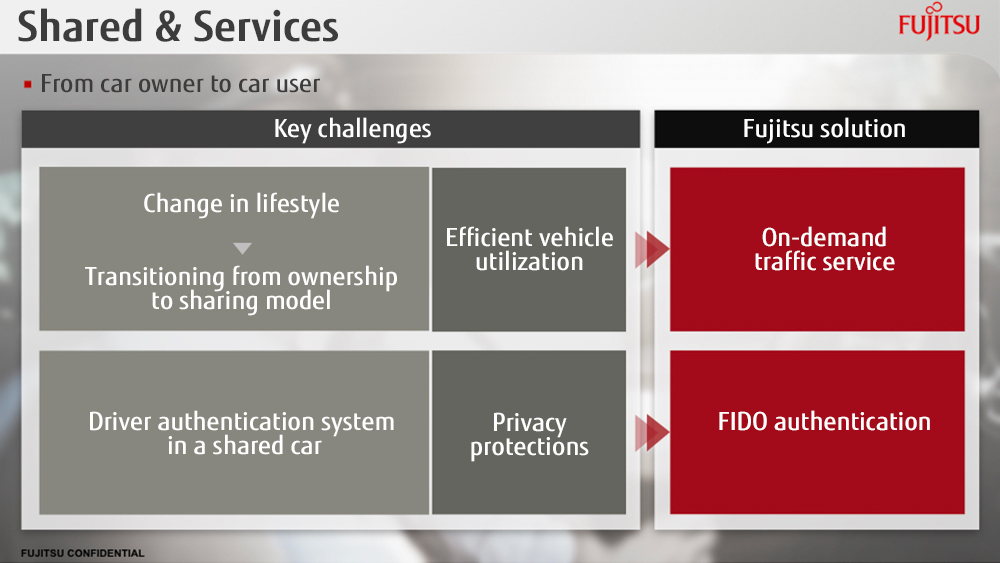 Fujitsu on-demand traffic service and FIDO authentication system
Fujitsu is creating algorithms that match the needs of end users with those of providers. AI matching systems are featured in a ride-sharing service used by Date city in Fukushima prefecture, multimodal services in Europe, and a taxi optimization system developed in conjunction with a university in Singapore.
FIDO is a secure, user-friendly cloud-based biometric authentication system developed by Fujitsu that combines fingerprint, iris and palm vein recognition technology. FIDO has many potential applications in the mobility field, for instance, identifying the current driver and automatically adjusting the driving position, or downloading music according to known preferences.
Electric--battery life cycle management and energy-efficient navigation
The final aspect is electrification. Here, Fujitsu is working with FOMM, who we will hear from shortly, on a service called Battery Cloud® Service. It uses AI to determine the impact of factors such as weather, maps and slope angle on vehicle power requirements. We are also working with HERE Technologies to develop a navigation system for electric vehicles that identifies the most energy-efficient route in terms of power consumption (the equivalent of fuel economy in a petrol-driven car).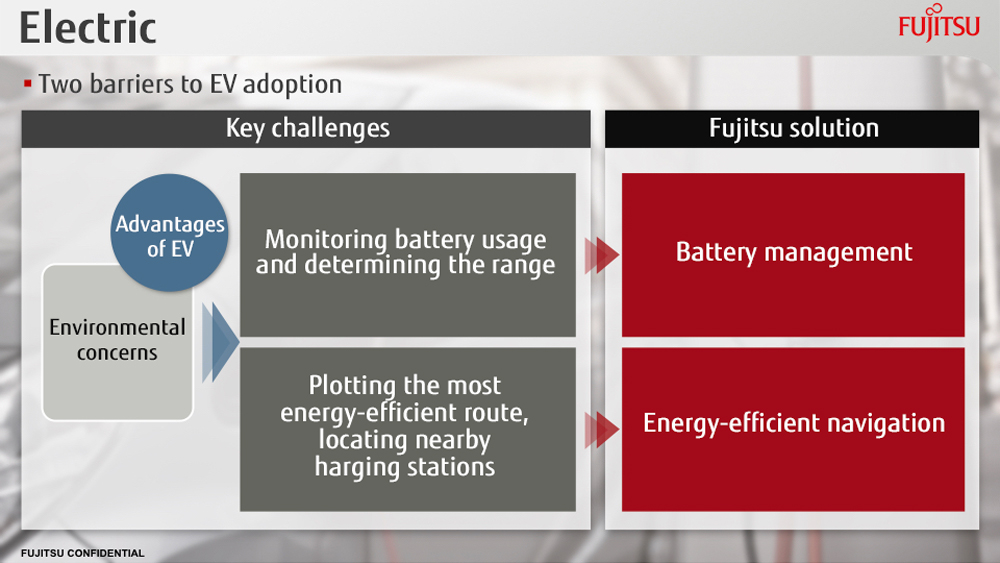 Battery management and energy-efficient navigation applications for electric vehicles
As you can see, Fujitsu is closely involved in all four aspects of CASE. But we cannot do it alone, which is why we are working with a number of partners in developing our vision of safe, secure and environmentally friendly mobility solutions for the exciting new world of the future.
Open Location Platform for an Autonomous World
Moon J. Lee, Vice President and Japan/Korea Region General Manager, HERE Technologies
At HERE Technologies, we have over 30 years of experience in map production and location services, and have mapped some 200 countries around the world. Our fleet of 400 vehicles generates 700,000 pieces of 3-D location data per second, equivalent to 28 TB per day. The data is synthesized to create detailed maps and to provide over one million real-time map updates. Our maps are used by over 100 million vehicles every day all around the world. In Europe and North America, four out of five vehicles use mapping data from HERE Technologies.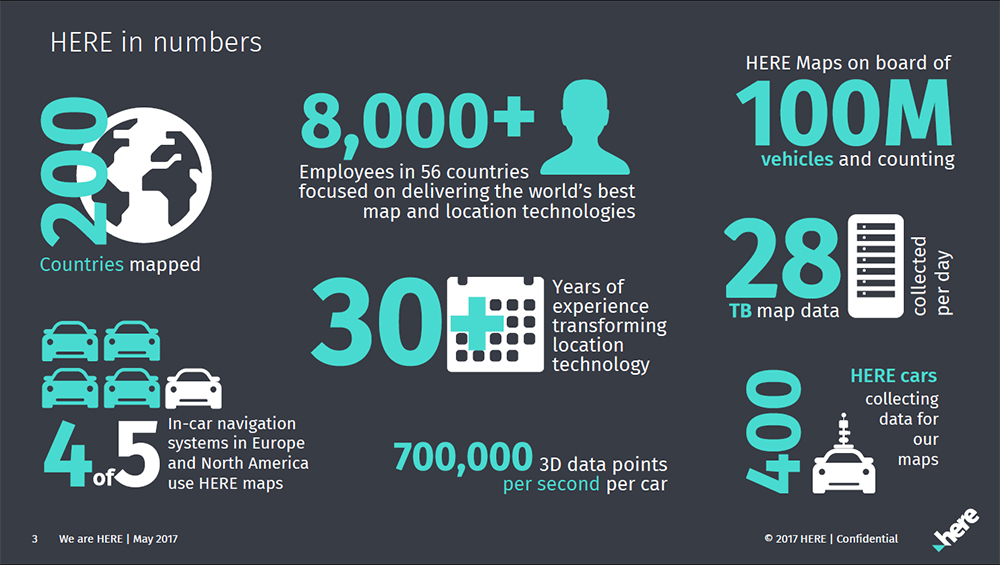 HERE Technologies is a leading provider of maps and mapping systems
Linking location information to useful data is the first step in creating innovative new solutions
The world today is facing many challenges, particularly population growth and urban overconcentration, which lead to traffic congestion and environmental issues. Making the world more efficient is one solution at the fundamental level, but this requires effective coordination of vast amounts of data. To this end, we need to link together different forms of data. This is where location information plays an important role. We can embed location information in disparate data types and use that to bind them together. At HERE Technologies, we call this The Reality Index.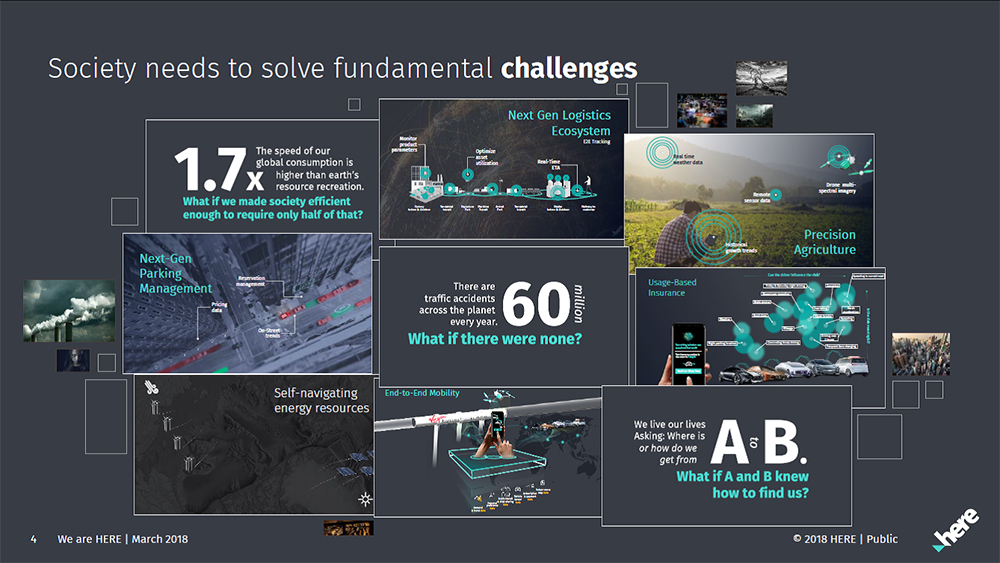 We can tackle fundamental challenges such as population growth, urban overconcentration, traffic congestion and environmental issues through efficiency improvements and mobility reforms
The Reality Index and Open Location Platform for Autonomous World
The Reality Index is a resource that comprises 3-D maps and real-time traffic updates together with location data and information about facilities, vehicles, people and places. By digitizing the known world and linking different forms of information, the Reality Index provides a useful tool for developing meaningful solutions for key challenges in the world today.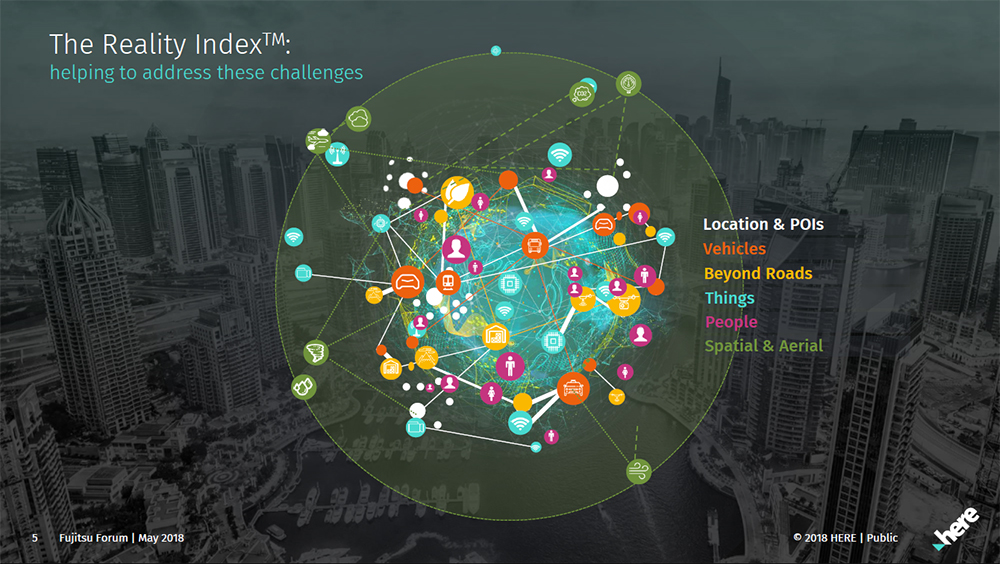 The Reality Index uses location data to link together different forms of information
All information resides on the Open Location Platform, which we use to provide our partners with a range of opportunities. Mountains of data from sensors, smart city infrastructure, urban mobility machines and IoT devices are aggregated and analyzed using AI and machine learning techniques. Partner companies use the data outputs to create innovative solutions.
Our vision of the autonomous world goes well beyond self-driving cars and the latest HAD (highly automated driving) systems. Our ultimate aim is to create a more secure and more efficient world by using location information to bind various different forms of information. Advanced techniques such as machine learning can be used to analyze the aggregated data for the benefit of all. Data can also be used to make our lives better in terms of comfort and convenience.
HERE Technologies uses CASE to collaborate on high-precision maps
To date, HERE Technologies has been sourcing sensor data from a number of auto manufacturers. Data is analyzed in combination with location information then pushed to individual vehicles. Car manufacturers are increasingly interested in sensor data as a potential revenue stream. Sensors can provide useful information about the road environment, for example. This will lead to more powerful and accurate sensors for self-driving vehicles.
HERE Technologies cannot achieve all of this in isolation, which is why we are working with a number of partners, including Fujitsu. And we look forward to partnering with many more innovative businesses in future. Why not join us in our quest to create the Autonomous World.
FOMM ONE Compact Mobility to Launch in Thailand from the Beginning of 2019
Next, CEO of FOMM Corporation, Hideo Tsurumaki, described his company's grand vision for society.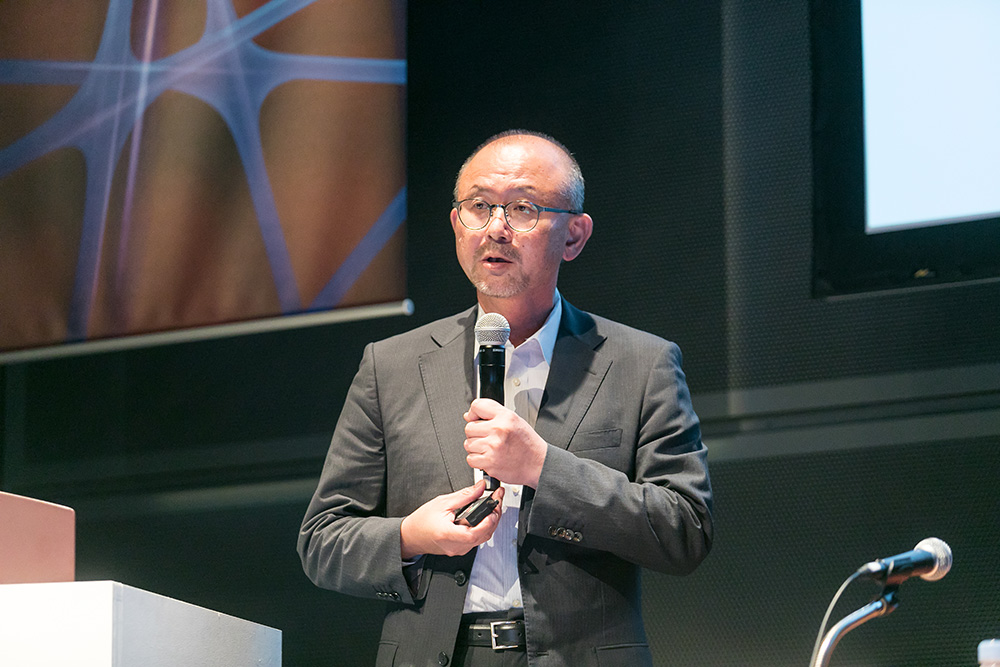 Hideo Tsurumaki, CEO, FOMM Corporation
Let me begin by telling you a little about the FOMM ONE. It's a four-wheeled vehicle that's midway between a car and a motorbike in terms of size, equivalent to the L7e category in European standards. Previously there was no such category in Thailand, where we will be launching the FOMM ONE later in the year, but we lobbied to have it introduced, and this happened last March. With a top speed of 80 km/h, the FOMM ONE is even allowed on expressways in Thailand.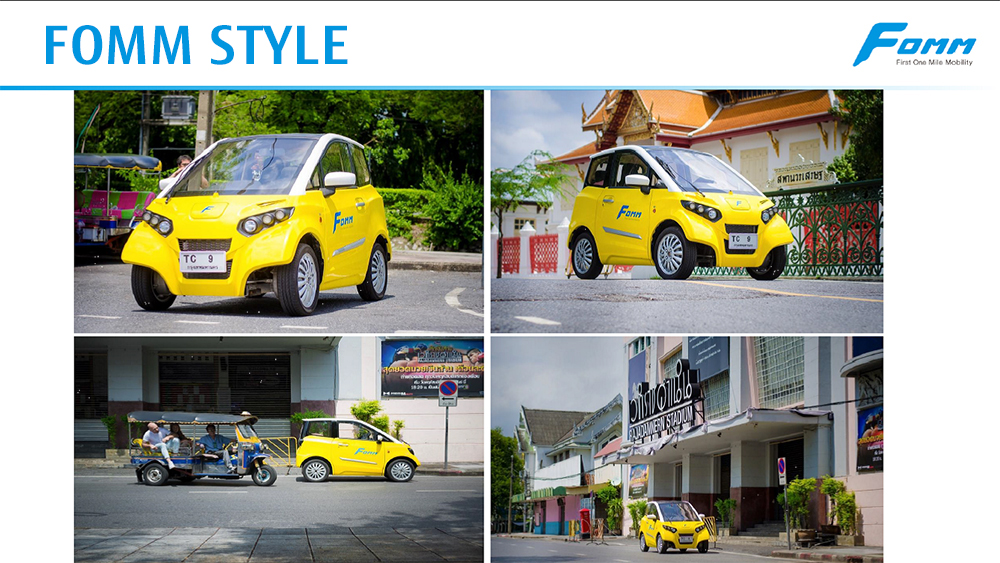 The compact four-seater FOMM ONE EV is smaller than a conventional small car.
The FOMM ONE is a compact mobility solution designed with simplicity in mind. We have eliminated production processes such as painting, metal pressing and welding--after assembly and inspection, the product is ready to ship. The FOMM ONE also uses standardized parts to keep costs down. We plan to build around 10,000 units per year at small-scale "micro-fab" production sites around the world, as well as the mother factory in Thailand.
Battery Cloud® Service eliminates range anxiety
The fear of running out of power in an electric vehicle, known as range anxiety, is considered a major barrier to adoption. Battery Cloud®, a registered trademark of FOMM, is a smartphone app that provides EV drivers with useful information such as battery updates and the locations of nearby battery swap stations. It can also be used by administrators to manage battery demand. In Thailand, FOMM is partnering with petrol station operators to open battery swap points at existing petrol stations. Station Staff will simply pull in, replace their deteriorated battery for a fully-charged battery, then drive out again. The Battery Cloud Service will run on Fujitsu servers where information is centrally managed, using Fujitsu technology and platforms. Delegating battery management in exchange for a monthly fee allows us to minimize the initial setup costs.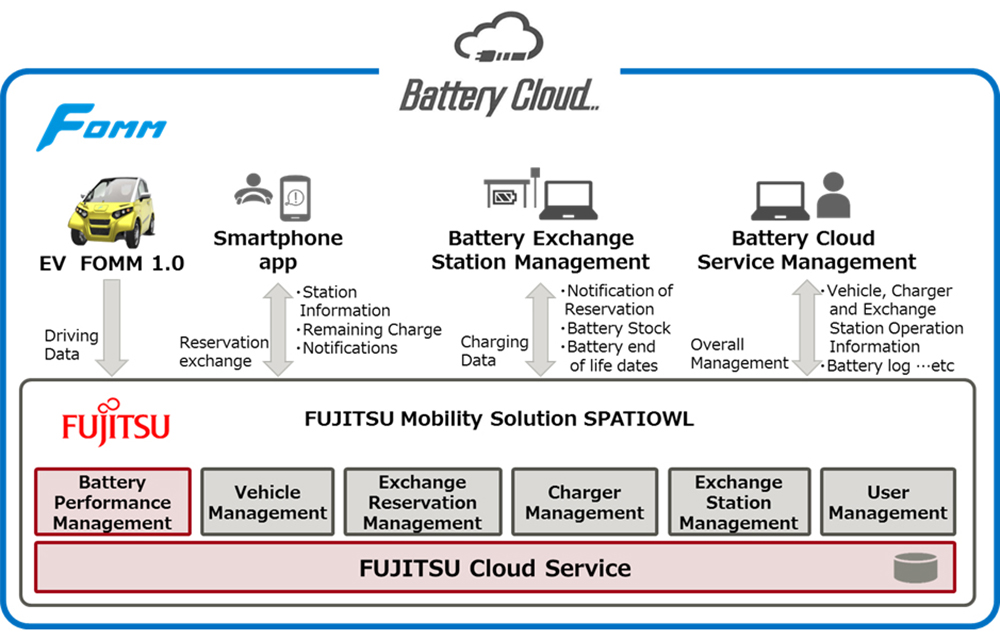 Battery Cloud® Service from FOMM and Fujitsu
Kinton Sharing combines autonomously-driving vehicles with car sharing schemes
As we heard earlier, FOMM is also working on the development of autonomously-driving vehicles. This includes Kinton Sharing, which combines autonomously-driving vehicles with the concept of car sharing. Kinton Sharing works like this. You book a autonomously-driving car via an app on your smartphone. The car autonomously navigates to your location. You authenticate the car via the app before boarding. Although the car can drive itself, ideally you would drive it to your destination. When you arrive, there is no need to look for a parking space. You simply get out and leave the car to drive itself to the nearest available car park.
We plan to launch a low-cost Kinton Sharing package in Southeast Asia in the near future. The success or failure of car sharing services will depend on the number of depots in the network. At the same time, one of the major benefits of car sharing is that it does away with the need for car parks.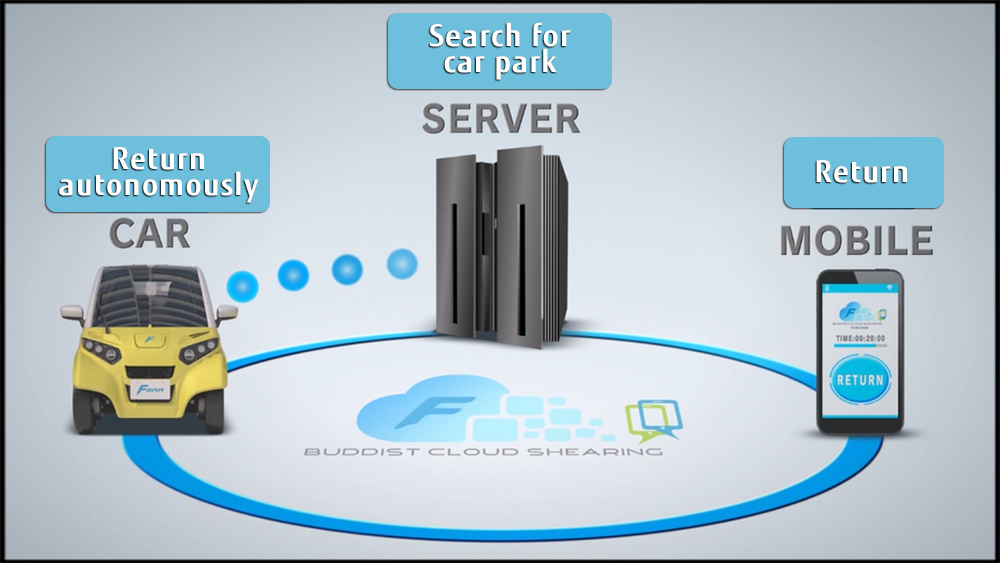 Kinton Sharing: vehicles navigate autonomously to pick-up location, then from destination back to nearest depot
Part 2 Panel Discussion
For the panel discussion, the three speakers were joined by the moderator, Tetsushi Hayashi from Nikkei BP Intelligence. The speakers were asked to discuss future mobility solutions, their contributions to the mobility sector, expectations of development partners, joint projects with Fujitsu, and the challenges they see ahead.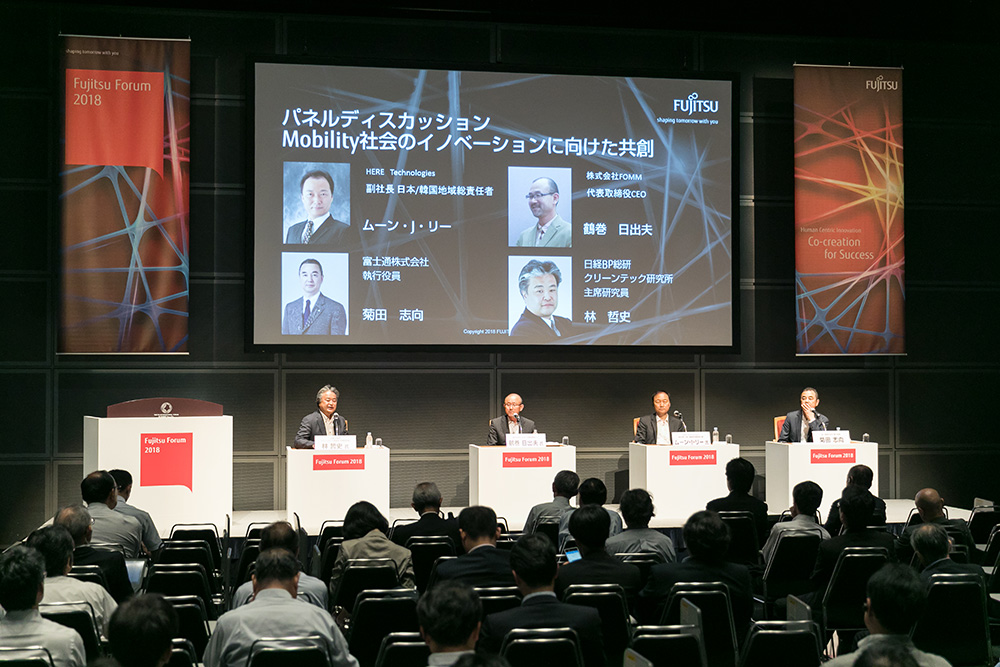 Panel discussion (From left to right)
Tetsushi Hayashi, Chief Research Officer at Cleantech Institute, Nikkei BP Intelligence Group (moderator)
Hideo Tsurumaki, CEO of FOMM Corporation
Moon J. Lee, Vice President and Japan/Korea Region General Manager at HERE Technologies
Shikou Kikuta, Corporate Executive Officer at Fujitsu Limited
How do you think mobility solutions will transform society?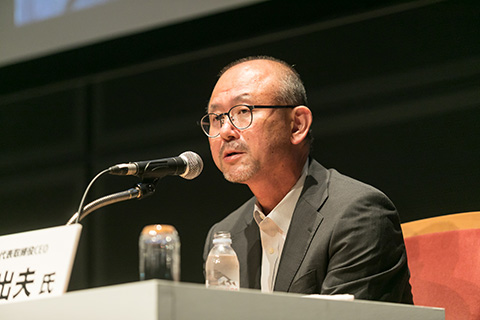 Tsurumaki: Young people in Japan are increasingly shunning vehicle ownership and turning towards sharing schemes, while at the same time the shift towards electric vehicles is gaining momentum. So we think that people today are more willing to embrace smaller mobility options such as the FOMM ONE. Although overall car usage may be increasing, for environmental reasons we need to reduce the number of vehicles in the world. We believe that compact mobility offers a more environmentally friendly solution in terms of LCA (life cycle assessment), which takes into account the entire product life from manufacture through to final disposal.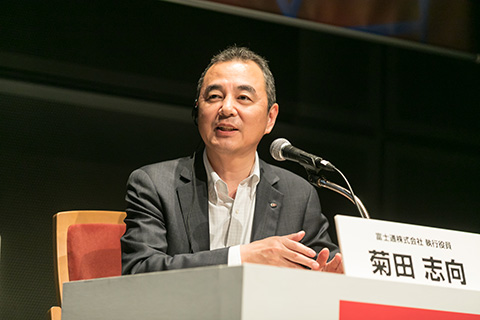 Kikuta: Traditionally, car manufacturers have kept vehicle data in-house, but I can see a world where this sort of information is increasingly shared across industries. For example, it could be used by local retailers for marketing purposes, and by local governments for road infrastructure development.
Compact car sharing schemes and self-driving vehicles have many potential benefits for consumers. For example, it would make it easier for elderly people in rural areas to get around, particularly when going to hospital for appointments.
What do you bring to the table, and what do you seek in your business partners?
Tsurumaki: Our company was founded in 2013. Previously I had worked on motorcycle designs at Suzuki, then I joined Toyota on a design overhaul of the Coms EV, which led to the i-Series. FOMM is derived from the basic concept of Electricization of compact vehicles.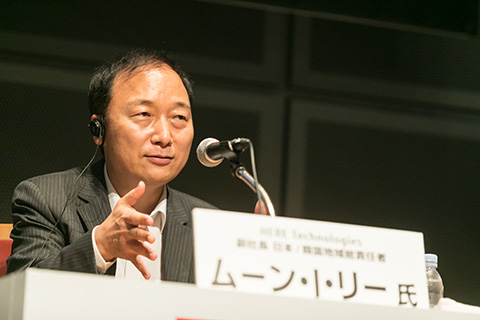 Moon: HERE Technologies specializes in mapping technology, and we have already mapped an extensive portion of the globe. Our focus now is on boosting the accuracy and granularity of the mapping data, particularly to pave the way for the self-driving vehicles of the future. To achieve really high-precision mapping, you need centimeter-level accuracy, and the maps need to be constantly updating--at least once per day but sometimes even on the hour. Collecting, storing and analyzing all that data is a massively complex undertaking, which is where Fujitsu's expertise comes in. We are working with Fujitsu and other partners to develop systems capable of managing the data and compressing it where possible.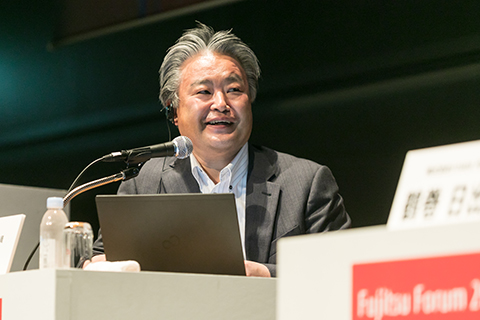 Hayashi: HERE Technologies collaborates with selected partners in the development of powerful and complex platforms. But there is a cost involved, so we need to carefully consider the structure of the partnership and the payment split between partners.
Moon: This is the most important aspect of the Open Location Platform, where a Give and Get model applies. Data is supplied in the form of location intelligence. Some of the data is valuable, either intrinsically or in the context of consumption. These are agreed clearly on the platform so as to determine the appropriate data volume and give instructions on how it is used. All participants must agree on the future consumption model and variation models.
The Open Location Platform brings together information from different providers in a sharing model designed to promote the development of innovative new services. With providers developing services and data being supplied to the Open Location Platform, it will serve as a "one-stop shop" to encourage innovation (including revenue sharing) and monetization predicated on location information.
Kikuta: Fujitsu doesn't build cars, nor do we make auto parts or components. What we offer is the ability to develop new business models by augmenting advanced technology in the form of software and platforms with expertise from parts suppliers, auto manufacturers, IT vendors and service providers. We believe that Fujitsu technology can assist our partners in creating more competitive business models.
Given the relatively low probability of success, what is the key to innovation?
Tsurumaki: We are in it for the long haul. Many people died in the March 2011 tsunami when they tried to outrun the deluge in their vehicles, only to be stuck in traffic and swamped by the wave. People who were unable to run fast enough might have been saved if they'd had an electric vehicle that could float on water. So that was the inspiration behind our company. But good ideas alone are not enough. There will hardship along the way, but you must never give up. You keep going until you have something you can release to the market. People often ask: What will you do if it fails? And my answer is that failure is not an option. The real question is: what do we do to ensure success? With a positive mindset, you will always find a way.
Moon: The market is evolving very rapidly, as are the autonomous vehicle and precision mapping technologies under development at HERE Technologies, not to mention the EV market and the industry in general. Each new day seems to bring another major announcement. Of course industry collaboration is nothing new. Everyone is collaborating on projects; collaboration and competition exist side by side. The important thing is to identify good business partners who will stick with you. I think there are three key considerations here. The first is that the partners need to be reliable and trust each other. The second is that both partners need to buy into the goals or objectives, and these need to be detailed and realistically achievable. And the third thing is that you need a driving sense of urgency. The market changes so rapidly that if you don't achieve your goals quickly enough you might have to go looking for a new partner.
Hayashi: You have to have trust and a shared objective. But if the situation changes so that the objective is no longer achievable, you may need to switch partners.
Moon: Exactly. You might have to redefine your goals to accommodate changes in the market. The pace of change is so rapid that sometimes even your best efforts will come to nothing. So you have to be flexible.
Kikuta: We've set up countless tie-ups and partnerships over the years, and barely one in five turn out to be productive. I think that's because there are many different reasons for embarking on a joint project with another company, and you can't expect every one to generate Proof of Concept (prototype and trials) results. The important thing is to combine your respective strengths to generate synergies. That's the first step towards creating a business design and winning acceptance from the market. Because at the end of the day, if you want to be in business you need customers. At the very least, you need the three basic fundamentals of process: work to your strengths, have a shared business plan, and make sure you're aligned with the needs of the marketplace. And as Mr. Tsurumaki noted earlier, if you truly believe in your vision and your ideas and are prepared to seize the initiative, you are bound to succeed sooner or later.
Tell us about working with Fujitsu in this field.
Tsurumaki: Most of the issues with EV are around batteries. Lead batteries are so heavy that some people can't lift them out of the vehicle. Happily, lithium ion batteries are lighter and easier to swap over. This is an important consideration because replacing the batteries is one of the major barriers to EV uptake.
And it's not just how you change over the batteries. The Battery Cloud Service is very data intensive, and our company certainly doesn't have the capacity for Big Data analysis. So that's why we've teamed up with Fujitsu and the SPATIOWL on battery monitoring and prediction systems that will enable us to provide customers with vastly improved information services. Our aim is to enhance the user experience around electric vehicles, and this is why we chose Fujitsu.
Moon: The Open Location Platform, the heart of collaborations undertaken by HERE Technologies, represents an incredibly complex structure. Through our partnership with Fujitsu, we are able to collect, compress and manipulate huge volumes of data using AI algorithms. Both SPATIOWL and Zinrai have been central to the development of this very large platform, while also supporting the secure and efficient transfer of data between vehicles and the cloud. Fujitsu also supplies key OTA transmission technology. We are confident that our partnership with Fujitsu will ultimately enable us to carve out new markets in a variety of fields.
A closing message from each speaker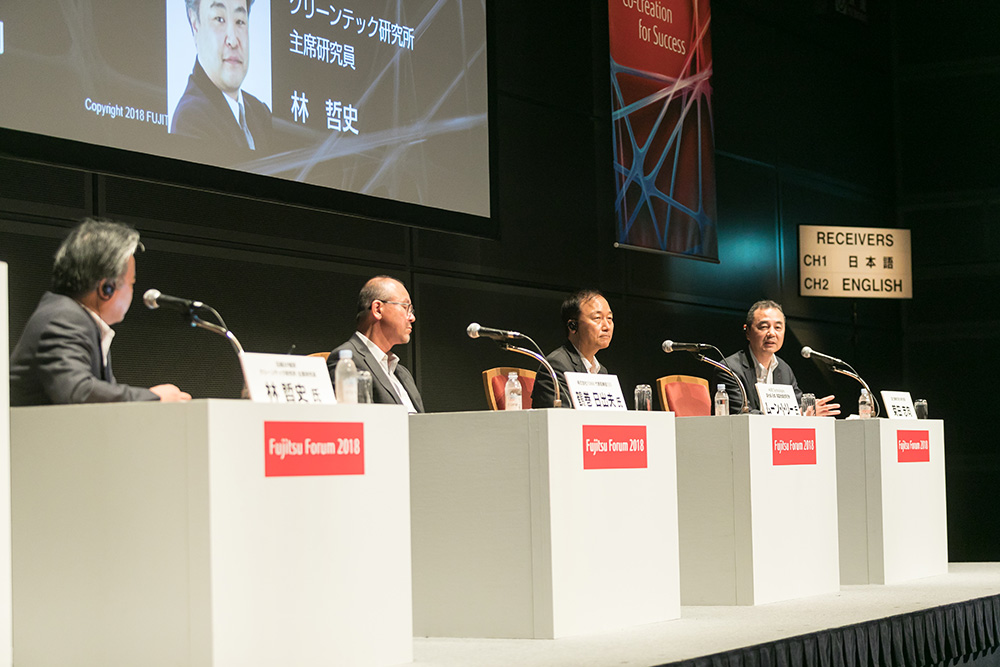 Tsurumaki: I think it won't be long before we see self-driving vehicles on the roads. At a personal level, I think I would still prefer to be behind the wheel, but I can see that the benefits of self-driving cars will make life better for many. I think compact mobility solutions represent the most viable low-cost option for driverless vehicles. That is what we have been focused on from the outset. I trust you will remember FOMM in the years to come.
Moon: Self-driving vehicles and the Autonomous World paradigm are set to have a major impact on our future. At HERE Technologies we believe that high-precision mapping represents the core of the driverless future. Unlike some developers, we see self-driving cars as much more than just sensor data. Driverless cars have their dangers too--as the incident just last month showed. In order to make driverless cars totally safe we have to take into account all of the relevant factors. HERE Technologies boasts the latest technology and the most advanced high-precision maps. The driverless future requires many forms of collaboration. Let's all work together to make it happen.
Kikuta: It makes me proud indeed to hear your praise for Fujitsu technology. Our goal is to keep abreast of rapid changes in the industry by continuing to refine and enhance our algorithms so that we maintain our position as a technology leader. We look forward to working with you all on the ongoing co-creation journey in the mobility sector. Thank you.
Hayashi: Thank you very much everybody.
Speakers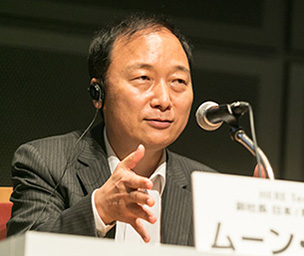 Moon J. Lee
Vice President and Japan/Korea Region General Manager
HERE Technologies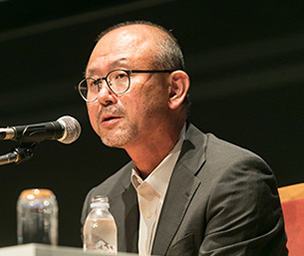 Hideo Tsurumaki
CEO
FOMM Corporation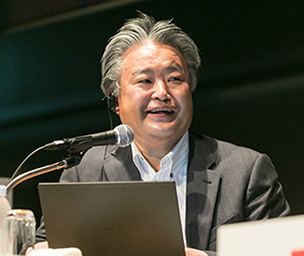 Tetsushi Hayashi
Chief Research Officer
Cleantech Institute, Nikkei BP Intelligence Group
Shikou Kikuta
Corporate Executive Officer
Fujitsu Limited