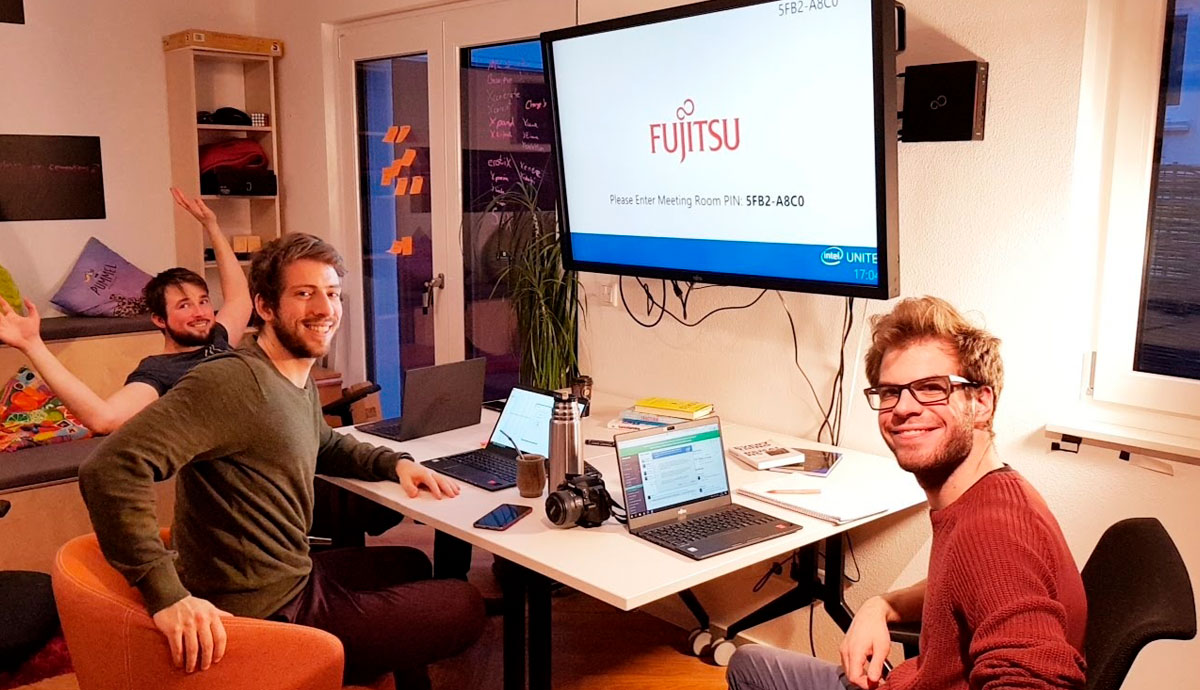 At Fujitsu, we talk a great deal about co-creation. It is bringing together different combinations of technologies, people and expertise to help solve our customers' digitalization challenges. This is why we are proud to be able to support a very different approach to co-creation in Germany's first startup incubator – hyprspace – and the opportunity it offers to test-bed the latest ideas for the Future Workplace.
The City of Munich already offers a great deal of support for young entrepreneurs, through its universities and other organizations. But hyprspace not only helps entrepreneurs grow their businesses, it also helps them bypass the challenging property rental market and offers space within a mutually supportive community.
Established last year in Munich, hyprspace was inspired by similar communities in Silicon Valley. It houses 17 young individuals, all at different stages of building their start-ups in fields as diverse as eLearning, smart jewelry, IoT and fintech. These young entrepreneurs all have different backgrounds and life experiences, further contributing to the wide diversity of experience. A few rooms are dedicated to short-term visitors, ensuring a constant flow of fresh ideas and conversations.
The space offers far more than a traditional flat share
The atmosphere has been described as 'college dorm meets Google Office'. It offers not only a place to live and work but also a focal point for a large network of investors, accelerators, incubators, politicians, startups and other like-minded people. The idea is that they are stronger together – able to support and learn from one another in an open-minded environment, where the sharing of ideas is not only encouraged but welcomed.
The unique approach at hyprspace blurs the line between work and home life, where conversations over meals or even a cup of coffee range from the mundane, such as meal planning, to the inspirational, brainstorming solutions and business ideas. This way of working is supported by large communal spaces where the entrepreneurs' projects come to life. Fujitsu is supporting the community's free flowing generation of ideas by creating collaboration zones equipped with our advanced Future Workplace technologies, including featherweight, ultra-portable Fujitsu Notebook LIFEBOOK U937 models, weighing just 920g. At the heart of more formal get-togethers, hyprspace rooms feature Fujitsu Desktop ESPRIMO Q957 PCs connected to 55-inch, full HD Fujitsu Display XL55-1 touchscreens, with housemates using screen-sharing software to support collaborative work with co-creators both inside and outside the house.
The way we work is clearly changing, and that rate of change is still accelerating
We can't yet say how exactly the Future Workplace will look, but initiatives like hyprspace provide important insights for Fujitsu, allowing us to develop human-centric technologies that anticipate and satisfy the needs of people and organizations in the future. Start-ups operate in the hottest of hothouse environments where these trends are most visible; therefore, we expect to learn a lot from our collaboration.
The incubator in Munich is just the start – it is only the proof of concept. The plan is to create other shared living/working spaces across Europe. There are also plans to extend the collaboration with Fujitsu to allow the communities to beta test some of our new products. Just like the start-ups, we don't know exactly where this will lead, however we're excited to be involved in facilitating co-creation to help kick-start some of Europe's newest businesses.