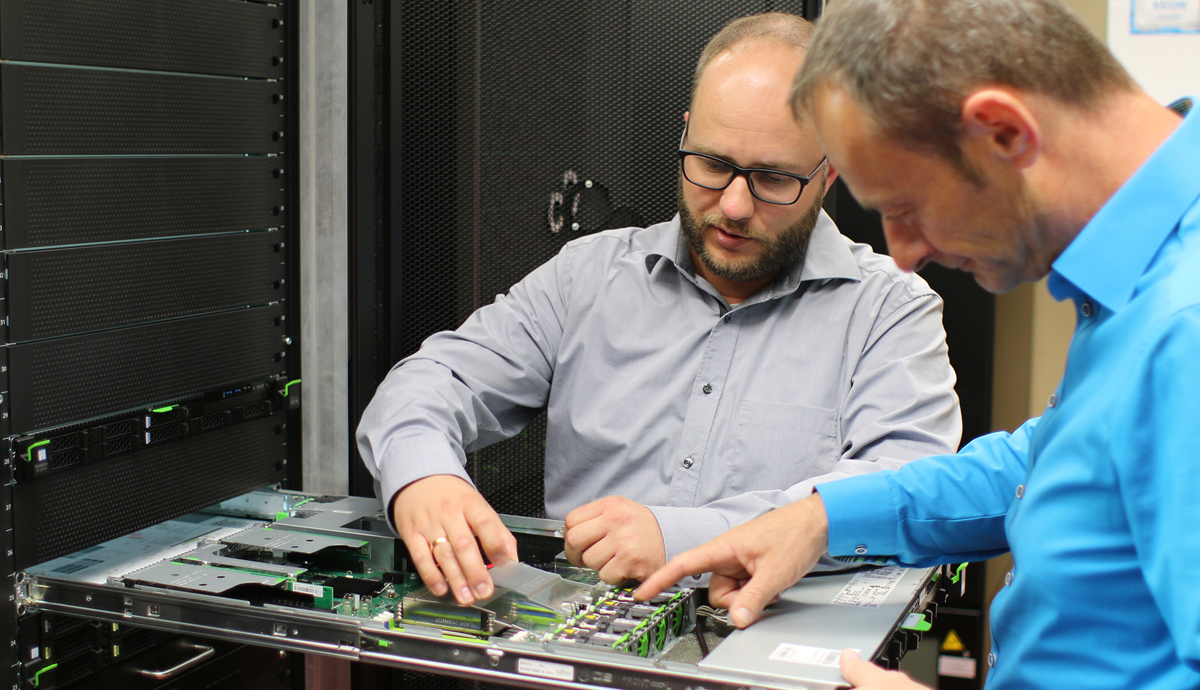 We're living in an era of digital disruption in which new digital technologies are moving to the heart of everything we do. IT needs to operate at the speed of today's business to be an accelerator of new ideas, products and services.
We asked the experts who know PRIMERGY systems inside out just how our servers support the efficiency in day-to-day business operations. Wolfgang Winderl and Sven Pilz are responsible for the Product Management & Development of the Fujitsu x86 servers and gave us some additional insights into the portfolio.
Fujitsu PRIMERGY servers are designed as a family of products. What could a user envisage under this?
"First of all, we should mention the common look and feel of all Fujitsu products including our server family", says Wolfgang Winderl, Head of Server Product Management. "This results in a high degree of recognition, not only of the PRIMERGY systems, but also of the Client Computing Devices and ETERNUS storage systems.
Within the PRIMERGY family, we offer a large number of different systems and form factors of versatile rack-optimized servers, robust tower systems, as well as modular multi-node servers. This is important for users, because not every system fits every use case. All models offer easy scaling and expandability in terms of different base units, storage capacities, network connections or RAID options. Moreover, all servers make use of the same set of components and functions wherever possible to ensure maximum interoperability and reduce complexity. For example, it is possible to use a hard disk and its cage that has been used in a tower server also in a rack system."
Which components and functions are identical to ensure this compatibility?
"Almost all of our servers use the same system components, from the main memory up to various I/O controllers", explains Sven Pilz, Product Manager Server. "However, most of these components are commodity products that are widely used in the IT industry. Nevertheless, some of them are customized for the Fujitsu server portfolio in order to ensure best functionality and highest quality. "The motherboard is a true differentiating server component. Our server motherboards are developed and produced here in Augsburg. Along with the motherboards, we are also developing our own server BIOS with the unique PRIMERGY family feature set. This allows us to provide a server portfolio as a true family for the market from a design, component and a feature point of view.
But even more importantly, the uniform design approach is not restricted to hardware and BIOS. The entire server management concept, our ServerView Management Suite, consists of a common user interface. Whether a user manages a tower, rack or modular server, the interface, usability and features are identical. This is comparable with different models of a car manufacturer. The driver is intuitively able to operate the controls elements, regardless of whether or not he or she has been in the car before.
Besides this, the new generations of servers provide support for the Open Compute Project (OCP) technology, so that users can choose the type of network adapter they want. This new DynamicLoM OCP provides the ability to customize server's networking of today as well as to change the corresponding card to be able to adapt quickly and cost-effectively to future requirements.
Speaking of usability, what is the difference between PRIMERGY servers and comparable systems on the market?
"PRIMERGY servers are easy to maintain and have a very modular design approach. Therefore, the products allow quick and simple maintenance", says server expert Winderl. "A few years ago, we already developed our modular concept for the chassis, network and RAID components. The modular power supplies are common units for all PRIMERGY mono-, dual- and quad-socket servers allowing to tailor energy demands to specific requirements. In line with the Cool-safe®Advanced Thermal Design (ATD) they provide highest level of power efficiency in the IT industry."
"Within the systems we have established a local self-service concept. On the one hand this concept allows the monitoring of servers locally, while on the other hand it makes it possible to identify defective components and, in the case of Customer Self-Service (CSS) components, also to replace them. For everything above and beyond, our service organization is happy to support.
With the integrated Remote Management Controller (iRMC) on the system board, the PRIMERGY servers can also be maintained and serviced remotely. This enables remote diagnosis for system analysis, remote configuration and a remote restart functionality, even if the operating system or hardware should fail."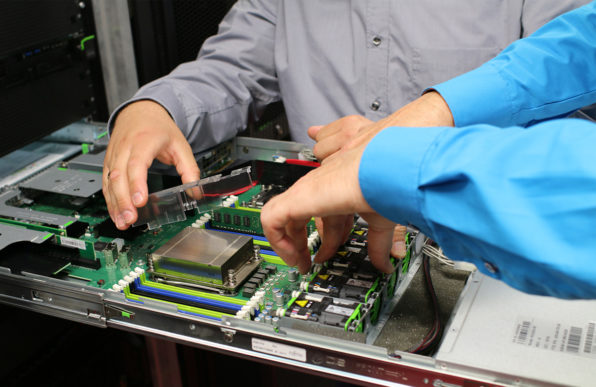 What are the roles played by flexible support and service options?
"A service technician can immediately find his way when opening the cover of the PRIMERGY system", says Sven Pilz. Product Maintenance Services can be added to Fujitsu and partner branded products in either standardized or perfectly tailored packages. The services range from installing new products, to providing fast and responsive support for hardware, software and IT infrastructures for solution business, up to proactive support option reducing the burden on internal IT staff.
Moreover, the provisioning of firmware and software updates is another important point that ensures efficiency and at the same time contributes to the availability of a server environment. "Fujitsu provide drivers, BIOS versions, firmware and software updates for the PRIMERGY servers free of charge. This allows a burden-free, always up to date, best user experience. Other manufacturers only provide security updates free of charge. We do not differentiate between safety-relevant or "nice to have updates", but make everything available as free downloads from our Fujitsu Support Homepage."
As a short summary: what are the advantages for customers of PRIMERGY servers?
"Our servers are high-quality products that combine various aspects of efficiency while reducing time-to-business results. They are designed to evolve with individual customer requirements", says Wolfgang Winderl. "Because development and production are in Germany, we also have the necessary proximity to the market and our customers. We can respond quickly and flexibly to individual customer requests and deliver system configurations tailored to the individual needs of each customer ex-works".
Have you seen this video yet? It covers some further important aspects about efficiency. Take a look:
https://www.youtube.com/watch?v=nLXONkQ4K4s