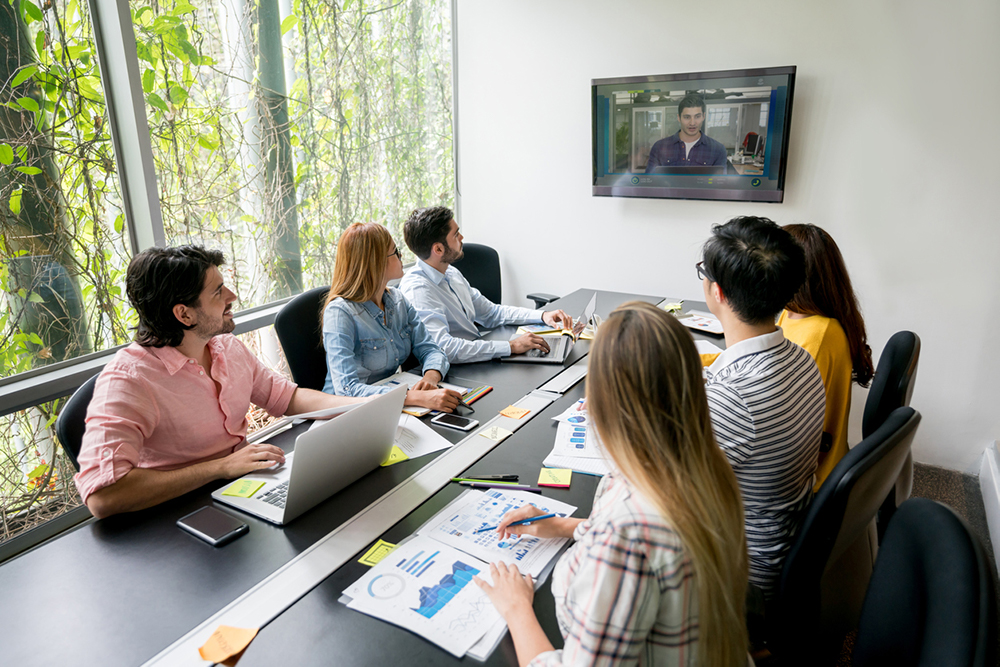 A decrease in the working population is just around the corner with the advent of an aging society with a low birth rate. In response, the Japanese government is working to develop a bill on work style innovation to maintain and improve productivity, while Fujitsu has aggressively promoted AI and ICT. In this article, we will introduce Fujitsu's in-house practices and key points for successful work style innovation from various perspectives for the era when people live to age 100.
[Fujitsu Forum 2018 Conference Report]
Basic Policy on Work Style Innovation for the Era When Everyone Lives to Age 100
This conference, which was moderated by Mr. Shunsuke Takahashi of Keio University, started with a presentation by Mr. Sadanori Ito, Director of Human Resources Policy at METI, which was followed by presentations from Fujitsu's Hiroshi Hayashi and Masayoshi Matsumoto. Afterwards, Mr. Takahashi led a discussion on each panelist's area of specialty.
The Coming of an Era When AI Use Affects How People Work and Learn
First, Mr. Sadanori Ito of METI made a presentation under the theme of "Work Style Innovation and Human Resource Investment in the Era of AI and the Era of 100-year Lives."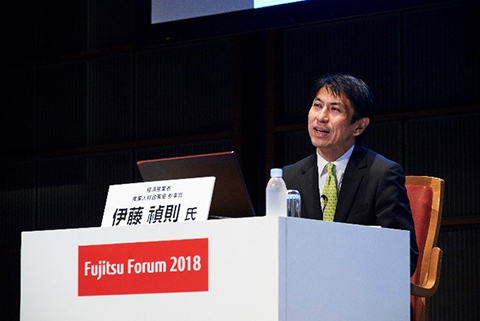 Sadanori Ito
Director of Human Resources Policy, METI
Japan now faces two large waves of structural changes: "changes in population dynamics" brought about by the decrease in population and the advent of the 100-year-life era and the "fourth industrial revolution" as represented by AI.
The real topic of discussion is not whether AI will take jobs away from humans, but rather the distinction between "humans who can use AI versus humans who cannot." The government's role is to build a social system that develops people who can demonstrate their value using AI through education and human resource development.
Alleviation of long working hours has become a theme of focus in work style innovation; however, the essential issue is to strike a balance between "companies' goal to increase productivity" and "workers' goal to pursue the joy of engagement and work." For this, we must build a personnel evaluation system based on achievements and skills, not the number of working hours, and we must realize a variety of work styles that are not bound by time or place. Also, we must build a social system that allows "individuals to learn the fundamental skills required in the 100-year-life era at any age as members of society."
For the past 30 years from Japan's Showa to Heisei periods, work styles have changed from the "Sugoroku" style in which workers aim to achieve their goals by following a single track to the "Pokémon GO" style in which workers increase their skills and personal connections by making full use of GPS. Meanwhile, human resources are becoming increasingly important for companies as a source of competitive advantage, and the recovery speed of human resource investment is accelerating. With the diversification of workplaces, including side businesses and telework, allocation of tasks among AI, full-time employees, and outsourced providers has become important.
The then world chess champion who was defeated by a supercomputer in 1997 demonstrated in later years that humans can defeat AI by making full use of AI. In management/HR as well, by adding the use of AI technology to conventional elements, such as intuition, experience, and courage, a driving force can be generated for corporate and employee growth.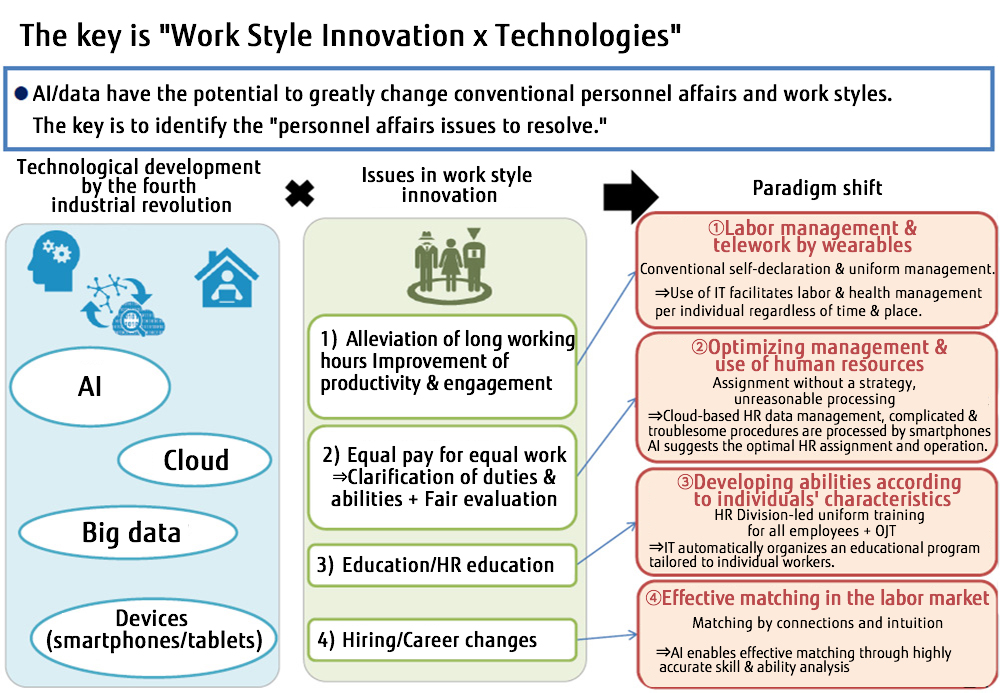 Reforming the Organizational Climate in the Area of Personnel Policy
Next, Hiroshi Hayashi, Corporate Executive Officer, EVP, Fujitsu Limited, made a presentation entitled "Fujitsu's Work Style Innovation Initiative Toward Achieving an Attractive Company Where Diverse Personnel Can Play Important Roles."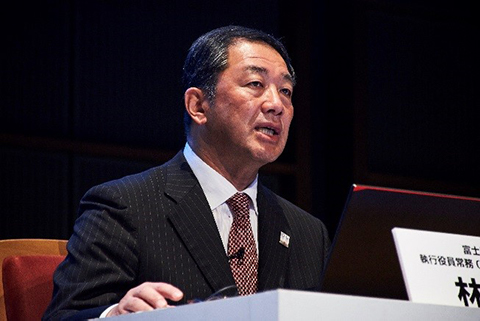 Hiroshi Hayashi
Corporate Executive Officer, EVP, CHRO/CHO,
Head of the Global Human Resources Unit
Fujitsu Limited
In work style innovation, the basic personnel policy is to realize high productivity by "work styles that do not rely on long working hours" and "diverse, flexible work styles." Achievements for the year 2017 include introduction of telework at nearly all workplaces and reduction of unnecessary overtime hours by introducing an overtime work application system called "ID Link Manager." Though progress varies by business unit, the Sales Department in particular has been making cross-departmental efforts to achieve innovation. Among these efforts, organizations where work style innovation has progressed under strong leadership in the workplace have reduced paper use by 44%, printing costs by 33%, and meeting preparation times by 50% while increasing customer service hours by 30%.
As a whole, environment development, including that of systems, has progressed, and the "form" of work styles has gradually changed. Meanwhile, the future challenge is to change the "quality" of work styles, including the sense of value and behavior patterns in work. To address this, we are engaged in the following three key initiatives: (1) developing "work visualization" by further use of IT; (2) strengthening mid-level management skills; and (3) initiatives involving customers. The next step is "organizational development" in the field of personnel affairs--in other words, organizational climate reform. To create new work styles that involve the workplace and realize a workplace environment where employees can play active roles, it is important to change their awareness that "long working hours = working hard."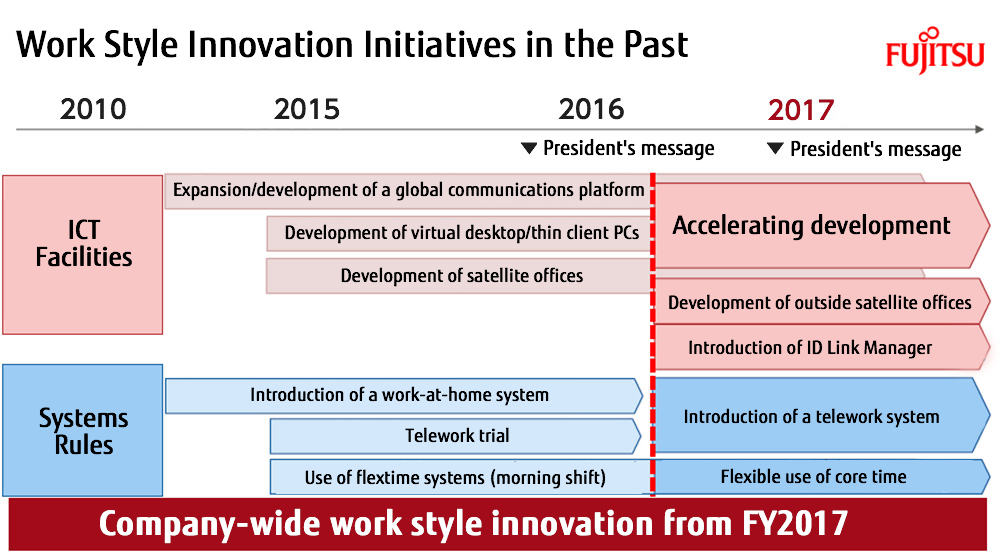 Use of ICT to Improve Productivity and Ensure Sound Management
Next, Masayoshi Matsumoto, EVP, CIO, Fujitsu Limited, made a presentation entitled "Fujitsu's Work Style Innovation Initiatives - ICT In-house Practices."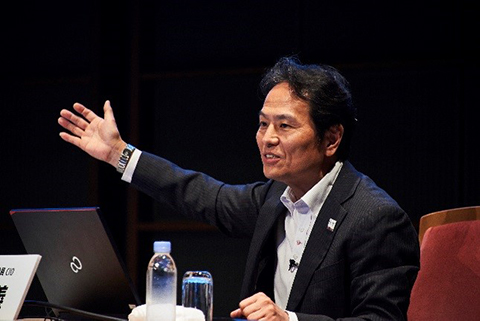 Masayoshi Matsumoto
EVP, CIO
Fujitsu Limited
Fujitsu works to use ICT in work style innovation from two perspectives: "to improve employee productivity" and "to ensure sound management."
To improve employee productivity, Fujitsu's efforts are centered on the following three points.
(1) Introduction of communication tools
We have introduced tools for mutual communication among more than 160,000 Group employees worldwide, reducing business travel expenses by 20% through real-time information sharing, Office 365, and Box.
(2) Promotion of telework
Our in-house practices examined the effects of telework and confirmed results from questionnaires after five months, such as a free addressing (hot desking) usage rate of 87% and telework rate of 61%.
(3) Starting a project using AI
We started a project named the "AI-chaku Project" in 2016. "Personal Navigator," an AI digital secretary developed through collaboration between Fujitsu and Microsoft, analyzes emails and sets up meetings. We launched a mobile version in 2018.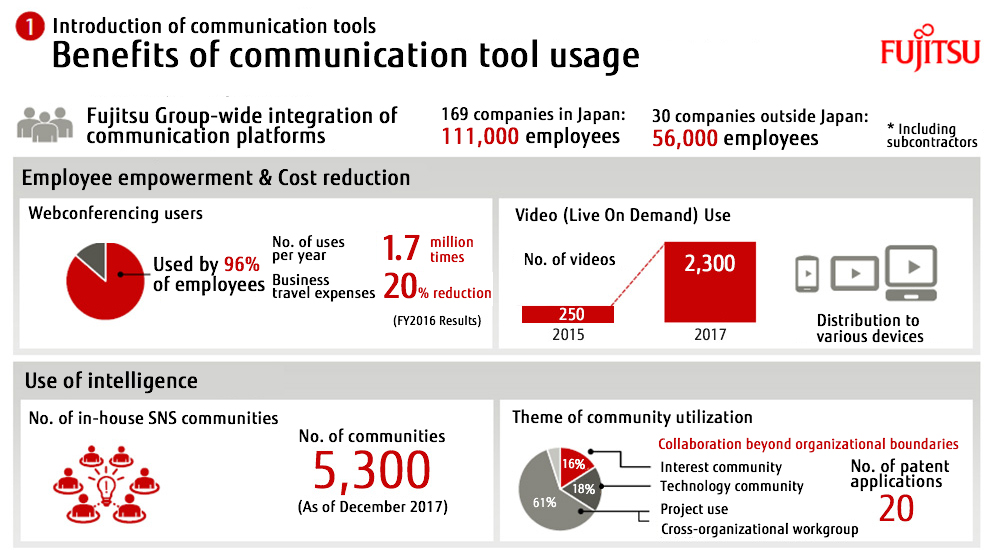 To ensure sound management as a responsibility of the company, Fujitsu's efforts are centered on the following two points.
(1) Prevention of long working hours
We introduced a system that enables employees to clock in from anywhere by PC or smartphone as well as "ID Link Manager," which visualizes the true number of working hours and issues warnings. Alarms have been issued to managers using the system.
(2) Health management using AI
This initiative aims to improve productivity by protecting the health (in particular, the mental health) of employees whose faces cannot be seen using Fujitsu's AI Zinrai. To facilitate early detection of signs of employee health concerns, we analyzed and monitored work patterns that resulted in health concerns by making full use of deep learning; we then established a cloud-based collaboration system with industrial counselors. During an in-house trial in 2017, we confirmed some effects regarding health concern forecasting and employee cognitive care performed by industrial counselors.
Going forward, Fujitsu will continue to actively promote "Work Style Innovation Initiatives Using ICT."
Considering the Next Step in Work Style Innovation
In the second half of the conference, moderator Shunsuke Takahashi, Professor at the Keio University Graduate School, introduced three different perspectives as it is necessary to go back to the beginning to review, from various perspectives, the "next step" of the work style innovation, which started from efforts to alleviate long working hours.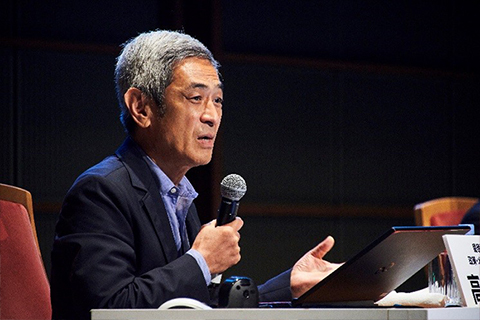 Shunsuke Takahashi
Project Professor
Graduate School of Media and
Governance, Keio University
First is the "perspective of the business model itself." The traditional business model, which depends on spurring-and-encouraging-type leadership and young employees' physical strength and motivation, has been widely used despite its low productivity and disadvantages, such as allowing customers to be overly demanding. Against this backdrop lies the idea of "focusing more on the top line (sales) than the bottom line (profits)" because the bottom line is invisible compared to the top line.
What is important here is the second "perspective of visualization and structuring." To prevent too much focus on the top line, it is important to be aware of intermediate indicators in the complex value chain leading to the bottom line by visualizing various KPIs. Over-dependence on transfer-type (top-down) OJT hinders operation standardization and efficient IT investment. By standardizing operations, each employee's tasks can be visualized and structured, making it easier for them to improve their self-management abilities.
What next becomes important is the third "perspective of manager education." Managers of supermarkets in Japan cannot easily take days off because they also perform lower-level duties since their tasks are not clearly defined. If their tasks are visualized, training support for managers becomes easier and managers themselves can effectively use their time for self-investment.
Lack of Digital Skills Hampers ICT Investment
Mr. Takahashi, who served as moderator, asked METI's Mr. Ito what the government expects from the private sector in terms of promoting work style innovation. Mr. Ito described his expectations: "At Fujitsu, personnel responsible for human resources and ICT maintain close communication with each other; however, in small- and medium-sized enterprises in particular, the relationship between the HR/labor department and the ICT department is usually weak, and personnel tend to lack digital skills, which hampers ICT investment. The government is strengthening support for basic training to improve digital skills, so we hope for closer communication between clients and vendors to make ICT and AI more familiar to the HR department."
Mr. Ito said, "For companies that are already adopting personalized work styles, such as telework, the next phase will be 'personnel evaluation reform.' Although the government does not directly involve itself in this matter because it is related to the core of management, we want companies to fully consider how to evaluate employee achievements and how to maintain employee motivation and compensation when expanding work-style options according to each individual's needs."
Mr. Takahashi next asked Fujitsu's Matsumoto about what hinders medium-sized enterprises from investing in ICT to improve productivity. In response, Matsumoto pointed out a problem: "It is difficult to accurately define KPIs that show how much IT investment makes what level of contribution to the client company's profits. If we can present KPIs in an easier-to-understand way, customers can draw a realistic picture of investment returns at their companies; however, thus far we have not been able to present KPIs to customers in a persuasive way."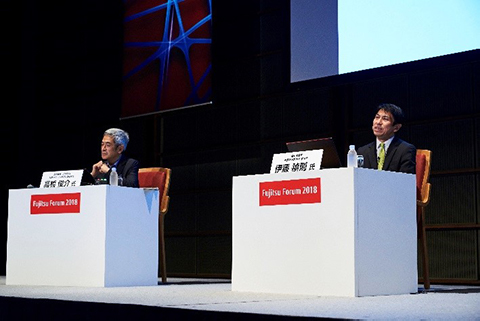 Mr. Ito remarked that he understood Matsumoto's point, noting that, "The major pitfall of work style innovation is the difficulty of balancing the interests achieved by the innovation between the company and the employees so that no trade-off occurs. In the relationship between the ICT vendor and client, "visualization of KPIs" is the key factor, which also applies to the relationship between the company's HR department and general employees in other departments. Therefore, ICT investment will not be efficient unless employees evaluate the ICT as beneficial to themselves in some way."
Personnel Evaluation Reform Urgently Needed
Next, Mr. Takahashi asked Fujitsu's Hayashi about the kind of personnel evaluation that will be required for the companies of the future. Hayashi explained: "Previously, personnel management meant to 'manage' employees by developing a framework based on the premise that 'employees cannot be trusted too much,' but work style innovation assumes that employees can be trusted and expected to work autonomously. Meanwhile, employees must recognize that self-responsibility accompanies autonomous work. To that end, we must review the personnel system."
Mr. Takahashi continued, "Even if telework is implemented, it is meaningless if employees think that it merely reduces overtime pay. Since productivity and profits increase by reducing overtime pay, it is necessary to build a win-win relationship between the company and employees by distributing the increased profits as bonuses or by other means." Mr. Takahashi also spoke about the "KPI visualization" mentioned by Matsumoto, giving an example related to the shared economy, such as Airbnb that releases the accumulated peer reviews (mutual evaluations) between renters and those renting to the public: "It is important to visualize work by accumulating evaluations of minor daily tasks, not just an annual evaluation."
Second-career Framework Needed for Seniors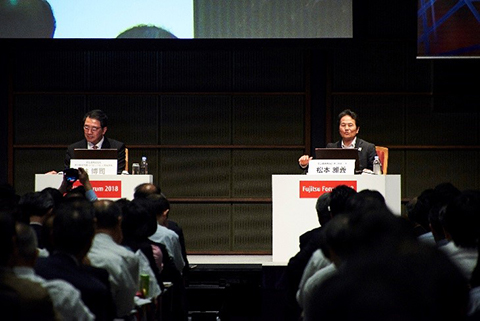 Then, Mr. Takahashi asked Hayashi about what he expects from the government with regard to human resources. Hayashi replied, "Many developers and researchers say that they want to work as much as possible when they want to and to be evaluated by their outputs. On the other hand, companies are obliged to take safety measures and must monitor employee work volume for health management purposes. I want the government to quickly create a discretionary labor system and a white-collar exemption system to prevent erosion of international competitiveness. In the era of 100-year lives, a single company cannot look after its employees over their entire working lifetimes. When looking at individuals' careers from a long-term perspective, it is more necessary than ever to enhance human resource liquidity beyond companies and groups and to create a system where the government and private sector jointly promote a framework for a second-career system for seniors."
Mr. Takahashi introduced examples in which many workers in their 50s changed their jobs from manufacturers or trading companies to local small- and medium-sized companies with highly motivated executives using a program promoted by the Cabinet Office that encourages high-level professional human resources to return to local areas. Mr. Ito mentioned, "There will be many people who work until around age 80 in the era of 100-year lives. Looking towards the era when individuals' occupational lives exceed the 30-year average lifespan of Japanese companies, METI thinks that workers should acquire various skills to make it easier to change jobs and find side work. As a social responsibility of large companies, I want them to provide employees with growth opportunities while working, and the government wants to support such activities."
Next, Takahashi asked Matsumoto, "What do you expect the government to do about policies?" Referring to the fact that an increasing number of universities have begun teaching career planning recently, Matsumoto replied, "I agree that it is important to make students think about their futures 10 to 20 years from now, but I wonder if they really understand the essential points. Students who got through their university years with passive attitudes tend to think that it is the company's fault if they cannot realize their career plans as designed after starting to work in society. I always say to young people that it is important to incorporate what they have learned and transform their sense of values. I want universities to devise ways to communicate with students to aid in real understanding."
Providing More Learning Opportunities for the Era of 100-Year Lives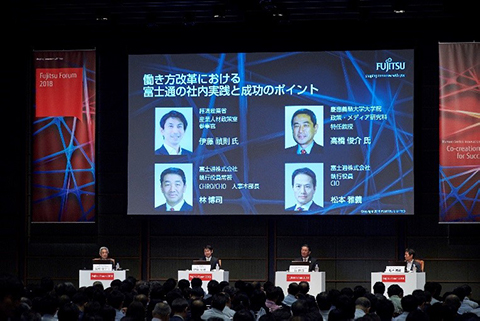 Finally, Mr. Takahashi asked everyone, "In the era when everyone lives to age 100, it will become commonplace for people who are age 70 to 80 to work in companies. When such a time comes, what should we pay attention to and what should we change?"
Matsumoto remarked, "Most experiences and knowledge that have been accumulated over the years can now be easily retrieved by an online search. What matters is not how to gather information, but how much added value can be given to the information gathered by search engines," emphasizing the importance of developing and maintaining such skills on a daily basis. Mr. Hayashi continued, "People who have improved their expertise over many years tend to be reluctant to learn things outside their domain of expertise to improve themselves, but in such a case, they will no longer be useful once they leave the company. It is necessary to provide them with opportunities to brush up their skills and to make their expertise more valuable."
Mr. Ito stated that the Japanese government considers learning reform to be a high priority issue towards the realization of the 100-year life society and there is an urgent need to plan a total package that includes social security, education, labor, and industrial policies to complement this reform. He also noted, "2018 will be 'the year of reform of the HR department' in which the focus of work style innovation will shift from 'individuals' to 'enterprises' once again and full-scale discussions will be promoted on how personnel and HR policies should be as the basis of corporate management in the environment where work style is diversifying. Unless companies disseminate information on their HR policies, they may eventually become unable to secure human resources and their management will not be sustainable."
Summarizing these opinions, Mr. Takahashi concluded the conference with these words: "Work style innovation came to the fore not because of the advent of the 100-year-life era but because the Japanese-style business model, which works only under certain circumstances, was facing its limits. As business models diversify, organization models and career formation models are required to change as well. Corporate executives should be aware that business model transformation lies at the basis of work style innovation."
Presenters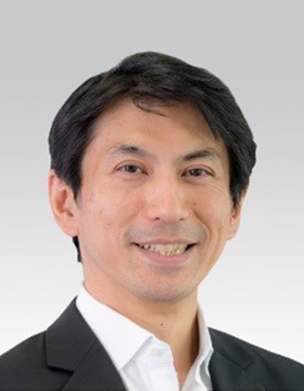 Sadanori Ito
Director of Human Resources Policy
METI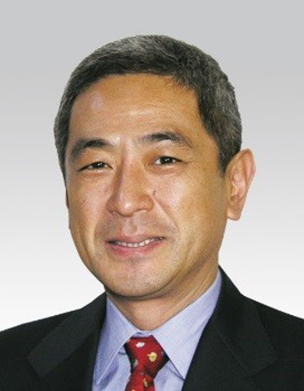 Shunsuke Takahashi
Project Professor
Graduate School of Media and
Governance, Keio University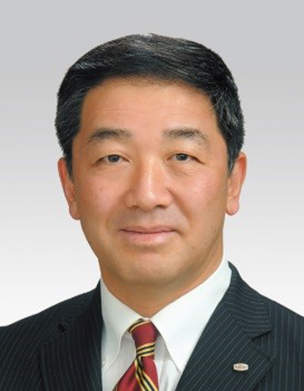 Hiroshi Hayashi
Corporate Executive Officer, EVP, CHRO/CHO,
Head of the Global Human Resources Unit
Fujitsu Limited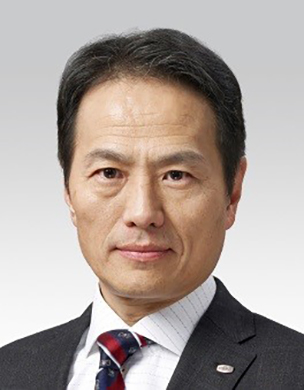 Masayoshi Matsumoto
EVP, CIO
Fujitsu Limited